Starting your college journey at UCF is only the beginning of your bright future. You'll have tons in store as a Knight — from the many academic adventures to choose from to the iconic events that bring us all together to the career development support from the start; all within one of the nation's fastest-growing cities.
Earning your degree is a big step, and doing so far from your hometown is an even bigger one. Get ready for a college journey filled with new adventures while attending UCF as an out-of-state student. The first step: preparing for life in another state. Here's five helpful tips to ensure you have a smooth transition.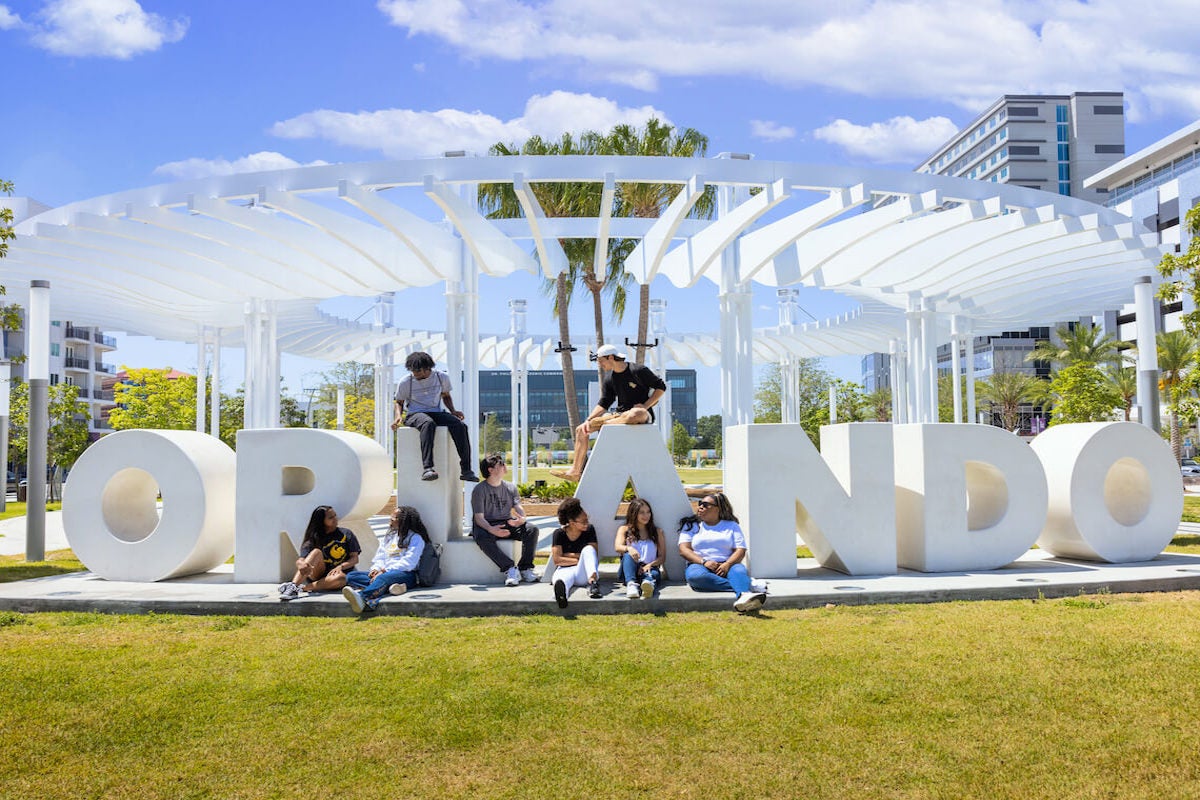 1. Discover What Life is Like in Orlando
Before you make your way to one of the most popular travel destinations in the U.S., you'll want to know how best to live like a local in Orlando.
This vibrant metropolitan city in the heart of Central Florida has it all — from some of the world's most-visited theme parks, including Walt Disney World, Universal Orlando Resort, and SeaWorld Orlando, to tons of restaurants serving every kind of cuisine, to more than 100 annual festivals, fairs, and markets celebrating music, food, culture, the arts and more. (Just wait until you attend your first UCF Celebrates the Arts.) You'll also find some of the best natural springs to go tubing and camping, plenty of lakes including UCF's Lake Claire for kayaking and fishing, and gorgeous botanical gardens, trails and the UCF Arboretum where you can walk and bike.
Plus, UCF's four campuses are strategically located in the heart of flourishing regions within Orlando. You'll thrive in the environment with access to industries like hospitality, healthcare, entertainment and technology, as well as experiences that are connected to your coursework. You'll be in the best place to learn from industry experts, get real-world experience and start your career.
Living in Orlando has all the perks you can imagine and plenty of hidden gems you'll love as a local. There are so many spectacular entertainment venues, a lively downtown and endless eclectic neighborhoods to explore. It's no surprise that Orlando is ranked No. 1 Best College City among midsize cities and No. 3 among all cities by WalletHub.
2. Prepare for Florida Weather
Researching the weather before packing is half the battle. With being called the Sunshine State comes 237 days of signature Florida sunshine every year. UCF's campuses are in the humid, subtropical climate of Orlando, where the summers are long (from May to September), and the winters are short (from December to February). Expect temperature highs to be in the range of 80-99 degrees Fahrenheit, so don't forget your sunscreen and drink plenty of water. Staying alert for severe weather warnings are also a big part of living like a Floridian. For example, if you'll be starting classes in the fall, that's during the annual Atlantic Hurricane Season. You'll need to know how to stay safe during a storm — which UCF is experienced in as a StormReady designated campus.
Check out these other items you may want to bring with you to O-Town:
Comfortable, Lightweight Clothes: You'll be a true Floridian once you come to class in your favorite UCF T-shirt, shorts and flip-flops.
Swimwear: The region is about 45 minutes away from 360 miles of coastline where more than 189 beautiful beaches are located. So, swimsuits are a wardrobe staple, along with sunglasses, hats and a great tan.
Winter Clothes: Average temperature lows do reach 40-59 degrees Fahrenheit in the wintertime. You won't get any use out of your snow boots, but warm coats, hats and gloves will come in handy.
Business Clothes: UCF's annual Career Expo and Student Research Week are just two examples of the many career fairs, internship opportunities and networking events for students to participate in on campus. Prepare for these opportunities by packing a professional outfit that you'll feel confident in (or find one on campus — more about this later).
Essentials for Your dorm or Off-campus Housing: Bedding, towels and washcloths, laundry supplies, your electronic devices — these items and more are things you'll need for your room. Refer to this list for additional move-in essentials.
3. Plan Out Your Daily Routine
Moving to Orlando and finding your way around UCF as an out-of-state student will require a switch up in your daily routine. Keep these things in mind to make daily life a lot easier:
Find Your Home Away From Home
Make the most of life as a Knight by living on campus where you'll be in the center of all the action. Being on the main campus makes it easy to get around quickly and meet up with friends at the Student Union, study at the John C. Hitt Library or relax by the Reflecting Pond. You'll also never be far from one of our recreation facilities or a place to grab a bite to eat.
Whether you decide to live on or off campus, you're sure to find your second home. Our eight on-campus housing communities offer over 20 different floorplans — from shared suites to apartment style. University-affiliated and off-campus housing options are also available.
No matter what you're craving, you're sure to find it on campus. UCF Dining Services provides a variety of delicious and healthy options with meal plans that nourish your campus experience. As a UCF student, you can purchase a dining membership to gain access to all-you-can-eat dining halls across campus. Each location has a range of chef-developed menus and offerings, including vegan, vegetarian and plant-forward options available daily. Dig into other dining favorites like Panda Express, Steak 'n Shake, Smoothie King, Jimmy John's and more on campus.
Locate the Nearest Grocery Store
You'll want to stock up on some snacks for those late-night study sessions. UCF has your back with free shuttle buses that take you to the nearest Publix Super Market for all of your grocery needs.
The Knights Pantry is available to UCF students in need of basic items such as food, clothing (including professional attire that you may need for job and internship interviews), toiletries, home goods and school supplies. With a valid UCF ID, students can visit the pantry at our main campus once per day. Branch pantries are also located at UCF's Downtown, Rosen and Lake Nona campuses.
Determine Your Mode of Transportation
There are several ways to get to, from and around UCF. As a UCF student, you're able to ride all Central Florida LYNX public transportation buses, on and off campus, for free with your UCF student ID.
Bringing your car with you to campus? There are over 20,000 parking spaces among our four campuses. Be sure to purchase a parking permit to avoid any parking citations. No worries if you don't have your own set of wheels. Getting around campus has never been easier with free UCF shuttle buses that service all UCF campuses and off-campus student communities. Stay up to date on all shuttle routes using the UCF mobile app.
If you're feeling adventurous, ride from UCF to Tallahassee, Gainesville and Miami on a RedCoach bus to see what these other Florida cities have to offer. The UCF RedCoach Stop is located at our main campus.
Find out more information about UCF transportation and parking.
Get Established with a Primary Care Doctor
Even if you're in good health, it's still important to have a physician you can rely on to help keep you at your optimum health. UCF Student Health Services will provide you with a network of health providers who are committed to helping you be at your best mentally and physically. You'll have access to doctors, dentists, dieticians and a full-service pharmacy on the main campus, with satellite clinics on our other campuses.
Learn more about the Division of Student Success and Well-Being and discover additional wellness resources.
4. Solidify Your Support System
The transition to going to college in another state is just as much mental as it is physical. You may feel homesick at some point during your first semester, which is expected. (After all, it's your freshman year and you're living in a whole new state.) The key to avoiding a complete meltdown is to prepare for an emotional transition using these tips:
When you're missing home, get the support you need from therapists, self-help resources and workshops through our free Counseling and Psychological Services. You'll have a safe space to express your feelings and learn skills to cope with your emotions.
Seek help with navigating UCF from a mentor such as a resident assistant who can help get you settled into your dorm, or one of our PeerKnights Coaches who can connect you with campus resources, provide guidance in major exploration, share their UCF experiences and answer your questions.
Thrive at UCF both personally and academically with the Student Academic Resource Center — your go-to source for high-quality academic support programs. Visit the Math Lab, the University Writing Center, tutoring sessions and more to get the support you need to reach your goals in the classroom and beyond.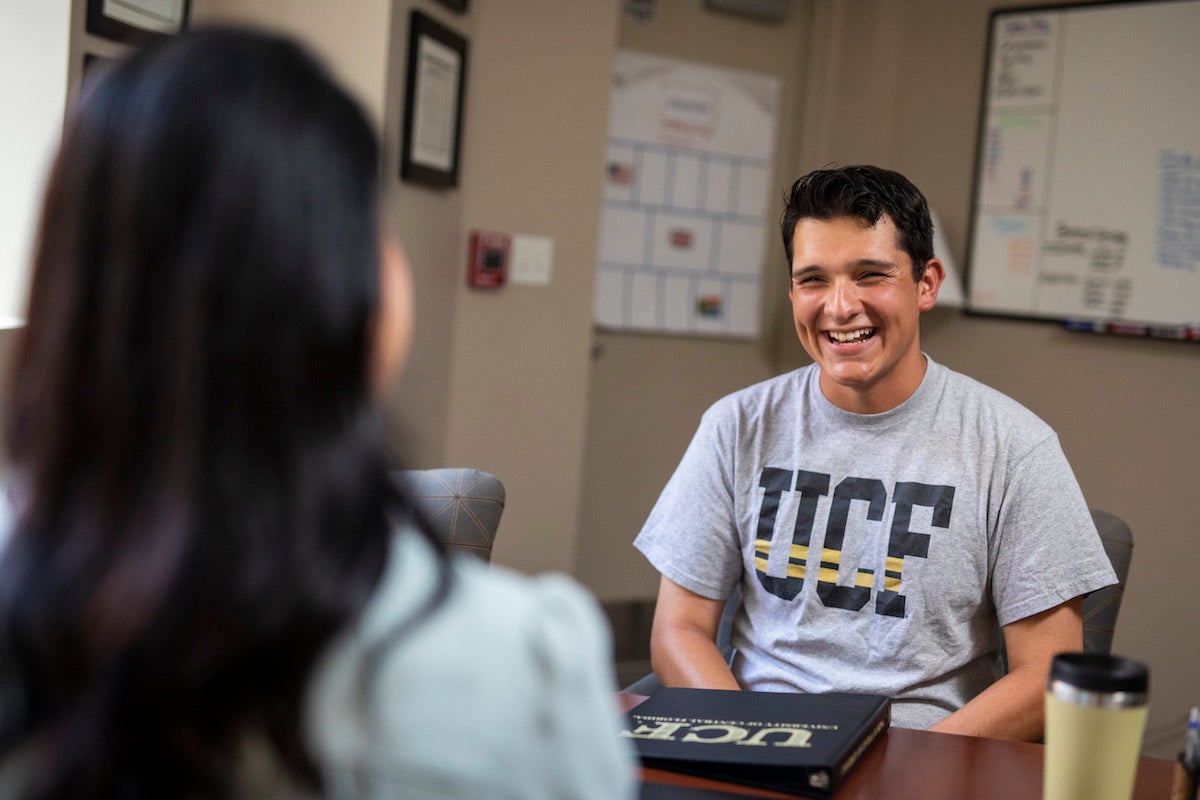 5. Calculate Out-of-State College Costs
Earning your degree means more at UCF. The knowledge you'll gain, discoveries you'll make, passionate faculty who'll inspire you and personal growth you'll achieve over the next four years will benefit you for a lifetime. It's no wonder Forbes, Kiplinger and The Princeton Review rank a UCF education among the nation's best values.
Florida is among the top five states with the lowest out-of-state tuition. The direct annual cost to attend UCF as an out-of-state student includes tuition and fees as well as housing and food. Indirect costs include books and supplies, transportation and personal expenses, which may vary by student. To begin estimating your expenses, try this:
Determine Your New Cost of Living
The cost of essential items — such as groceries, transportation and health care — will vary from state to state. Research the comparison between living costs in Florida versus your hometown. Also, use our net price calculator to get an accurate estimate of what it will cost you to attend UCF. Knowing costs beforehand can help inform your financial decisions.
Orlando makes trips home convenient with two international airports, local and national train service, and multiple bus lines. If you plan on returning home often, then you'll want to consider the price of your plane ticket, bus or train fare.
Calculate Additional Move-in Costs
Find out all the amenities that are provided by your housing community. This will help you determine if you'll need to bring other essentials — like cooking utensils — or buy them when you arrive at UCF.
Explore Financial Aid Options
A financial assistance counselor in the Office of Student Financial Assistance can help determine your total cost of attendance and financial aid status. Remember, scholarship funds and financial aid — like the Need Based Non-resident Waiver — can help offset some of your out-of-state college expenses. Given that 72% of UCF undergraduate students receive some form of financial aid, use A2O (Access to Opportunities) to search for scholarships and automatically match with certain UCF or external awards. Also, learn to spend wisely, build your credit and save for the future with Centsible Knights, UCF's free financial literacy program.
It's your turn to start a journey that will change your world. Learn more about the UCF experience and attending college out of state.