When UCF materials science and engineering students Mason Mincey and Derek Saltzman became fed up with plastics and synthetic fibers in athletic wear, they developed an entirely new fabric to solve the issue. The two students' environmentally friendly clothing material and their company, Soarce, earned the top prize at the Joust New Venture Competition, UCF's version of Shark Tank.
Soarce bested three other student ventures on April 8 to take home a $12,000 check and more than $25,000 in essential business services.
Mincey and Saltzman pitched Soarce to a panel of judges representing companies including Addition Financial, BBIF and Echelon Fitness Multimedia. The pair won the judges' favor with a business model that leverages the existing competitive landscape of the athletic apparel industry. Instead of manufacturing clothing themselves, Soarce envisions a "fabric innovation platform" that allows retailers to weave their new fiber into a variety of products made by other companies.
"Soarce is separating itself as an eco-friendly, high performance brand that is attacking a niche consumer base willing to pay a premium to be early adopters," says Saltzman, CEO of Soarce. "We envision other companies integrating our fabric into their clothing as an innovative way to manage body heat and moisture."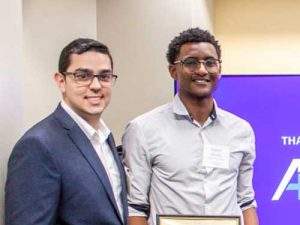 Soarce aims to retrieve leftover plant matter from local suppliers and collaborate with a weaving partner to ship its proprietary fabric to athletic and industrial clothing manufacturers across the country. In addition to being eco-friendly, Mincey says Soarce's fabric regulates body heat in an entirely new way.
"Most garments rely on complex weave patterns or coatings that eventually wash away. Our new fabric regulates body heat on its own," says Mincey, COO of Soarce. "This keeps you cool longer and makes our fabric perform better than cotton or synthetic blends used by most manufacturers."
The Joust is UCF's premier startup showcase event presented by Echelon and features students of all majors. Competitors present their models for a viable business venture and compete to win money and other resources to pursue their venture. This year's event marked the first time the Joust was held in a virtual setting, but the online format did not deter students from delivering some of the most impressive venture proposals in the history of the competition.
"It has been a tough 12 months and I have never been as proud of a group of students as I am for this year's Joust competitors," says Associate Professor Cameron Ford, director of the UCF Center for Entrepreneurial Leadership. "I'm pleased that so many students have remained engaged at the Blackstone LaunchPad and in UCF's entrepreneurship community, particularly during such a trying time in the middle of a pandemic. The high-quality ideas and substance behind these ventures are simply off the charts."
Management graduate student Marcos Crespo '19 earned $7,000 as runner-up with his company Wallagio, which provides high-impact, removable interior wall decorations.
Management graduate student Davis Helsby of Connecthedocks earned third place and $4,000 for his idea to build a multi-sided, online platform designed to serve as the Airbnb of dock rentals. Criminal justice major Kelly Shea earned $2,500 for her company Leaklock, which produces a small gadget to prevent pump-type bottles from spilling while in storage.
The students' venture proposals were assessed by a panel of business executives representing a wide range of corporate partners, local businesses and alumni. This year's judges were Sean Hayes '95, chief marketing officer at Voloridge Investment; Laurette T. Koellner '77, corporate board member for Celestica Inc., Nucor Corporation, Papa John's International, Inc. and The Goodyear Tire & Rubber Company; Lou Lentine '93, CEO for Echelon Fitness Multimedia LLC; Inez Long '98, president and CEO for BBIF, and Kevin Miller, president and CEO for Addition Financial.