On July 1, our campus went live with Workday. We pause to say a huge and collective "Thank You" to the Knight Nation community for walking this journey the past two years. One that started almost two years ago and is the first in close to twenty years. We needed to upgrade our Enterprise Resource Planning (ERP) systems as we had outgrown the former PeopleSoft system and some elements of it were at end of life. We needed a new system that gave us greater flexibility and the ability to perform the modern functions to track and manage all aspects of our financial and operational management. That, in turn, will afford us the opportunity to better serve you, our campus community.
As noted in last month's edition of "From the CFO" we focused on four key tenets that drove the decision to "go live." They were: (i) pay our people, (ii) pay our bills, (iii) close our books, and (iv) hire our people.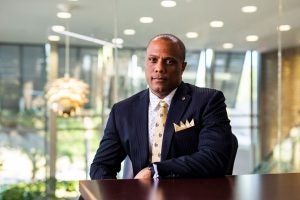 So, how are we doing? In a complicated implementation such as this, much still has to be done to finalize implementation after the go-live. On the whole, we are progressing as expected. Attempts to pay bills, or hire, uncover issues with workflows or security roles or a need for better training are all a part of this transition. As these issues are discovered, they are being addressed by the central team and staff across campus. Some are handled quickly, others taking longer – sometimes longer than desired. For complete transparency, the following describes what is happening in more detail.
Through three weeks of going live, we achieved the first tenet by paying our people with our first payroll processed in the new system on July 15. We experienced a 99.6% match on our files prior to conversion; the remaining 0.4% were unique cases that were handled separately – a feat that many were amazed by.
We were successful because of the dedicated and committed staff working within our Payroll Office, with the support of our implementation partners in Accenture and Huron. They spent an incredible number of hours at nights and the last three weekends around the clock to pull this off. Their efforts are greatly appreciated, and we are grateful for them all. As a bonus, we were pleased to hear the comments and feedback on the ease of use of the system to track time, book vacation and other Human Resources actions that would historically require LAPERS and paper timesheets. We learned that we can do better around time clocks and other matters that the team is aware of and will remedy in the near future.
The second tenet of paying our bills, is off to a slower start. The system itself functions as planned; however, we are experiencing issues with what are called "security roles" that manage the individuals whose transactions automatically flow through the system. Our prior PeopleSoft system was highly customized, and what we would want to see in a natural "crosswalk" to Workday was not possible to get a 100% match like we had with payroll. That was compounded by bringing thirteen colleges and several central units into one process. That was known, and it was something we would have to manage on a prospective basis as colleges, units and departments started interacting with the system. To mitigate this reality prior to go live, we established a Command Center to receive and troubleshoot transaction flows from all sectors of the campus community. The Command Center is comprised of our own Subject Matter Experts (SMEs) and representatives from our implementation partners. The chart below gives you a sense of the volume of transactions, and the areas that are the heaviest users of the ticketing system since "go live.". It also shows the cases that have been resolved and those that are in progress. The Command Center working in conjunction with our new kNEXT group has been responsible for assisting our campus community as we move toward stabilization.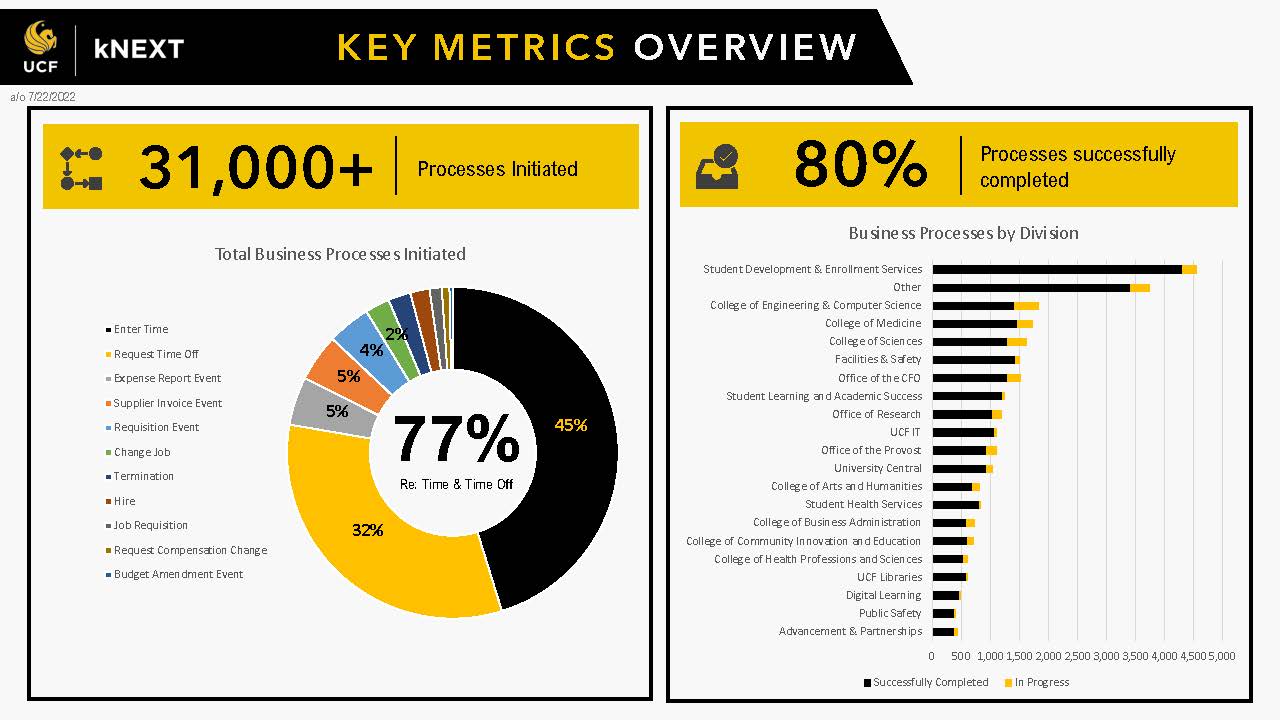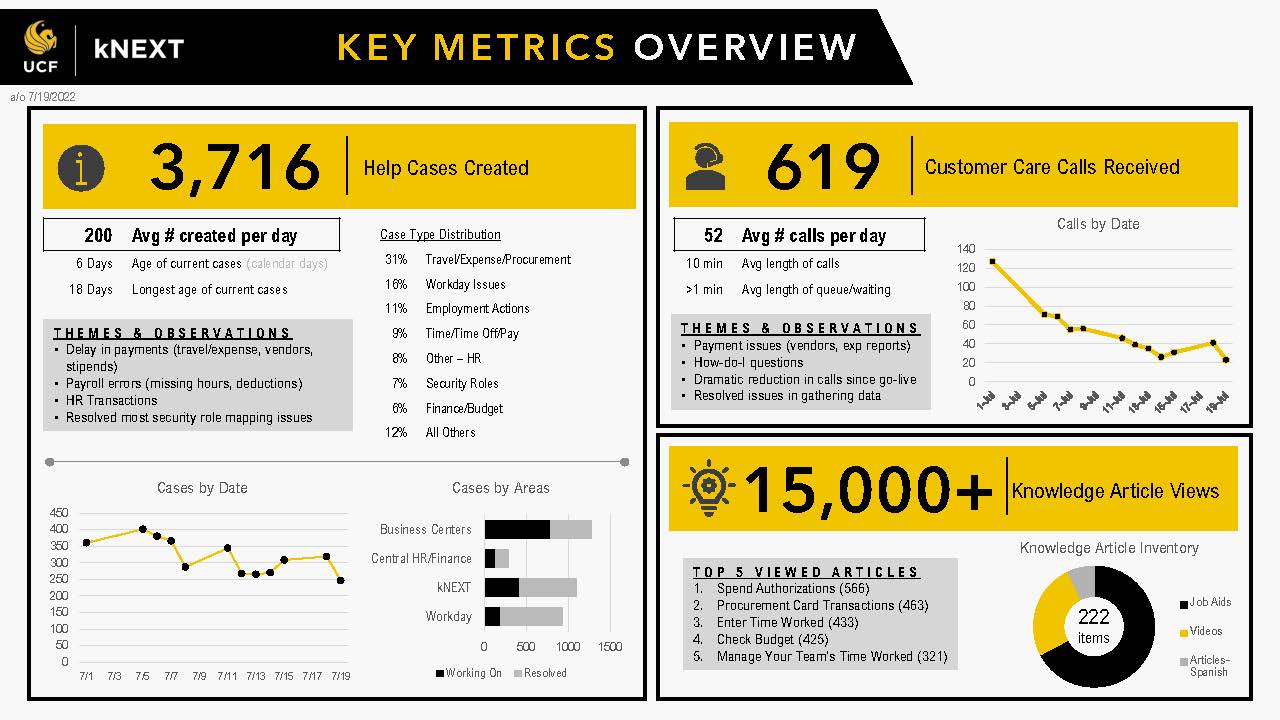 As of July 22, transactions are now flowing through the system with the appropriate reviews and approvals. We have filled all of the "security roles" and addressed prior gaps that were a result of staffing by augmenting staff through our implementation partner.
Another change that we are monitoring closely because of concerns and questions from the campus community is the way we are tracking the purchases of "attractive assets" with credit card purchases. "Attractive assets" are items that cost between $0 to $5,000 and are prone to theft and other forms of misuse. Examples include computers, laptops, tablets, firearms, and smart devices. A state of Florida regulation requires that items in this category must be tagged, inventoried, and certified each year. In prior years, purchases on credit cards of such items were difficult to track and inventory. To put in place a more automated process to comply with this statute, a $1,000 limit was placed on the purchase of such items on credit cards. Purchases above $1,000 now must go through the Purchase Ordering process where they would automatically be flagged in the system, limiting the "busy work" of manually tracking these items within colleges and units. That has raised concerns in some sectors of the campus community as adding another step to procurement. The alternative is to have units be responsible for tracking and certifying all items each year. We are open to looking at other solutions so that units would not have to take on an additional burden. You will hear more on the resolution soon. A flowchart with exhibits has been prepared to guide individuals who will making such purchases.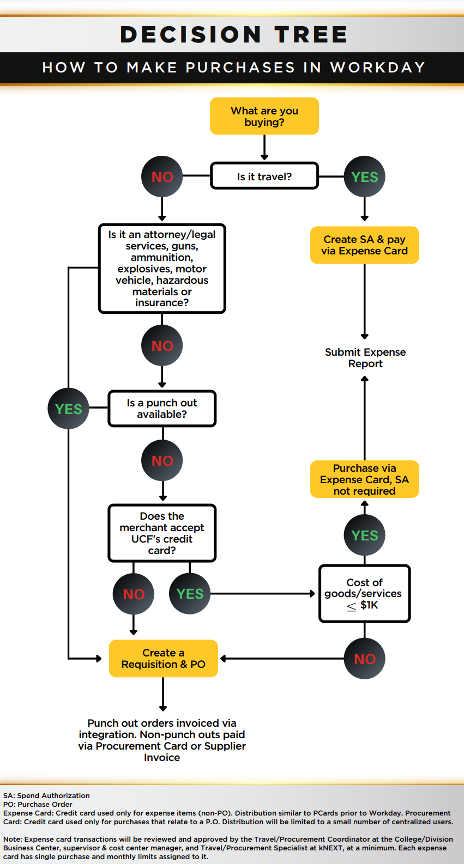 The performance of the third tenet of closing our books is too soon to tell three weeks after going live. Our Accounting and Finance team recently closed the prior 2022 fiscal year and are pivoting to preparing our annual audits. We will keep the campus informed of how this tenet is progressing. We should all be mindful of our utopian goal of closing our books monthly inside the new Workday system. That was not possible within PeopleSoft, and it had the unintended consequence of not having timely data to make strategic and budget decisions during a fiscal year. We will improve upon that in the new Workday system, and there will be professional development training for key personnel in both the colleges and units to achieve this goal.
The fourth tenet of hiring our people has been impacted by the effects of the "Great Resignation" that all industries, including higher education, are facing. Our newly enhanced Talent Management Group has acquired temporary personnel from our implementation partner Huron to assist with staffing to ensure that we are successful with hiring our faculty, staff, and students. A pause in our hiring process for the final conversion ended on July 7. Since that time, we have processed more than 59 applications. Our cautious excitement about our enhanced Talent Management Group is that we will eventually start developing a full talent management apparatus where this group will be active in recruiting and finding the talent necessary to expedite the entire hiring process.
All four of our tenets are in different stages. This is to be expected after a short time into a new system on any conversion, particularly one of our size. Our primary focus is that we are committed to ensuring that everyone is given the attention and support they need to be successful. Please rest assured that your voices are being heard and that you have a dedicated team of individuals working feverishly around the clock to ensure our collective business practices will reduce burdensome administrative tasks where possible. Here are the ways we are working to ensure that we are successful:
SWAT teams are formed to assist service centers of colleges, units, and departments in understanding how the system works, and how they can make their work easier utilizing Workday. This includes working on security roles and process flows within colleges to expedite transactions.
The kNEXT group continues to take calls in the order they were received and are closing their cases at a rate of 60% or higher each week. That will continue until we are at a point of stabilization, and can then pivot towards initiatives designed to improve campus wide initiatives that are not Workday related (such as Cobblestone and vendor payment issues).
Training will continue to be offered to anyone who wants to register and participate. We understand the size of our campus is an issue as classes fill up quickly. Our commitment is to get everyone whatever training they need.
The various ways to communicate cases is being streamlined to flow through a funnel and be tracked and handled sequentially. At conversion, we allowed for several avenues for cases to be submitted. With the experience of three weeks, we will pivot based on the types of question that are more frequent from the campus community. Customer Service remains a high priority because of the understandable anxiety that some are experiencing.
There are also other initiatives we are planning based on our experience and feedback from other R1 university peers who have adopted Workday within the past two years. Some examples are:
Research faculty specific training on grants and the new system upon their return to campus.
General faculty training on using the system to request time off and track time when necessary.
What we are experiencing was expected. We are addressing years of customizing our previous ERP system while not having standardized processes that would bring consistency to all our practices, policies, and procedures. We have standardized as much as possible tasks that are rote in nature, and impact every college and unit, and we have automated much of our prior manual processes. We have made significant strides, and we will continue to work with the campus to manage the items that are unique to particular colleges, departments, and units. We are in this as "One UCF," and we are grateful for your continued patience, support and understanding as we improve upon all facets of our operational effectiveness and efficiency.
Go Knights! Charge On!