There is an old expression, "you can't fix what you won't face." It is a simple expression, but it is one that challenges us to muster the courage to do things differently — it pushes us to question and confront our realities head-on and look for alternative, better ways to achieve our mission. The best example was at the start of the pandemic back in March 2020. Most institutions in our nation had to pivot instantaneously to ensure that our respective core missions and objectives of educating the next generation of leaders continued with minimal interruption. Some of the methods chosen to accomplish this were on the drawing boards for years, but when we were faced with the reality of disruption, we found a way to get it done.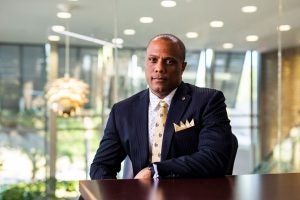 For the past two years our campus has heard about Knight Vision. There have been town hall, budget, information, implementation and strategy meetings. We have produced newsletters, websites and other forms of communication to keep information flowing, so that the campus remains engaged and knowledgeable about the pending changes that will occur. Unlike the instantaneous changes that had to be made because of the pandemic, the ones that we are addressing at UCF through Knight Vision have been building for some time. Our financial and operational systems, policies, practices and procedures need to catch up to our level of excellence in academics, public service and research. Knight Vision is designed to do just that.
Within Knight Vision, there are different components when we talk about Go-Live: there is the technical Go-Live, which is the turning on of Workday, funneling our transactions through it, reporting from it and leveraging its data to make decisions. This technology is designed to enable our business, and it will do so in improved, new ways. There is also the business Go-Live, which includes changes to how the finance and HR functions operate, as well as the overlay of the Service Enhancement Transformation (SET) model.
Fundamentally, SET's aim is to create a community of our people, organizing and structuring them in such a way to more effectively deliver services to faculty, staff and others focused on our academic and research missions, as well as bring a more standardized and seamless approach to specific finance and HR activities. Our finance and HR functions, the SET business centers and kNEXT support center will all leverage the new Workday technology as they provide these services. Workday and SET could exist independently, but they would not be as effective without each other. Simply put, the structuring and training of our people to best use Workday allows Workday to function in the best way.
The Go-Live date for both Workday and SET is July 1. Working alongside our Workday implementation partner, Accenture, and our SET partner, Huron Consulting, we are optimistic that we will meet that date. It's important for our entire campus to understand that July 1 is not an end, but rather, a beginning. There will be things that need to be changed and iterated upon as we learn the Workday technology and our new roles and there will undoubtedly be bumps in the road as we implement both Workday and SET. I don't promise an effortless Go-Live, but I do firmly believe that we will see many organizational and technological benefits once we've implemented Knight Vision and worked through the learning curve of these changes.
Our final decision on Go-Live is predicated upon four key tenets that are nonnegotiable: our ability to (i) pay our people properly, (ii) pay our bills, (iii) close our books, and (iv) hire people. I am pleased to report that our work is trending to do just that come July 1.
After July 1, we will see:
The new service center models created by the Service Enhancement Transformation (SET) team have increased efficiency and streamlined processes to such a degree that we will be able to reduce the number of transaction processing units/departments from approximately 94 down to 13 (one per academic college). This reduction will bring us greater standardization of procurement, processing and compliance procedures so that transactions can be handled faster. It will also allow for us to have a dedicated group who not only are experts in the processing of transactions but will move the university to a place where we can close our books and generate financial and human resources reports monthly. This enhancement will add another element of financial management that keeps data current, and allow for pivots (if needed) during the course of a fiscal year.
The kNEXT (central administrative business services) unit will be operational. Members of this unit will not only serve as the subject matter experts on all aspects of our finance and HR processing and compliance but will also service all central support units and be a backup resource to the units in the colleges. You can get a better sense of kNEXT's focus from this brief video.
We will also see an enhanced Talent Acquisition Group that will work collaboratively with the campus to reduce the time to hire of employees. As the group's effort matures, it will also assist with reducing the need for search firms and other consultants around our overall talent management.
Through the end of 2022, we will be in a stabilization period where we will be fielding questions and concerns about the system and engaging in both customer care and issues resolutions. This is typical for any ERP (Enterprise Resource Planning) conversion. Our goal is to minimize interruption and discomfort as much as possible. We are a large university, and although we believe we have captured every nuance in every department or unit, inevitably, some will need attention after "Go Live."
Training has already started and will continue into the fall and beyond. Some of our university leaders have access to a "sandbox" in a test environment so that they can understand the functionality of the system. They can assist with the questions or concerns that may arise. We will continue to encourage everyone to get trained on the system's functionality. Those who have been a part of the User Exception Testing process have indicated how user friendly it is; however, attention to detail in the training on the system will be critical for everyone working with this new technology tool under the SET model.
This is both an exciting and anxious time with so much change happening together. As the teams have reviewed the different component projects, one thing stands out: the fact that we have not upgraded our ERP system since the early part of this decade. Our modernization of the system, and the processes, procedures and organizational structure of our people that enable it, needs to be upgraded to allow for a greater use of technology, new methods of financial and HR management, and proper execution around the recording, summarization and reporting of information.
I have been inspired to work with the teams on these projects that make up Knight Vision. It has been a very stressful time for all involved with the heavy lift that we are undertaking, and I am humbled and appreciative of the great work they have done to make this implementation a success. I was reminded recently by a colleague that if we answer the challenge of, "you can't fix what you won't face," we can create a much more aligned, collaborative, and transparent organization. Greater opportunities will exist for us to all grow, develop and execute to ensure that we are meeting that overarching ethos of "One UCF," and we will all be able to say that we helped lay the operational and financial foundations for the future of this great institution.