This past week we staged Welcome Week for Knight Vision here at UCF. It was a highly anticipated day in our pivot to going live in the new Workday system on July 1. Excitement, nervousness, concern, anxiety and relief are all wrapped up in the comments and feedback we have received. As we have shared before, change is not easy, and with us making major changes to our financial and operating process for the first time in almost 20 years, all the emotions and observations are valid and understood.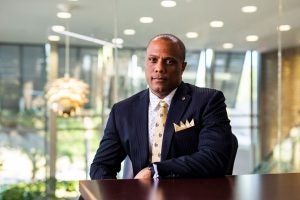 These changes may bring some anxiety, but they must be undertaken if we are to become the university for the future. We have accepted this challenge because we cannot sustain our current processes and practices if we want to meet our mission and new strategic plan. Workday and Service Enhancement Transformation (SET) will help us collaborate and work as one UCF toward these efforts. Using Workday will ultimately improve and streamline our practices, bring more transparency to our budget and provide better data more quickly that will allow strategic decision-making.
Many of you have taken advantage of the training available online to prepare for these changes. If you haven't accessed the training catalog we encourage you to do so. The Knight Vision team has done a tremendous job in preparing a variety of helpful tips and resources in their weekly emails, and I encourage everyone to read and share the June 24 edition, if they have not seen it yet. It outlines how to interact with kNEXT, Workday Help and the Business Centers. If you are looking for where to start – knext.ucf.edu is it when launched! The site will be operational by July 1, as will the Customer Care Team if you need to call us at 407-823-NEXT (6398).
We checked off all the objectives for making our decision to "go live." They are, (i) pay our people, (ii) pay our bills, (iii) close our books, and (iv) hire our people. All four will be met. We have a dedicated and committed group working with our implementation partners, Accenture and Huron, to make our launch a success. We know that trying to modernize our system, processes, practices and in some instances policies that govern our financial and operational effectiveness and efficiency means we will have a bumpy road at the start. As we continue with testing and validation, we are finding processes and practices that we will visit and revisit multiple times until we can get as close to automation as possible.
You might have heard us talk about the desire to have our financial and operational effectiveness match our world-class research, academic rigor and public service. That is our primary goal. You might have also heard the expression "we are moving from the Flintstones to the Jetsons with our financial and operating systems." That is our secondary goal. The two are mutually exclusive, but for purposes of lifting our university to that next level of operational effectiveness and efficiency, they are inextricably linked.
We chose several examples to highlight our journey to continuous improvement when Knight Vision is deployed and matured over the next several weeks, months and years. Here are a few:
For expenses, there is no need to submit paper statement packets monthly. All receipts and approvals will be included in the Workday Expense Report.
There is no need to submit paper reimbursement packets. All expenses and receipts are submitted and approved in Workday. Employees will be able to see where their Spend Authorization and Expense Reports are in the approval workflow within Workday. Photos of receipts can be added to Workday via the mobile app, making it easy to keep track of receipts during travel.
We have reconfigured our main finance and human resources systems to a modern approach around the timely and accurate recording, summarization and reporting of financial information.
We launched Adaptive Planning in March 2021. Although it still needs to be tweaked, that effort afforded us the opportunity to create the university's first "bottom up" university wide budget inside our new Responsibility Center Management (RCM) budgeting model. Under the RCM model, revenue-generating units are responsible for managing their own revenues and expenditures.
In Workday, we will have a new accounting system that will get us closer to closing our books monthly. This will bring a nimbleness to our operations and financial reporting, providing data faster for decision-making.
We are reducing the number of departmental accounts from more than 9,000 to approximately 1,000. That will reduce the number of accounts that are available for entries to be made, thus tightening up on our main goal of having timely and accurate financial and human resources information.
We will now be managing our university wide operations using cost centers and various work tags, allowing users the flexibility to tag transactions with labels relevant to their business operations.
In the future we can move away from the number of unnecessary "transfers" and "chargebacks" that do not add economic value but cause a tremendous amount of "busy work."
We are bringing together our Direct Support Organizations (DSOs) into one cogent system that will allow for views into their financial operations that we currently do not have.
We are developing centers of excellence and creating career paths for individuals who would like to grow and develop within disciplines.
We are reducing the number of ways to procure and pay for transactions from approximately 94, down to approximately 15.
We will be implementing/enhancing a formal Talent Acquisition Center within Human Resources that will serve the campus in more robust ways around recruiting, retention and talent management.
We will now have an integrated time reporting system that we can access from anywhere. No more LAPERS or Time Sheets!
We will have an ecosystem for our university that ties together systems, policies, practices and procedures. That ecosystem will be governed by standard operating procedures that we currently do not have.
We are acutely aware that Knight Vision and its component parts of Workday, Adaptive Planning and our Service Enhancement Transformation (SET) are not panaceas that will solve all the challenges we have now with our current PeopleSoft system. However, with teamwork, patience, grace and focused attention we will rise to the level where several of our peers are already.
The entire kNEXT Team, under the leadership of Ms. Kathleen Winningham, is ready – and excited – about the Workday and SET transformation we are embarking on, and we look forward to supporting everyone that needs our assistance. We are embarking on this new journey as "One UCF." We will be successful.
Go Knights! Charge On!