Limbitless Solutions, the UCF based non-profit which creates bionic limbs for children, celebrated its seven-year anniversary Friday, July 23, by moving into its new expanded 6,000 square foot facility in Research Park.
"It's a great way to celebrate seven impactful years," says Limbitless Solutions CEO and President Albert Manero '12 '14MS '16PhD. "The new laboratory triples our space with a dedicated manufacturing area, enlarged K-12 outreach section and enhanced student collaboration zone. We are incredibly grateful to our partners and donors who have made this new location possible. As we look back on our start, we would have never imagined the impact the program would have on so many. With the community's support we intend to continue to scale the impact and excellence of the program. We cannot wait to see the new facility supporting families this fall."
The new space was renovated and prepared for Limbitless Solutions over the summer and was covered by philanthropy and sponsorship funds. The location is accessible for UCF students via the UCF Shuttle.
Limbitless Solutions, a direct support organization at UCF, began in 2014 and is dedicated to increasing accessibility and empowering children and adults in the limb difference community. Through personalized, creative, and expressive bionics — which are provided without financial burden — the team aims to empower using innovative technology and interdisciplinary collaboration to address accessibility issues. Limbitless develops muscle-based biosensing technology including multi-gesture bionic arms, a hands-free wheelchair control device and interactive video game training.
Iron Man and Going Viral
The team's journey began at a kitchen table where Manero and a few of his friends — John Sparkman '13 '15MS, who serves as vice president of Technology and Dominique Courbin '18, who is the director of Production — brainstormed how to create a 3D-printed bionic arm for a local child in need. The group of UCF students, who would later form the organization, came up with a concept and pulled their coffee money together to build the arm. Within two months they had a working model, which they presented to then 6-year-old Alex Pring at no cost. Pring hugged his mother with both arms for the first time in the moments following the delivery. Word spread fast of the group's work and before they knew it, they had a list of families reaching out for help.
The students continued to collaborate and delivered several more arms, learning from the children that the design of the arm mattered. The team started creating artistic sleeves for the bionic arms that reflected each recipient's personality. There were arms inspired by the Transformers, Iron Man and even Blue Man Groupand partners stepped forward to help make each delivery special.
Robert Downey Jr. the actor who played Iron Man assisted in one delivery, which went viral. He even mentioned the group's work during one of his late-night interviews on ABC. More parents reached out for help. The team began expanding its work in response to the impact these arms had on the children that went beyond the physical. Parents reported increased self-confidence and better attitudes in school.
The Power of Collaboration
The students soon teamed up with faculty from the College of Arts and Humanities to develop video games that help children prepare their muscles and learn how to control their Limbitless designed prosthetics. Art and game design faculty and students have played a major role in advancing the aesthetics of the bionics, the gamified training and even a comic book based on the bionic kids' stories.
Video game companies teamed up with Limbitless Solutions along with other corporate partners to help spread the word and support the group's work with new themed arm designs. Some tech companies, like Stratasys donated equipment, such as commercial-grade 3D printers, or Texas Instruments, which provided certain circuits. Others provided public relations support and opportunities to spread Limbitless Solutions' story on bigger platforms.
Support from Adobe, Microsoft, Autodesk, and Stratasys has paved the way for nonprofit's technology growth. Adobe has even showcased Limbitless Solutions and its ability to use technology to make an impact at their annual conferences.
Before long Limbitless Solutions members were asked to present at conferences around the world including New Zealand, Canada, Turkey, United Arab Emirates, India, and Taiwan. Representatives and one bionic limb recipient have presented to the United Nations several times as well. Even Bill and Melinda Gates, from the Gates Foundation have visited the lab.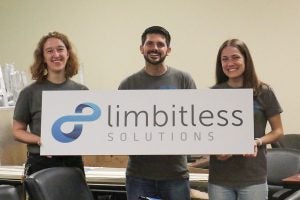 Meanwhile member of the group began researching other applications of the technology they were developing, including a hands-free wheelchair control device in a clinical trial with Mayo Clinic Jacksonville, Florida. The device was awarded a patent in 2020. They also started to partner with health institutions and launched the first children's prosthetic clinical trial in the nation in 2018 with Oregon Health and Science University in Portland.
The team has grown from a group of student volunteers working in the machine shop in the College of Engineering and Computer Science whenever they could to a nonprofit and direct support organization of UCF with a lab near the arena on campus.
Onto the Next Generation
Limbitless Solutions' lab will continue to host K-12 field trips to inspire the next generation of engineers, mathematicians and scientists. The group has also established an internship and undergraduate research program to help UCF students gain valuable hands-on experience in engineering, video-game design, marketing, and communications. More than 25 students from a wide range of UCF majors participate in the laboratory each semester. But perhaps the biggest benefit of the internship program is that Limbitless recreates the work world environment where interdisciplinary skills and teamwork are essential to success.
"We built Limbitless Solutions on the foundation of collaboration and serving the community," Manero says. "The next 18 months promise more exciting announcements that will continue to increase the scale of the program and to change lives."