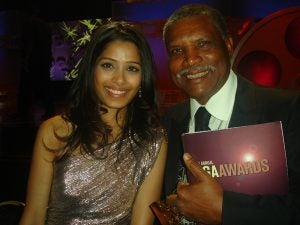 In addition to several theatre productions here at UCF, Professor Anthony B. Major has worked on some major projects with big stars in his three decades of experience.
Major is also the program director for the Zora Neale Hurston Institute for Documentary Studies (ZNHIDS), Dean's Office and Associate Professor/Nicholson School of Communications at UCF. Not only has he directed some high-profile documentaries, but he is also a director, actor, teacher, producer. Some of the names Major has worked with are household names: Academy Award winners Robert DeNiro, Beau Bridges, Sidney Poitier, James Earl Jones, Harry Belafonte, and Eddie Murphy.
But the mutifacted artist isn't just dedicated to making it big in his industry—he is dedicated to and has contributed much to causes close to his heart such as the United Negro College Fund.