A picture is worth a thousand words. Jeff Kepler '11 is doing just that by telling a story through a powerful design that is honoring millions of heroes around the world.
It all began when creative giant Adobe contacted Kepler about an opportunity to create a design for their campaign to honor heroes during these challenging times.
He knew just whom to feature: fellow UCF alum, Anthony King '14BSN '17MSN, who is a nurse educator in the pediatric ICU at New York-Presbyterian Morgan Stanley Children's Hospital.
The two alumni have been friends for over a decade, having met at UCF as students. "I know how important his job is, and how much he loves doing it. He's incredibly passionate about helping others," says Kepler.
King and his coworkers faced tremendous challenges and stress, having to quickly change their pediatric ICU to an adult COVID ICU, but he's proud to fight through the pandemic together with them in a city that he loves.
Kepler set out to tell King's story and honor heroes like King around the world with a single design.
"I wanted people to immediately recognize Anthony was a nurse, and that he was helping save lives in one of the cities that has been hit the hardest by this situation," says Kepler.
The moving and inspirational design has been featured on the home page of Adobe Photoshop, the Honor Heroes campaign webpage, and garnered more than 1,800 likes on Kepler's Instagram.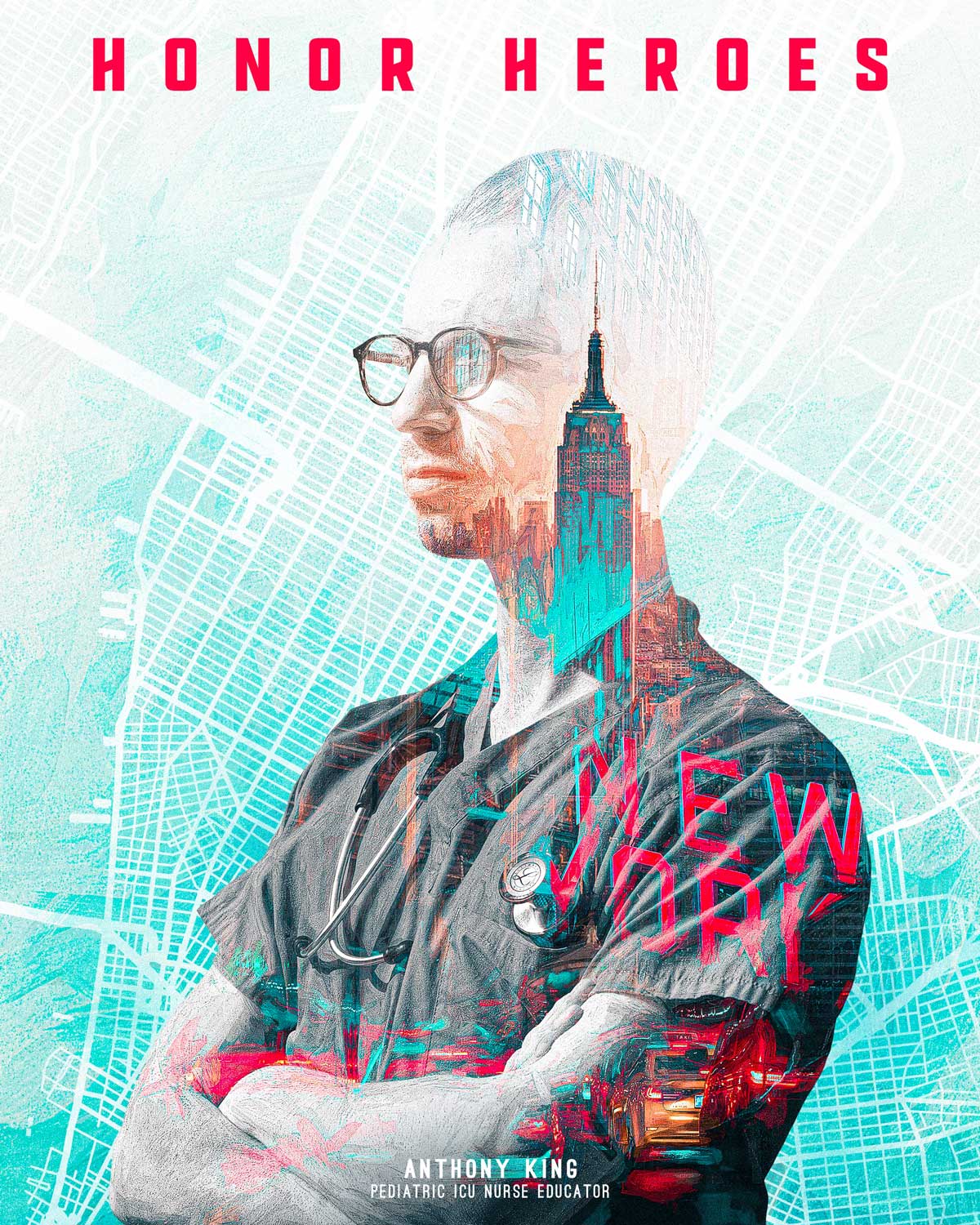 Finding Inspiration
Shortly after earning a bachelor's degree in emerging media from UCF, Kepler moved to New York City where he spent time as a motion graphics designer and art director. He eventually fell out of love with New York and seized an opportunity to move across country to work in his company's west coast office. That company, however, shut its doors in 2019.
But as the saying goes: when one door closes, another one opens. A year before the company closed, he had started an Instagram account as a creative outlet. That account allowed him to hone his skills, build a following and make connections.
"If it wasn't for the account, I wouldn't have the freelance work or opportunities I have right now during these challenging times. I'm really proud of it and the work I've put into it," says Kepler.
The Honor Heroes campaign isn't the first time he's worked with Adobe and Photoshop, which has featured his work on their Instagram several times in the past.
His advice to aspiring designers? "Really find what inspires you and makes you happy, and surround yourself with it. Immerse yourself in it daily," Kepler explains. "If you work hard, practice, and never stop learning, I promise awesome things will happen in time."
Shining in Challenging Times
After completing his BSN and MSN in leadership and management from UCF, King moved to New York City to start his career.
When COVID-19 began to impact the city, his unit had to quickly transition in one week from caring for children to caring for 14 adult COVID ICU patients intubated on ventilators.
He began providing education, resources and support for staff to care for adult patients on ventilators, stayed on top of ever-changing policies and practices for isolation and personal protective equipment (PPE), and began to work night shift as the charge nurse and occasionally taking patient assignments.
"I handled the change just like how I handle any life changes. First by assessing the situation, and then identifying what is working and where are opportunities to improve," says King.
"As nurses, we are flexible, smart, supportive, and compassionate humans that will do whatever we need to do to provide the best and highest quality of care to our patients. But we also have to remember to care for ourselves, especially during stressful times."
"As much as I did enjoy everything that I've learned from caring for adults, I can't wait to get back to my kids. I couldn't be more proud of what I do."