Sabrina Dessalines '20 says it's never been her intention to be a well-known artist — but her work may paint a different picture. After contributing to a viral collaborative mural in downtown Orlando last year, the self-taught artist now has her own exhibit that celebrates Black History Month and Women's History Month at a local art studio.
"Bright Future" is one of more than 20 backdrops on display at Wall Crawl, a creative space on Church Street that features colorful, playful photo ops for visitors and was launched by Joshua Johnson '07'10MBA and his wife, Jeanette, in August 2019.
While the Johnsons approached Dessalines with the concept and a color scheme, she selected the four sources for the portraits in her exhibit. The subjects are Black women entrepreneurs who make a difference in the community and inspire Dessalines as a businesswoman who sells her art online across the nation.
"The subjects I'm most inspired by are Black love and women empowerment," Dessalines says. "As a woman entrepreneur, it feels very empowering to have something that's yours that you can grow with, profit from and use to create a legacy for yourself."
Dessalines, a biomedical sciences grad who is working toward becoming a physician assistant, earned the opportunity after the Johnsons saw her contribution to the Jennifer Desire mural at 814 W. Church St. The piece features the Haitian-born and Orlando-based activist who led protests in the city last summer and opted to celebrate the beauty of Black life rather than memorialize death and trauma. The concept was created by muralist Maureen Hudas, but Dessalines and the all-women crew played major roles in bringing it to life.
"I've always wanted to do murals and bigger projects, but I never had the courage or opportunity to do it," Dessalines says. "When I worked on the mural downtown, it was such a strange territory for me, learning the process, working with news tools, and working with a team, but it gave me the confidence to take on new projects as well. That opportunity has led me to others, including this one with Wall Crawl. Now it's freeing to have that confidence to do things on my own."
Dessalines shares more here about her artistic journey and collaboration with Wall Crawl.
You grew up knowing you wanted to work in the medical field and are still pursuing that dream, but how did you discover and develop your artistic side?
I've always been interested in art. When I was 11 there was a gallery/studio close to my middle school in Miami that my mom would let me go to after school. They had paints, brushes and canvases and we were allowed to be there for a couple of hours. Ever since I've been painting and drawing.
At first, I did see it as a hobby, but as I got more interested, I started to see it more as my passion or craft. Creating art is something that brings me back to earth and grounds me. I did not want my main focus to be becoming a huge successful artist, but I began selling my work online in 2019. I like being able to create and not having the pressure of it as my sole income, but it's amazing to see how my work has made it to other states. I hope to one day open my own studio or gallery space like the one I used to go to when I was little.
What was your process for creating the "Bright Futures" exhibit for Wall Crawl?
The commissioner, Jeanette, said she wanted to include women of color who have done something to impact the community or inspired me. She gave me an example of one of my pieces she was really inspired by so I made the four portraits really similar to that, an abstract background and with very vibrant colors. I contacted each woman and asked them for pictures of themselves. I wanted each of them to have a statement piece, sunglasses or a headwrap or something to pop out in the portraits, so we discussed those elements. Then I began sketching and painting. Jeanette took care of adding in complementary props to the rest of the space and would send me pictures to make sure the items coordinated with the colors in the portraits.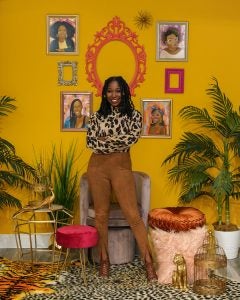 Who are the four women featured in your exhibit?
Krystina Francois is my cousin and she was the first person that came into my mind as someone who is super involved in her community. She's a Haitian American political educator and advocate for immigration issues as executive director of the Office of New Americans and Black empowerment through her organization the Black Collective.
One of the women, Danielle Hodge, was the reason why I was contacted by the muralist for the downtown project. Ever since then I've been in contact with her and have seen everything she's done with the community. She's an entrepreneur and community collaborator who is working to launch Alma Ocean, a Black-owned inflatable pool-toy company that focuses on inclusivity and sustainability. The other two women I've followed on social media for a while and they were also suggested by trusted sources.
Akenyae Jones is an Orlando native and culinary artist who founded Yae's Kitchen. Her mission is to educate her community about better eating habits and she regularly feeds the homeless. Trenessa Williams is owner of online bookstore Kizzy's Books and More. Her store celebrates African American culture and she promotes literacy through her company and partnerships with other organizations.
How does it feel to have your artwork included in a Wall Crawl exhibit and around the Orlando community?
It feels amazing. I just want to make sure that as I create, people are inspired and touched by my work. It feels good to have my work in different places, even the artwork I sell out of state. Hopefully I can get to more places in the future but right now I'm taking each opportunity as it comes.
Were you involved with the art community at UCF while you were a student?>
I painted grad caps and Greek life memorabilia, but because my major was so intense, I couldn't do a lot [outside of that]. My senior year I did get into this new club we created called Afro Artistry, it's basically this art community for people of color that want to find an area they can fit in. It's not just for painting artists, but music, spoken word, poetry and other forms. Because of COVID we didn't get to progress with the group as much as we wanted and then I graduated, but it was a great experience and bittersweet to leave. I still stay in contact with other people in the group.
What advice would you give to other artist?
If you have a drive or talent, you don't need to give into the pressure of society to create pieces of work that other people like. All art is art, and you should love your art. There will be people that love your art and there will be people that hate your art, but the people who appreciate your art will find you. As a creative, if you're always making something, putting yourself out there and being consistent, then people will make sure you thrive. Believe in yourself.