If you are a fan of the video game Cyberpunk 2077 and a member of the UCF family, this is for you.
"Limbitless is in the development stages of designing adult-focused clinical trials in which adults could receive our visually expressive and functional bionic solutions."
— Albert Manero
Limbitless Solutions, the UCF-based nonprofit that creates bionic arms for children, worked with the game company CD Projekt Red to turn the metallic arm of the game character Johnny Silverhand from the screen to real life. The character is voiced by action star Keanu Reeves.
The Cyberpunk-inspired bionic arms will be available to adults in 2021, when Limbitless anticipates starting clinical trials for those 18 and older.
"Limbitless Solutions is taking the preliminary steps for the expansion of our mission to produce bionic limbs for both children and supporting adults — veterans and first responders," says Albert Manero '12 14MS '16PhD, Limbitless co-founder and CEO. "Limbitless is in the development stages of designing adult-focused clinical trials in which adults could receive our visually expressive and functional bionic solutions. We are committed to the same level of expression and customization for future adult recipients [as we are for children] and are very excited to work with CD Projekt Red."
Limbitless launched in 2014 with a few students who heard a mom's plea, which prompted them to figure out how to help her son born without one of his arms from the elbow down. The friends worked around a kitchen table, pulled coffee money together and within a few months created a functional 3D-printed arm for a then 6-year-old boy. In 2015 actor Robert Downey Jr. helped Limbitless deliver an Ironman-themed arm. Since then, the program has grown and is running a national clinical trial using an updated version of that first arm.
Limbitless has grown thanks to the dedication of its founders and many collaborations. The founders of the group graduated and stayed on to continue the organization's work. In 2016, Limbitless became a direct support organization of UCF and also began working with various departments at UCF including the School of Visual Arts and Design (SVAD), and the Biionix research cluster based in the College of Medicine. Working with faculty and students from UCF's character animation and digital media programs, Limbitless was also able to create video games that patients use to train their muscles for a Limbitless bionic arm.
"This opportunity for various creative mediums to unite to create a positive impact in our world is truly amazing," said Matt Dombrowski '05 '08MFA, associate professor of emerging media and a Limbitless-affiliated faculty member.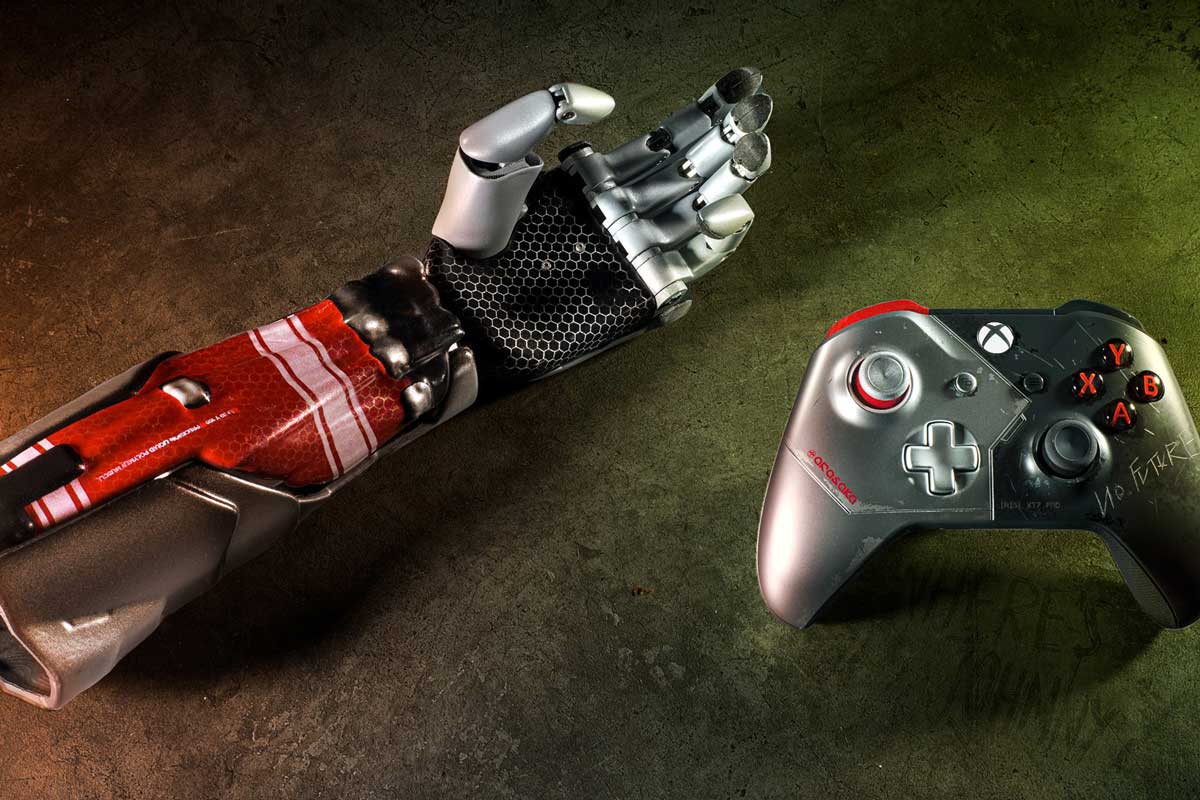 Venturing into Gaming
Limbitless ventured into the gaming world in 2018. Partners have supported the design of cosmetic arm sleeves based on popular video games such as Halo, League of Legends, and now Cyberpunk. This has allowed the group to spread the word about their work and mission and amplify expression through prosthetic limbs.
"The gaming community is super important in terms of adaptive technology and inclusion for all," says Dominique Courbin '18, Limbitless co-founder and director of production. "Being able to bring the expression associated with prostheses in the video game to life has been an amazing experience and one we hope will inspire our program participants."
Limbitless also created an internship program that brings students from across disciplines (art, digital design, game design, marketing and engineering) together to learn work as a team, problem solve on the spot and develop bionic arms with increasing function and expression.
And that brings us back to the collaboration with Cyberpunk 2077.
UCF studio art student and Limbitless intern Remy Marasa worked on the Silverhand-themed arm and is featured in the game's video speaking about the opportunity to work on the project. While some Limbitless members created the bionic arm, Marasa, of West Palm Beach, FL, and Courbin worked together to find innovative ways to paint the arm to make it look as close to the video-game version as possible.
"It was an amazing experience," Marasa says. "I knew about the game. My boyfriend has been waiting for this game since 2013. Personally, it was so cool to be part of this cultural moment of seeing technology and art mesh in such a cool way."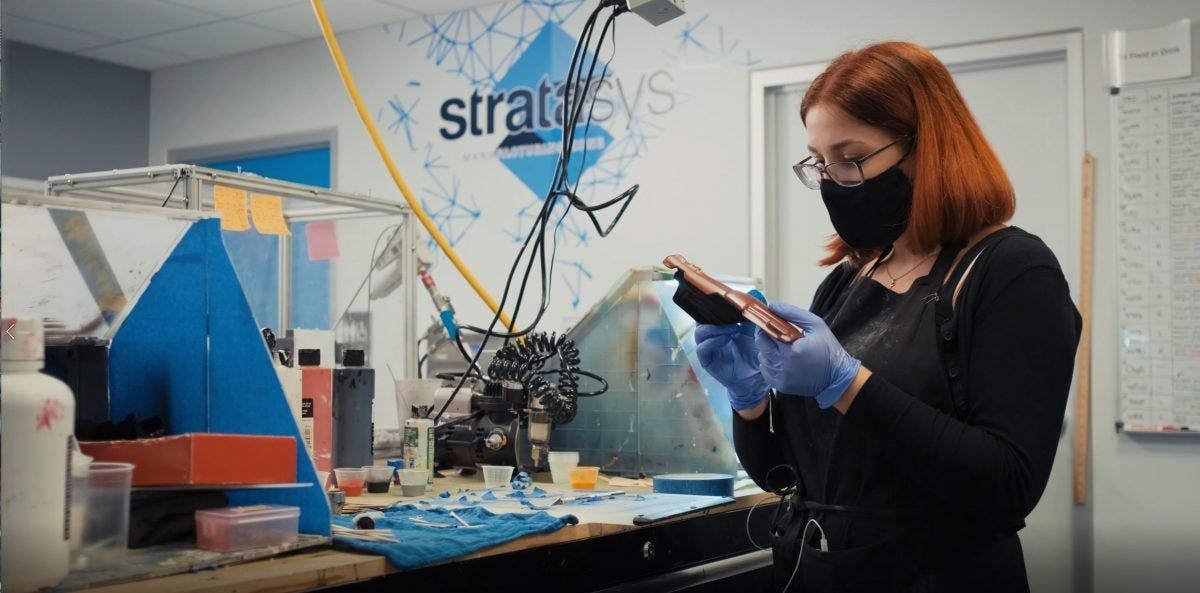 The college senior says the experience of working at Limbitless since 2019 has been invaluable.
"Working in such a supportive environment where each members' experience and expertise is valued, is so inspiring," she says. "I was a little nervous coming in as an artist into a group of engineers, but my opinion, my way of thinking is respected. It takes all of us to make what we do here happen. It is a great work environment and I think its one of the reasons Limbitless is so successful. We know how to work together because at the end of the day it is about helping children and soon, hopefully adults too. I'm proud to be part of that."
As part of the collaboration for the Cyberpunk release, Microsoft is donating $85,000 to help support Limbitless' adult clinical trial phase when it begins.
This process will take some time to finalize. In the meantime, those interested in being part of study are encouraged to sign up for the mailing list at trials.limbitless-solutions.org. Those who sign up will be notified via email when further information and developments become available for the adult-focused research trials.
"We expect 2021 to be a big year for our program," says Manero. "From the upcoming move into a new lab that will double our research space — to the launch of what we hope are several new clinical trials, we are committed to amplifying our impact for our community."