When associate lecturer Irene Pons, four legal studies students and a videographer from UCF's Center for Distributed Learning set out on a trip to the Texas-Mexico border during spring break they didn't know what to expect. But at the end of their week-long adventure they returned home with life-changing experiences, a deeper desire to help others and a documentary that's now won a Suncoast Regional Emmy.
A Break for Impact — a seven-part docuseries produced by Aaron Hose, Christine Kane and Tim Reid from CDL's video team — is being used as a teaching tool in Pons' Immigration Law and Policy class. In December 2020, the trio won an Emmy in the Public/Current/Community Affairs category for their work on the series' Eyes of the Night episode. Hose and Kane were also nominated for awards for their roles as director and videographer, respectively.
"It's critical to keep a lens trained on the border. … Bringing attention to this humanitarian crisis is the only way to effect change." — Christine Kane, UCF CDL videographer
"This is my first Emmy nomination, so I'm beyond thrilled and feel inspired to take on more projects like this in the future," Kane says. "It's critical to keep a lens trained on the border. So many terrible things are happening right now because we as a nation aren't paying attention."
While the docuseries is exclusive to Pons' classroom, a condensed, 60-minute documentary, also called A Break for Impact, premiered virtually at the Orlando Film Festival, where it won the Social Awareness Award. It also received an honorable mention for Best Documentary at the Orlando Urban Film Festival.
"We found the story we had captured to be so gut wrenching and compelling that we wanted to bring it to a larger audience if we could. Bringing attention to this humanitarian crisis is the only way to effect change," Kane says.
Initially, Pons and the students, who took the course last spring, planned to work with a legal organization throughout the week and have Kane document the trip. But about two weeks before embarking on their journey, they were informed by the group that filming wouldn't be allowed due to the confidential nature of the work. So they had to shift plans to see what they could uncover outside of their traditional legal work — and they found much more than they thought they would.
"I expected to spend more time doing legal-related work rather than activism-related work and being at the camps with the people there, but I'm really glad I've been able to do this," says legal studies student Gabby Carpenter. "It's made me want to fight for people more and has inspired me even more to complete my degree, go to law school and become an immigration lawyer. It has inspired me to work harder not just in legal studies but as an activist, to dedicate more of my time to researching these issues."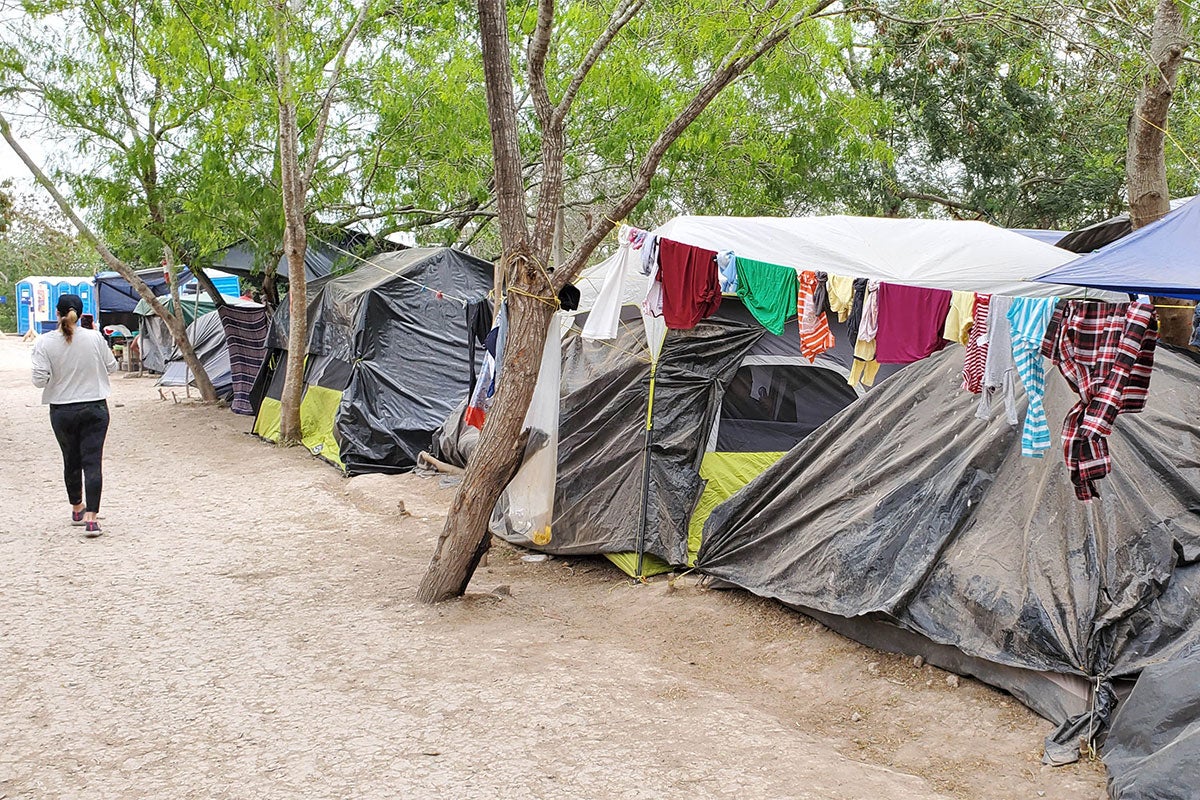 Eye-opening Experiences
As soon as they arrived, the group went to the border and came across Team Brownsville, an organization that provides meals and necessities to asylum seekers living in the Matamoros camp, the biggest refugee camp in Mexico. The students stayed back while Pons crossed the border and saw what she says is an atrocious living environment with a lack of running water and sanitary conditions.
"They're camping, except that's their lives. There are 2,500 people living 100 yards from border patrol on Mexico's side [in the Matamoros camp]." — Irene Pons, associate lecturer
"These people are being held here under new U.S. legislation and are no longer being given the rights they once had to have an immediate interview when they present themselves at the border seeking asylum," Pons says. "They're having to wait three months, six months, a year or however long it takes for an interview or a court date. They're camping, except that's their lives. There are 2,500 people living 100 yards from border patrol on Mexico's side [in this camp]."
Throughout the week, the students had a chance to see the camps for themselves, helping to distribute food and even create art projects with kids there. One child said they didn't want to take their painting with them because it wouldn't fit in their home — their tent, Pons says. The group also volunteered at a church and with Angry Tias and Abuelas, another organization that helps provide refugees with basic necessities.
"The amount of kids and unaccompanied minors and the fact so many parents have given up their kids for a chance at a better life — that really surprised me," Carpenter says. "I'm not a parent but moving from Michigan to Florida [to attend UCF] really put a strain on my parents and I can contact them still, so I can't imagine what that feels like — it was really eye-opening."
Unexpected Lessons
But the most shocking experience for the group was seeing detainees deported early in the morning, under the guise of darkness. Everyone on the flights, including children, are placed in five-point shackles, and dropped off in Honduras or El Salvador, regardless if those are their home countries, Pons says.
"They are really cunning by doing this so early in the morning. There's a light that shines right at you so you can't take pictures and security people are constantly telling you to get back," says Kajal Patel, a legal studies student whose parents immigrated to the U.S. "Usually you can find flights on flight tracking apps in advance, but these flights are only being posted an hour or so before. Why are they doing this if there is nothing to hide? You don't see this on TV."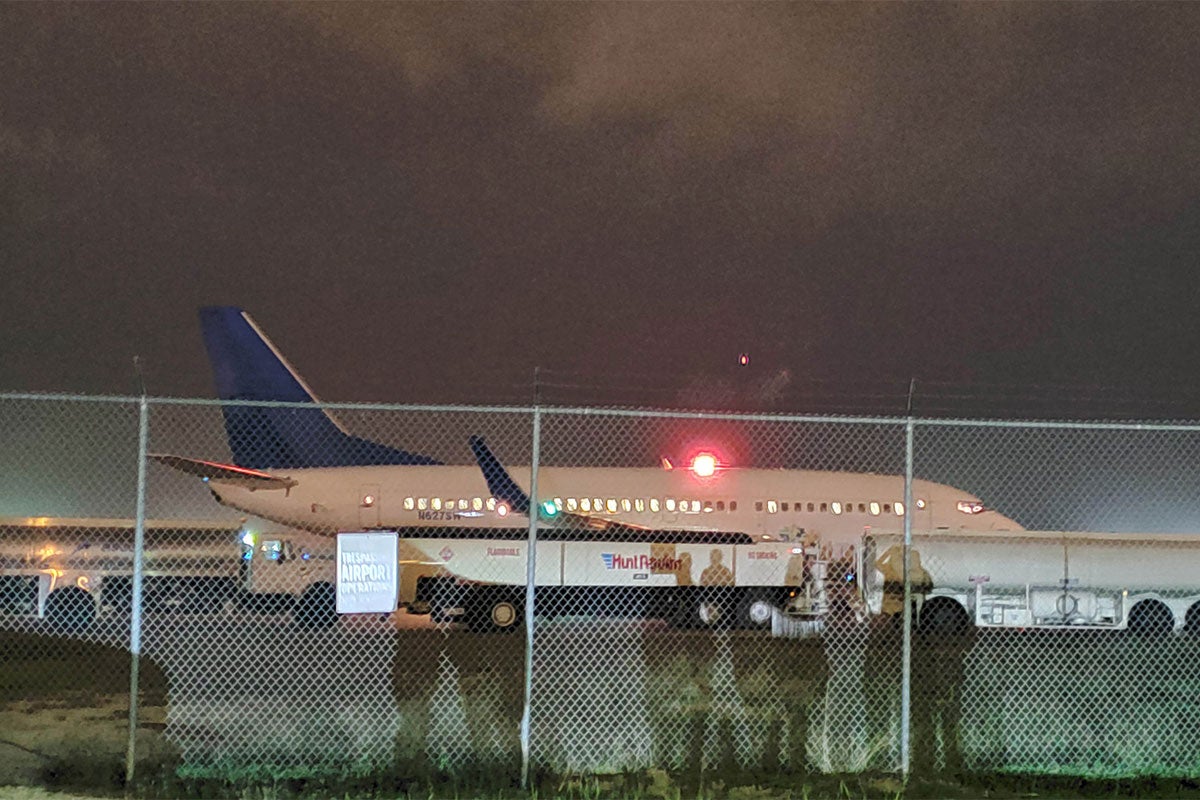 Ready to share what they uncovered, Pons and the students were ready to return to the classroom back in Orlando. But COVID-19 was spreading further in the U.S. and UCF announced a transition to remote learning as the trip ended. The group needed to quarantine to mitigate any potential spread — forcing their plans to be altered once again.
"It was somewhat muted having to sit in a remote lecture and tell students about our trip, I don't think it had the same impact," Pons says. "But the feedback now [that we have been able to show the docuseries] has been so amazing, it has kind of refueled us. This is innovative teaching at its finest because students can have this immersive experience and see it for themselves."
And for the students who went on the trip, their hands-on experience provided value that will serve as inspiration throughout their lives and legal careers.
"In class, we were taught more on the legal aspect of the immigration field and process," says Norynne Caleja, legal studies student. "The trip taught us more on the social advocacy aspect of immigration. I think it is important that aspiring lawyers should have knowledge not only in the law field, but especially in the social advocacy field as well."
Inspiring Action
Tanya Bahena Hernandez is one of the students taking Pons' class this fall and has gone through the immigration process after the Mexico native moved to the U.S. at 16. It took the UCF Online legal studies student six years to get her green card and 12 years, along with thousands of dollars, for her mother to get hers. Though she and her family dealt with their own struggles coming to the U.S., A Break for Impact has been eye-opening for the future immigration law attorney.
"It is shocking to see the reality of what is actually happening at the border." — Tanya Bahena Hernandez, legal studies student
"It is shocking to see the reality of what is actually happening at the border," Bahena Hernandez says. "It's crushing to see what people like me are going through and [the docuseries] is very impactful."
So much so, she says, that she formed the Immigration Justice Center at UCF, which Pons will be the faculty advisor for, and is working to register the student organization. Its purpose is to connect to local nonprofits to help educate immigrants on the immigration process and their rights, and to eventually train members to help others fill out the necessary paperwork.
"Although we are not attorneys, we would like to educate our community, especially asylum seekers, refugees, domestic violence victims and victims of other crimes as best we can," Bahena Hernandez says. "We also want to empower students to volunteer at nonprofits focused on assisting immigrants. [The idea for this organization has] been on my heart for a long time, but it's just materializing now with Dr. Pons because she is a great professor and human being who wants to support these kinds of causes."
Future Impact
The trip to the border was so impactful that Pons is already working with a group of students to plan a trip for next year, with considerations to COVID-19, and she says she'd like to offer the opportunity every year.
In November, CDL will be launching a website with content from A Break for Impact, links to organizations helping asylum seekers at the Texas-Mexico border and updates about what is going on there. There are also plans to keep filming Pons' trips with the students to keep producing educational tools for others.
"After experiencing it, this project felt like this could be bigger and more long-term. We wanted to find a way to funnel volunteers to these organizations that are on the ground," Hose says. "We want to be as much value-add as possible for students and the faculty that serve them — this is some of the most important work we've done as educational content creators."