Type

Online Bachelor's

College

Community Innovation and Education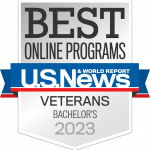 Lay the foundation for your future in the field of law.
Are you passionate about protecting the rights of others? Have you dreamed of becoming an attorney, paralegal, legal assistant, court reporter or other legal professional? The best place to begin is with a bachelor's degree in legal studies. Post-graduation, you'll be able to step into a dynamic career, law school or related graduate or certificate program.
Your online legal studies degree will grant you a strong understanding of the legal system, legal research, legal writing and professionalism within the field. You'll also take courses on advocacy, family matters, international law and more. By exploring the intersection of law and business, and law and technology, you'll stay at the forefront of this ever-evolving field.
All full-time faculty of the program are graduates of American Bar Association-approved law schools, and you're encouraged to leverage their role as advisors in planning your studies and post-graduation objectives. Depending on your aims, you may choose to earn one or two specializations, such as public law, litigation, criminal law, transactional law and others. With an internship or capstone requirement, you'll be even better prepared for the path you choose after graduation. Begin your journey today.
Related Online Programs
Career Opportunities
community service analyst
contracts specialist
court reporter
legal analyst
legal assistant
legal operations manager
program specialist