On any given day in any given Central Florida hospital, it's typical to see UCF College of Nursing students in their signature black scrubs taking part in clinical education.
What's uncommon is for these students to pair with trained hospital nursing staff instead of UCF's faculty instructors. That's what happened recently for six weeks when a group of 30 undergraduate UCF students participated in a new kind of clinical rotation called dedication education units, or DEUs, at AdventHealth East Orlando and Orlando Health Orlando Regional Medical Center (ORMC).
The DEU model is gaining in popularity across the U.S. for its proven benefits to nursing schools and healthcare organizations — and ultimately benefiting the community.
Research has found that DEUs provide nursing students with a more realistic preparation for clinical practice, leading to improved patient care. In hospitals, DEUs engage staff in educating the next generation of nurses, which has shown increased job satisfaction and reduced nurse burnout and turnover.
"In order to capitalize on the benefits of a DEU initiative, it cannot be underestimated the importance of a true academic and healthcare organization collaboration," says Kate Dorminy '06BSN '10MSN, undergraduate clinical education coordinator at UCF's College of Nursing.
For months before the DEU launch, UCF worked closely with AdventHealth and Orlando Health to identify units with higher levels of patient care to maximize learning opportunities for students. More than 25 nursing staff members in the identified units across both systems then received training to become a preceptor for undergraduate students.
"Collaborative strategy, training, and communication are all required well before the students arrive onsite for their first day," Dorminy says. "The effort is worth the valuable outcome at the end, which is a positive long-lasting learning experience."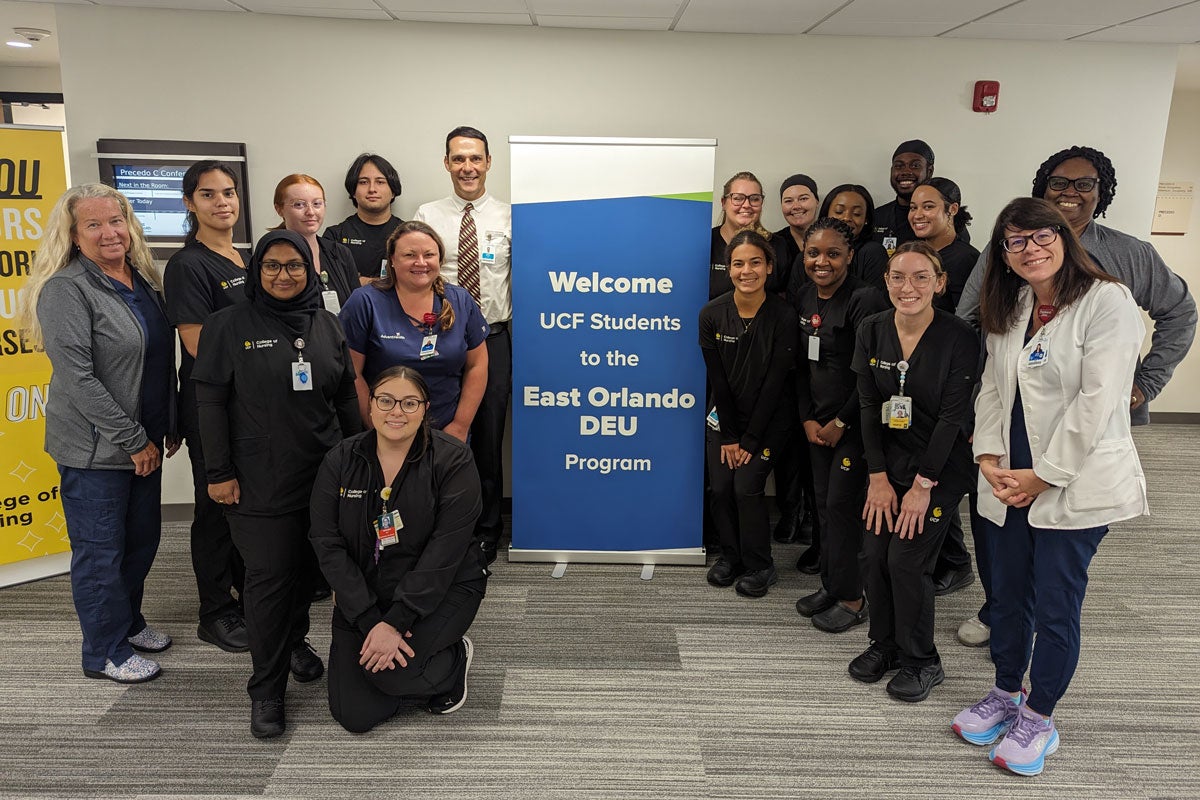 Progress in Patient Care
Senior nursing student Emilee Meeks can attest to that.
"This clinical experience was much different than my previous clinicals in many ways," says the traditional Bachelor of Science in Nursing (BSN) student.
In DEUs, students work in the same unit alongside the same preceptor and colleagues for six weeks. Students take care of several patients as part of a team instead of taking care of one patient as a guest on a unit. In addition, students participate in rounds and communicate with all healthcare team members. As a result, they learn workflow on a unit, time management, communication and organizational skills, and the importance of interdisciplinary teamwork.
At AdventHealth East Orlando, Meeks paired with Jason McRoberts '22BSN in the progressive care unit.
"It was always so welcoming to walk on the unit and to be greeted with a smile from the same preceptor each morning. He was invested in my learning and pushing me to strive for excellence," Meeks says. "From the first day, Jason helped guide me through multiple experiences such as medication administration and patient assessment. He also asked questions to ensure I understood the reasoning behind what we were doing."
"Being a preceptor in the DEU model of learning allowed me more time to focus on developing my student's hands-on clinical and critical thinking skills, which are required to be a successful nurse," says McRoberts, who previously has been a preceptor for nursing students in a traditional clinical model. "It is important to mentor future nurses, to introduce them to the profession, and to be a role model to exemplify how a nurse should conduct themselves."
"I am proud to be a part of this new partnership," says instructor Sotos Djiovanis '20MSN '15BSN, who is the DEU liaison at AdventHealth East Orlando. "The students made incredible progress in patient care, and the team at AdventHealth — the leadership, unit managers and educators — all worked tirelessly to provide an engaging clinical learning experience for our students."
Immersive Clinical Learning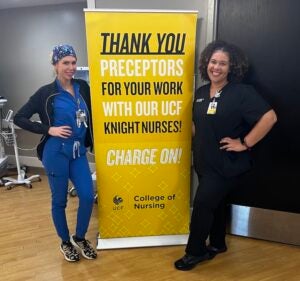 Taylor Floyd, an accelerated second degree BSN student, had a similar experience across town at Orlando Health ORMC.
"By being able to work with the same nurse each week, we were able to develop a relationship and I truly gained an understanding of what a day in a nurse's life is like," she says.
Floyd, like Meeks, was welcomed as part of the team at Orlando Health. In addition to providing patient care with her preceptor, Floyd participated in team huddles, morning reports, charting, and spoke with other healthcare providers about her patients' care.
"In the DEU, I truly felt like the nurse while taking care of my patients," Floyd says. "I was able to really thrive in the trust and relationship I had with my preceptor."
DEU preceptor Samantha Pearson '21BSN, a nurse on the vascular step-down unit at Orlando Health ORMC, agrees. "The DEU model is active learning, and the students and preceptors get to rely on each for support for patient care."
"I am very happy to see this model come to life from the ground up," says Sarah Rose Thornton '18BSN '21MSN, DEU instructor at Orlando Health. "This was an amazing opportunity for our students to become a part of a unit."
Collaborating for the Community
"This first cycle of DEUs was overwhelmingly successful," says College of Nursing Dean Mary Lou Sole.
"We are incredibly thankful to the teams at both AdventHealth and Orlando Health who invested time and energy to ensure its success," Sole says. "It is a true testament to how all of us, at UCF, AdventHealth and Orlando Health, are working together to ensure a brighter, healthier future for our Central Florida communities."
Orlando Health and AdventHealth have been longstanding supporters of UCF and the College of Nursing. The partnerships have continued to expand and evolve to innovate learning, meet the changing healthcare needs of the community, and help address the nursing shortage.
Most recently, the healthcare systems pledged a combined $10 million to support nursing education at UCF and the new building at Lake Nona. This investment, together with PIPELINE funding, supported the DEU initiative.
DEUs will replace one traditional clinical opportunity for nursing students at UCF Orlando. Based on the launch's success, the college is exploring additional opportunities to expand the program in Orlando and at regional campuses.
"I am beyond thankful for this amazing opportunity," says Meeks, who is expected to graduate in Summer 2024. "It has helped myself, and other students in this clinical rotation, become more confident, knowledgeable and optimistic for the future as we prepare for our nursing careers."