As International Education Week takes place Nov. 18 -22, students and educators around the world celebrate and bring awareness to their cultures. At UCF, one of the largest international populations enrolled through UCF Global are Saudi Arabian students.
One of these students is 26-year-old Rodwan Alharbi, who is pursuing his master's in mechanical engineering at UCF.
In 2015, Alharbi came to UCF to visit his brother, Mahmood Alharbi, who was pursuing his doctoral degree in electrical engineering. Since their parents have held positions as headmasters at schools in his home country, Alharbi says education has always been a major emphasis in their lives.
"I saw UCF and I liked it immediately," Alharbi says. "It's such an attractive university with the campus and everything. Especially the engineering school, which is connected to many major engineering companies around, like Lockheed Martin and Siemens."
He then finished his bachelor's degree at Taibah University in his home of Medina City and applied for a scholarship to study here through UCF Global. He was given the award to help further his knowledge as a mechanical engineer for Saline Water Conversion Corporation, one of the biggest companies in the Saudi Arabia.
Now in his final year at the university, he is considering finding an engineering job in the United States and working for a year before getting experience and returning home.
"I like how all the people here in the university appreciate the value of education," Alharbi says.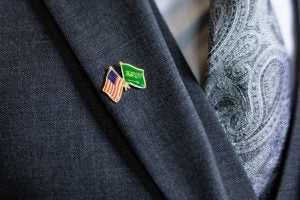 Aside from engineering, UCF's hospitality and teaching programs are other programs attracting many Saudi students whose education aligns with Saudi Vision 2030. In February, 67 educators and 155 family members completed a yearlong immersive program to learn about U.S. education system practices.
This fall, about 60 students from the country came to the Rosen College of Hospitality Management to earn degrees that will allow them to fill positions in 2023 as Six Flags Qiddiya, the first major theme park in the country. Alharbi says he loves theme parks and is looking forward to visiting the attraction once it opens. In the meantime, he's enjoying the rides at attractions in Central Florida.
"I love roller coasters. Busch Gardens is my favorite here," Alharbi says.
Alharbi says it was not a major culture shock when he first moved to Orlando. Among Saudi Arabia's 13 regions, Medina City is one of the most diverse, attracting people from Asia, Europe and elsewhere. But there is one thing he does miss.
"Back home we see our neighbor not as our neighbor, but as family. People are friendly here, but it's not quite the same," Alharbi says. "I respect my neighbor, who is the same age as my father, like my father. I think we have warmth and are so connected as a society."
That familial feeling is big to Alharbi, literally, since he is one of 10 children. With six sisters and being the youngest of four brothers, he's used to spending time and having fun with a large group of people. As president of the Saudi Students Association, he helps organize gatherings of 30 to 300 students, including one which takes place Friday for International Education Week and is open to all UCF students, staff and faculty.
The Saudi Festival on Memory Mall will celebrate ancient heritage, arts and customs. The event will take place 10 a.m. from 4 p.m. and include traditional food, music, dance, clothing.
"We are hoping that guests will enjoy exploring the tents and finding out more about Saudi Arabia's heritage and prospective plans."
As for those interested in experiencing Saudi Arabia first-hand, Alharbi has some advice.
"My tips would be don't judge from the first time you visit Saudi Arabia," he says. "It's a big country so try to visit many regions. Then you will see the variety of the many cultures, and then you will love it."