When UCF alums Teresa Falcone '14 and Christopher Sanchez '14 first looked at the storyboards for Pixar's Soul, they had a gut feeling they were going to be working on something memorable.
"You can tell it feels special, when you know that people are going to love the movie when it is released," Sanchez says. "I could feel it when I was working on Soul."
Soul, which was released on Disney+ on Christmas, became an instant hit among audiences and critics alike, and earned the Golden Globe and Academy Award for best animated feature.
The first Pixar film to feature a Black protagonist, the story follows middle school music teacher Joe Gardner, who seeks to reunite his soul and his body after they are accidentally separated, just before his big break as a jazz musician.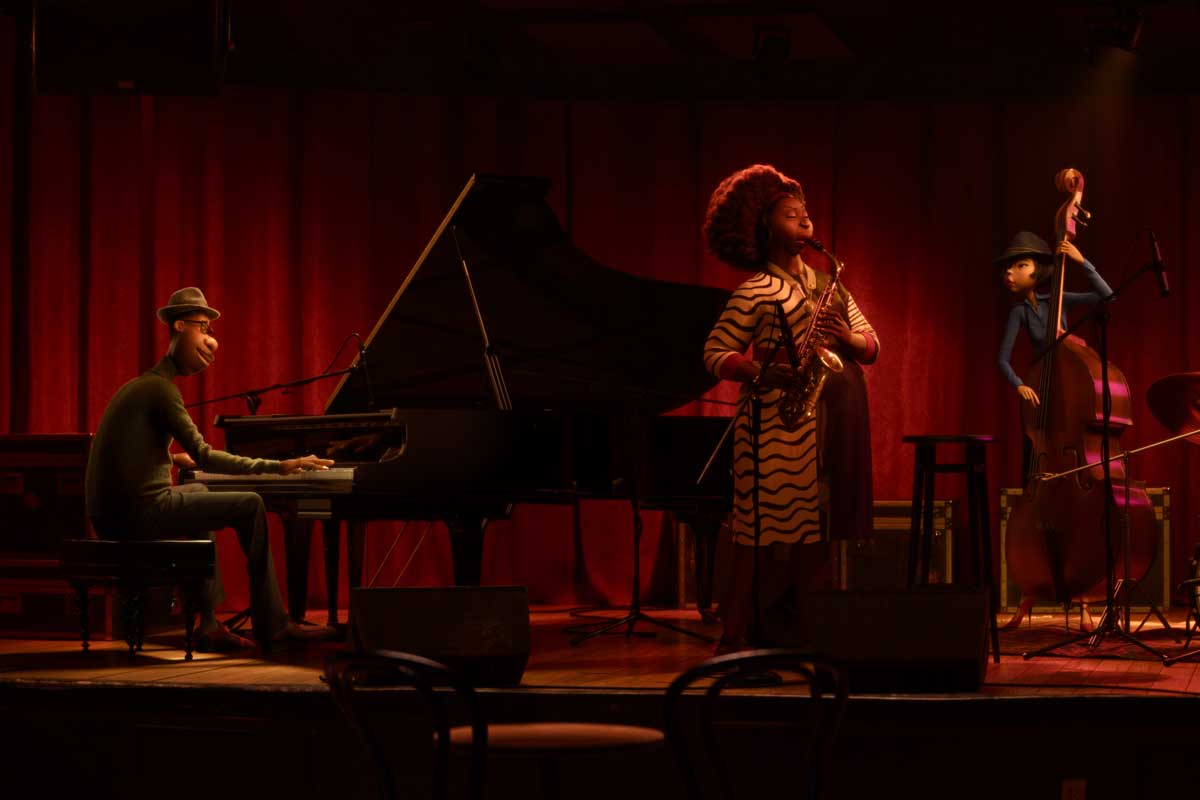 As animators on the film, Falcone and Sanchez were tasked with bringing the characters to life through emotions that feel authentic and genuine.
The two are no strangers to working on beloved films since graduating from the School of Visual Arts and Design in 2014. They worked together before on Smallfoot, and in 2019, Falcone collaborated on Oscar winner Toy Story 4.
They took time to share about their experiences collaborating on Soul.
What goes into the process of bringing a character to life?
Teresa Falcone: It is a very collaborative process. First we'll see the storyboards and the characters in layout in the scene. A lot of the time, we will shoot our own video of ourselves acting out the scene so we can reference that as well as pull video of other actors to try to find and bring that authenticity to the characters. For example, I worked a lot with Joe's mom, Libba, and I'm very different from that character. I did shoot my own video reference for her, but I also researched a lot of other Black actresses in the process of animating her.
Chris Sanchez: The voice actors typically record their lines before we animate and we have access to those recordings of them in the sound booth. We will watch those to see if they do any cool gestures or any specific facial expressions that really fits the character and we can incorporate. So like Teresa said, you pull things from different references that you think fit the character and you show the director, and the director will say, "Yeah I really like this," or "I like this part but let's try to change something at the end or middle." You just keep reiterating on it. Ultimately the director decides what stays and what goes.
Soul covers some really deep, existential themes. What did you think when you first were introduced to the story?
Falcone: It's really different for an animated movie. I feel like a lot of people look at animated movies as kids movies but they're not just kids movies. They're movies for everybody and they have an important message. I think we knew it was going to be a big deal going out into the world.
Why do you think Soul resonated so well with audiences?
Sanchez: I feel like people needed the movie now more than ever because of the pandemic. I feel like this past year especially, people's plans got put on hold because things were shutting down. The overlying message of Soul is to not forget about what's really important in life — the relationships you have and the experiences you have. It's not just about going out and achieving your dream job. I feel like that message resonates with a lot of people because they're going through similar experiences the main character is going through.
Falcone: I think even the fact that it was released at Christmas instead of June like it was initially scheduled for made it the perfect time for families to sit down together and digest everything that happened though the year.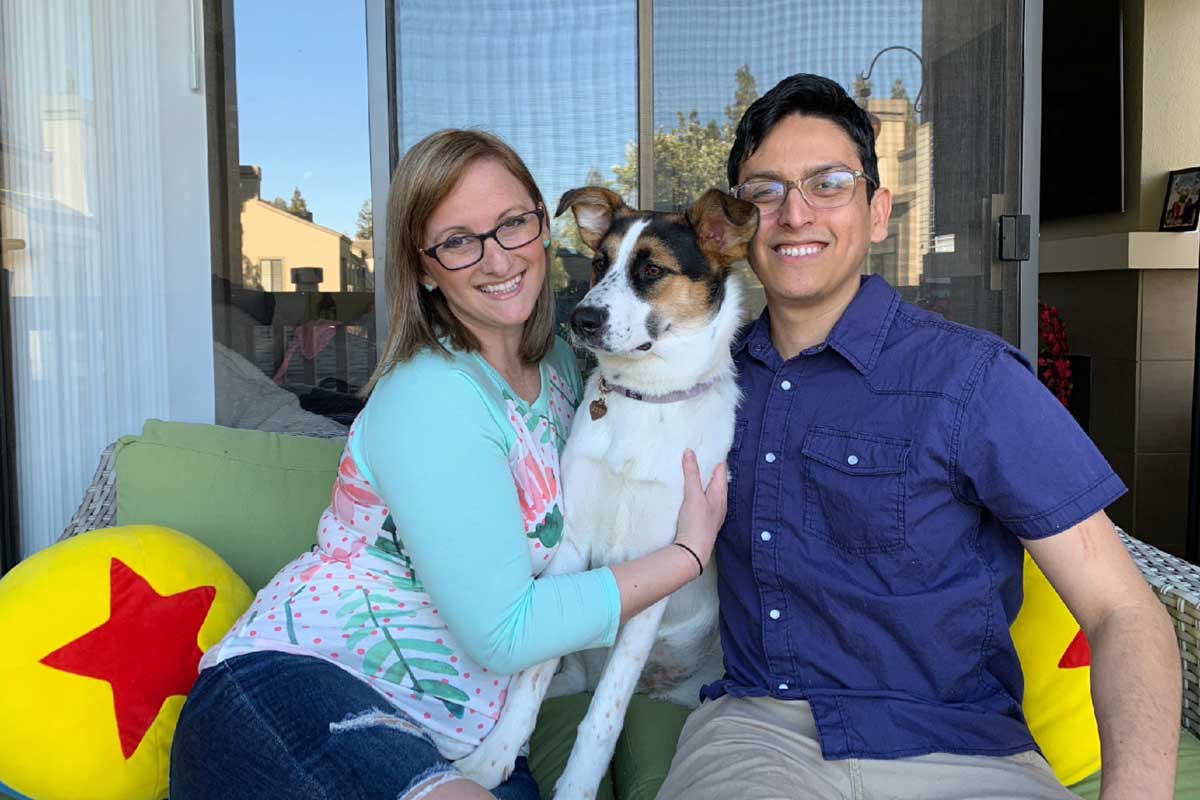 What moments in the film were particularly impactful to you while creating it?
Sanchez: We're relatively early in our careers still compared to a lot of the veterans. I was given some of the most challenging shots I've had to work on so far. Those shots took place during the emotional climax of the movie. I pulled from a lot of personal feelings because the whole emotional tone in that is that the character 22 felt like she wasn't good enough and she had all this self-doubt. I got rejected so many times from jobs when I was first starting out. So I was trying to pull a lot from my personal experiences to put that into 22.
Falcone: Yes that moment in the movie in particular, so many of us as artists were like, "I know how that feels."
What was most rewarding about working on Soul?
Sanchez: I feel like it was this big Band-Aid that the world needed right now. But also it's Pixar's first Black lead, and I think that's awesome. I worked on Spider-Man: Into the Spider-Verse which had a half-Black, half-Latino lead, so I'm always really proud when I work on something that hasn't been done yet.
Falcone: It feels like we're helping progress forward and it feels really good to see people be able to see themselves represented on screen. It's just special knowing we helped in some small way.
You both also worked on Onward, which along with Soul were both nominated for the Golden Globes and Academy Awards best animated feature. Is this moment sort of like when parents are asked which kid is their favorite?
Falcone: Yes, that's exactly it (laughs). They're both so special to us. I don't think anyone is rooting for one over the other. We know the directors and we're happy for them. It's great knowing that we made some good films.
Sanchez: Onward was my first Pixar movie so this has been an extra special year for me. I've had this feeling before in working on films — you can tell it feels special, when you know that people are going to love the movie when it is released. I could feel it when I was working on Soul. The nomination is great but I'm much more happy that the general public is reacting well to it.
What's next for you?
Falcone: We're working on a coming-of-age film called Turning Red which will be out in the spring of 2022.