In his line of work, Jonathan Mangum '93 sometimes leads people to some really good deals – and then other times, well, not so good.
But maybe that can only be expected of the UCF psychology graduate who works as the announcer of the CBS game show Let's Make a Deal, and who often gets involved during the show doing improv with host Wayne Brady and contestants.
"Live improv is still my favorite thing to do," says Mangum, who has been friends with the show's host since the two worked together at Orlando's SAK Comedy Lab in the '90s. "I've been touring with Wayne Brady for almost 20 years now, doing a two-person Whose Line-style show," referring to the televised improv series Whose Line Is It Anyway?.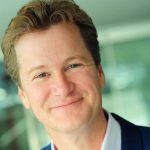 Mangum moved to Orlando after his first year at LSU to work at Disney World. He said he liked Orlando and working at the park, so he enrolled at Valencia College to earn his associate degree. After Valencia, he earned his bachelor's degree at UCF while he taught, performed and honed his improv skills at SAK.
His first TV job was at the Nickelodeon TV network in Orlando when he appeared on the show Clarissa Explains it All as a pizza-delivery driver. Then after moving to Los Angeles in 1995, he appeared in hundreds of commercials, acted in dozens of TV shows, appeared in several movies, and became part of the cast of the Whose Line is it Anyway?. His scripted TV appearances were both comedy and drama, as he appeared in such shows as The Drew Carey Show, Reno 911!, Just Shoot Me!, ER and NCIS.
"I eventually landed the Let's Make a Deal job after Wayne asked for me personally to fill that spot. I had never announced anything before that," says Mangum, who has been the show's announcer since 2009. "He's a super loyal guy and I love him for that."
While a student at UCF, Mangum says he loved creative writing classes and playing saxophone in the jazz band.
"Many of my friends went to UCF including the Blair Witch guys (Ben Rock '95, Dan Myrick, '93, Greg Hale '95 and Ed Sanchez '94). I got to be in many of their student films," he says. "I thought it was a well-run school with great teachers and staff. After coming from LSU, it still felt big, but not too big."
He made it back to Orlando for Wayne Brady Day on Oct. 12, as declared by Mayor Buddy Dyer. Mangum joined Emmy winner Brady, who graduated from Dr. Phillips High School, to perform at the Dr. Phillips Center for the Performing Arts in downtown Orlando.
Mangum is making some nice deals of his own these days.
His Let's Make a Deal schedule calls for shooting three episodes a day, four days a week for about four months, netting 175 hour-long episodes. This gives him eight months to pursue other projects, he said.
In addition to roles in several film and TV projects this year, he writes and produces a fun short animated program about a southern man called Cooter's News on Facebook @cootersnews, and soon will be in his first drama feature film, A Patient Man, a project with two other UCF graduates produced by Jason Moyer '98 and written/directed by Kevin Ward '00. For more release information follow @apatientmanmovie on Instagram.
What comedy/acting/TV advice does Mangum have for UCF students?
"It's all networking," he says. "Don't expect to be successful after a year or two. Look more at 10-year time lines. The people you hang out with in your 20s will be writers, directors, producers and agents in their 30 and 40s — and they'll be your friends."