For the first time in 23 years, the annual Sunshine State Scholars Symposium, which honors some of Florida's brightest 11th graders, will be held virtually and UCF's Limbitless Solutions will play a big part.
The groups that put on the UCF event wanted to protect students from potential COVID-19 exposure, but they didn't want this year's 103 top science, technology, engineering and mathematics scholars to miss out. Originally scheduled for May 28-29 in Orlando, the groups shifted gears and organized a virtual event scheduled Saturday, June 13.
The goal of the event is to showcase the opportunities available to some of Florida's brightest students if they continue their education careers in the state. High schoolers usually decide during their junior year where they want to attend college. The event is a collaborative effort among the Florida Education Foundation, the State University System of Florida, the Florida College System, and the Florida Department of Education. Local and national companies with STEM emphasis also participate.
"Sunshine State Scholars is a fantastic event celebrating some of Florida's brightest young minds," said Florida Education Commissioner Richard Corcoran. "To see the passion these young scholars have for learning while simultaneously working on projects that will help them learn real-world experiences to better serve their communities is inspiring. Their desire to succeed and the potential they exhibit is a fantastic reminder for everyone – education affords us all the freedom to blaze a path in any field…We would be so lucky to have them attend a Florida college or university and be the leaders of tomorrow, guiding Florida through the next 50 years of STEM research and development."
Limbitless Solutions staff and students – which creates bionic arms for children and other assistive technology – including Shea McLinden, a student who applied to UCF after attending the 2018 Sunshine Scholars symposium, will help lead some of this year's sessions.
"I am extremely excited to be taking part in the Sunshine State Scholars event," says McLinden, who is now in her second year at UCF. "Being recognized made me feel like my hard work had paid off. I felt invited into the research opportunities at UCF. I am also excited to see those who are going to be coming up in the collegiate world, especially future UCF students."
McLinden is studying health sciences and began working at Limbitless this summer as a research scholar. She aspires to work in the health field but her future also includes research. The Oviedo-native became interested in UCF when she heard Limbitless president and CEO Albert Manero '12 '14MS '16PhD speak during her symposium.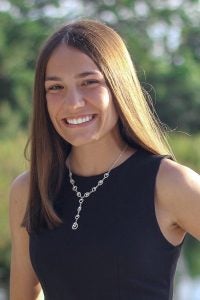 McLinden is taking advantage of the extracurricular experiences at UCF. Although she is just beginning her sophomore year, she has had research experience conducting experiments for fluid-structure interactions before joining the Limbitless team. She also, became the director for the Pre-Professional Medical Society, and participates in Honors Congress. She says she shares Limbitless' passion for inclusivity and applies that passion with Knights Exemplar.
McLinden and fellow Limbitless' student interns Remy Marasa and Jessica Oks will lead the symposium's breakout sessions with Limbitless staff members Manero, Mrudula Peddinti '18, and Angie Carloss '04, '18 MPA. Participants will be put into a virtual breakout room and participate in a roundtable to tackle a real-life problem facing Florida.
This year, the problems will revolve around strategies for slowing the spread of COVID-19 while considering accessibility for individuals who have disabilities or impairments. They will also look at how to support young children. In Zoom breakout rooms students will design solutions and strategies intended to mitigate the spread of COVID-19 in areas such as transportation and recreation, using a small budget and engaging technological concepts.
Manero, who will give the keynote address, says these are the kinds of events that get students excited about the science and research they can do here in Florida. Manero graduated from East Lake High School in Tarpon Springs, Florida and earned a bachelor's, master's and doctorate at UCF.
"Beyond this event, these types of conversations encourage students to begin thinking outside of themselves," Manero says. "For Limbitless, the hope is that as students look onward towards their university experience, they will start to consider accessibility, inclusivity and diverse perspectives in academic and professional settings."
Manero or one of his teammates has been participating in the Sunshine Scholars' event for the past five years because it aligns to one of the organizations core values.
"Our biggest challenges require collaboration and diverse perspectives to better our communities," Manero says. "We want the next generation of problem solvers to be able to identify key components of accessibility in their fields as they go on to make the world a better place."