Access to a quality online education is more important than ever as the pandemic continues to affect the country. At UCF, that access continues to grow.
This semester, the university hit a milestone – more than 100 programs are now available fully online.
"UCF has been a leader in this field for more than 20 years, and since day one we've been committed to high-quality online education," says Tom Cavanagh, vice provost for digital learning. "No matter how many programs we continue to add, that commitment to quality will never change."
Since UCF Online was formalized in 2016, enrollment has steadily grown year after year. Cavanagh attributes its success to UCF's emphasis on training faculty to be effective online teachers and integrating digital learning into the culture at UCF even before the pandemic.
"Before March, 86 percent of our students took at least one course online or blended every year. Almost 50 percent of our credit hours were online or blended before everyone transitioned online in March," he says. "Teaching students online is something that was embedded at UCF, and it is done at the same high quality that you would expect from our face-to-face courses."
Quantity with an emphasis on quality
That mindset and experience has paid off dividends as higher education has had to quickly shift gears in the wake of COVID-19. While many schools around the country grappled with struggling enrollments as a result of the pandemic, UCF Online saw an 18 percent increase from Fall 2019 to Fall 2020.
UCF Online currently offers 25 bachelor's degrees, 34 master's, three doctorates and an additional 41 graduate certificates. Eleven new certificates were created specifically in response to workforce demands created by COVID-19.
U.S. News & World Report recently ranked UCF among the top 20 Best Online Bachelor's Programs in the nation for the third consecutive year, enabling students from anywhere in the world to enroll in fully online degree programs.
"Our goal has been to try to reach those non-traditional students who can't access education in any other way and need the flexibility that online education offers," Cavanagh says.
Bright future
Taylor Banfield is one of those students. The 25-year-old needed to balance her coursework with her job as a server to put herself through school and says UCF Online allowed her to do both.
She is months away from earning her bachelor's degree in health services administration after persevering through a seven-year journey that saw financial hardship early on and a boating accident last year that landed her in the hospital for two weeks.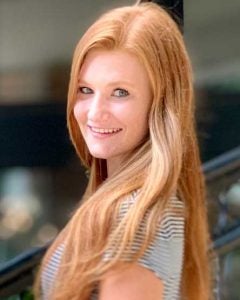 Banfield — whose leg was cut badly by a boat propeller— was able to stay on top of her homework from the hospital bed. She says she is thankful for her teachers' understanding and willingness to work with her during that traumatic period of her life. She was also able to apply lessons from her classwork to her own situation.
"The class I was enrolled in focused on the insurance process in healthcare, and I was able to understand the explanation of benefits in my own situation," Banfield says. "It was really helpful, and kind of cool that I could experience what I was learning about first hand."
Banfield says finally earning her diploma will fulfill a lifelong goal she set out to make her grandmother proud.
"My grandma has 20 grandchildren, and none of them have a degree," she says. "That made me want to be the change for my family. I didn't want to just sit around waiting for something to happen. That's why I went to school. This degree is going to be a stepping stone to where I'm going. I plan to get my master's and eventually I want to specialize in helping people with disabilities. I want to make an impact."
Cavanagh says the university will continue to develop and expand UCF Online's degree inventory to continue to help students achieve their goals, and he envisions a future that holds more alternative programming such as skill-based short courses or smaller credentials that could be stacked to fit degree requirements to accommodate a variety of educational opportunities.
"That's definitely an area of opportunity for us to explore," he says.