Effective studying is a skill, but it's one students sometimes don't learn despite years of schooling.
A University of Central Florida researcher has developed a computer-based, artificial intelligence tutoring tool – MetaTutor – that monitors students' learning activities, facial expressions, eye movements, and interactions with avatars, and adapts its instruction delivery to help students learn more effectively.
The tool is featured in the U.S. Department of Education's What Works Clearinghouse report Using Technology to Support Postsecondary Student Learning.
"Humans struggle and face serious challenges when learning, reasoning and problem solving," says Roger Azevedo, a professor in UCF's College of Community Innovation and Education who developed the tool. "So, we as psychologists are finding ways of understanding what those challenges or limitations are so we can help people overcome them."
MetaTutor works by placing students inside an AI-supported learning environment they access through their computer. As they navigate the content they are studying, the tool monitors the information they are accessing and for how long. If students start going down the wrong track, the computer's AI will recognize this and will begin to help them readjust.
"For example, what if the student selects content that is part of the topic but isn't relevant to the current learning goal?" Azevedo says. "If a student persists with that content, then after a certain amount of time, one of the tool's four avatars, Mary the Monitor, pops up on the screen."
"Mary starts a dialogue," Azevedo says. "She says, 'Hey, do you think this content is relevant to your current learning goal?' If the student says 'yes,' then they have to explain to Mary why it's relevant. Depending on their response, Mary provides individualized instructional techniques and feedback."
These prompts help students stay focused and augment their ability to discern the material most relevant to their planned and current learning goals. This helps improve their metacognition, or ability to be aware of what they are learning.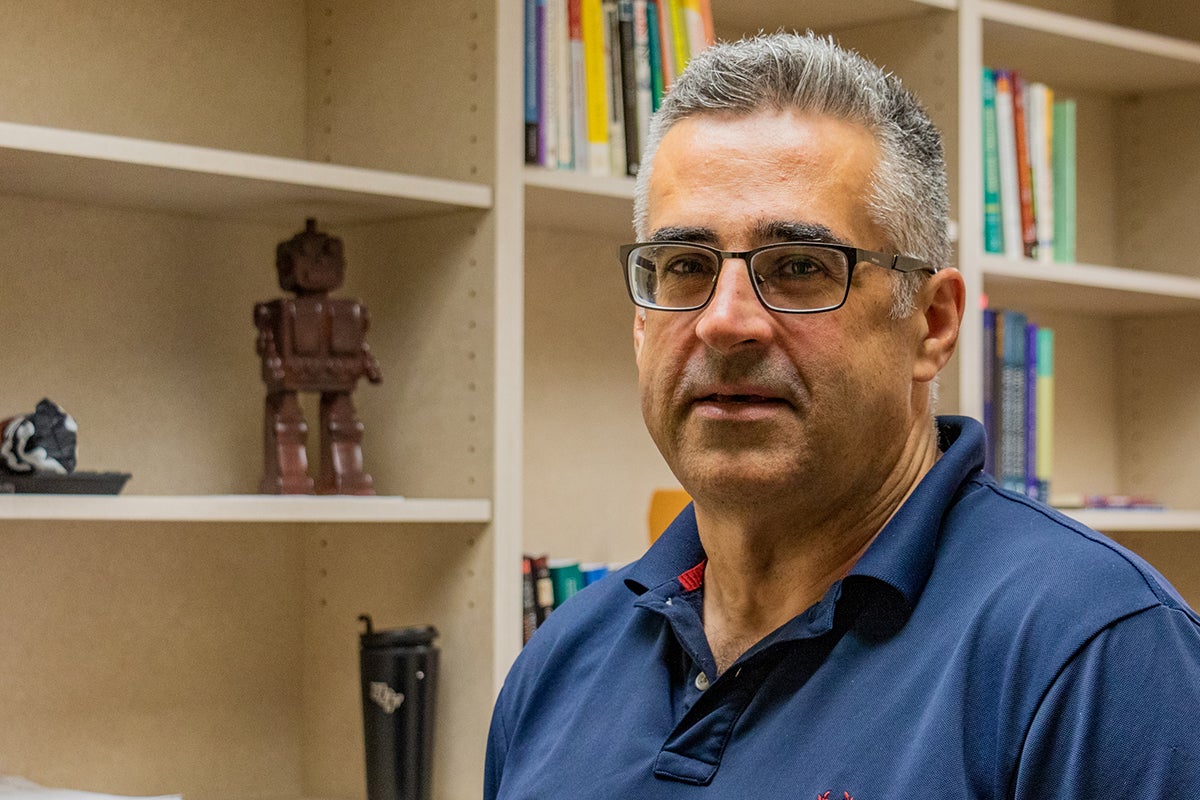 Azevedo and his interdisciplinary research team are focused on improving student learning outcomes, which is why they are also continuously collecting data about what people are doing and what is happening to them during the learning process.
This includes tracking their eye movements across the screen, monitoring their facial expressions of emotions and interactions and dialogue with the four avatars. The team also monitors the physiological responses of each participant during complex learning.
These data about how students examine and react to content can then be entered back into the system to improve the tool's educational effectiveness.
For example, the data can predict and select what material is more likely to be associated with students' current learning goals or offer a better way to examine and learn the material based on how students used their eyes to scan multimedia instructional materials.
In the future, the data being collected will allow the AI-based learning and training system to provide real-time, individualized feedback and support to meet each student's learning needs, Azevedo says.
The tool is currently designed to teach college students about human body systems, but knowledge gleaned from researching it as a learning tool could be applied to educational material for other fields as well. Research has focused on college students but could eventually include testing the system with high school and middle school students as well as medical professionals.
Work on MetaTutor began in 2010, and the research has been supported with National Science Foundation grants through the years that total $4 million, as well as funding from the Social Sciences and Humanities Research Council of Canada.
Azevedo's research has shown that 73 to 86 percent of people who use the AI-based version of MetaTutor outperform people who use the non-AI based version that does not adapt to the user.
A version of MetaTutor is currently being used in Spain to teach college students with learning disabilities, and Azevedo says there are plans to expand its reach, including designing a version for high school and middle school students to fit their curriculum needs.
Azevedo received his doctorate in educational psychology from McGill University and his postdoctoral training in cognitive psychology at Carnegie Mellon University. He received his master's in educational technology and bachelor's in psychology from Concordia University. Azevedo is the lead scientist in UCF's Learning Sciences Cluster and has joint appointments in UCF's Department of Computer Science and UCF's Department of Internal Medicine. He joined UCF in 2018.