UCF hit a milestone in sponsored research funding in 2020, generating $204.5 million by the close of the fiscal year. That's up from $192.1 million last year and a 40 percent increase since 2016.
The upward trend is a result of many factors, including excellent faculty, restructuring the Office of Research and new initiatives that have given faculty additional resources when applying for large, competitive grants, says Elizabeth Klonoff, vice president for the Office of Research.
"Our faculty are dedicated, passionate and creative people," says Klonoff. "Securing research funding is no easy thing. And our faculty have managed to do so even during difficult times."
Those times have included two federal government shutdowns, less federal research and development funding, and the COVID-19 pandemic. Klonoff and her team have implemented many changes to the Office of Research to improve efficiencies and enhance services.
By the Numbers
Out of the $204.5 million, more than $110.7 million came from federal agencies. State and local government agencies contributed $47.3 million while industry provided $46.4 million.
The College of Engineering and Computer Science generated the most of all colleges with $43.4 million, followed by the College of Community Innovation and Education with $30.6 million and the College of Sciences with $24.4 million. CARES grants were not included in the total.
Among the groups making the biggest gains are the Center for Research in Computer Vision, Florida Space Institute and Faculty Research Clusters. The nine clusters are made up of interdisciplinary faculty who are taking on thematic problems such as cybersecurity, coastal sustainability and renewable energy, among others.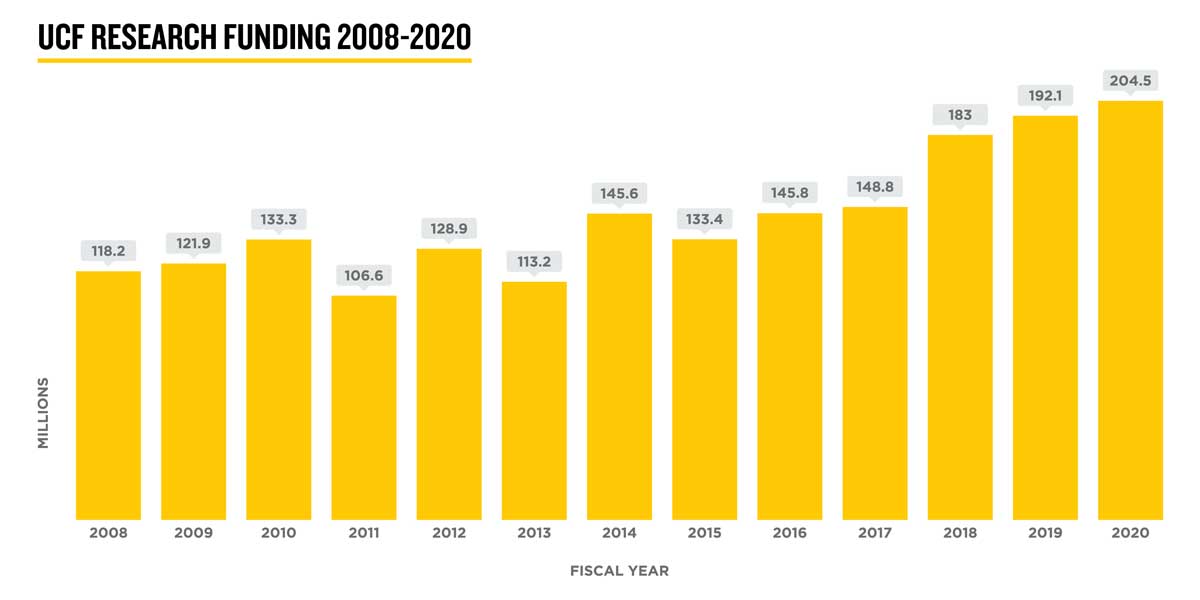 How did we get here?
Faculty are at the heart of any research institution. Since 2016, tenure and tenure-earning faculty have increased from 1,005 to 1,097 as of August 2020. These faculty members, along with researchers and scientists at UCF, have proposed innovative projects that have successfully garnered funding. Among some of the biggest grants that fell within this fiscal year are:
Multi-Organ Human-On-A-Chip System to Address Overdose and Acute and Chronic Efficacy and Off-Target Toxicity, National Center for Advancing Translational Science, $1.53 million
Center for Lunar and Asteroid Surface Science, NASA Shared Services Center, $1.34 million
A Secure, Trustworthy, and Reliable Air-Quality Monitoring System for Smart and Connected Communities, National Science Foundation, $1.2 million
Adoptive PM21-NK Cells with PD-L1 Blockade for Treatment of Lung Cancer, Florida Department of Health, $805,409
An important component in securing grants is making sure the university process is as supportive as it can be. That's why in 2017, the Office of Research began a complete restructuring of its operations. Many of the moves bring the office into best practices among universities of similar size.
"The professionals in our office love UCF," Klonoff says. "They have done a great job helping make changes we know were sometimes challenging, but they are paying off. Our faculty, alongside our research administrators both here in Office of Research and the colleges, are a winning team."
The Office of Research also created new programs and initiatives to provide faculty opportunities to enhance their proposals especially in competitive arenas that can draw hundreds, if not thousands, of applicants from universities across the nation.
For example, for the past two years, the office conducted a new CAREER awards support program to help junior faculty seeking to secure NSF CAREER Awards. These are large awards of at least $500,000 for five years. All 12 UCF professors who received these grants had completed the program in 2019.
The Office of Research's development team runs several programs to support faculty in preparing research proposals, including outreach, proposal reviews and competitive information. Even during the pandemic, this group managed to provide outreach to nearly 500 faculty including workshops with representatives from federal agencies such as NASA and the National Institutes of Health to provide first-hand knowledge about the process.
The Office of Research launched UCF's first SEED funding program and another program to help position UCF to be more competitive when it comes to large grant funding. The office also helped create a shared facilities agreement on campus involving College of Engineering and Computer Science, College of Optics and Photonics and the department of Physics and helping to bear the cost of operations and providing more affordable access to faculty.
What's next
The goal is to continue to support faculty, scientists and the research they are doing that is making a difference in everyone's lives. That means improving service each day, creating or enhancing programs that are working and looking to achieve even bigger gains.