When a group of LEAD Scholars students started the Knights Helping Knights Pantry during the Great Recession in 2009, they set out with a simple mission: Make sure students never have to choose between paying for food or paying for an education.
"We didn't want anyone's education to get pushed aside due to financial concerns," said Sarah Maton, the project's student director in a November 2009 UCF Today story. "We created Knights Helping Knights (Pantry) in order to take some of the burden off of their shoulders so students could focus on paying for their tuition and succeeding in school."
Ten years later, that mission is still going strong and will be celebrated March 1 in honor of the milestone anniversary. The campus community is invited to attend the event from 2-4 p.m. in the Ferrell Commons courtyard.
"I think the pantry is one of the best examples to show how invested the individuals at UCF are in each other. Students really care about their fellow students. The faculty and staff who are constantly donating food and their money care. The alumni who have left UCF but continue to donate back to us really care," says Jeannie Kiriwas '05 '07MA, associate director at the UCF Student Union who has supervised the student-run pantry since 2015.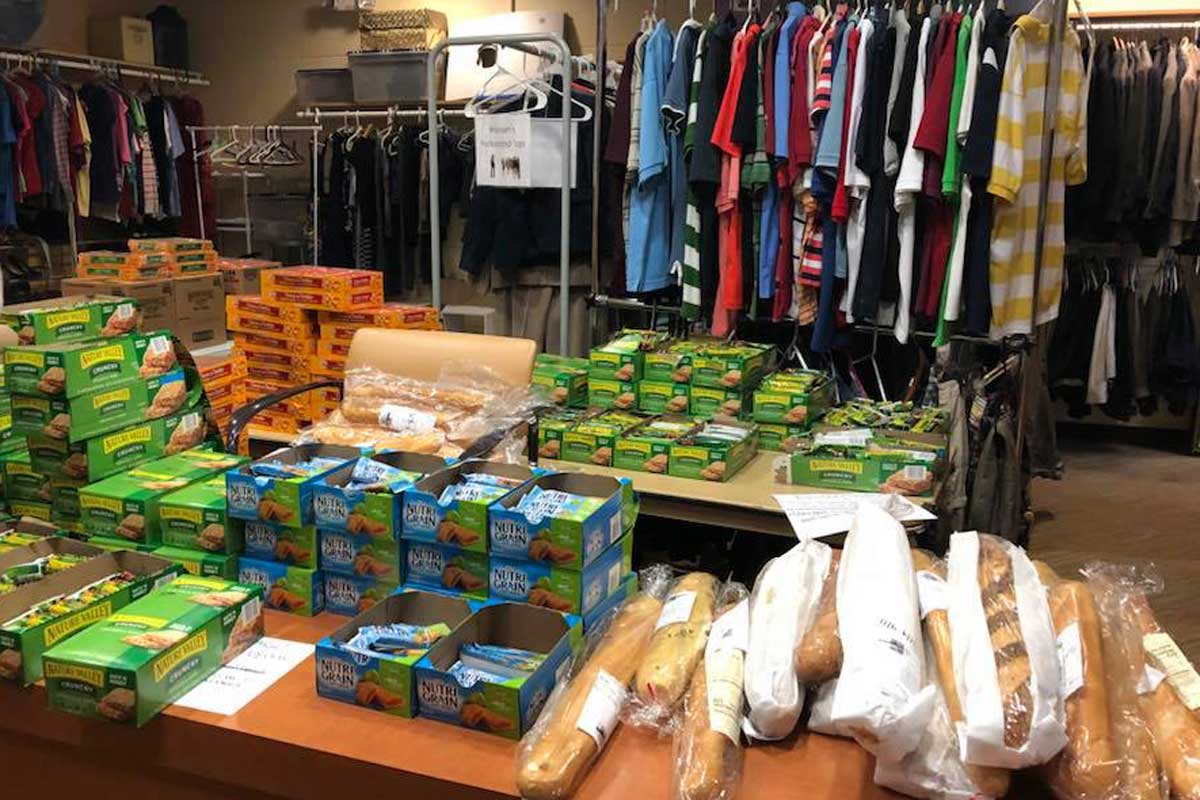 Pantry's Impact
What started in a closet on the third floor of the Student Union has grown to a 1,867-square-foot suite in Ferrell Commons to accommodate increasing demand from students. UCF is one of 641 campus-based pantries around the country registered with the College and University Food Bank Alliance, and that number continues to grow alongside demand. According to a 2016 report about hunger on campuses by CUFBA, the National Student Campaign Against Hunger and Homelessness, the Student Government Resource Center and the Student Public Interest Research Groups, 48 percent of survey respondents reported experiencing food insecurity.
During the past decade, Knights Helping Knights Pantry has helped students thousands of times. From 2013 (the pantry's earliest data) through 2018, the pantry has recorded:
245,231 pounds of donations
241,840 pounds of goods distributed
101,184 visits by students
26,999 hours worked by pantry staff and volunteers
Although its services have expanded during the past decade and its location has changed, the pantry's first priority has always been about supporting hungry students. Any student who is enrolled at UCF, including UCF Online, can access the pantry and are allowed to take up to five items per day, which can range from canned goods to frozen meats to yogurt to fresh produce.
Beyond addressing food insecurity, the pantry has also afforded students volunteering and leadership opportunities. Just like in its early days, the Knights Helping Knights Pantry is still student managed and operated by students. Two undergraduate student managers work 20 hours per week and supervise four federal work study students along with an average of 60-70 student volunteers per semester.
Naseeka Dixon, 22, serves as the pantry's student manager. She is a senior who is double majoring in political science and legal studies and recently decided to take on a nonprofit management minor because of her job at the pantry. She knows firsthand the impact the organization can have for someone because she used its services as a freshman and sophomore.
She says in her early days at UCF, she didn't cook or eat as properly as she should have. As a result, her poor nutrition was affecting her sleep.
"I appreciate what the pantry has done and all the partners that have come together to address this social issue." — Naseeka Dixon, pantry's student manager
"I wasn't concerned about my health because I came here for school and to have a great college experience. Having a great college experience means having a healthy college experience, and that's why this pantry means so much to me. Because at the end of the day, sometimes a student here might not have the funds to take care of their health," she says. "I got here with scholarships and financial aid, so money was tight. I had to stretch my money. Having access to fresh produce, bread and protein and learning how to cook — I appreciate what the pantry has done and all the partners that have come together to address this social issue. I appreciate the people who support it, the people who are involved in it because it really is needed. It's a resource."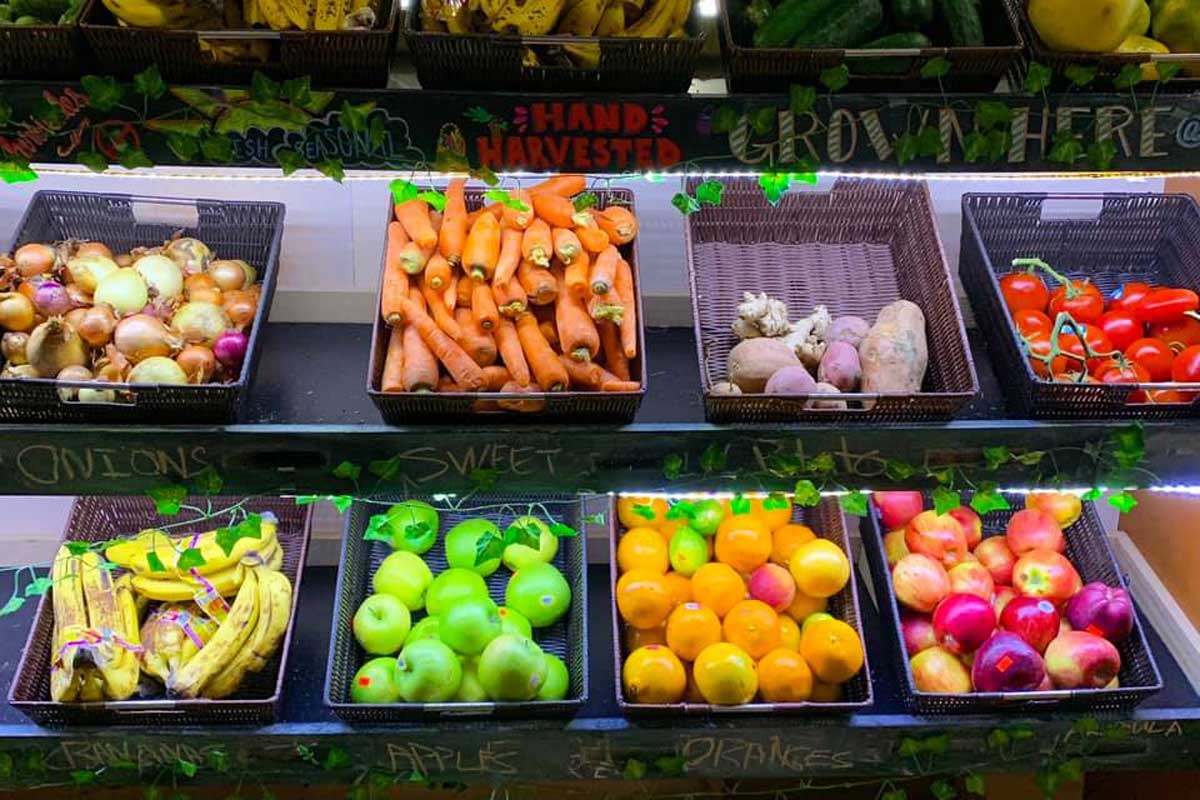 It Takes a Village
The key to the pantry's success and longevity has been its community and on-campus partnerships.
Second Harvest Food Bank is the pantry's longstanding partner and is where the pantry's staff uses donated funds to purchase food and supplies to stock shelves.
Lucky's Market donates nearly expired groceries for distribution.
Publix Super Market at Town Park (12231 E. Colonial Dr.) donates bakery items once a week. Publix also sponsored matching funds raised through the UCF Foundation that allowed the pantry to purchase two industrial refrigerator units.
Mercy Ministries donates fresh baked goods and pastries.
But the pantry doesn't supply just food, which is where its partnership with Walmart (11250 E. Colonial Dr.) has helped. For instance, if Walmart receives a shipment of undergarments and the packaging is damaged, the store will send those items to the pantry.
"It allows us to distribute items we don't normally have, which students love," Kiriwas says. "And you'd be surprised at what is popular. Cleaning supplies — you'd never know we get them because they are gone so quick. Pest control like ant spray is another popular item. We have some students who are homeless who want that because they're trying to protect the food that they have from ants. Whether they're in their vehicles or staying in tents, it helps them control more of their environment."
The pantry has found equally committed partners on campus, as well.
UCF Wellness and Health Promotion Services sponsors cooking classes through its FreshU program.
UCF Arboretum supplies fresh produce.
UCF Student Care Services maintains emergency bags of food when the pantry closes during holiday breaks or other school closures.
UCF Career Services and Experiential Learning conducts drives among faculty and staff for professional clothing, which students are allowed to keep.
LEAD Scholars and Volunteer UCF funnels student volunteers to the organization.
Student Government Association funded the blazer-borrowing program, which allows students to borrow a blazer up to five days for career fairs or job interviews.
Creative School for Children at UCF provides excess, unopened milk cartons and frozen food trays from its after-school program.
"It means a lot to see where it started and how it's grown. I'm glad to be a part of this movement," Dixon says.
Assistant pantry manager, Elias Valentin, a 19-year-old English major, echoes those sentiments.
"We're addressing social issues of college campuses experiencing hunger and homelessness. We're a part of taking the step forward to combating that," he says. "I'm a political science minor, and I really champion advocacy, standing up and making sure that no one gets left behind and no one is forgotten."
Next 10 Years
The pantry's vision for the future is largely shaped by its student staff with an encouraging nudge from time to time from Kiriwas, their supervisor.
"I don't want there to ever be a time where students can't think big because what they are eating is small." — Jeannie Kiriwas '05 '07MA, associate director at the UCF Student Union
Valentin and Dixon light up when they think of the possibilities that could turn into reality. They would like more space to store more supplies. They want to see a dressing room built so students could try on clothes before taking them home.
Kiriwas' dream is to offer hot meals someday. In the meantime, she'll push to increased access to more wholesome foods.
"If we want our students to be able to accomplish all that they are capable of, they need to be living off more than ramen. Even our students who have enough money to purchase rice or peanut butter and jelly, they should still come into the pantry and get fresh fruit or healthy protein," Kiriwas says. "I don't want there to ever be a time where students can't think big because what they are eating is small."