I am proud to be first-generation Peruvian American, and the first person in my family to attend college.
My father was forced to escape Peru and immigrate to the United States over 20 years ago amid extreme conflict and increased criminal violence. Growing up, he was the only parent I had. He worked hard to create a future for us in a new country but doing so was difficult after he developed a brain tumor, which left him physically disabled and unable to work. Despite this, he did his best to provide for me, his only child, and has been my mentor, even though he never went to college himself.
I've also been inspired my grandmother, who ever since I was a young girl told me that education is the most powerful weapon a person can own. She wasn't able to attend college either but saw it as an integral step to climbing the tree of personal success — something she never had the chance to do.
The love and encouragement I have received from both of them has set me up for success and allowed me to pursue my dreams by double majoring in English and political science.
I admit, it hasn't always been easy. As a first-generation student, I've encountered many trials and errors along the way, but I have been fortunate to surpass these challenges with luck, determination and help from others.
For every dollar you give to first-generation programs and scholarships that benefit students like Alexandra, the state of Florida will give two more through its First Generation Matching Grant Program. Triple your impact — and give today.
And I am trying to make the most of my experience here. I've served as a blog manager for The Women's Network, a copyeditor for Strike Magazine, an editor of The Florida Review, a campaign intern for Chad Klitzman's supervisor of elections campaign, a mentor in CREAR Futuros (a Latino peer-mentoring initiative), and vice president of Tri-Alpha, which is an honor society for first-gen students like me. I think it's important to help other first-generation students who might not know where to go and what to do.
I've also worked at UCF as a global expert, an RA, an IT assistant and a student support ambassador and joined an improv club, been part of Late Knights and was accepted into the Political Science Senior Scholars Program, which allowed me to take my first graduate-level course this year while still an undergrad.
I am thankful for the first-generation scholarships I have received, which make it possible to pursue my degree and be so involved without worrying about my finances. And for the First Generation Program at UCF, which has granted me access to different resources on campus while providing information on how UCF can further my journey as both a student and young professional. They both have helped me learn how to save for the future and explore what that future might look like.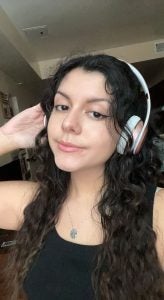 This past summer, I participated in University of Miami's Summer Legal Academy and while I'm not sure what my future will hold, I am hoping after graduation to teach English abroad for a year and attend graduate school to further expand my understanding of the world and its people. Eventually, I hope to become a college professor, so I can pass on my knowledge to others.
Until then, I consider myself privileged to study at UCF while being able to spend time with the people I love most in the world, my family and friends. And I am so grateful for the all the opportunities I've been able to pursue thanks to UCF and its support of first-gen students like me.