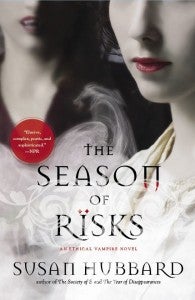 Elusive, complex, poetic and sophisticated. That's what National Public Radio personality Margot Adler raved after reading the first two books in UCF professor and author Susan Hubbard's vampire series.
Hubbard's third work in her Ethical Vampire series, "The Season of Risks," is out this week.
"The Season of Risks" is the latest to come out of Hubbard's "coffin" and sees Ariella Montero fall in love, cause a scandal and contemplate her own death. Set in Florida, Georgia and Ireland, this mystery centers on losing and reclaiming one's identity.
Hubbard's previous vampire works include "The Society of S" and its sequel, "The Year of Disappearances."
Born in upstate New York, Hubbard is the author of seven books and the winner of two national fiction awards. Hubbard's books have been translated and published in more than 15 countries.
She has received teaching awards from several universities, including UCF, where she is a professor of Creative Writing. Hubbard also has been a resident artist at Yaddo in Saratoga Springs, N.Y., the Virginia Center for Creative Arts, the Djerassi Resident Artists Project in California and Cill Rialaig in Ireland. Hubbard recently taught a fiction workshop in County Cork, Ireland.
Learn more about Hubbard's work on her Web site and visit The Season of Risks site to watch the book's trailer.
"The Season of Risks" hits bookstores Tuesday, July 6.