UCF Alumni announced its slate of its Shining Knights award winners for 2020 — seven individuals recognized for their commitment to the university in the categories of Distinguished Alumni, Honorary Alumni, Young Alumni and Distinguished Student.
They will be honored in a virtual ceremony on the evening Sunday, Oct. 18 to kick off UCF Homecoming week. The ceremony will be hosted publicly via UCF Alumni's Facebook Page and YouTube channel.
Distinguished Alumni Award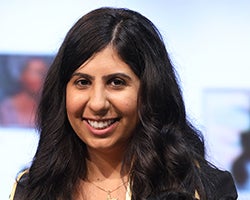 Anna Eskamani '12 '15MNM '15MPA was elected in House District 47 of the Florida Legislature in November 2018. She is also the state strategic advisor at NEO Philanthropy in Florida and the 2020 Florida state lead for the National Caucus of Environmental Legislators. She is known in the Legislature and across the nation as an advocate for women's health and equality. Eskamani serves on the Dean's Executive Council of the UCF College of Arts and Humanities and is a past member of the UCF Women's and Gender Studies Program advisory board.
The Burnett Honors Scholar received her bachelor's degrees in political science and interdisciplinary studies and earned master's degrees in nonprofit management and public administration all from UCF. She is attending UCF as a doctoral student in public affairs.
"I would not be who I am today or where I am today if it wasn't for UCF," Eskamani says. "This university gave my dad, an immigrant from Iran, the opportunity to pursue electrical engineering and get a job where he could better support himself and his family. My brother and sister both attended UCF, and my sister and I grew as leaders while organizing on campus, and would then master our skills as young professionals through the university's graduate programs. UCF taught me how powerful knowledge is, how important relationships are, and how it didn't matter if I had money or not — my voice and perspective mattered."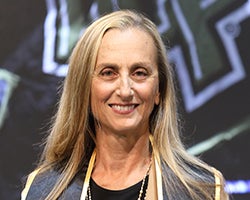 Linda Gooch '85 is the coach of UCF's cheerleading team and oversees the UCF spirit program, which includes the cheerleaders, KnightMoves Dance team and mascot, Knightro, which she helped create. While she was a student at UCF, Gooch joined the cheerleading team in the fall of 1980 and has been a part of the program ever since. Under her direction, the cheerleading team has earned numerous accolades, including four national championships, induction into the UCF Athletics Hall of Fame and recognition by the U.S. House of Representatives for the team's success during its first national championship season in 2003.
Gooch earned her bachelor's degree in social science education from UCF. She is a long-time supporter of UCF and currently serves as a UCF Advancement social media ambassador.
"I never wanted to be a part of a school where everything was already established and where they had already had most of their 'first-time ever' experiences," Gooch says. "I wanted to be a part of building something and creating the traditions. I think that UCF has a tendency to attract those types of personalities and it is a part of our culture. People who are cutting-edge, paving a new way with fresh ideas and a new way of viewing and approaching problems and issues. People who don't want to just learn a school's history, they want to be a part of making school history.
"It is always wonderful to be recognized for your efforts but no one accomplishes anything alone. I have been blessed with great family support through the years which allowed me to pursue my dreams. None of this happens without them. I have also had some incredible athletes that have come through our cheer program and this is certainly also a recognition of their hard work and their belief that we could dream big and make those dreams come true."
John C. and Martha Hitt Honorary Alumni Award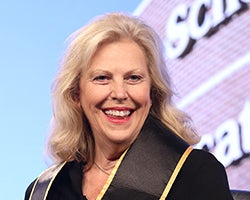 Sonja Nicholson sold RE/MAX Park Avenue in Winter Park in 2015, a real estate company that was previously known as Rose Properties Inc. She is married to Tony Nicholson, an honorary alumni award winner in 2018. She previously served on the UCF Board of Trustees and on the board of directors for the Golden Knights Club.
In 1996, the Nicholsons pledged a generous donation to the university, and in return, the university named the School of Communication after them.
Nicholson is a member of the UCF Nicholson School of Communication Board of Visitors and Town & Gown.
"I am so honored to receive this award. Over the past 26 years, we have spent a lot of time around the university — from academics to sports and many things in between — and I have enjoyed every minute of it. It is great to share with my husband, children, grandchildren and friends. I like that UCF brings us all together."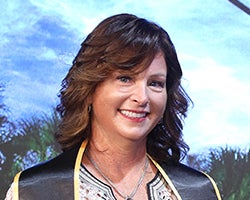 Karen Manglardi is secretary for the Women's Club at UCF. Additionally, she volunteers for the UCF Advancement Social Media Ambassadors and is a founding co-chair of the UCF Parent and Family Philanthropy Council.
She and her husband, Michael, a graduate of the Class of 1984, have three sons and four nieces and nephews who are all Knights.
"I serve UCF to build it up, support its missions and help in any capacity I can," Manglardi says. "UCF has been such a big part of my life for so long that I feel I am already an alum. This wonderful recognition now makes it official."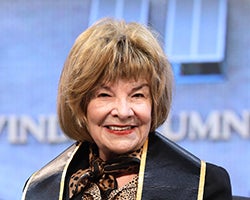 Margery Pabst-Steinmetz is an entrepreneur, seasoned consultant and educator. Along with her late husband, Mark, a financial and global business professional, Margery founded The Pabst Charitable Foundation for the Arts in early 2003 with a mission to support artists and art forms for community of life.
She married Chuck Steinmetz in April 2014. The couple combined their foundations in 2018 to co-found the Pabst Steinmetz Foundation and together, support the University of Central Florida in a variety of ways.
Pabst-Steinmetz has led several initiatives at UCF related to issues of aging, caring and the arts. Additionally, she is a director emerita of the UCF Foundation Board of Directors, a member of the College of Arts and Humanities Dean's Advisory Council and a past board member of Flying Horse Editions.
"I am humbled by the selection and feel so fortunate to be associated with UCF," she says. "I am proud to be a Knight because UCF is a key force for making the Central Florida Community a great place to live and thrive. The university's role in the world continues to have greater impact and I am excited to be a small part of that journey."
Young Alumni Award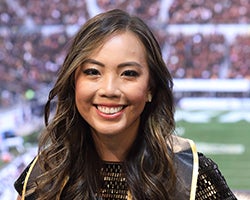 Kristina Merritt '12 is the manager of legal services at Checkers Drive-In Restaurants, where she tackles a variety of projects from insurance issues to managing new franchises.
Merritt is a first-generation college graduate, earning two bachelor's degrees in psychology and political science in less than four years at UCF before going on to graduate from Stetson University College of Law.
She is a UCF social media ambassador and the philanthropy chair of the UCF Alumni Tampa Bay Chapter, where she partnered with local nonprofit Feeding Tampa Bay as part of her role. She also serves as chair-elect for the Junior League of Tampa's Kids in the Kitchen program.
"I am proud to be a Knight because UCF is truly a remarkable institution that provides an enriching student and alumni experience," Merritt says. "I found my voice and my passion for philanthropy through UCF and the student organizations I was involved in. I carried these experiences into my legal education after UCF, and now as a professional in the corporate world."
Distinguished Student Award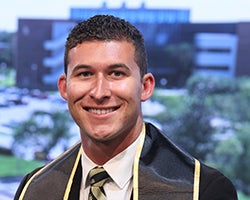 Jordan Bubar '20 graduated in the spring with a bachelor's degree in marketing and is interested in pursuing a career in sales with a technology company, leveraging innovative solutions to promote business growth and efficiency.
Bubar was an active member of the campus community during his time as a student. He was a College of Business ambassador, a student success peer mentor, and was involved with President's Leadership Council, LEAD Scholarship Academy and the Student Development and Enrollment Services Advisory Council.
"I am incredibly honored to be selected for this award because through so many pivotal moments as a student, my goal was to leave UCF with genuine impact," he says. "The foundation of my leadership derives from a commitment to empower and support those around me to do great things. As I reflect on my experience, I owe everything to this university for teaching me to challenge the status quo and to lead with passion."