It started with a dream of becoming an automotive designer. Blending creative and technical work is something that Michael Viscione '08 has been drawn to for years.
"I fell in love with the artistry complemented by the technical side of automotive design work," says Viscione. "My passion is turning concepts into reality."
And while he doesn't build cars for a living, Viscione fuses these skills into his work as an art director and visual effects supervisor for FX — the television network that's home to original shows, like American Horror Story and Mayans M.C. However, a career path in animation wasn't always on his radar.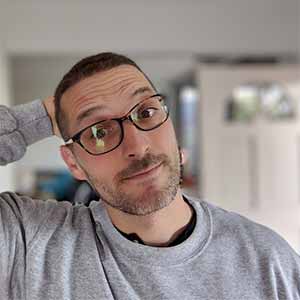 After high school, the New Jersey native landed in South Carolina where he studied international business.
"My family thought that business would be a great fit," he says. "But after an accounting course, I knew it wasn't for me. Sometimes you just have to try a couple different things before you land on what you want to do."
Throughout his freshman year of college, he would take the train to Florida as a getaway. During one of the trips, he made his way to UCF where he soaked in the campus atmosphere.
"I remember how welcoming campus felt. The people were great, and I could tell how much the university cared about their students which is something that drew me here," he says.
After wrapping up his first year of college, he decided to make the move and become a Knight. One question remained though: What should he major in? It wasn't until after talking with an advisor at UCF that he learned more about the BFA in animation program and how it tied to his creative and technical interests. The School of Visual Arts and Design — ranked No. 2 among top public animation schools and colleges nationally — helped Viscione strengthen his computer graphics and visual effects skills.
Upon graduating from UCF, he moved to New York City to pursue his dreams. Viscione jumped right into roles including artist, designer and project lead for major film and commercial houses. But after 10 years in the Big Apple, he had a creative itch for something new and different which ultimately brought him to Los Angeles.
Viscione shares his journey that led him to where he is today and provides a glimpse into what it's like working in visual effects for a large television network.
What drew you to animation?
I originally wanted to do industrial design. But after talking with an advisor at UCF about my interests, I learned more about animation and this world that I didn't know existed. At the time, I never considered how 3D animation was done, like the behind-the-scenes of creating a Pixar film. But I found it interesting, so I decided to sign up for classes and go from there.
What was your career path after graduating from UCF?
Right after college, I moved to New York where I worked as a freelancer — essentially under my own business name. I did that for nearly a decade and it was great. I gained experience with companies like The Mill, Method Studios, Framestore, MPC and others. After years of being my own boss though, I was looking to push myself further into a supervisory or managerial role.
Around the same time, a friend reached out to me about a potential opportunity in Los Angeles. He talked about building a high-end visual effects shop inside of a network and wanted to see if it was something I'd be interested in. I jumped at the chance to help start something new — something that wasn't the norm at the time. I was drawn to the idea of building a team from the ground up. Plus, it gave me the opportunity to fuse my creative and technical background.
What's your current role at FX?
I currently work as the art director and visual effects supervisor for FX. My role focuses on helping produce high-end marketing for bigger budget shows — from full-fledged teasers to packaging graphics.
Take American Horror Story for example. Every year, there's a campaign for the show. We build and drop advertisements before, during and after the show. Leading up to a season's release, we'll drop a teaser to generate interest and create a buzz around different forms of media. Other elements include short clips that remind the audience about what show they're watching and where.
What does your day typically look like?
Most of my time is spent developing creative for different shows. The process can start anywhere from a few weeks to months before a new show or season. My team will get a creative brief or a pilot script to review and start brainstorming. Once we get approval on a concept, we'll build and execute on the creative.
I really enjoy taking a concept and bringing it to life. Our team handles all the animation work in a traditional sense. We storyboard out the piece and help put everything together. After that, the piece goes to sound design and final color before it's sent off to the masses.
Throughout the year, I'll also be on set helping guide the shoot and ensuring that the visual effects team gets all the assets needed. Just a few weekends ago, I did my first Zoom on-set visual effects supervision. Filming was done in London, so I was online at 3 a.m. There was a lot of coffee involved, but it was a fun one to work on.
From a technical standpoint, I may get involved with helping fix problems or doing some coding. One of our early big shows, Mayans M.C., involved building these worlds made of motorcycle parts — thousands of them. To make things more manageable, I built a searchable library. It helped improve our team's efficiency and was a great way to blend my creative and technical sides.
How would you describe the feeling of seeing your work on TV and around the web?
It's one of those things that never gets old. The work I do can take anywhere from a couple of months to over a year. So when I see others — like the show's fans or family and friends — reacting to it and appreciating the work we've done, it's a really good feeling. It gives you that satisfaction of what you're doing.
One of my good friends growing up points out things I've worked on to his family. If he watches something, whether it's an FX show or back when I did commercials and film, he'll tell people that he knows who worked on that. It really touched me to hear about the impact of my work.
You mentioned working on different FX originals. Can you share some of your favorites?
Some of my favorite projects have been on our bigger shows, like Legions, Mayans M.C. and American Horror Story.
Building advertisements for Legion season 3 was one of the trickiest, yet fun, things I've worked on from start to finish. Early on, I got the concept for the show and had to find ways to incorporate the storyline into the creative — a character whose power is tied to his mental illness. It was fascinating and challenging at the same time.
Then there was Mayans M.C. season 2 which was completed fully in house with a team of about five people. The 30-second spot is intensive and beautiful. Our team put a lot into it — I don't think a lot of studios would get that complex with it. So the fact that we were able to do it with such a small team was incredible.
Another favorite project to work on was American Horror Story Hour season 8. I worked on the skull melting, which took a lot of practice and learning new techniques to get the final visual.
Never stop learning. Always push yourself, even if it's learning something that's out of your comfort zone.
What advice would you give to someone interested in pursuing a career in animation?
When you're younger, don't be afraid to take career risks if you're given the opportunity. Work in another county or take a position with a new startup if you want. I'm happy with the way my career has gone, but I wish someone told me to get out there and take chances. Don't be afraid to do something new or different.
What's next for you?
This is something I find myself thinking about a lot. COVID-19 has changed the landscape of many things. Before the pandemic, there was a lot of work to do on-site. But now after working remotely for more than a year, it's opening other avenues that I didn't expect to exist.
I really like what I do right now. I get to try and do different things and have my hands in a lot of aspects of this type of creation. I'm still pushing myself to become a better artist and manager. Maybe one day I can branch more into traditional directing. I think that's my next goal. We'll see though — that's a completely new horizon for me.