Like father, like daughter. Following in her father's footsteps, Ana Beltran '19 fell in love with the arts from a young age. Some of her earliest memories include watching her father bring concepts to life for his post-production company in Venezuela. The introduction to the world of animation, post-production, and broadcast television fostered her creative expression and passion for visual storytelling.
"I saw how much fun my dad had. And while I didn't know what I wanted to go into at the time, I knew it would be a creative field," says Beltran, who is currently completing a master's in animation and visual effects at UCF.
Immigrants from Venezuela, Beltran's family came to the United States to provide her with a better life and more opportunity. It's something that keeps her grounded and motivates her to follow her dreams. She attributes many of her successes to her family's unwavering support and her experiences at UCF — home to some of the top digital arts and entertainment programs in the nation.
Most recently, Beltran helped turn visions into life for Walt Disney World's 50th anniversary celebration. And just shortly before the scheduled Oct. 1 celebration, she had another once-in-a-lifetime opportunity: working with her inspiration, her father. Javier Beltran was added as an animator on one of the projects she was part of to help with the show's final touches.
"It was such a sweet moment that I'll always cherish," she says. "I watched him work on cool projects growing up, and now I had the opportunity to work with him on something so significant. It was very special and something I didn't think I'd ever get to share with him. He's been a big inspiration in my life."
Creating Magical Experiences
After graduating with her bachelor's of fine arts in experimental animation and bachelor's in game design, Beltran packed up and headed to New York City where she got her start at ABC News. While broadcast television gave her first-hand industry experience, she remained focused on forging a path within animation. So, when an opportunity to create magical moments for Walt Disney World became available, she jumped at the chance to return home.
"I believe it was the right opportunity at the right time, and I was so happy to be close to family again," she says.
In January 2020, she started one of her first big projects: Beacons of Magic for Walt Disney World's 50th anniversary. The beacons light up the four park icons — three of which she worked on — to welcome the magic that inspires guests. She helped Cinderella's Castle, the Tree of Life and the Tower of Terror at Magic Kingdom, Animal Kingdom and Hollywood Studios, respectively, all come to life as the sun sets each day.
Creating the beacon for the castle was one of Beltran's favorite memories. She was part of the previsualization process and modeled all the decor on the castle for the projection show purposes. And, today, the magic extends beyond just the parks. An image from the creative currently appears on McDonald's Happy Meal boxes.
"It was an unexpected bucket list item for me," she says. "I never expected to have my work appear on a Happy Meals box, but it was very cool and surprising to see it."
Disney Enchantment was another project that Beltran was part of in preparations for the momentous celebration. The projection showcase adds touches of magic from Cinderella's Castle all the way down Main Street USA — the first time that lighting effects encompass more than just the castle.
She relished the chance to animate on the same surface that she once walked down as a little girl, captivated by the magic. It's something that still provides a sense of nostalgia.
"Being on the other side and getting to create some of that magic is just incredible."
"Being on the other side and getting to create some of that magic is just incredible," she says.
The opportunity to work on new shows and experiences to kick off the festivities for Walt Disney World's 50th anniversary is a dream come true for Beltran. From visiting the parks with her family growing up to now creating some of that magic is something she never thought she would accomplish, especially at such a young age. Throughout each week, she still takes time to reflect on the impact of her work — ensuring that she never loses sight of the magic that embraces families at the parks every day.
It was an incredible experience to be part of. And being able to celebrate that moment with my dad? It's something I'll always treasure.
"I don't think the magnitude of what we were working on hit me until I was in the park on Oct. 1 and had the chance to see people's reactions. I thought about how this will be a special memory for everyone — especially the kids. Seeing their faces light up as they watched the show is something I'll never forget." she says. "It was an incredible experience to be part of. And being able to celebrate that moment with my dad? It's something I'll always treasure."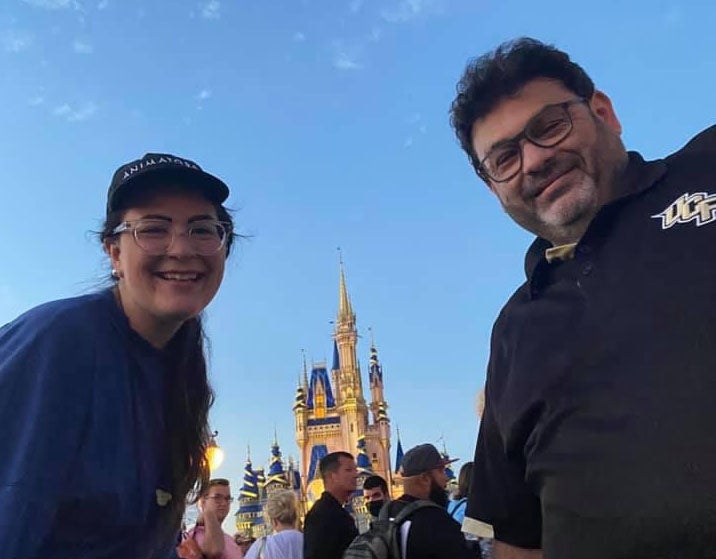 A Path to a Better Future
Beltran and her family came to Celebration, Florida, when she was 4. And while Beltran acclimated quickly, it took her parents some time to adjust to their new life.
"My parents had to learn the language from scratch. They had to restart their careers," she says. "It was a sacrifice they were willing to take, though, to give me the best life possible."
Commitment to providing better opportunities for future generations is something that runs deep in Beltran's family. Her grandparents moved from Spain to Venezuela to escape Francisco Franco's rule during the Spanish Civil War.
"My grandmother didn't have much of a formal education. She didn't grow up reading or writing," Beltran says. "But she always instilled in me the value of education. She wanted to ensure I had the chance to accomplish my dreams."
With her grandmother's advice in mind, Beltran was motivated to succeed inside and outside of the classroom. And when it came time to applying for college, she turned to a high school guidance counselor — a UCF grad — to help navigate the process. Beltran was in the top 10% of her high school graduating class, so attending a university with a good design and animation program was one of her priorities. After narrowing down her college list, it was time to start visiting each school. And it so happened that one of the nation's top animation programs was right in her backyard: UCF.
"I loved the idea of staying close to home," Beltran says. "But it was during a campus tour with one of my friends who attended UCF that sealed the deal."
"UCF's ties to space are ingrained in its core … I really enjoy stories that are so thought out and knew this was the school for me."
While touring campus, Beltran's friend told her the story of how UCF was founded — the university's roots in space exploration and its mission to support the growing space industry. The motto "Reach for the Stars" also hit home for Beltran as it was the slogan of her elementary school.
"UCF's ties to space are ingrained in its core. The entire campus was built with that idea in mind. The street names, the on-campus housing communities, the Pegasus … it's in every fiber," she says. "I really enjoy stories that are so thought out and knew this was the school for me."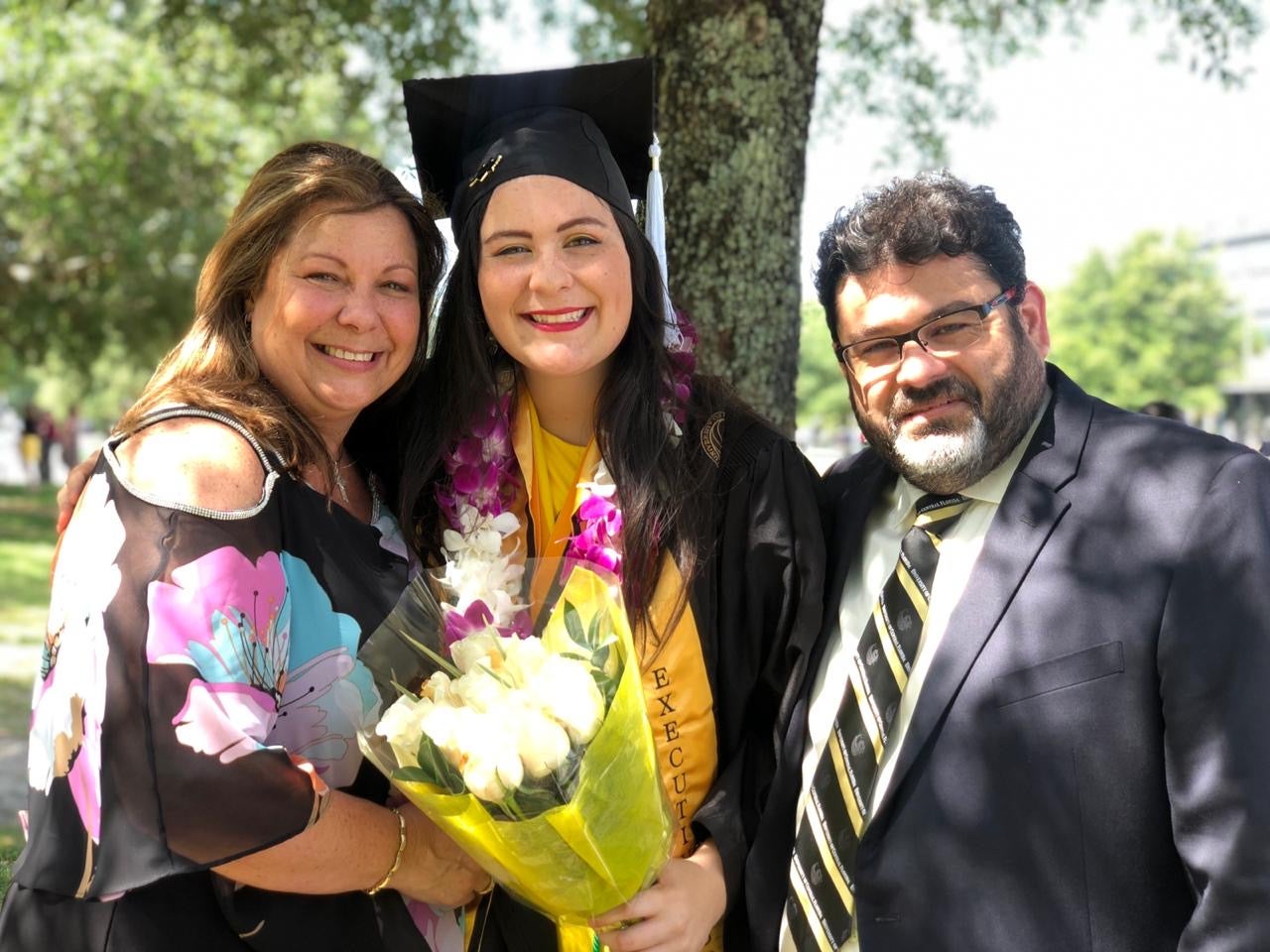 Pursuing a Creative Calling
From the moment Beltran was accepted to UCF and started her first day of classes, she was eager to get involved. Throughout her undergraduate career, she was part of LEAD scholars, President's Leadership Council, GameDev Knights, among other clubs and organizations on campus. She credits UCF and the opportunities provided to students for her success.
"UCF helped shape my creative and hard skills, but also my soft skills. For instance, I had the chance to get hands-on experience with presenting to various panels and groups — something that transferred to what I do today," she says. "I remember the phrase 'UCF Stands for Opportunity' and I truly believe that. Many of my opportunities started at the university and I'm so thankful for that."
She still looks back on the football team's undefeated seasons, attaining the Order of Pegasus — UCF's highest student honor — and her graduation day as some of her all-time favorite memories as a Knight. Beltran hopes that receiving the Order of Pegasus as someone in the arts inspires those that come after her.
"Having that acknowledgement especially as someone in the arts means so much to me," she says. "I want to show other creatives that they can get there, too …. that it is possible."
When graduation day approached, Beltran's family gathered together in the arena to watch her cross the stage. It was momentous for each of them as she became the first person in the family to achieve a college degree. She vividly remembers walking across the stage and looking up at her grandmother in the stands — the tears rolling down her cheeks and the smile that lit up her face.
"After the ceremony, my grandmother gave me an orchid lei and said 'You have no idea how much I thought I'd never get to see this moment,'" she says. "Seeing her smile and how happy my parents were met the world to me. I work so hard every day to live up to the sacrifices they made for me … I want to make them proud."
Thinking About the Future
Beltran often thinks about the future and what's next. She understands the competitiveness and challenges that arise in the world of animation and wants to ensure she stays current with the latest techniques — which is why she enrolled in UCF's master's in animation and visual effects program, part of the School of Visual Arts and Design.
"At the time, the MFA in animation and visual effects program was just getting started but was already well-ranked. I think that's a testament to the professors and people in the program at the time," she says.
"Being part of something so special every day is out of this world. I owe it all to my family who have been there to support me every step of the way."
Along with taking graduate classes, she is currently working on her next big project. She can't say what it is yet but is excited to see her next creation come to life.
"Being part of something so special every day is out of this world. I owe it all to my family who have been there to support me every step of the way," she says. "I'm excited for the future and for all the experiences still to come."