UCF has announced the speakers for the Spring 2021 Graduation Celebration.
The nine-day series of commencement recognitions begin this week with Grad Walk, UCF's newest graduation event. In-person commencement ceremonies will be held May 6-8.
Commencement Speakers
Abraham Pizam (Thursday, May 6 | 9 a.m. ceremony)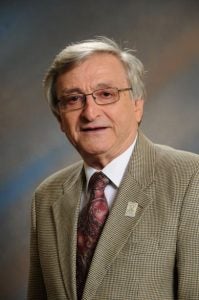 Pizam is the founding dean of
Rosen College of Hospitality Management
at the University of Central Florida and served in that role from 2000-2018. Currently he serves as Professor and Linda Chapin Eminent Scholar Chair in Tourism Management. Pizam is widely known in the field of
hospitality and tourism management
and has conducted research projects, lectured, and served as a consultant in more than 30 countries. He has held various academic positions in Austria, Australia, France, Israel, Japan, New Zealand, Singapore, Slovakia, Switzerland, and United Kingdom and has authored more than 250 publications and published 10 books.
Pizam's publications have resulted in more than 22,000 citations. He is editor emeritus of the International Journal of Hospitality Management and serves on the editorial boards of 26 academic journals. Pizam has conducted consulting and research projects for a variety of international, national and regional tourism organizations. Pizam holds a master's degree from New York University and a Ph.D. from Cornell University, and is the recipient of several academic and industry awards.
Albert Manero '12 '14MS '16PhD (Thursday, May 6 | 1 p.m. ceremony)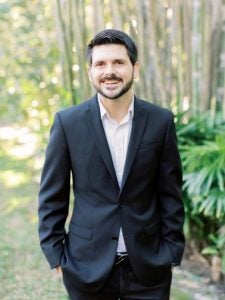 Albert Manero '12 '14MS '16PhD
is the president of Limbitless Solutions, a direct support organization for the University of Central Florida. Limbitless Solutions is an engineering innovation company designing multi-gesture bionic limbs for children and adults. The team uses additive manufacturing (3D printing) to design artistic and personalized bionics, that maximize both expression and function, as part of an ongoing national clinical trial. He earned his Ph.D. in
mechanical engineering
in 2016, his master's degree in
aerospace engineering
in 2014 and his bachelor's degree in
aerospace engineering
in 2012 as a Burnett Honors Scholar from the University of Central Florida. He founded
Limbitless Solutions in 2014
with fellow classmates with the hope of helping children around the globe. The team has worked to improve and develop other devices that have the
potential to help veterans and first-responders
. The company has received international attention for its work and has
presented to the United Nations
.
Manero holds research collaborator appointments at UCF, the Orlando VA, and Mayo Clinic Jacksonville. He was a Fulbright Scholar to Germany during his doctoral research and completed the Mirzayan Science Policy Fellowship with the National Academy of Engineering. His research looks to advance accessibility to bionics and inclusivity in STEAM education, while leading their mixed learning laboratory for interdisciplinary student research at UCF.
Laurette T. Koellner '77 (Friday, May 7 | 9 a.m. ceremony)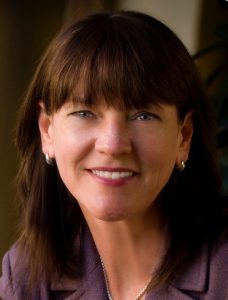 Laurette Koellner
'77
is a proven business leader, currently serving as director and chairman of the Audit Committees of Celestica, Nucor, and Papa John's. Koellner also serves as lead director of the Goodyear Tire and Rubber Company. She previously served on The Hillshire Brands (formerly known as Sara Lee) board from 2001 until its sale to Tyson Foods in 2014. Koellner qualifies under the NYSE rules as a financial expert.
She served as executive chairman of International Lease Finance Company ($45B aircraft assets) through its successful sale to AerCap. Prior to leading ILFC, she served on the parent company (AIG) board.
During 30 years at The Boeing Company, she served as executive vice president, member of the Office of the Chairman, president of Boeing International, and enjoyed a seven-year membership on the company's most senior executive team.
Koellner earned her bachelor's degree in business management from UCF, and her MBA at Stetson University. In 2003, Koellner was inducted into UCF's College of Business Hall of Fame; in 2005, she received UCF's Distinguished Alumnus Award. In 2011, Koellner was awarded Stetson's Distinguished Alumnus Award. In 2014 she was recognized in Trailblazers: The Women of The Boeing Company as The Boeing Company's highest ranking female executive
Sheila Amin Gutiérrez de Piñeres (Friday, May 7 | 1 p.m. ceremony)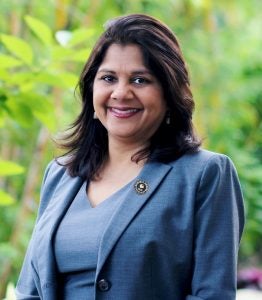 Sheila Amin Gutiérrez de Piñeres is dean of the Burnett Honors College and professor of public administration. Piñeres received her Ph.D. in economics from Duke University, master's from the University of Chicago, and bachelor's degree from Texas A&M University. She joined UCF in 2018 following her role as executive vice president for academic affairs and dean of faculty at Austin College in Sherman, TX. Previously, she served as dean of undergraduate education and professor of economics at the University of Texas at Dallas. She is a founding member of the University of Texas System Academy of Distinguished Teachers. In 2011-12 she participated in the American Council of Education Fellows Program at the University of Central Florida. She is also a Jacob Javits Fellow and Fulbright Research Scholar. Her academic research focuses on economic development and political stability in developing countries and is a cross section of economics and political science.
Kenneth W. Bradley '85MBA (Saturday, May 8 | 9 a.m. and 1 p.m. ceremonies)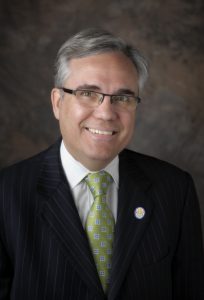 As an MBA graduate of the University of Central Florida,
Ken Bradley
'85MBA
loves UCF. He worked as a graduate assistant for UCF Athletics under NCAA faculty representative Bill Callarman. He served on the UCF Foundation Board and was one of the early proponents for the College of Medicine. He was inducted into the College of Business Hall of Fame. Bradley was appointed to the UCF Board of Trustees concluding his term this spring. The Honorable Kenneth W. Bradley was twice elected Mayor of Winter Park, Florida (2009-2015).
Bradley retired from Florida Hospital in January 2018 after serving 24 years in hospital CEO and COO roles. Collectively, four generations of the Bradley family have served Florida Hospital 182 years. Bradley raised more than $20 million in philanthropic contributions. He led major construction projects totaling more than 2 million square feet.
Bradley was at the forefront of healthcare innovation creating new services for orthopedics, women, babies, and seniors. Nine of Ken's direct reports have become Hospital C-Suite Executives. Bradley has also developed dozens of other leaders.
Currently, Bradley is the director of emerging leaders for AdventHealth, one of America's top ten largest healthcare systems.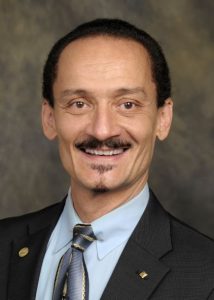 Peter Delfyett was recently elected to the National Academy of Engineering. He has over 800 scientific publications, conference proceedings and invited presentations, and 44 US patents. He received his Ph.D. degree from The City University of New York in 1988. He then joined Bell Communication Research where he concentrated his efforts toward generating ultrafast high-power optical pulses from semiconductor diode lasers, for applications in ultra-wideband optical signal processing and communications.
In 1993, he moved to UCF where he is a University Distinguished Professor, Pegasus Professor and Trustee Chair Professor of Optics, Electrical Engineering and Physics in the College of Optics and Photonics.
In 2003, Dr. Delfyett founded "Raydiance, Inc." a spin-off company developing high power, ultrafast laser systems, using his research, for applications in medicine, consumer electronics, defense, material processing, biotechnology, automotive and other key technological markets. He is a Fellow of the APS, IEEE, NAI, NSBP, OSA, and SPIE. He is also the recipient of the NSF PECASE Award, the APS Edward Bouchet Award, the Medalist from the Florida Academy of Science, the Townsend Harris Award, the IEEE Photonics Society's William Streifer Scientific Achievement Award, and the APS Arthur L Schawlow Prize in Laser Science.
Spring Graduation Celebration Details
UCF offered spring graduates and their families the opportunity to choose one of two in-person options to celebrate their achievements. Recognitions of graduates will occur April 30 until May 8.
Spring 2021 graduates had the option of either participating in UCF's Grad Walk or their college's in-person commencement, both of which will be held in the Addition Financial Arena. Graduates were asked to RSVP for either option by March 19. Graduates may order their cap and gown through Herff Jones.
The Florida Board of Governors, which oversees Florida's state universities, has provided guidance allowing for memorable in-person commencement recognitions that maintain COVID-19 health and safety protocols. The format of these celebrations allows UCF to recognize all graduates in a manner that is in accordance with the state's public-health guidance.
Grad Walk
From April 30 to May 5, UCF's Grad Walk will provide a smaller, more intimate graduation experience. Spring graduates who registered for the Grad Walk option will receive an email to register for a 15-minute time slot on the day and time of their choice.
Friday, April 30
9 a.m. to 2 p.m.
3 p.m. to 8 p.m.
Saturday, May 1
9 a.m. to 2 p.m.
3 p.m. to 8 p.m.
Sunday, May 2
9 a.m. to 1 p.m.
2 p.m. to 7 p.m.
Monday, May 3
10 a.m. to 1 p.m.
2 p.m. to 7 p.m.
Tuesday, May 4
9 a.m. to 1 p.m.
2 p.m. to 6 p.m.
Wednesday, May 5
9 a.m. to 1 p.m.
2 p.m. to 4 p.m.
With Pomp and Circumstance playing in the background, graduates will have the opportunity to walk across the stage, hear their name called, receive their diploma cover and soak up the cheers of up to five guests.
An official graduation photographer will be on hand to take individual and group photos.
UCF's COVID-19 protocols will be strictly enforced and include advance registration for a 15-minute time window, face coverings, physical-distancing guidelines and the completion of the university's COVID-19 Self Checker. Graduates will be able to remove their face coverings briefly for photos on stage.
In-Person Commencement
In adherence to physical-distancing guidelines, UCF will offer in-person commencement ceremonies between May 6 and 8.
If you are unsure which college you are graduating from, please search the name of your major or program in the degree search, click on the page and it will tell you.
Thursday, May 6
9 a.m.
College of Graduate Studies (this only includes the following programs: interdisciplinary studies and nanotechnology)
College of Nursing
College of Undergraduate Studies
Rosen College of Hospitality Management
1 p.m.
College of Engineering and Computer Science
College of Optics and Photonics
Friday, May 7
9 a.m.
College of Arts and Humanities
College of Business
1 p.m.
College of Sciences
Saturday, May 8
9 a.m.
College of Community Innovation and Education
College of Medicine
1 p.m.
College of Health Professions and Sciences
5 p.m.
All Colleges – Doctoral Students
For each ceremony, graduates are required to dress in official commencement regalia while participating in the Pomp and Circumstance processional and crossing the stage to receive their degree cover while their name is called aloud. Additionally, a keynote speaker will address the audience, providing words of inspiration to graduates and their supporters.
Each graduate will be allowed up to two guests in attendance. Graduates and guests attending the event must wear a face covering throughout the ceremony, follow physical-distancing requirements and complete the university's COVID-19 Self Checker.
Ticketing information will be sent to students as it's available. Family and friends who cannot attend the event will be able to watch a livestream of the ceremony.