Three UCF students have been selected as 2023 Boren Scholars, a distinguished national honor that recognizes highly motivated undergraduate students who are interested in pursuing a career in U.S. national security.
This year's recipients are Angelina Alonzo, a political science major; Flora Ngo, a criminal justice and psychology double major; and Sean Merkel, a computer science major. With support from the Office of Prestigious Awards (OPA), all three applied, were awarded the scholarship and designed their own study programs.
Boren Awards — an initiative of the Defense Language and National Security Education Office — provide funding of up to $25,000 for study abroad experiences for U.S. college students from diverse fields of study. Select students will find themselves immersed in languages and cultures of world regions critical to U.S. interests. The goal: to build America's next generation of government service and education professionals who've cultivated international relationships and worked and studied alongside experts of other countries. These future leaders will help the U.S. make sound decisions on and deal effectively with global issues related to the country's national security.
Meet the three Knights who are set to venture overseas this summer.
Gaining a New Perspective in Latvia
Background Check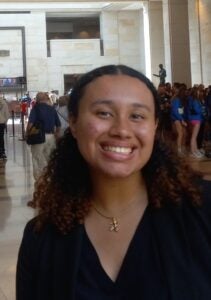 A young Alonzo would listen intently as her father told endless stories about traveling the world while working for the federal government. Like old VHS tapes, memories played back of the different cultures he encountered and languages he learned.
"[His stories] inspired me to travel the world," Alonzo says.
Growing up in a Dominican household, Spanish was second nature to her. Naturally, she studied the language as a college freshman, but learning a critical language quickly piqued her interest.
"I knew I didn't want to [learn] Mandarin because [it's] way too hard," Alonzo says. "So, Russian it is."
Going for it
Alonzo first learned of the Boren Awards as a first-year student. After several months of research, she applied for the Boren Scholarship in December 2022. What she thought would be a perfect opportunity to learn Turkish in Turkey, turned into the curation of an epic Russian study abroad experience, because she was learning Russian after all.
Next Stop: Daugavpils
The sophomore is looking forward to her first trip out of the U.S. Due to the current Russia travel advisory established by the U.S. Department of State, she'll be traveling to one of Russia's neighboring countries: Latvia. Over the course of about 38 weeks, she says she's excited to experience a new environment — one that's vastly different than the Spanish and American cultures she's familiar with — while strengthening her understanding of the Russian language at Daugavpils University in Daugavpils, Latvia.
"My biggest accomplishment would be realizing that I'm speaking Russian without needing my textbook or a translator app," Alonzo says.
The Future is Bright
Upon returning next spring, the Russian American Student Association member plans to enrich her academics by pursuing a third minor in either terrorism studies or psychology.
A Cultural Exchange in Vietnam
Background Check
Weekly Vietnamese school lessons at church is where senior Ngo studied the language formally, but she's engaged with it from birth growing up with Vietnamese parents.
"Just getting that practice and having the opportunity to learn new words in different ways is important to me," Ngo says.
Going for it
Despite Vietnamese not being included in the many language classes offered at UCF, Ngo was eager to improve her fluency. Boren Award representatives visited her Intelligence Analysis and Reporting class in Fall 2021, providing Ngo with initial insight about the immersive program. A year later, she was earnestly writing essays, getting letters of recommendation and receiving guidance from OPA as she began her Boren Scholarship application.
Next Stop: Ho Chi Minh City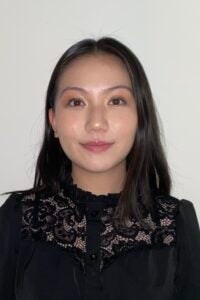 Ngo channeled her Vietnamese background and interest in understanding the preconceptions surrounding other nations into a desire to study in Vietnam. The country isn't very common for study abroad programs, which drove Ngo to custom tailor her program for her studies at Ton Duc Thang University in Ho Chi Minh City, Vietnam.
Her studies at UCF focus on federal government operations, which Ngo explains ties directly to her 11-month study abroad experience.
"Opening my mind to the different cultures and experiences in Vietnam [will give] me a better outlook [on global government systems] … knowing that the way we do things in the U.S. isn't how it is everywhere else," Ngo says.
The Future is Bright
Ngo is looking forward to graduating as a Burnett Honors Scholar from UCF and applying to a master's program in international security while pursuing a career in national security.
"I just want to contribute somehow," Ngo says. "Having a grasp of a common language in Southeast Asia would help me in that regard … giving me another avenue to be able to [facilitate communication]."
Making Connections in Japan
Background Check
The Miami native and Spanish speaker is connecting to a childhood interest by learning Japanese. "I watch anime and grew up [playing] video games," Merkel says, "so Japan always had a place in my life."
Going for it
As the first student in UCF's College of Engineering and Computer Science to be awarded a Boren Scholarship, Merkel recalls being inspired by a conversation with a family friend who studied abroad in Thailand.
"I feel like studying abroad anywhere is a way to find yourself … it's a rite of passage," says Merkel, a junior.
Next Stop: Osaka
He chose Osaka, Japan, a city 247 miles away from Tokyo, because of his longtime fascination with the region's culture and language.
"I picked Japan because I've always wanted to learn Japanese and it's also a critical language," Merkel says. "[Visiting Japan has] been on my bucket list … and the fact that I got a scholarship to go is great."
Merkel is anticipating the difficulty in learning Japanese but is excited to branch out and meet new people and try new experiences as a student at Osaka University.
"I'm going there for the language class," Merkel say, "but I'm also going there to try other classes like cooking."
The Future is Bright
Merkel is looking forward to working with the federal government upon his return — a requirement of Boren Scholars for a minimum of one year. During that time, he can apply to receive federal government agency issued security clearance.
"That's a big thing for the cybersecurity world," Merkel says. "I'll be attractive to the job market, plus, I'll have some language experience with Japanese, too."
This opportunity will be beneficial as Merkel seeks a future career as a cybersecurity penetration tester.
Students interested in applying for Boren awards or other major national awards should contact the Office of Prestigious Awards at opa@ucf.edu.