The day after Oneisha Eugene's seventh birthday, her father, a St. Lucian native, was in a car accident that deprived his brain of oxygen long enough that he temporarily lost the ability to walk, move or talk. The accident altered his well-being for the rest of his life.
"[Since] then, we basically had a very challenging life emotionally because my father was the breadwinner and glue of our family," says Eugene, who is studying communication and conflict. "For about a year, we had to travel an hour away to Lakeland Hospital to visit him. I remember my siblings and I often had to do our homework in the hospital."
Once her father was able to come home, he was still unable to function on his own, and her mother, who is from Dominica, had to become his primary caretaker, leaving Eugene and her two siblings to essentially take care of themselves, she says.
"As a result, my mother went through depression, and my siblings and I had to grow up and mature really fast and basically raise ourselves," Eugene says. "But I'm very close to my mom and despite these trying times, she always expressed the desire for her children to get an education because she did not have the opportunity to do it and taught us the importance of getting an education."
"I hope with my degree I can help relieve financial burdens and help take care of them." – Oneisha Eugene, UCF student
While recovering at home, her father, a former construction manager, has been able to relearn some skills, such as walking, talking and cooking. Now, Eugene enjoys seeing him garden and care for their home, going for ice cream with him, and listening to him sing along to the music on the radio. Her mom has also improved some and she says they remain close and are there for one another.
"My father has gotten better but is still unable to work. Since my mom has dedicated her like to taking care of him, she's unable to work as well, so I hope with my degree I can help relieve financial burdens and help take care of them," she says.
Strength Through Support
Using settlement money from the car accident, Eugene's mother would always buy whatever learning materials the New Jersey native needed when she was younger and enrolled her in tutoring, she says. But when it came to covering costs for college, without aid — such as the Black and Gold Grant, the UCF Scholars Award or the Derrick Sutton Endowed Scholarship — it wouldn't be possible for the DirectConnect to UCF student to complete her degree and go on to pursue her goal of becoming a teacher.
"I'm studying communication and conflict because I've had a lot of failed friendships and relationships due to lack of communication and I can see how being a better communicator can help me in professional and general life settings," says Eugene, who is also a member of the National Society of Leadership and Success, which helps college students build career skills.
First-generation students are those whose parents have not earned a bachelor's degree. Although her older brother, 27-year-old Greg Eugene '18, earned a bachelor's in computer engineering from UCF, she feels like she's had to navigate her college journey on her own since their fields are so different from one another.
But their strong bond as siblings, including her older sister, 30, has helped her stay strong through their family struggles and whenever she's felt overwhelmed with coursework.
"Strength in numbers definitely helped. We overcame a lot through laughter and jokes and our faith. Being close in age, we were able to relate to one another a lot," says the 26 year old.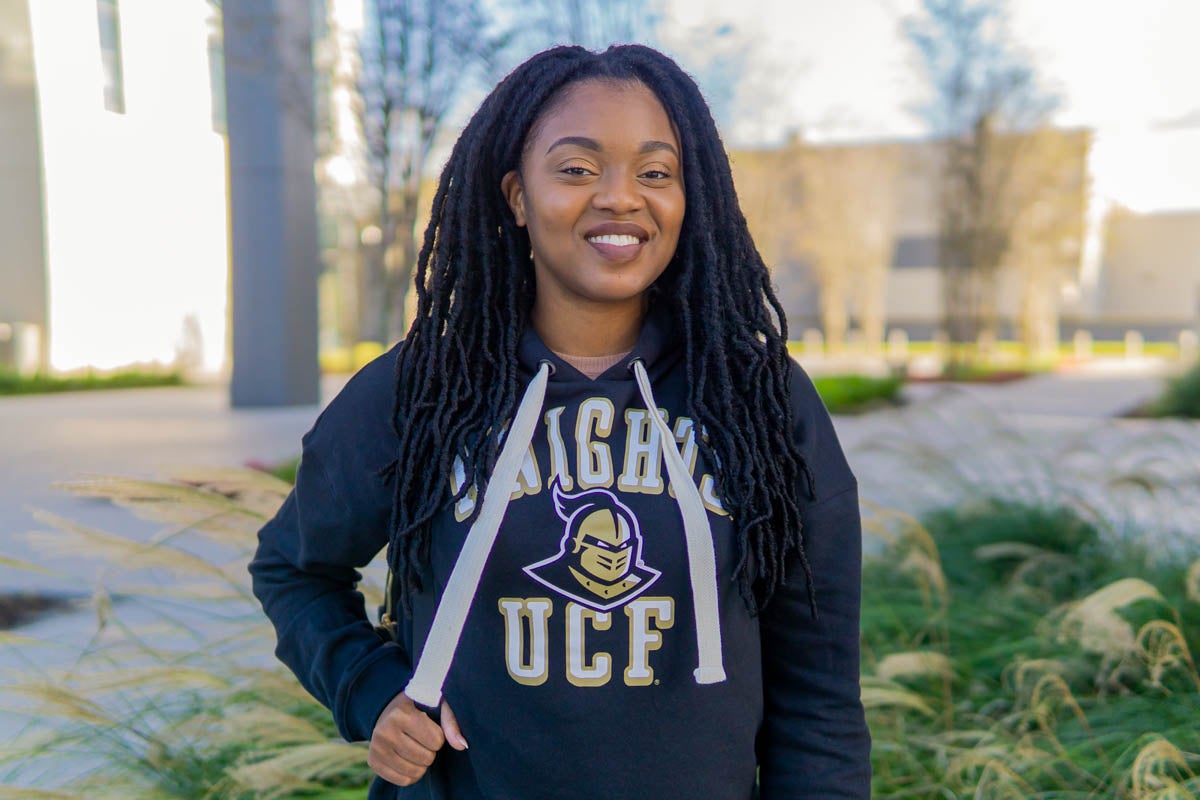 Focused on a Positive Future
Given her family's experiences, Eugene has learned the importance of mental health awareness and has made it a priority to maintain her well-being while juggling home life, work and school. She does so by journaling, setting boundaries and taking a step back when needed, while still pushing herself to the best of her ability. She hopes to emphasize mental wellness when she leads a classroom and has already begun preparing for the necessary certification exams for the field.
"I hope to be a teacher who can revolutionize the field of teaching," Eugene says. "I'm not looking to be a teacher who only supports students' success in the classroom. I'm looking to connect with students emotionally and mentally to guide them to reaching self-actualization and realize their potential, which will help make them better agents in society."
"I can't wait to finish [my degree] and make my family proud." – Oneisha Eugene, UCF student
Eugene has learned part of being your best self is allowing yourself time to process personal challenges to learn from them, grow and focus on the positive.
"Compared with my parents' experience, I'm very privileged to be going to school and to be close to completing my degree in Summer 2021," Eugene says. "I'm very appreciative of the opportunity to go to college and it's changed my life. I've really been able to overcome and evolve as an individual by being persistent with my studies. I can't wait to finish and make my family proud."