When Patrick Braillard '14MA was 16 years old, he was in a car accident that left him with a broken back. The sports enthusiast could no longer play football or run track, so he turned to theater and the school play as a hobby.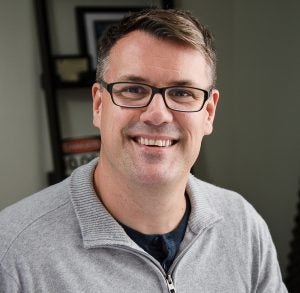 "I've never looked back," says Braillard , an adjunct faculty member in UCF's themed experience graduate program. This is his first semester teaching the Storytelling as a Theatrical Art Form course that's part of the recently launched master's in themed experience degree, and the themed experience track within the theatre MFA degree. In these programs students learn how to design and create immersive, themed environments.
Braillard, who earned a master's in theater at UCF, not only brings a passion for this art form to the classroom, but also a wealth of industry experience. Beginning in 2009, he joined the strategy team that designed and developed Halloween Horror Nights each year for Universal Studios Orlando. In that role, he also created and developed other immersive, themed experiences within Jurassic World and The Wizarding World of Harry Potter.
Now Braillard is the creative director of Howl-O-Scream, SeaWorld's new Halloween event with scare zones, haunted houses and more.
Here Braillard shares more on bringing these state-of-the-art events to life and the lessons he brings straight from the scare zones to the classroom.
What is your favorite part of working Howl-O-Scream in its inaugural year?
It's been a wonderful change of pace because everything is brand new. You can see it on the actors' faces that they are filled with pride to be part of a new event. What's been really cool about Howl-O-Scream is the stories we tell in the haunted houses and scare zones are all completely original. Stories are so foundational to being human; we're all storytellers. Creating a good story that you can tap into to build an immersive environment is at the core of this work.
What are some of the biggest takeaways and lessons you've learned while on the job that you now apply in the classroom?
It all comes down to bringing a story to life. For Halloween events, we do that through "visceral theater," or using fear as a stimuli to engage guests. (Braillard coined the term "visceral theater" in his UCF graduate thesis.) The culmination of the Storytelling as a Theatrical Art Form class is to develop, on paper, a story and all the creative necessities to bring it to life through a live, themed immersive event. It's also critically important to work collaboratively with an interdisciplinary team. These students come from varied backgrounds — graphic design, even structural engineering. I make sure to show them how storytelling applies to all their backgrounds and foundational disciplines.
How have you seen the industry evolve over time?
The amount of growth as far as guest count goes has been exponential over the last 15 years. The challenge now is how to meet that growing demand and continue to tell new stories to larger audiences each year. I've also seen theater and theme park work become more legitimized with time. With longstanding legacies like the 50th anniversary of Walt Disney World and the 30th anniversary of Halloween Horror Nights this year, we're seeing the traction the entertainment industry has gained in Central Florida and beyond. Having this degree program at UCF in Orlando is a match made in heaven. Students have the literal playground of which to work and learn from right here.
Where do you see the themed experience industry going?
Pre-COVID, we were in a golden age of the industry with numerous expansions of theme parks locally and globally. But by putting on the brakes, we're now seeing a pent-up demand to experience these new parks and events. There's especially a pent-up demand to go places that allow you to escape. I think there's an explosion within this industry on the horizon.
Do you still get scared?
I haven't genuinely been scared in quite a while. There was one moment in 2008, though. I was walking through one of the haunted houses in the middle of the night. There was a typical Central Florida storm with rain and lightning that night. One of the team members had moved a gross mannequin body, but I hadn't realized it had been moved yet. A big bolt of lightning struck at the exact moment I rounded the corner to see — to my surprise — that gross mannequin body. I definitely let out a scream that night.