As the Fall 2019 semester is quickly approaching, student-residents began making their homes on campus this week with move-in days at the UCF Downtown and main campuses. Wednesday marked a historic day for UCF Downtown as residents at UnionWest at Creative Village settled into their apartments for the first move-in day. On Friday, main campus welcomed new and old Knights moving into various housing communities.
Here are a few moments from both move-in days.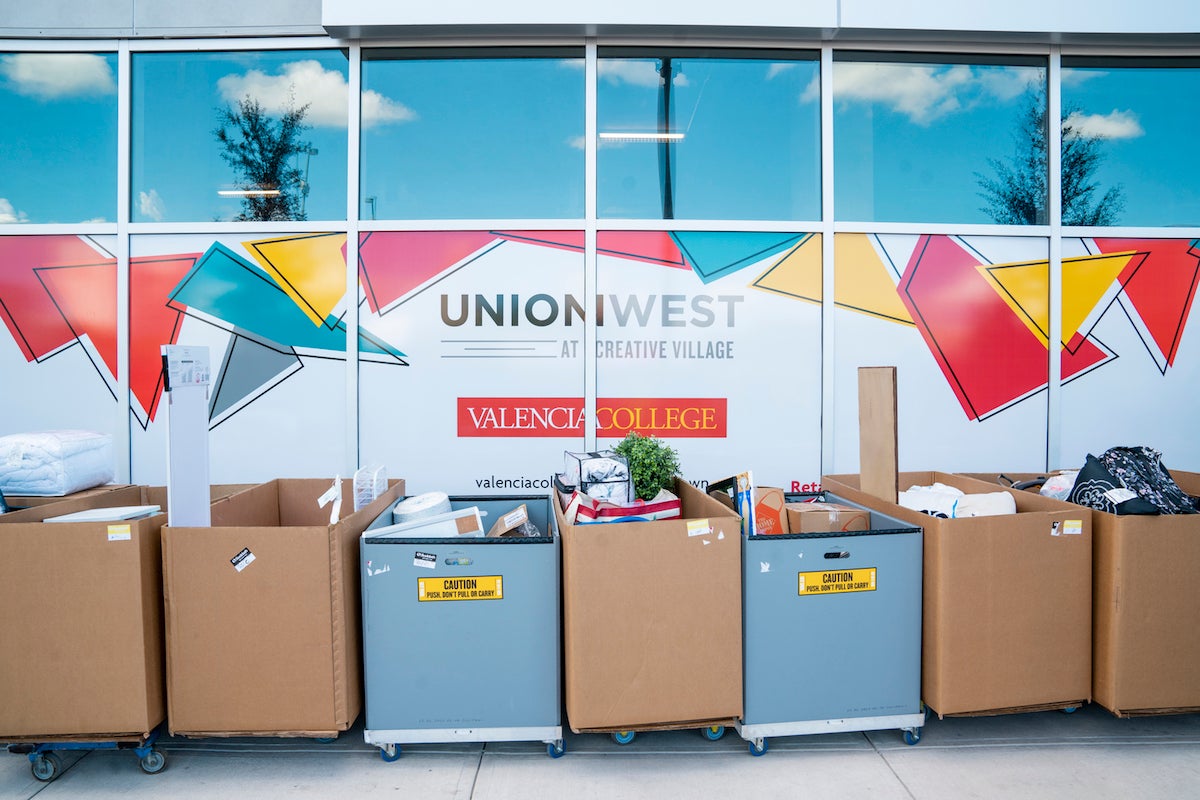 Students from UCF and Valencia College began moving into their new apartments at UnionWest on Wednesday Aug. 21. UnionWest is a 15-story mixed-used building with student support services on the lower floors.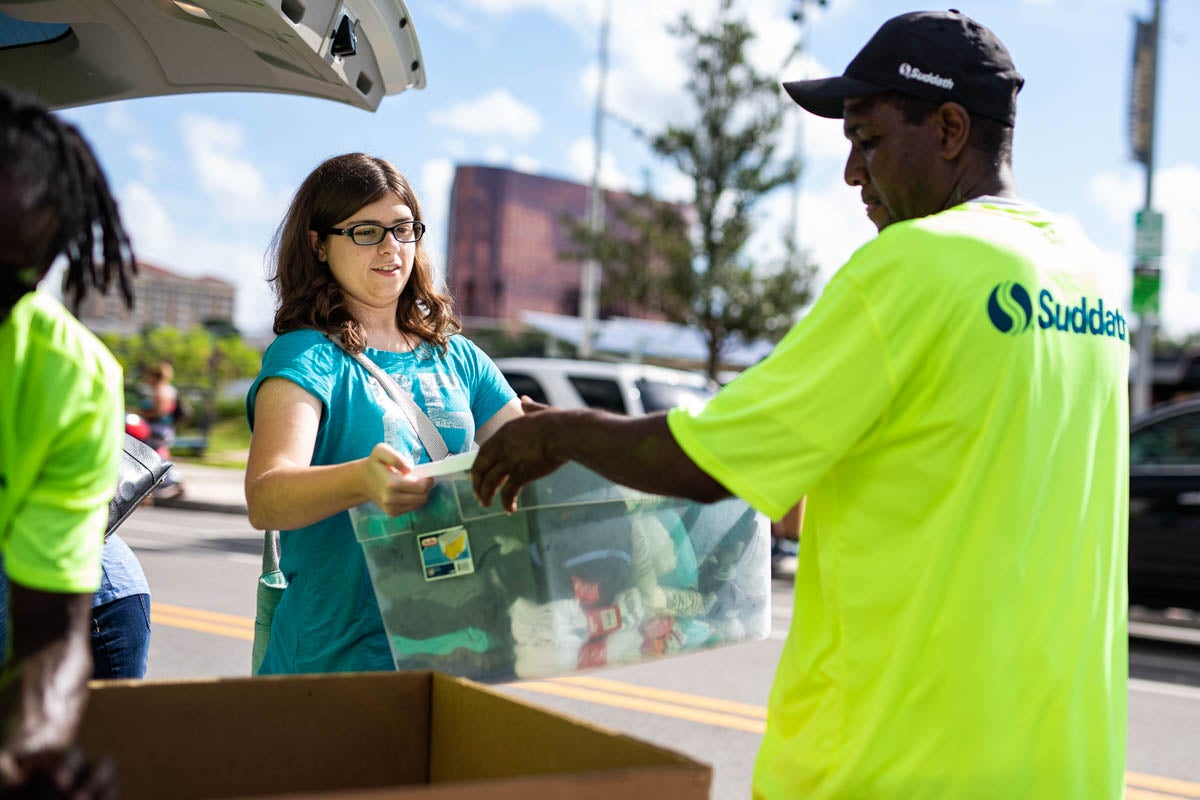 To help make the move-in process smoother, professional movers assisted UCF Downtown students with unloading items from vehicles and into boxes that were delivered to their rooms.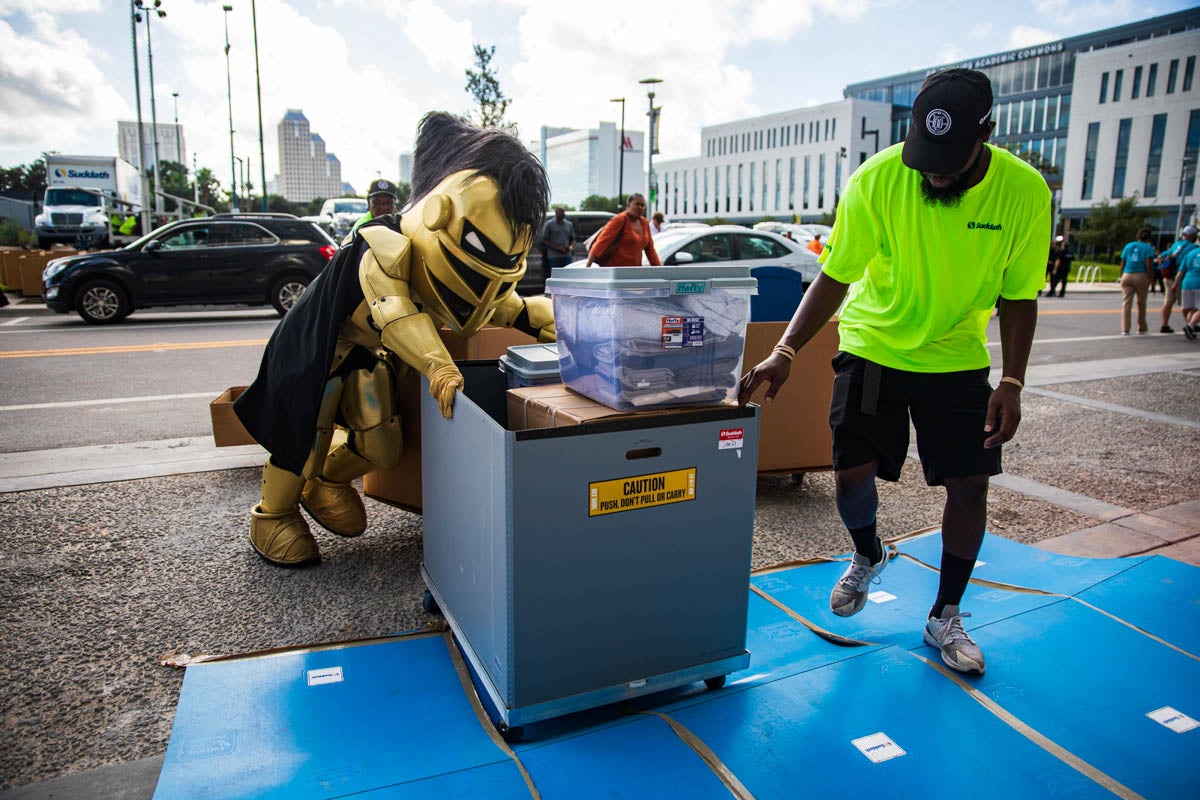 Knightro also helped transport items.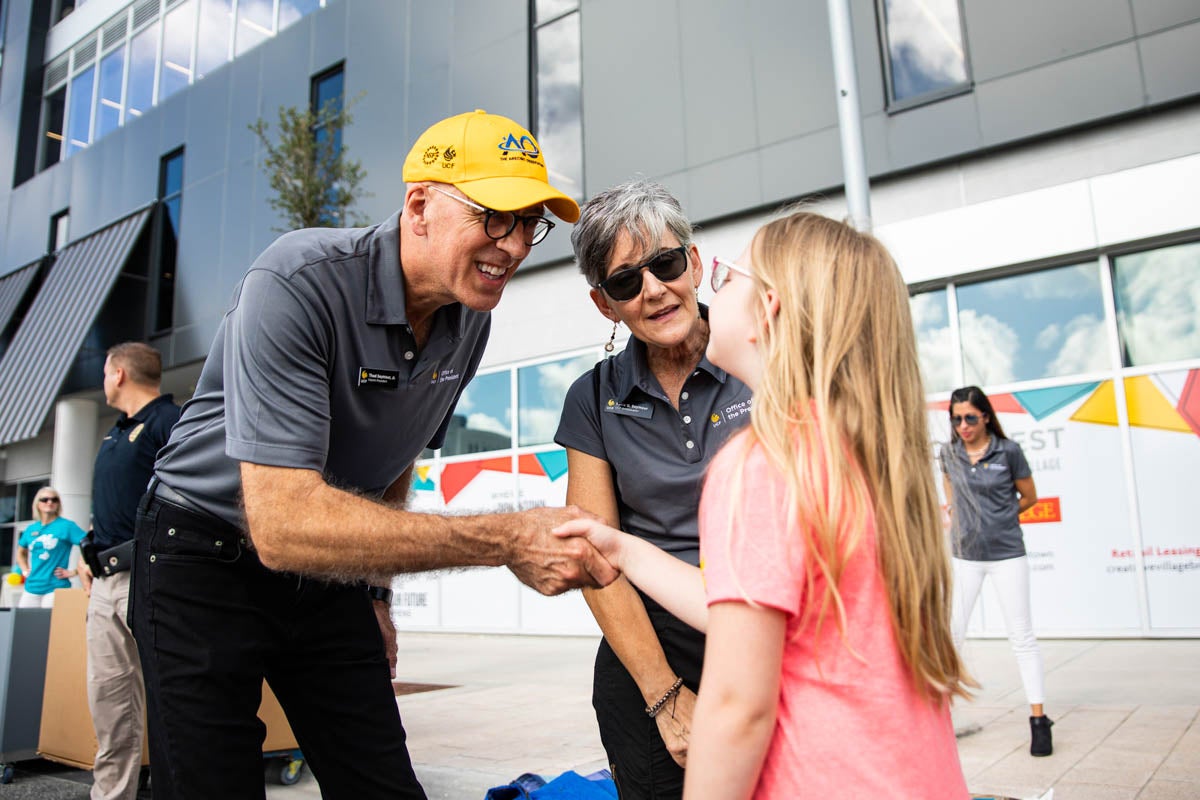 Interim President Thad Seymour Jr. and his wife Katie Seymour greeted students and their family members as they arrived. Here they meet a young girl whose older sister is studying at UCF.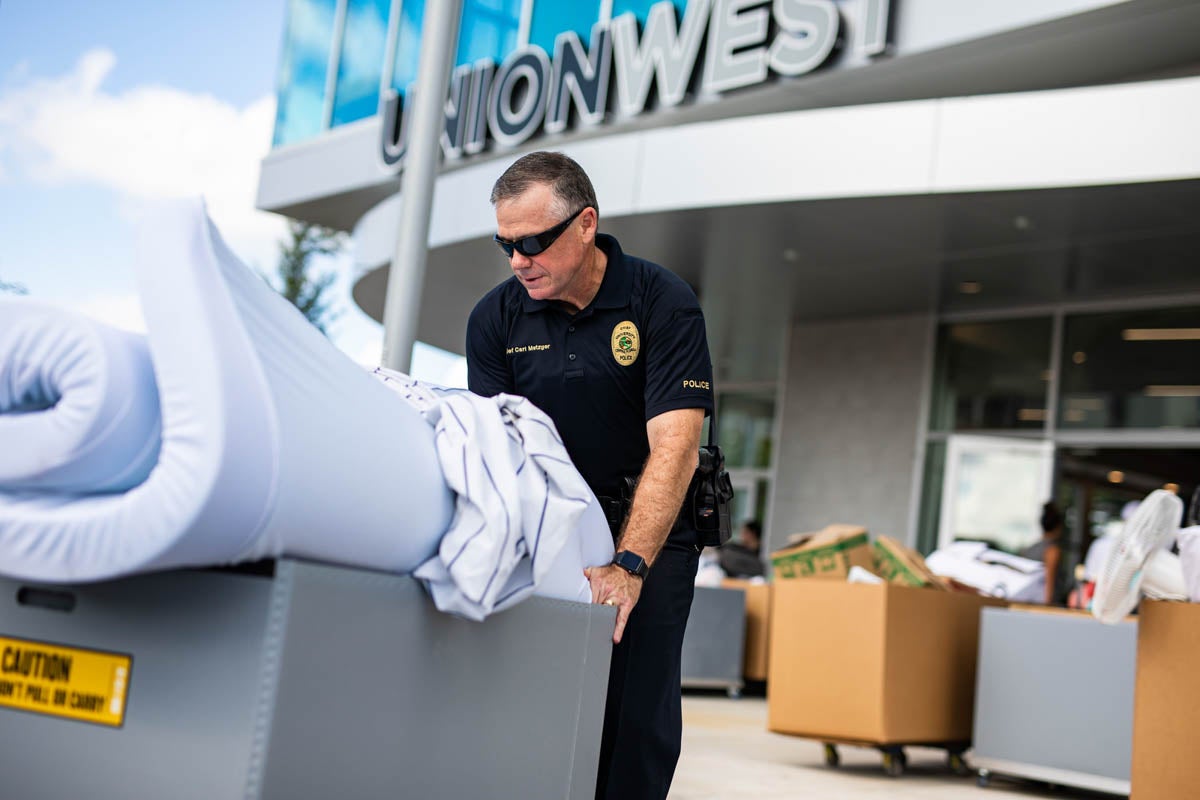 UCF Police Chief Carl Metzger '03MS also helped with move-in day.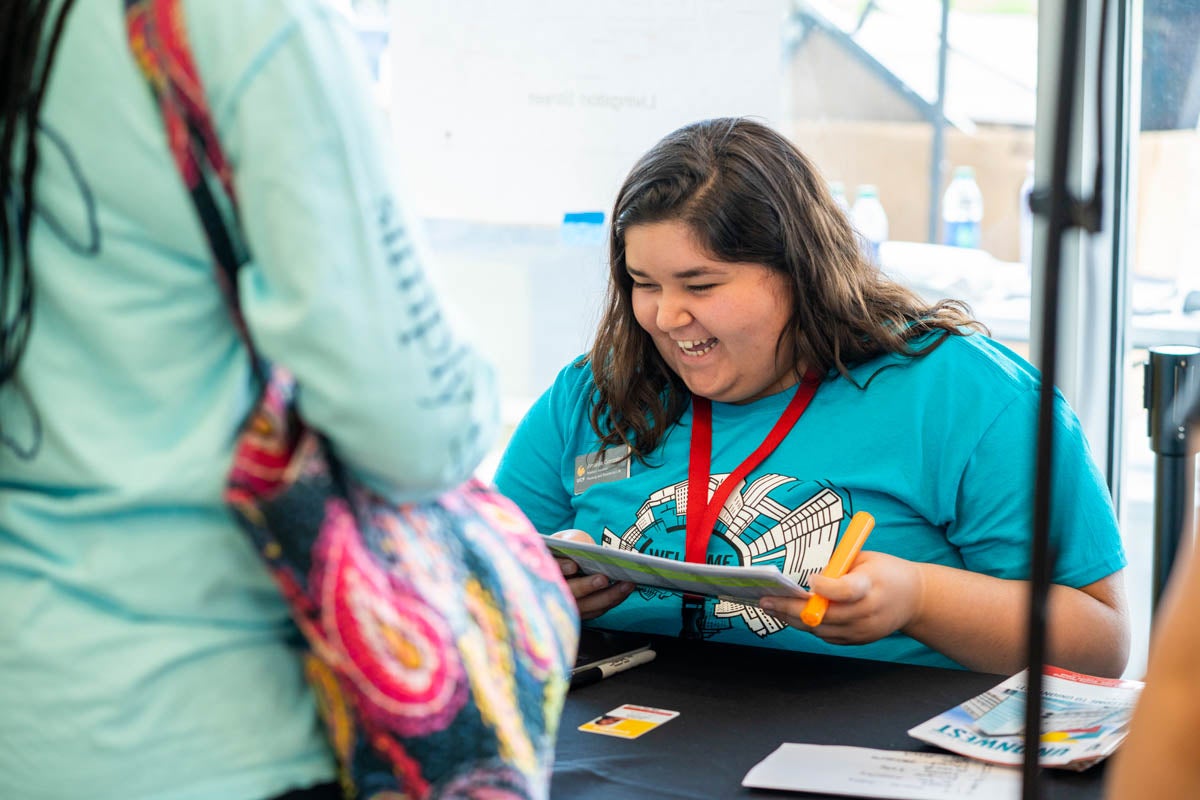 Housing and Residence Life staff members welcomed students with friendly smiles as they checked them in.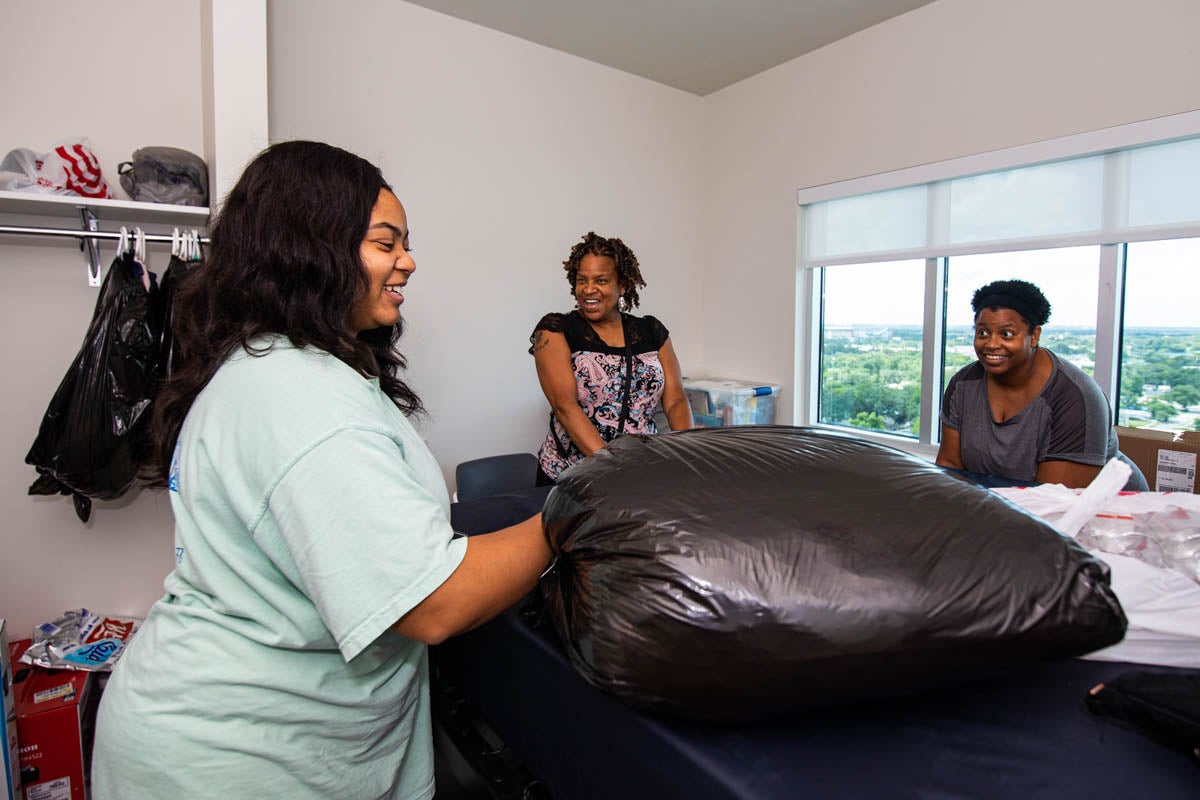 Junior psychology major Jamilah Irby laughs as she unpacks with her aunt (center) and mom (right). "I think moving into UnionWest is a cool opportunity to be away from home and grow," Irby says.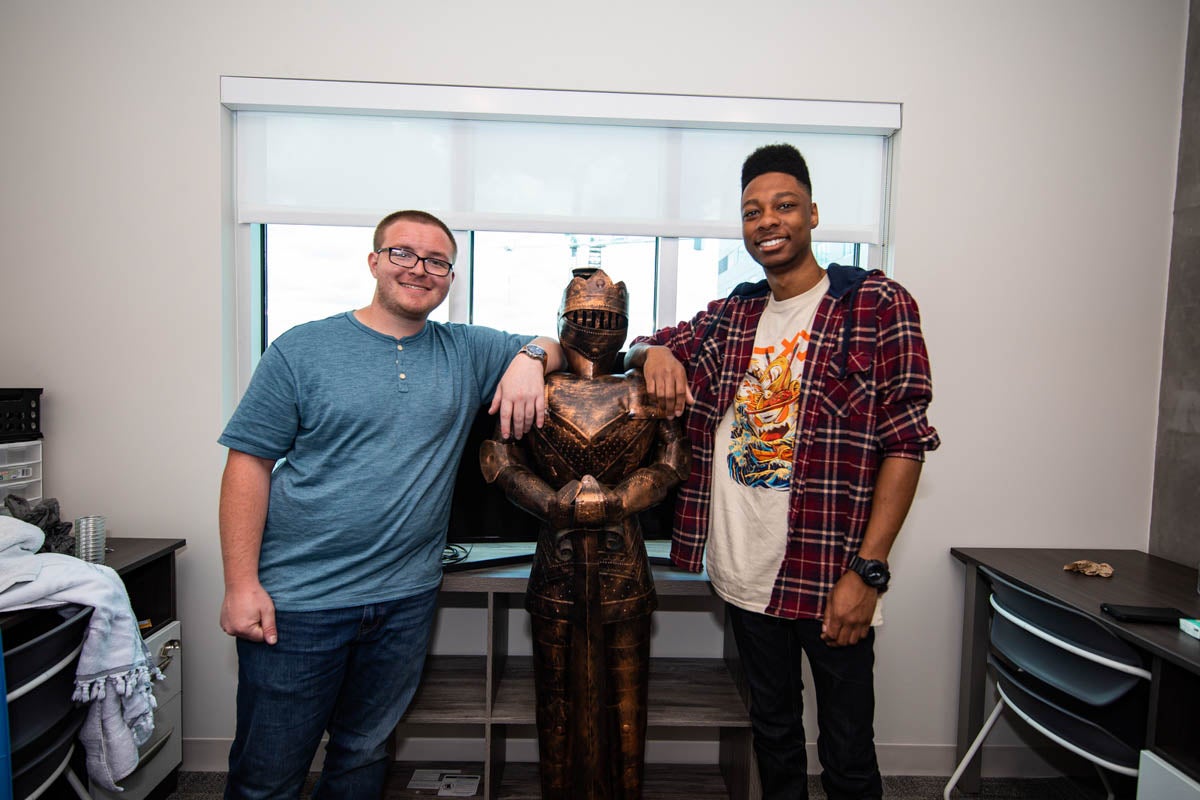 Junior radio/television major Will Salisbury and sophomore baking and pastry management major Jesiah Anderson pose by a Knight statue. Six years ago, one of Salisbury's relatives bought him the statue because of his love for the medieval era. Anderson is a Valencia student who hopes to work for Disney one day.
Valencia sophomore and elementary education major Jose Fernandez, unpacks some items to put the final touches on his room. "What I'm most excited for living downtown is meeting new people and the walkability to my favorite food spots, like Gringos Locos and Insomnia Cookies."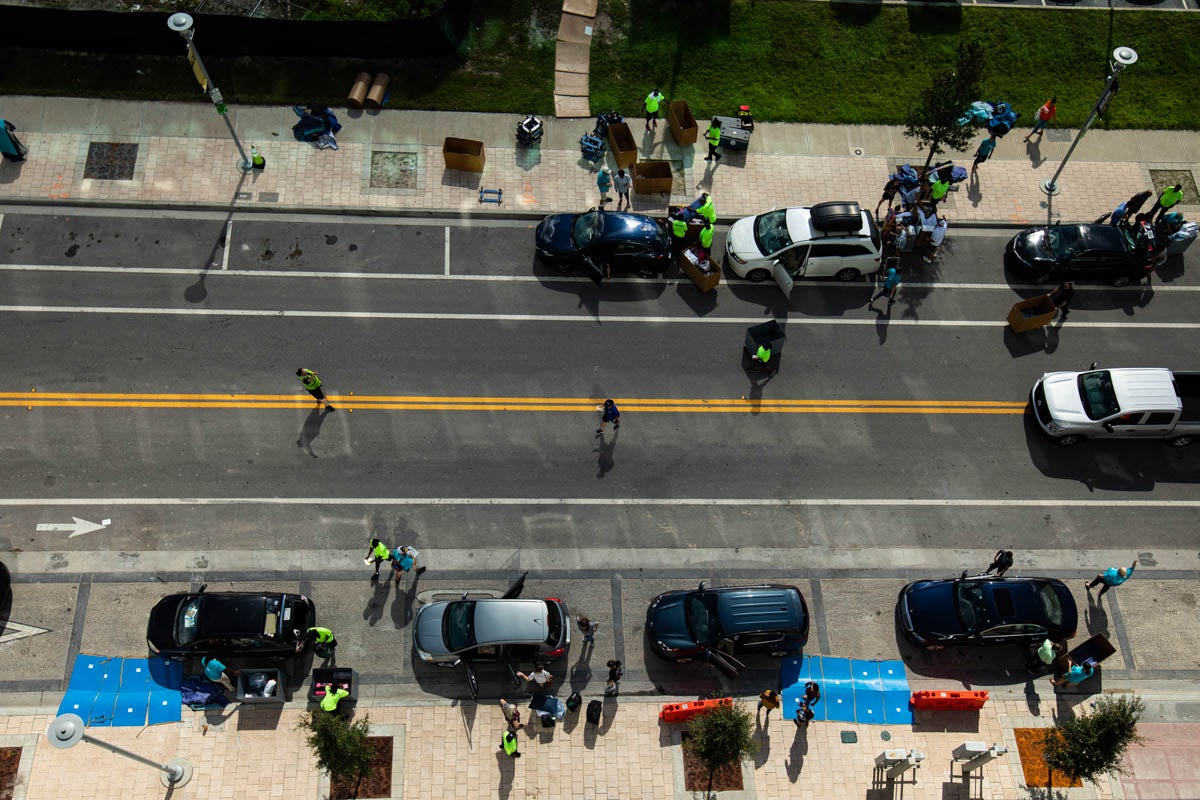 A steady flow of cars continued to park outside UnionWest to unload items throughout the day.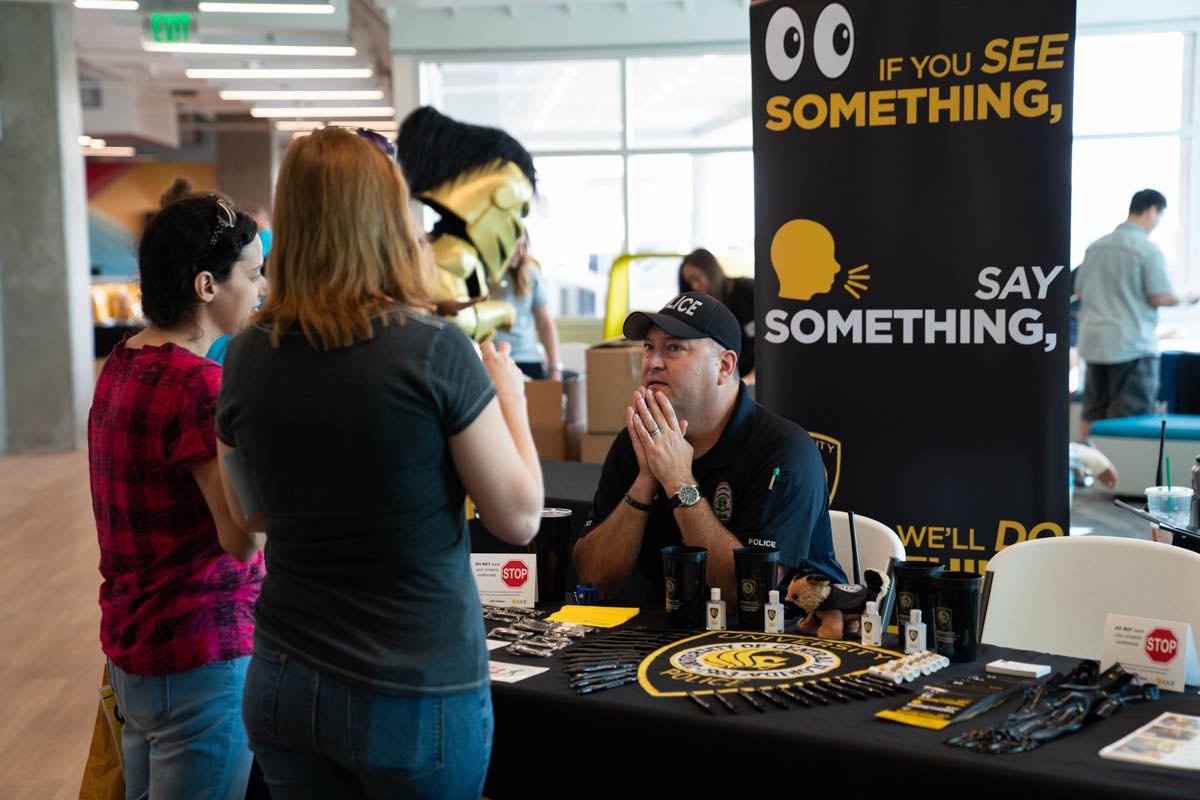 On the sixth floor, which has a large gathering space and outdoor patio, students could take a break from moving to speak with university organizations and pick up free items like lanyards, reusable water bottles and T-shirts.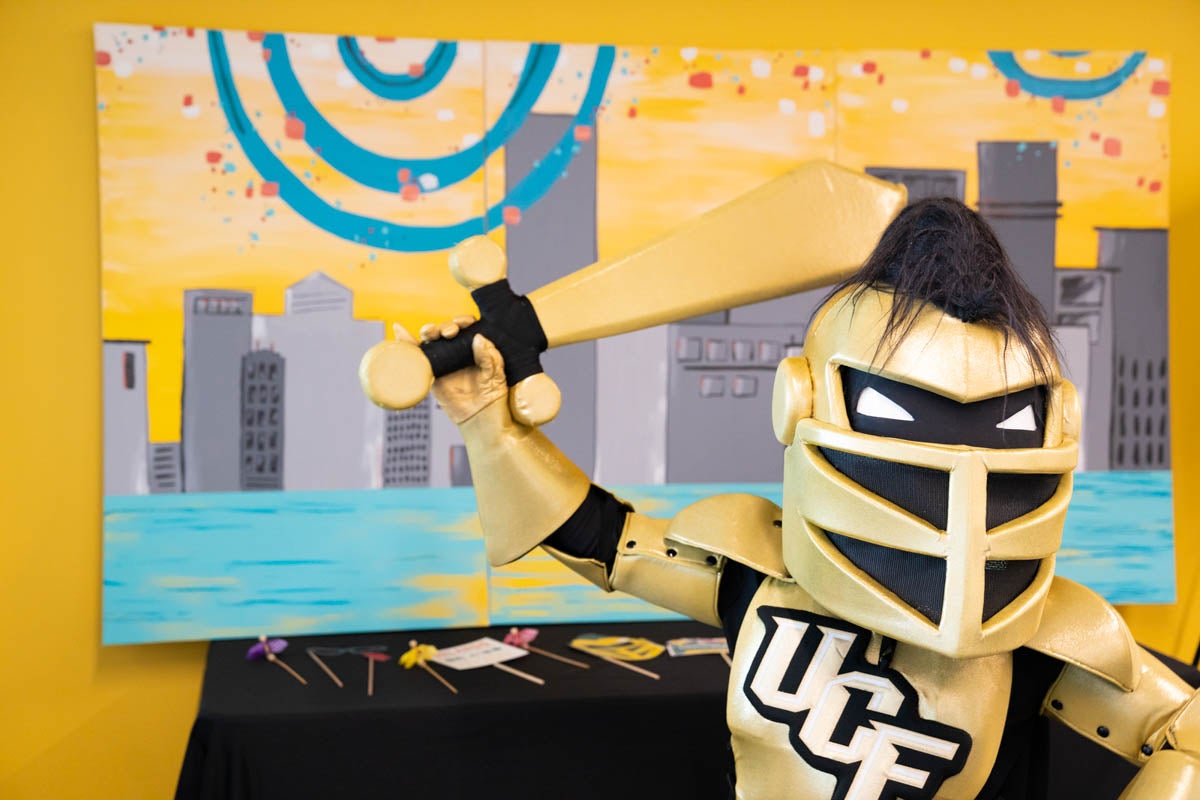 A painting of the downtown Orlando skyline was also set up at a selfie station.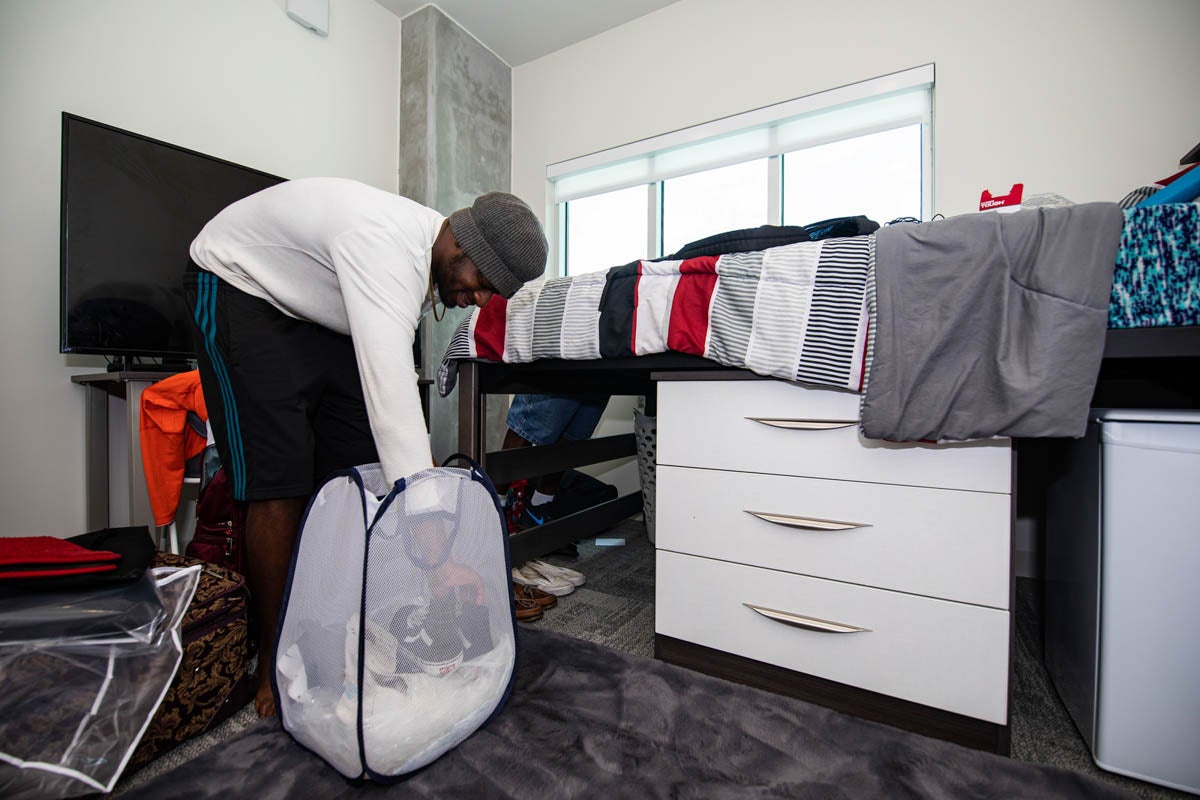 Junior food service management major Marshaad Scott places his shoe collection under his bed. "I'm most excited to use the gym at this campus and to check out the restaurants in the area," Scott says.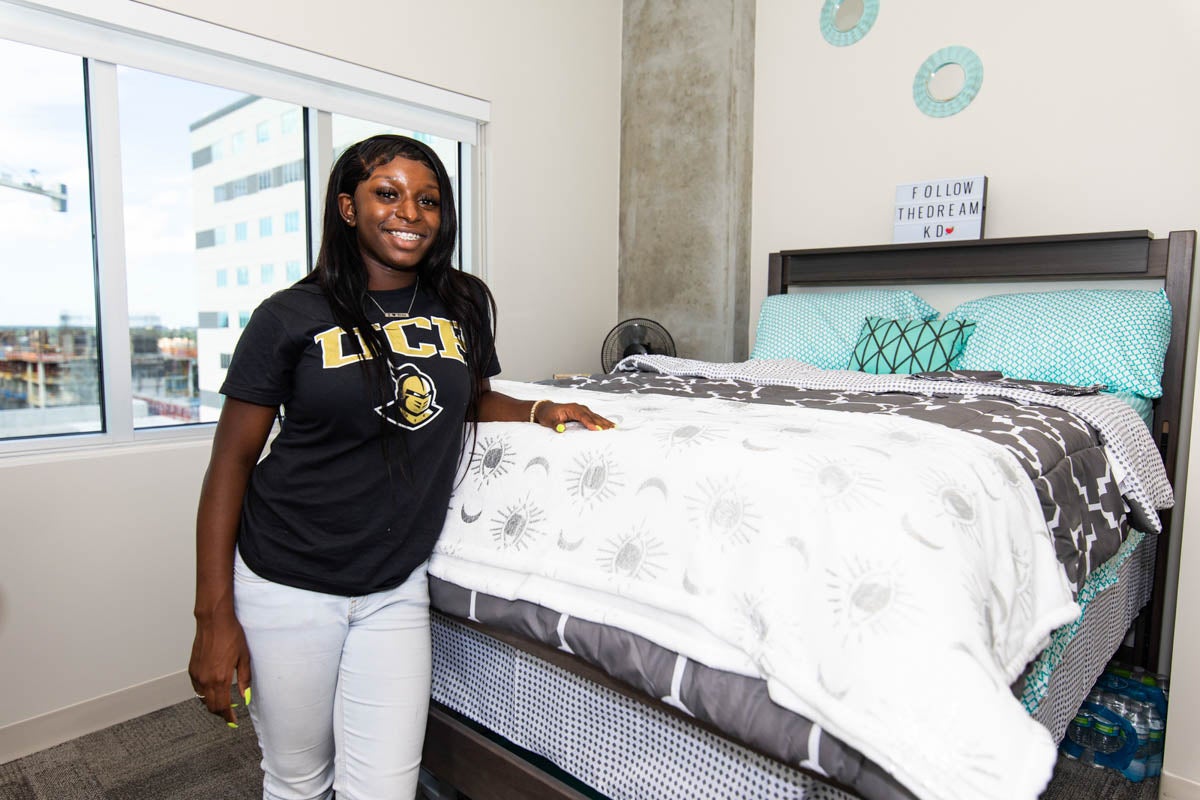 First-year legal studies student Khadesha Galloway poses in her room after she finished moving in. "Living and taking classes all in one building, it's going to take some time to get used to, but I'm looking forward to meeting new people, figuring out downtown and visiting the courthouse," says the aspiring lawyer.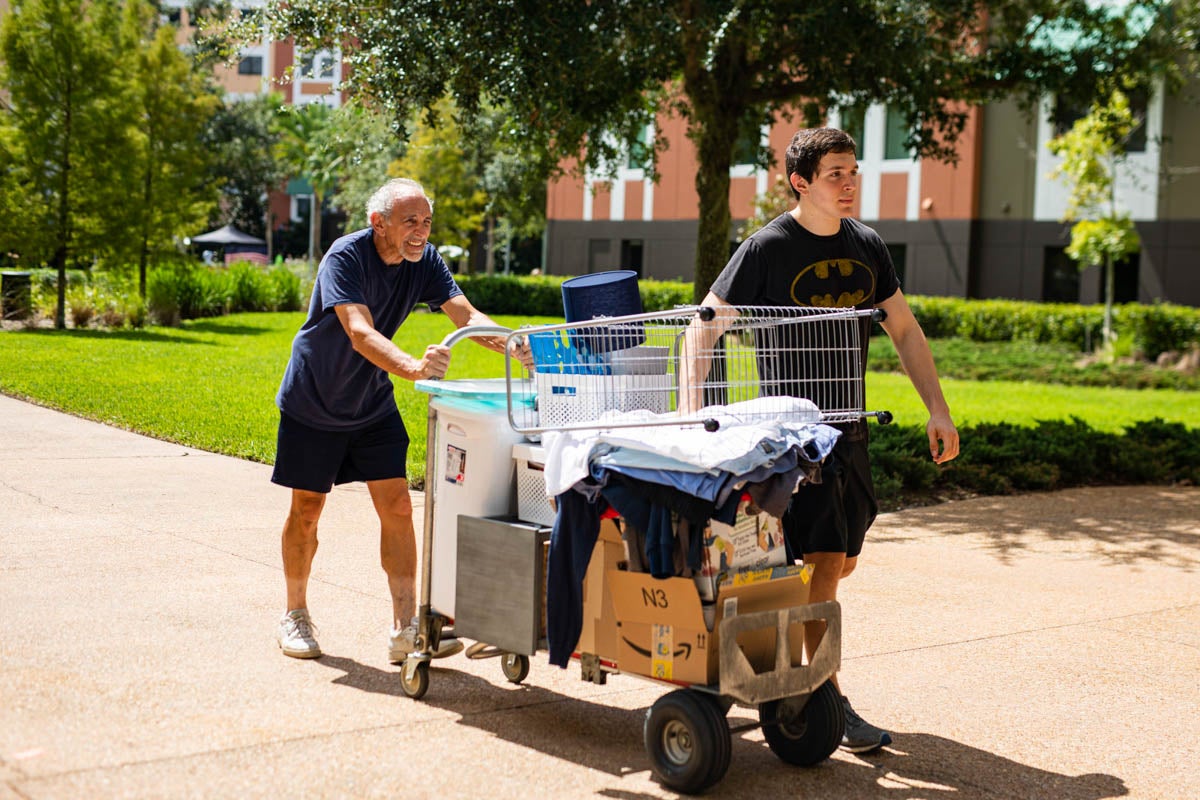 UCF's main campus' move-in day took place on Friday, Aug. 23. Here a student prepares to move into Tower III.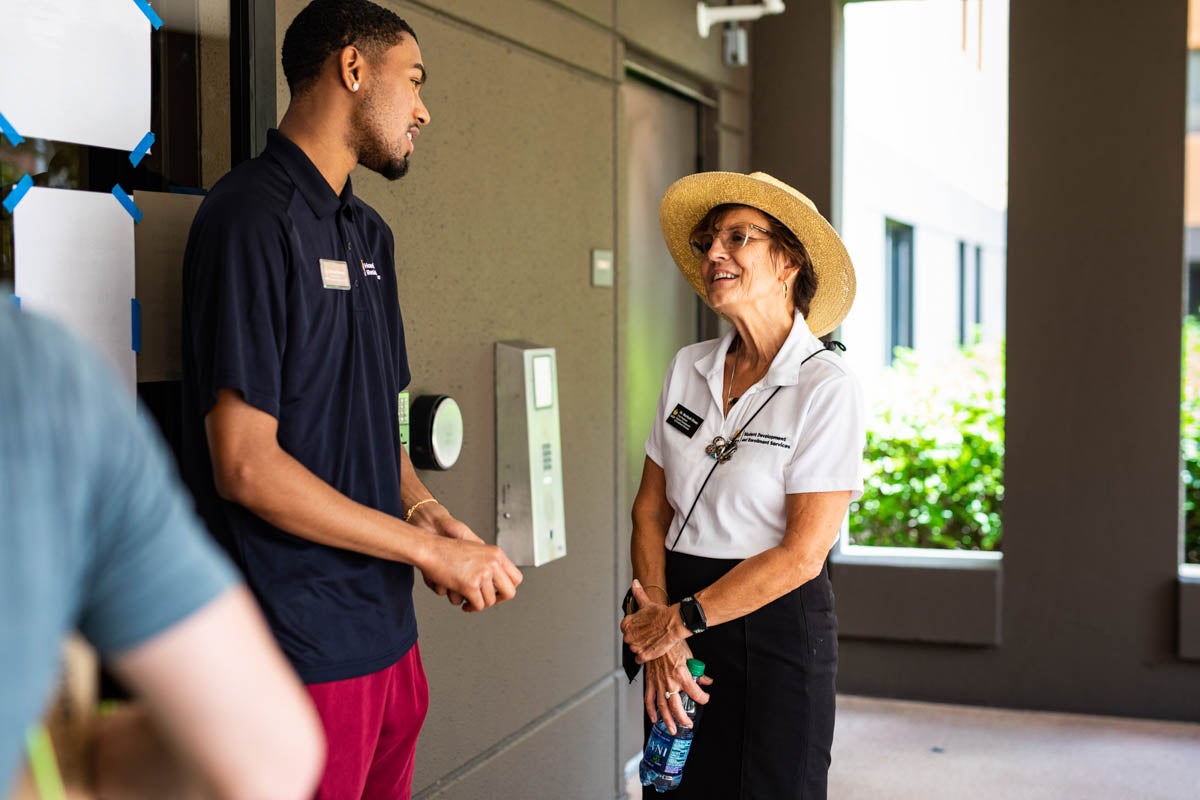 Maribeth Ehasz, vice president of Student Development and Enrollment Services, visited the Tower III dorms and spoke with Housing and Residence Life staff members during move-in. Interim President Thad Seymour Jr. was also present.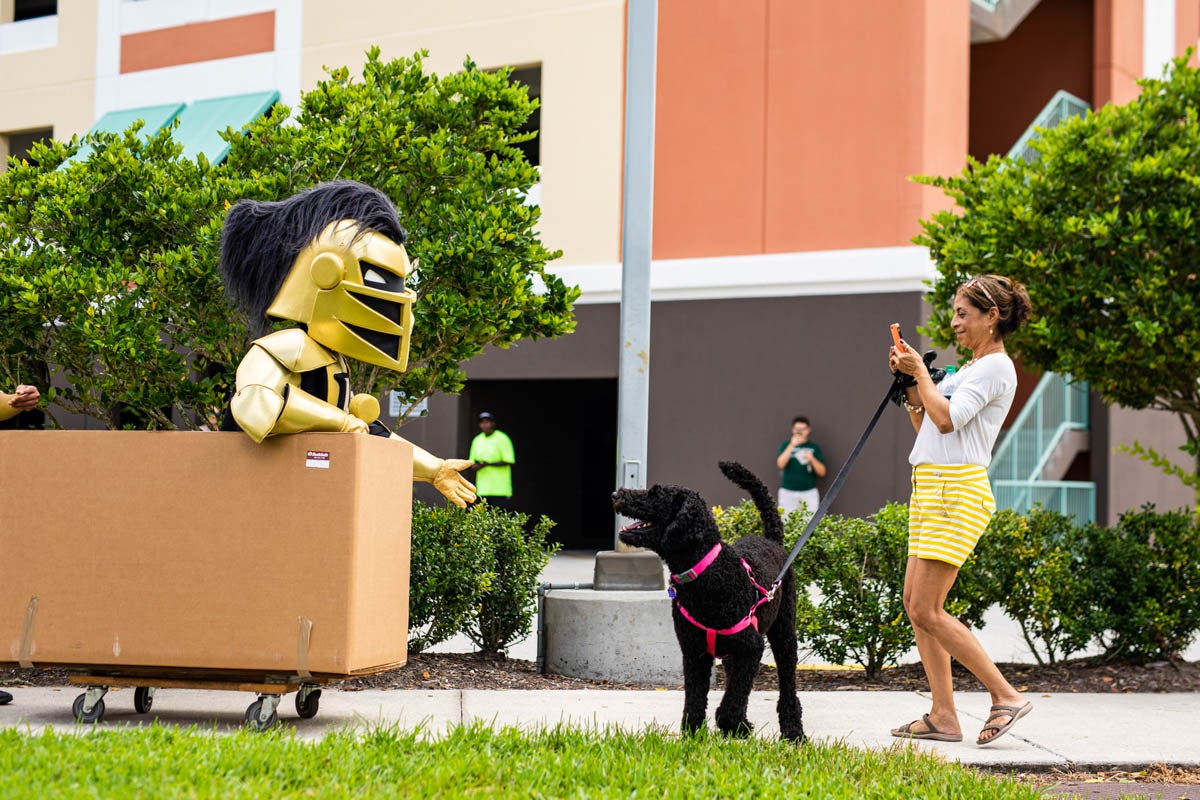 Knightro meets a Knight pup while "assisting" movers.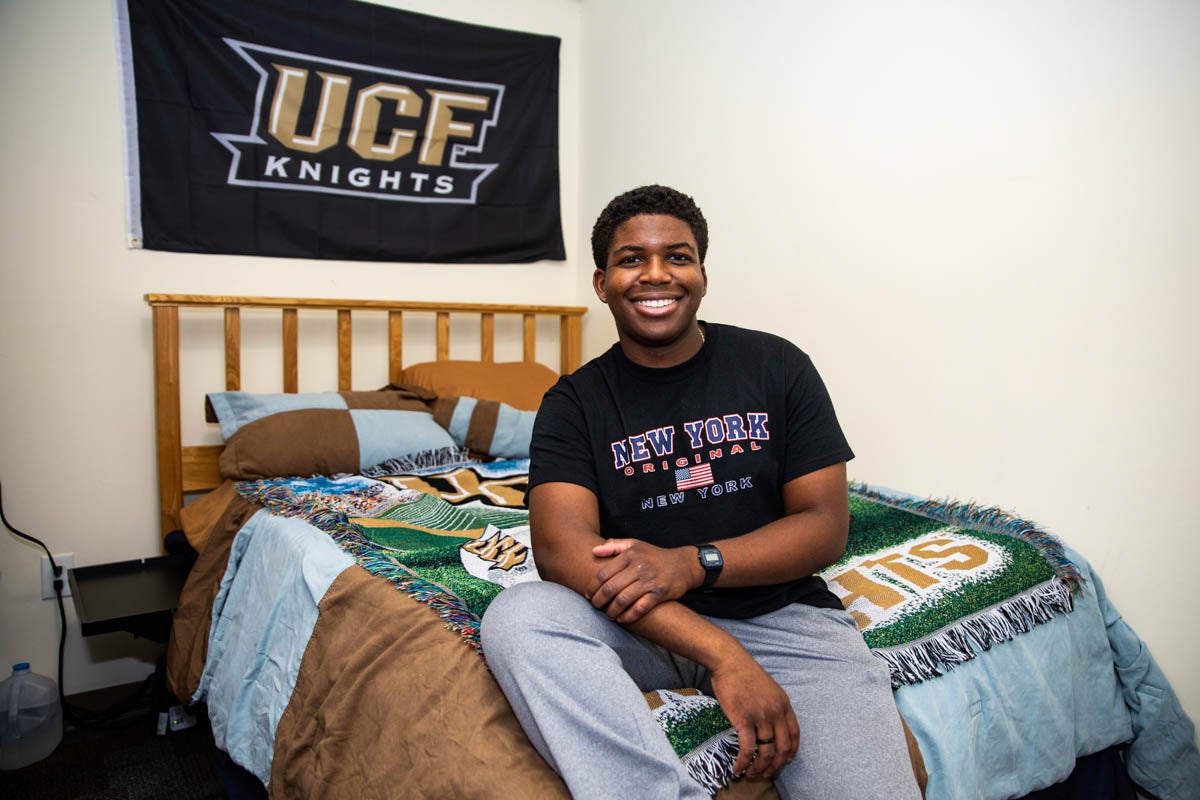 First-year biomedical sciences major Jeffrey Alleyne shows off his UCF-themed room. Alleyne is from Pensacola, Florida and says after he toured UCF as a high school sophomore he knew he wanted to attend the university. "I'm looking forward to exploring campus and checking out all the events here," Alleyne says.