As music professionals in Lakeland, Jessica (Wigert) '07 and Jonathan Gautier '06 '09MA are used to working with musical artists of various backgrounds.
So when a violinist from New York, who was visiting his father when travel shut down in Florida due to COVID-19, reached out to the couple about booking some time to work on material in Jonathan's recording studio, they were happy to take on the work.
"Sometimes, he would ask to come record in off-hours for a project and needed a quick turnaround," Jonathan says. "The projects never had any descriptions. We never knew what they were for."
So imagine their surprise when months later, they awoke to a text message explaining Sound House Studios was credited as an engineer for the song "August" on Taylor Swift's surprise album "Folklore."
"Everything has been so serious and intense these past few months, so it was really great to get excited about something fun happening at the studio," says Jessica.
The Prelude
Jonathan and Jessica met each other through the music program at UCF, where he received his B.A. in digital media and then a master's degree in music, and she earned a B.S. in elementary education with a minor in music.
They both say UCF's collaborative and welcoming environment helped set them up for their future career, which got its early start in the residence halls.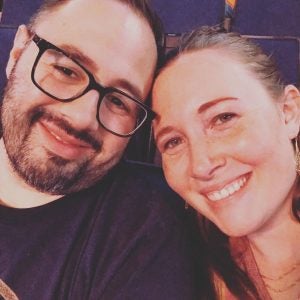 "When we first started dating, I would be the one holding the comforter up in the air to be the mock sound booth in the dorm rooms at UCF," Jessica says.
After graduating, both found their way into teaching music, but Jonathan kept recording music in his spare time.
When their first child was born seven years ago, Jonathan decided it was time to quit teaching and open the studio full-time.
"For those first three or four months, [we didn't book] a single client," he says. "I thought, 'Did I just make the worst decision of my life? I have a newborn and I have no money.' But everything would happen in the eleventh hour and I started making those connections."
Switching Gears
When the pandemic started, they were nervous whether the studio would survive.
"It's such a niche thing," Jonathan says. "When people come to a recording studio, they've thought about it, they've priced it out. It's like buying a car."
As it became evident that the pandemic was sticking around for a while, they realized that they could change their business model to fill a need in their community.
"Everything is going virtual and needs quality sound," Jonathan says. "We're figuring out how can we fill a gap where people need what we do to continue to function in this 'new season.' We fit a need because nobody else can do it, and if we can provide a way so they don't have to worry about the technical side, then they can create more. It's been a crazy transformation."
Jessica, who teaches music, choir and theatre at schools in Polk County, used her background in education and connections in the community to start looking at how they could help students have a chance to perform and show it to their friends and family.
"We started thinking, 'What does performance look like?'" says Jessica. "We know virtual performances exist, so it was a matter of how we can reach out to schools and businesses and provide this service for them. The last thing they want to figure out is how to get 75 kids to do a video performance."
The studio also began seeing an uptick in their normal business. They took steps to ensure that they had a way to safely bring musicians back into the booth.
"We've gotten an album credit before, but never with a big mainstream artist. It's been pretty surreal. We're getting noticed a lot more now."
Which is how the project for Swift's seventh No. 1 album ended up in their studio.
"We've gotten an album credit before, but never with a big mainstream artist," says Jonathan. "It's been pretty surreal. We're getting noticed a lot more now."
Jonathan says the success he's had with running the studio is credit in part to the interdisciplinary environment at UCF.
"Here at the studio we're very collaborative," he says. "We work with film studios, musicians and songwriters. You collaborate because it's the only way to be in this field. UCF made me into a professional. It gave me the keys, the steps to become that professional that can put a stamp on this world. I think UCF really did help me become driven and be proud of being a Knight."