A select cohort of nursing students has returned to campus to practice critical hands-on skills in campus labs for the first time since UCF moved to remote learning in March due to the coronavirus pandemic. The training experiences were organized with proper physical distancing, protective gear and cleaning practices to help increase safety precautions for students, faculty and staff.
Last week, 36 students taking Essentials of Nursing Practice Lab (NUR 3028L) met for a one-day bootcamp where they were split into small groups and could practice skills, such as taking blood pressure, administering medication, tracheal suctioning, indwelling urinary catheterization, and inserting nasogastric tubes. This week, the remaining 36 students taking the same course underwent the same training.
The experience is especially significant for these students because they are all second-degree earning individuals who are in their first semester studying nursing, meaning this is their first face-to-face lab with their peers and faculty. Some of these students are national scholars of the Helene Fuld Health Trust, which is helping second-degree BSN students change careers to pursue their passion in nursing.
"The virtual learning fully prepared students for this event," says organizer Erica Hoyt '19EdD, a senior lecturer and certified healthcare simulation educator (CHSE). "While some of these students have previous healthcare experience in their former careers, none of them have had a chance to demonstrate their skills in person yet. This was a valuable learning experience for all and allowed faculty to work directly with the students to ensure they are skilled and competent in these nursing procedures."
During normal class operations students attend assigned lab sections every week for 2½ hours. Instead, they've been learning virtually for the past eight weeks with an instructor demonstrating skills via Zoom from the simulation lab.
For the intense eight-hour lab event, a team of nursing faculty members and staff helped out from adjunct faculty members to a department chair and Dean Mary Lou Sole. "The students were well-prepared," Sole says. "They were adept with some skills practiced at home, excited to be on campus and ready for action."
"Some nursing competencies and psychomotor skills are nearly impossible to learn virtually; we had a great opportunity and accomplished a lot in these intensives," says Sotos Djiovanis '15, an adjunct instructor who helped with the bootcamp and is in on track to earn his master's in nursing degree from UCF in December.
"From a safety perspective, I felt as though the faculty did a great job ensuring each station was set up appropriately to reduce the risks of any harm." – Michael Chandra '18, nursing student
Prior to the bootcamp, students self-isolated in Florida for two weeks, received education on COVID-19 and PPE. They also received a reminder the night before to self-screen for symptoms and to only attend if they felt healthy and were symptom free. Armored with face masks, face shields, gloves and plenty of hand sanitizer nearby, students worked individually and, when necessary, in pairs with appropriate physical distancing. After students completed each session, they disinfected their areas and supplies to help maintain cleanliness for those that followed them.
"From a safety perspective, I felt as though the faculty did a great job ensuring each station was set up appropriately to reduce the risks of any harm," says Michael Chandra '18, a health sciences graduate. "In addition, they were kind enough to provide us with face shields as an extra safety measure."
The online portion of the course helped prepare students via readings, videos, practice questions, and even a "Before Bootcamp" module. The module included recorded videos from instructors correctly demonstrating a few of the skills, print outs to minimize books students needed to bring and even a video tour showing the route from the elevator to the bedside.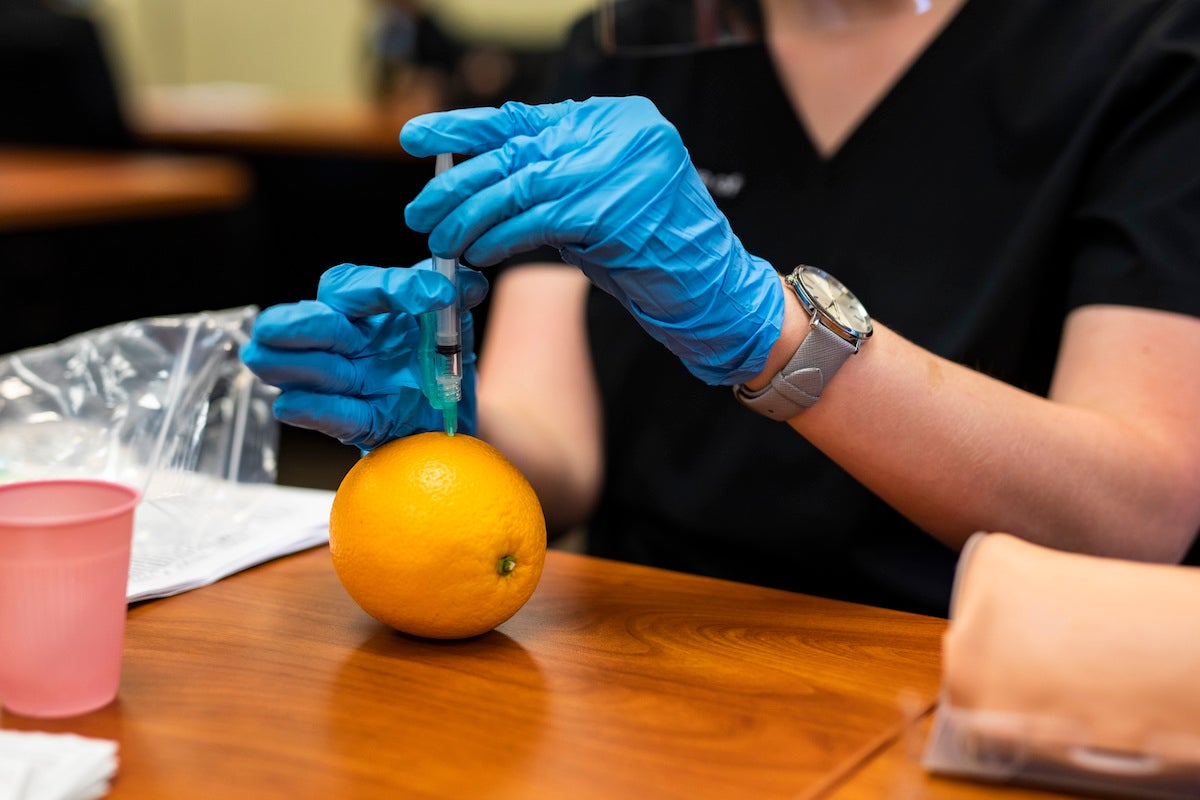 After receiving supplies at a drive-by event at the start of the semester, students have been practicing skills — such as donning sterile gloves and injecting citrus (which provides a similar feeling to human flesh) — at home, and via webcam and video recordings to receive instructor feedback.
"It's one thing to learn the material conceptually, but getting hands-on experience is what I needed to feel confident going into clinical practice next semester," says Megan Wise '19, who is also a health sciences graduate. "It was an exceptional way to reinforce what we have been learning online this semester."
"Originally, I was extremely nervous for a mainly online course because I feel like I learn better in the classroom, but I actually really like the virtual setting because you can record [Zoom lectures and discussions] and go back and look at it as much as you need," says Alyssa DeJesus '19, who has a bachelor's in interdisciplinary studies with a minor in health sciences. "This has become the best type of studying I have done in my college career and moving forward I think they should incorporate more of this method."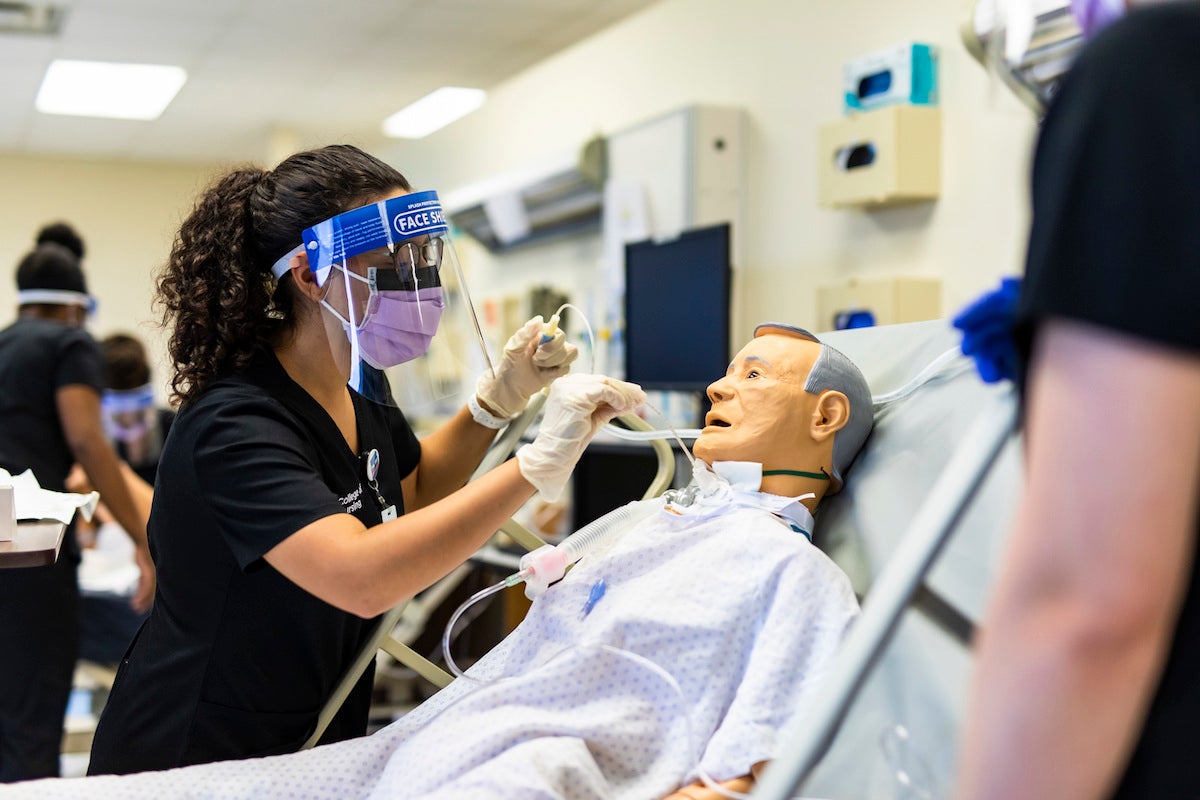 The hands-on lab was held in the college's STIM Center, which recently received international accreditation from the Society for Simulation in Healthcare, the world's largest accrediting body in the field. The society has provided guidelines for disinfecting labs and manikins during the pandemic, which the college has put into effect, Hoyt says.
Some practices were also modified to make students more comfortable, such as using a simulator arm with a speaker to take blood pressure as an alternative to having students practice on one another. Among the challenges of adapting teaching methods during the pandemic, Hoyt found a personal one during the bootcamp.
"It was very hard not to hug everybody because you feel like you've had a pen pal for a semester that you're finally meeting, but you can't. It was exciting to finally see everyone in person," she says.
Like the students in this cohort, Djiovanis pursued nursing as a second field of study. As a professional oboe player, he earned three degrees in music performance at other institutions before completing his bachelor's degree in nursing at UCF. He knows first-hand the value of connecting with others in the field.
"I am happy that we have found a way to return to a modified lab setting and that this cohort can start building those relationships in person while keeping safety a high priority." – Sotos Djiovanis '15, adjunct instructor
"Some of your best learning and working relationships as a nurse are built within your first semester in school, between you and your nursing classmates," he says. "It has been challenging adapting to online delivery, but I am happy that we have found a way to return to a modified lab setting and that this cohort can start building those relationships in person while keeping safety a high priority."
In the fall, modified lab operations will continue. This is especially important for senior nursing students who have not been able to practice care skills directly since spring break. For now, all nursing students continue to gain the knowledge they need in the best methods faculty can provide to train them to become the healthcare heroes needed today more than ever.
"The pandemic has motivated me much more to graduate and become a successful nurse. I am ready to make a difference in the lives of others and leave an impact within the community," Chandra says.