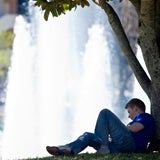 I chose UCF because it has so many opportunities. From a wide range of clubs to research labs and internships, UCF has it all. Go Knights!

Books are just the beginning
At UCF, student life is vibrant and diverse. Students can attend concerts and athletic events, take advantage of lectures and exhibits, and participate in any of our 400-plus clubs and organizations.
Student Government Association
Our Student Government Association (SGA) is comprised of student leaders dedicated to representing our energetic student body. Learn more by visiting the Student Government Web site.
Get involved
The Office of Student Involvement fosters relationships between students, their communities and their academic endeavors. The Multicultural Student Center, the Campus Activities Board and Volunteer UCF are just a few examples of the kinds of organizations and programs available.
Visit the Office of Student Involvement in the Student Union or on their website http://osi.ucf.edu/.
Live. Learn. Laugh.
UCF is more than a place to learn. It's a place to live. Whether you're looking for entertainment at the CFE Arena, want to meet others and make a difference at the Student Union or just want to relax at any one of our restaurants and shops—we know just the place.
Your Second Home
It's well established that living on campus is convenient, safe and helps you make lifelong friends. And now like never before — you can live here for four years. But did you know living on campus helps you get a career head start? Live here for one year and you'll increase your chances of graduating on time by 13 percent. Live here for two years and you'll increase your chances of graduating on time by 20 percent. Get in, get out, get a head start on your career. Visit www.housing.ucf.edu. for more information.