The Masri quadruplets are preparing to pursue a wide range of career fields as the last of them graduates at UCF's Fall 2021 Commencement. In the coming years, the siblings aspire to become an engineering entrepreneur, a lawyer, an orthodontist and a graphic designer in the entertainment industry.
A close-knit military family, the siblings know their pursuits could potential take them thousands of miles from each other for the first time in their lives. Jason Masri — the last of the four to graduate from UCF — says the family will always be close no matter how far they are apart physically.
"The four of us are very different in terms of our personal passions, but we have a similar drive for success," says Jason, who is graduating with a bachelor's degree in computer science from the College of Engineering and Computer Science. "We all want to be the very best in our respective fields. That drive may take us away from each other physically, but we will always be a close family."
In 2019, Jason established his own e-commerce company, Automation Industries, as a UCF sophomore. Following commencement, he plans to continue leading that endeavor in Orlando while further exploring other pursuits in the intersection of entrepreneurship and the engineering fields. Jason's three sisters are all recent UCF alumnae, endeavoring in their own professional ambitions.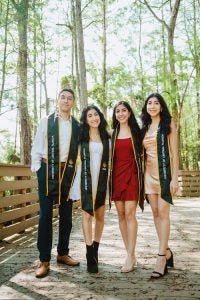 Jasmine Masri '21 — a 2021 recipient of UCF's coveted Order of Pegasus and legal studies graduate — is now a first-semester law student at George Washington University Law School in Washington, D.C. Nicole Masri '21, a graphic designer who earned bachelors' in art and emerging media, plans to relocate to California to pursue a career in the entertainment industry in the early months of 2022. Natalie Masri '21, a biomedical sciences graduate, is currently residing in the quadruplets' hometown of Melbourne, Florida, and applying to dental school programs across the country with aspirations of becoming an orthodontist.
The Masri's credit their ambitious spirits and strong work ethics to their parents, who immigrated to the United States from Lebanon before their children were born. Their father served in the U.S. Air Force for more than 20 years, earning the rank of master sergeant before retiring in 2012. Their mother was a homemaker, who instilled in all of her children the tenants of hard work and dedication.
Quadruplets are a rarity, both at UCF and in the general population. As UCF students, the Masri's were the university's only set of quadruplets during their enrollment. Currently, the university believes it has six sets of triplets and nearly 300 pairs of twins. In 2019, there were only 114 quadruplet births in the United States.
Jason's immediate plans after graduation are to stay in Orlando for at least another year. He calls the region his home, and he says he will miss it when it is time for him to leave. What he does know is that his family will always play an integral role in his life. Jason calls his graduation a bittersweet occasion for his family.
"In many ways, this is like the end of an era," says Jason. "Living in the same city, attending the same university as my sisters has been a special experience, but now it is time for all of us to go our separate ways and leave our own individual marks on the world."