Today, 2,000 students will receive the first dose of the Pfizer COVID-19 vaccine as UCF has begun distribution for students. Each day for the next two days, 2,000 more students will also be vaccinated in the Student Union's Pegasus Ballroom
Earlier this week, UCF sent an email to select students who were eligible to sign up for vaccinations with a total of 6,000 individuals who secured appointments at their convenience. Each student must present a signed paper consent form and a form of identification before they can be vaccinated. After students receive the shot, they are required to complete a 15-minute monitoring period in the Ballroom, where medical professionals, mental health personnel and others are on site to assist with any potential issues or symptoms.
"It's a team effort — it's not just Student Health Services, we've collaborated with the Union, the UCF Emergency Operations Center and others," says Sheryl Gamble, director of Business Operations for Student Health Services. "I've been at this university for 25 years and I have never seen this level of teamwork. Everyone has been working so well together."
Part of that team effort includes nursing student, Kelsey Nesselt, who serves as a greeter for the observation area and provides answers to any questions students may have.
"I got my vaccine three months ago because I was going to be doing my clinicals in the hospital, but I think it's amazing that more students can get it now," Nesselt says. "I love science and think it's really interesting how this vaccine was developed. Now that the vaccine is becoming more available to the general public, especially college students who aren't studying health professions, I think this is a major step. I'm really excited to be part of this process and I feel like I'm a part of history right now."
As the campus community continues to get vaccinated, UCF reminds Knights that it's important to continue employing COVID-19 precautions — wearing a face covering, practicing physical distancing and washing hands — even after you've been vaccinated to protect those who have not.
"I hope we can expand vaccinations with the 70,000 students we have here at UCF," Gamble says. "But community pharmacies and the [Orange County] Convention Center have been vaccinating, which is great because we need to get as many people vaccinated as possible — whether it's us or someone else."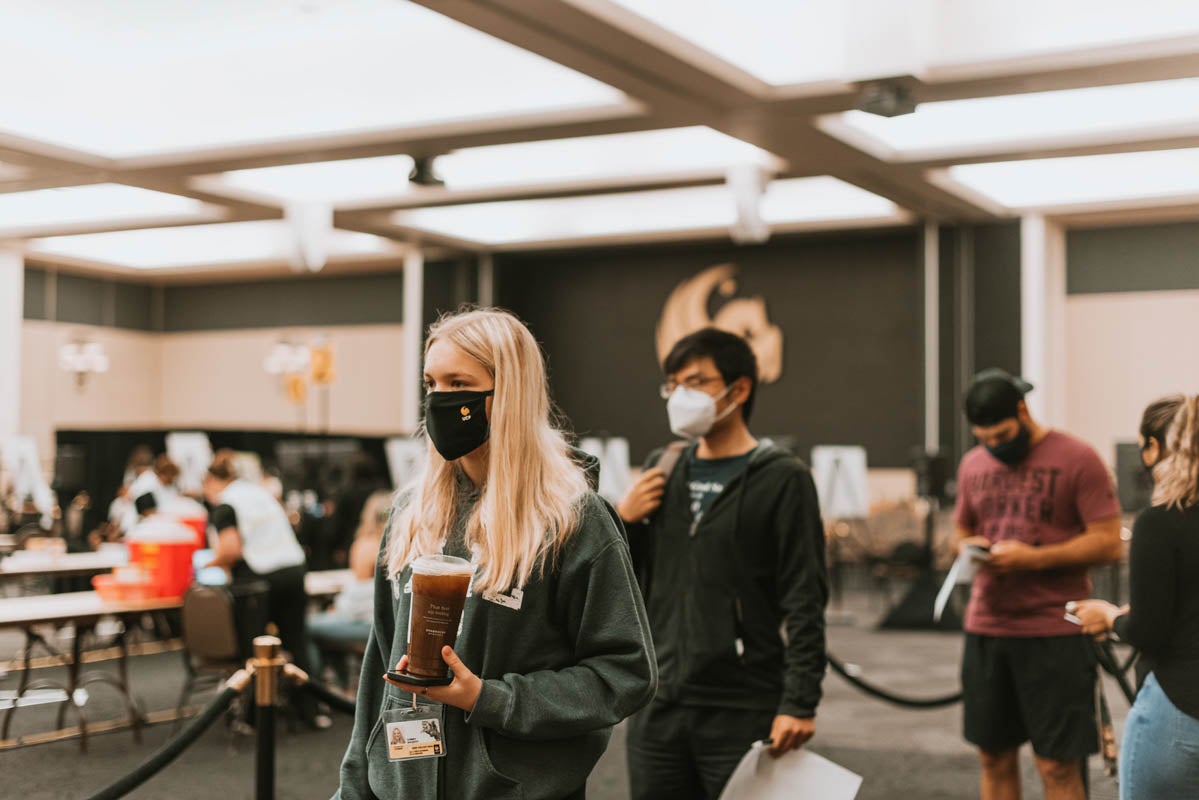 Biomedical sciences student Sydney Ahlquist waits in line to get her first shot of the vaccine. "I want to help stop the spread and get this pandemic over with," Ahlquist says. "I also don't want to go home to St. Pete without being vaccinated because my grandma is 91 and I don't want to take the chance of getting her sick."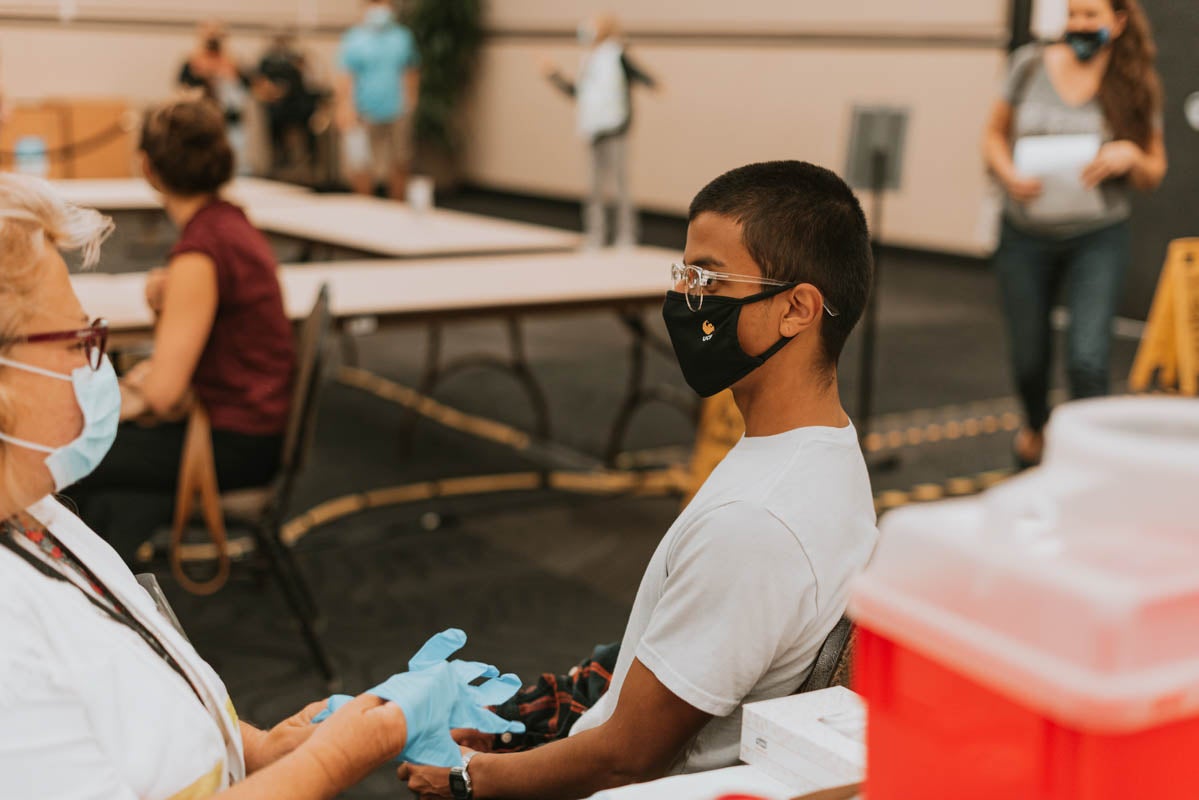 Digital media student Nicholas Perez waits to get his vaccine as a medical personnel puts on gloves. "I haven't visited my parents, who live in West Palm Beach, since the pandemic started," Perez says. "Before the pandemic I would drive every other weekend to go visit my family. They just got vaccinated last week and I'm getting mine now, so the first thing I'm going to do after I'm fully vaccinated is see them. I also have lung problems so this entire period of the quarantine I was hiding inside, so now I feel more relieved."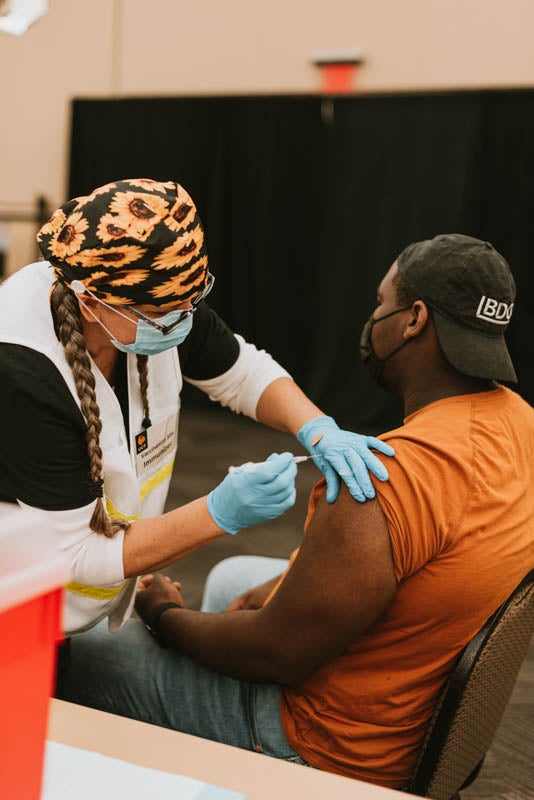 "Honestly I was skeptical [about getting the vaccine] at first, but I read two articles and watched three podcasts yesterday and that eased my mind a bit," says accounting student Bryce Harrell. "I also read about the difference between the Moderna and Pfizer vaccines and knew that Pfizer had different traits, so I felt better about getting it because of my research."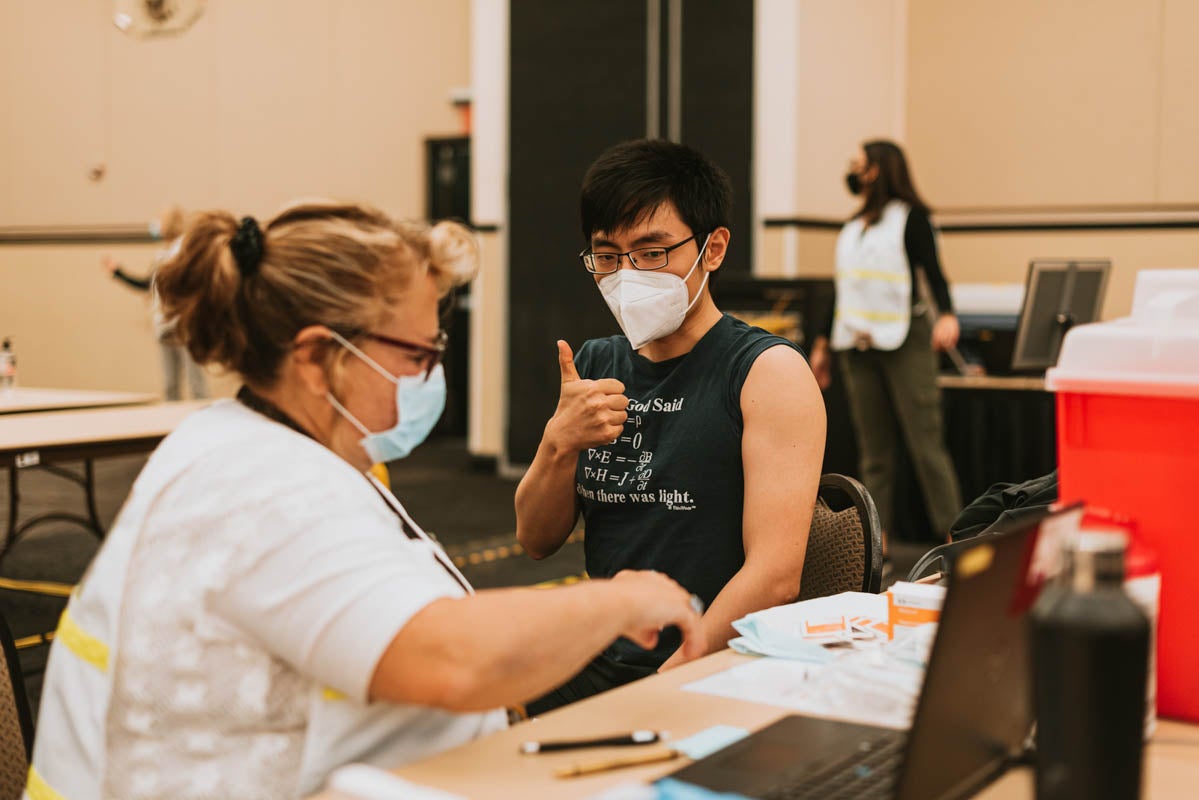 Optics and photonics doctoral student Tao Zhan gives a thumbs up before getting his shot. "[Last year], I got an internship at a company in California, but because of the pandemic I could only work from home so I lost a very valuable opportunity to get involved on-site," Chen says. "After graduation in May I'm going to be relocated to California, so with the vaccine my travels will be safer and it gives me a chance to regain that opportunity."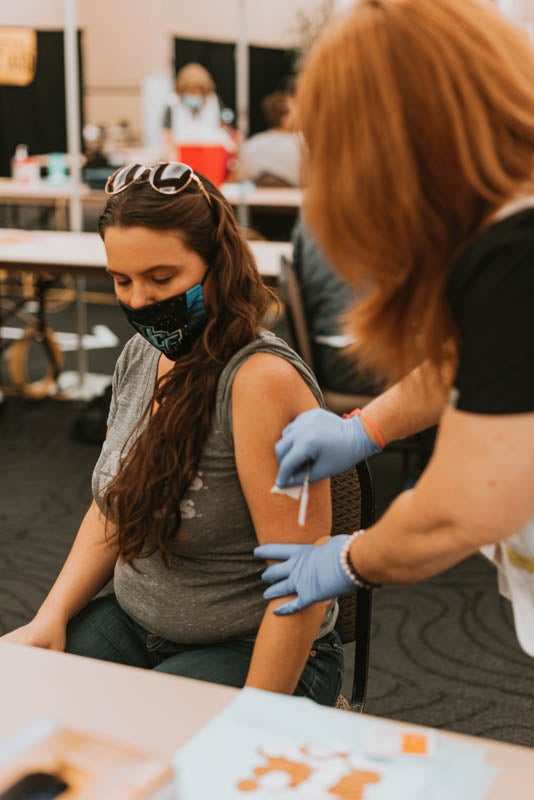 "Every time I would get a cold [during the pandemic] I would go to an urgent care [facility] to make sure I didn't have a mild case of COVID because I don't want to spread it to people around me," says civil engineering student Charlotte Ferguson. "I work with a lot of older people and I don't want to be the reason they get sick. It's just gives me more peace of mind and I won't have to worry I have something worse than a cold now that I'm getting vaccinated."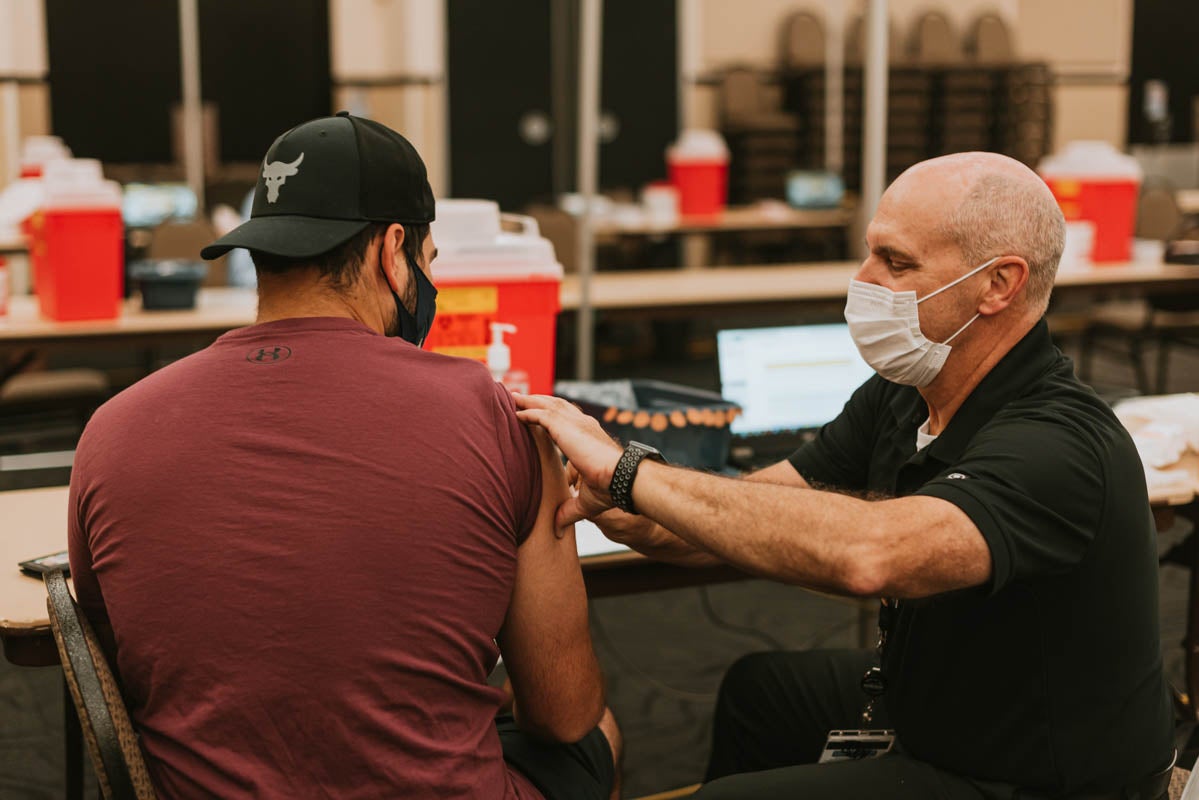 "The faster everyone gets the vaccine the faster we can go back to normal, not have to wear a mask everywhere and get back to classes in the classroom," says sports and exercise science student Norman Rodriguez. "Online [learning] is cool, but I kind of miss that face-to-face interaction."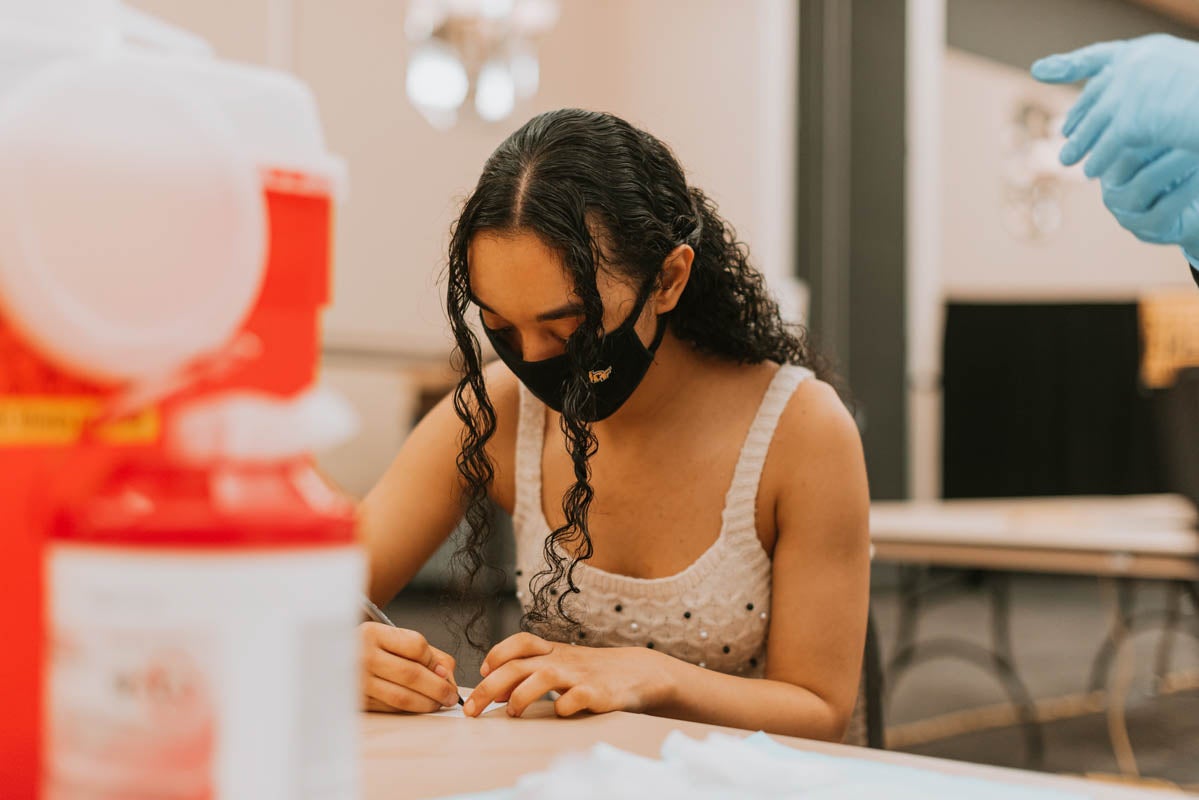 Health sciences student Danielle Tellier fills out her vaccination card after getting her first shot. "I'm part of a medical organization on campus, the Global Medical Brigades. We're leaving on two brigade trips this year, one to Guatemala and one to Greece, and to get there the organization has required that we get vaccinated. I also researched each of the vaccines and was satisfied with getting one at UCF because the Pfizer shot has been shown to be the most effective."