UCF Alumni announced its Shining Knights Award recipients for 2021-22 winners celebrated for their commitment to the university in the categories of Distinguished Alumni, Honorary Alumni, Young Alumni, Distinguished Student and the Champion's Award.
They will be honored in an invitation-only reception at the Celeste Hotel on Friday, Nov. 5 during UCF Homecoming week.
Distinguished Alumni Award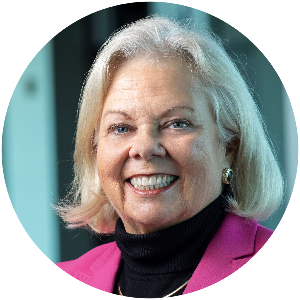 Jessica Blume '80 is a retired Deloitte partner with a career path of increasing leadership roles and responsibilities within the firm. As a Deloitte board member and senior executive level partner, she was at the table as Deloitte evolved into the world's largest professional services organization.
Blume is also a dedicated philanthropist with a history of outstanding board service at UCF. In 2016, she joined the Integrated Business Advisory Board and began making significant contributions to the Integrated Business (IB) program. She now serves on the UCF Foundation Board and is instrumental to the IT and Audit committees.
Blume's love for students, education and her alma mater is her driving force. Whether it's mentoring, judging a student competition, funding first generation scholarships, hosting a donor dinner, or serving on a career panel, Blume is always willing to give back to her alma mater.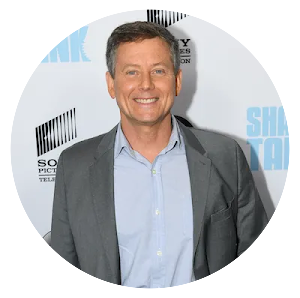 Clay Newbill '82 is the founder, president and executive producer of 310 Entertainment, a company that specializes in creating and producing cutting-edge reality competitions, comedy and high stakes drama.
Newbill produced, directed and helped create the MTV hit show Road Rules and show ran ABC's Making the Band, which became the first prime-time reality competition program on network television. He also produced and show ran The Mole, The Bachelor, The Bachelorette, The Real World, and all 13 seasons of the critically acclaimed Shark Tank. Newbill's work on Shark Tank has earned him numerous awards, including four Emmy awards and eight Critic's Choice awards.
Newbill holds bachelor's degrees in radio-television and in film from UCF and was a UCF cheerleader. He continues to serve on the Nicholson School of Communication and Media advisory board and funded the Newbill Scholarship Internship program, which has provided dozens of paid internship opportunities for students to work in television in Los Angeles.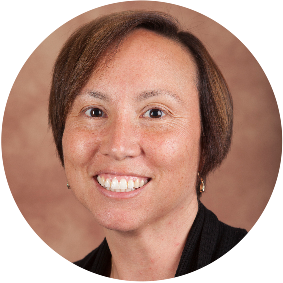 Joyce DeGennaro '03 '09BSN '13MS was a three-time alumna and beloved UCF instructor. After earning her degrees in psychology and nursing, DeGennaro worked as a staff nurse in Florida Hospital Orlando's ICU. She then returned to UCF as a faculty instructor, where she taught 16 different courses in the College of Nursing undergraduate curriculum.
In 2015, DeGennaro was diagnosed with Stage 4 B=breast cancer and died from the disease Nov. 29, 2020. Before her death, she continued teaching full-time, all while innovating, advising, volunteering, accepting grants and leading local nursing organizations. DeGennaro chose to use her personal fight against breast cancer to provide students with rare, real-world learning opportunities. She regularly incorporated aspects of her treatment into her curriculum and made a point of teaching her students how to be thoughtful, genuinely compassionate nurses.
Affectionately known as "Mrs. D" to her students, DeGennaro invested in the next generation of Knight nurses in every way. She was a faithful Knightingale Society donor to the College of Nursing, and she gave her time and talents generously. She won multiple awards for her excellence in teaching and advising. Upon Joyce's passing, several faculty, staff, alumni and colleagues donated to the College of Nursing Memorial Scholarship Fund in her memory.
John C. and Martha Hitt Honorary Alumni Award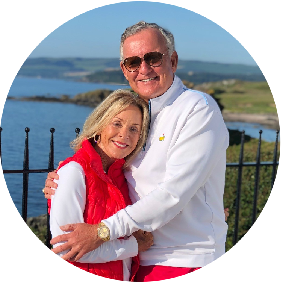 Gary and Barbara Bryantare generous supporters of UCF's educational and athletic mission. Gary is the retired CEO and president of the American Pioneer Life Insurance Company and a graduate of the University of Memphis, where he earned a bachelor's degree in business administration. The Bryants are avid travelers and golfers.
In June of 2019, the Bryants made the largest gift commitment in the history of UCF athletics. Their gift will establish the Gary and Barbara Bryant Family Athletic Endowed Scholarship Fund, providing athletic scholarship support for UCF student-athletes. The Bryants made an additional major gift commitment in support of the Kenneth G. Dixon Athletics Village and the construction of the new UCF football lobby.
"Barbara and I have always participated in sports and believe in the transformational, door-opening value of a college education," Gary says. "We made this commitment to enable student-athletes to get an education and compete in the sport they love at our hometown university."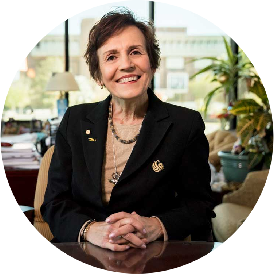 A first-generation student herself, Maribeth Ehasz devoted her career in higher education to helping students succeed. In her 46 years of serving students, including 16 as UCF's vice president for Student Development and Enrollment Services, Ehasz has impacted thousands of lives.
From her first UCF role as an assistant dean in academic development and retention, Ehasz's focus was student access and student success. Under her leadership, UCF set records for student retention and graduation rates and eliminated achievement gaps through a range of innovative partnerships and success initiatives. She established UCF's Office of Social Justice and Advocacy, home to LGBTQ+ Services; the Multicultural Student Center; and the Just Knights Response Team. She also led the creation of the Knights Helping Knights Pantry and expansion of Student Care Services, providing support to students in times of critical need.
In 2015, Ehasz established the Maribeth Ehasz and Richard Buhl First Generation Endowed scholarship. She retired from UCF in February 2021 as vice president emerita.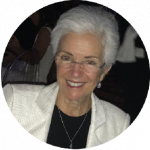 Mary Nunis is a philanthropist and longtime supporter of UCF. Her son Corey graduated from UCF in 1996, and she has attended every UCF home football game with her husband Dick for over 20 years.
Mary and Dick have been instrumental in the growth of UCF over the last four decades. They are founding donors of the College of Medicine and key pillars in building the UCF athletics program. The couple has also given generously to the arts, student services and scholarships, UCF Downtown and other areas of the university.
In addition to supporting the Hometown Team, Mary is active in her community. Mary and Dick support many local arts organizations, as well as Give Kids the World, Florida Hospital, Junior Achievement, YMCA, United Way, and The Historical Society of Central Florida.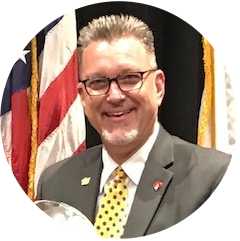 Michael Cantrell is a 36-year employee in the Coca-Cola System. He began his career as a junior salesman working for The Florida Coca-Cola Bottling Company while attending St. Petersburg College. Cantrell worked his way up to sales manager for the St. Petersburg Market. In 1998, he was promoted by Coca-Cola and sent to Orlando to lead the Foodservice & On Premise Team. He led the team that was responsible for creating a new exclusive beverage partnership with the University of Central Florida.
Since then, Cantrell has been far more than an exceptional partner to the university.
"I wasn't treated just as a vendor; it was more personal," he says. "So I took a personal liking to UCF and treated it as my university."
He has attended hundreds of athletic events and personally donated to support UCF academic and athletic programming.
In 2018, Cantrell was unanimously elected to the UCF Alumni Board as the first ever non-alum. The following year, The Coca-Cola Company selected Cantrell and UCF as "Best of the Best" partners among all other colleges and universities in North America. Now, Cantrell is an honorary alum. He says, "[Receiving] this award means a lot. It's hard to put into words … It's heartfelt and it's humbling, and I will treat it with honor."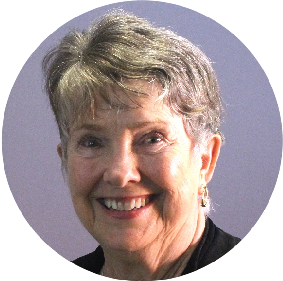 Saundra Gray is a self-employed property manager and former student of the University of Florida. She is married to Charlie Gray, UCF chairman emeritus and founding partner of GrayRobinson. For many years, Charlie and Saundra raised Santa Gertrudis Cattle and were highly active in their breed association. They also circumnavigated in their own sailboat, Sea Gem. The couple has three adult children, four grandchildren and two great-grandsons.
Since 1978, the Grays have given to almost every division across campus, supporting funds, buildings, scholarships, events and special projects. Saundra serves on the board of directors for the Epilepsy Association of Central Florida and has been a devoted supporter of the UCF College of Medicine for many years. She has also served on the Federal Reserve Bank of Jacksonville, Federal Reserve Bank of Atlanta, and the St. Johns River Water Management Governing Board. She sees care of the environment as a critical issue and remains active in water issues.
A member and volunteer of Town & Gown, Saundra recognizes the powerful positive relationship between UCF and the community. She says, "[UCF] has changed the way Central Florida thinks about what a university can do for the community and what the community can do to help the university. I think everyone that knows UCF is proud to be affiliated with it. It's going to be known worldwide as a great university, and it's right here."
Young Alumni Award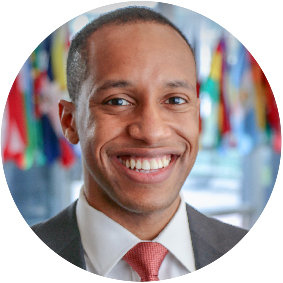 Nicholas Grandchamps '15 is a foreign service officer with the U.S. Department of State, where he has executed critical public diplomacy programs at the U.S. Embassy in Beijing and worked as a policy advisor in the U.S. House of Representatives. Already, he has received multiple Department of State Meritorious Honor Awards for his contributions.
Grandchamps earned two bachelor's degrees from UCF in legal studies and political science, along with a minor in global peace and security studies. He was selected for the highly competitive Charles B. Rangel International Affairs Fellowship and completed a master's degree in global governance, politics and security at American University.
No matter how far he travels for his career, Grandchamps stays connected to UCF through mentorship. He offers career and internship advice, writes letters of recommendation and shares his professional experiences with fellow Knights interested in international relations.
Distinguished Student Award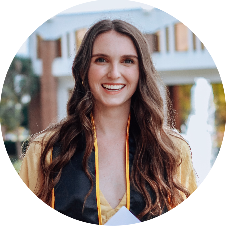 Laura Green '21 graduated in the spring with a bachelor's degree in public administration and minors in political science and mass communication. During her time at UCF, she was an active and influential member of the campus community.
Green worked as a staff assistant for the Office of the President for four years. She was a member and then chair of the President's Leadership Council, where she led the council in addressing important issues such as mental health, diversity, inclusion, and housing and food insecurities for students.
She was also involved in the SGA Election Commission, LEAD Scholars Academy and Knight-Thon. Despite her many commitments, Green still made time to volunteer with Children's Miracle Network, Straight Street Orlando and ReadingPals.
"I just thought I was one of 65,000 students, but [this award] tells me that what I did here made more of an impact than I give myself credit for," she says.
Champion's Award
Orlando Health has been one of the first and longest-standing partners of UCF, continuously investing time, talent and financial support. They donate time for guest lectures, presentations, clinical observations and annual learning activities. They are a trusted partner for internships and give generously to UCF programs, colleges and scholarships.
In 2015, Orlando Health was the first supporter of UCF's Go Baby Go! program, which began in the doctor of physical therapy program and aims to provide innovative, accessible and practical options to improve the lives of individuals with limited mobility. Their continued support has powered the program's growth with harnessed playdates, community outreach and education, and more than 50 cars for kids built through student-centered events. Orlando Health's $1 million transformational gift, which was endowed 10 years ago, to the College of Nursing has enabled an endowed faculty position, endowed scholarships for nursing honors students and an annual lecture series. This gift continues to deliver long-lasting impact for UCF nurses, many of whom are now team members at Orlando Health.
In 2020, Orlando Health was designated as the official medical provider for UCF Athletics, providing care for 500 student-athletes competing in 16 sports. This new partnership was essential during the COVID-19 pandemic. Orlando Health's unwavering dedication of personnel, resources and medical expertise was at the heart of the return to campus strategy for UCF student-athletes.