More than 7,400 students (and an animal or two) braved 90-degree temperatures over the weekend while moving into UCF residence halls before the Fall 2018 semester. Of this year's group, about 5,000 are first-year students. Some arrived with posters of Doctor Who and plants for greener living. Others hauled in air fryers, mini-fridges and stuffed animals. Nearly all buzzed with excitement for the coming school year and independent living.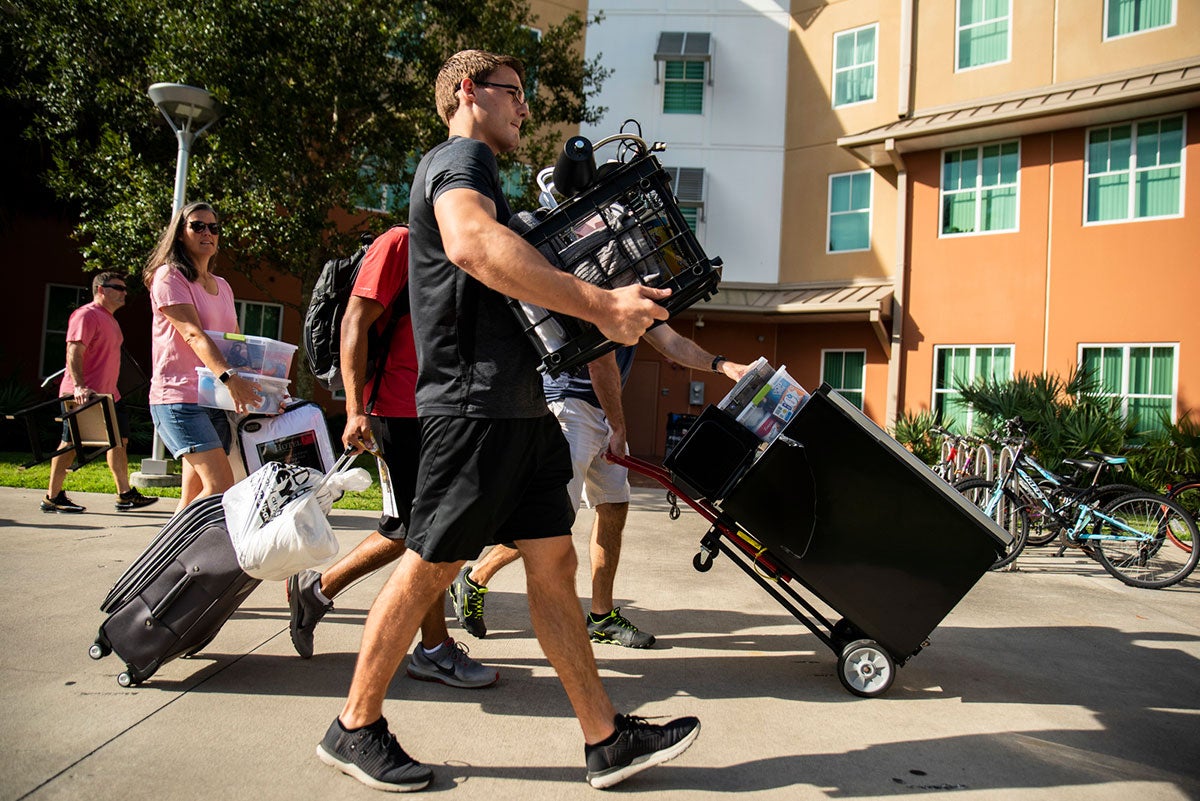 (photo by Nick Leyva '15)
Nine residential areas make up UCF's student housing. These include the main-campus communities of Apollo, Hercules, Lake Claire, Libra, Neptune, Nike, Northview and Towers at Knights Plaza, as well as the Rosen College Apartments on the Rosen Campus.
Next year, Knights will be able to move into the new UnionWest residential community as the UCF Downtown campus opens in the fall.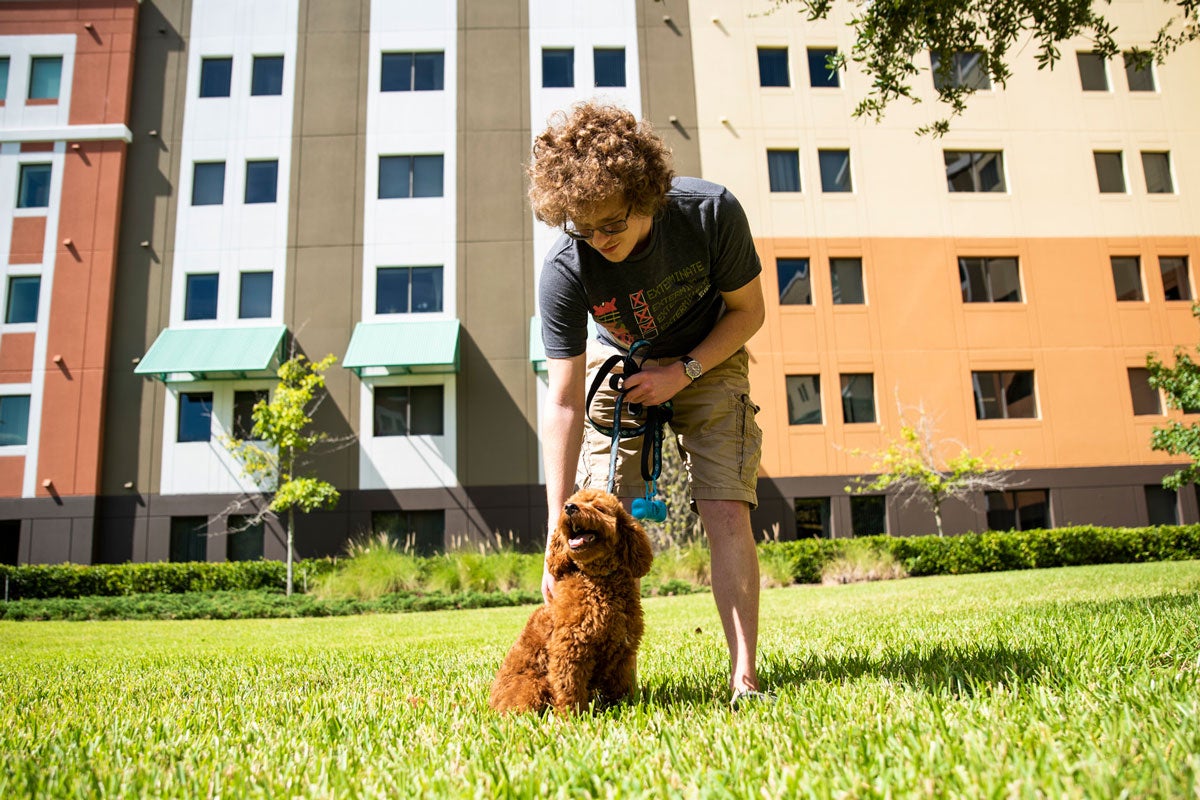 "Winston is my emotional support animal. He provides me with comfort to deal with my social anxiety," says Noah Meister, a sophomore film major, Burnett Honors Scholar and National Merit Scholar. "I got him three months ago and he's 6 months old. He's a really friendly dog [and] when I have trouble connecting with people, I have him around. Normally he's pretty calm and friendly, but if he meets someone new he gets overly excited to see them. I think once he gets used to the campus, meeting new people won't be such a big deal for him. He's already gotten used to my roommates after 15 minutes of meeting."
"The plant's name is Philbert. It's a burro's tail. At the moment, he is my most prized possession. That's why he's getting moved in first. I've had him for a month. I've killed cactuses before, so I hope he lives," says 20-year-old Erin Stein, a junior studio art major and Burnett Honors Scholar. "This is my third year living in the dorms. I was in Neptune my freshman year and Lake Claire last year. The key to being a good roommate is being clean and quiet. I recommend living with friends, if you can. But not in the same bedroom. That tends to ruin friendships."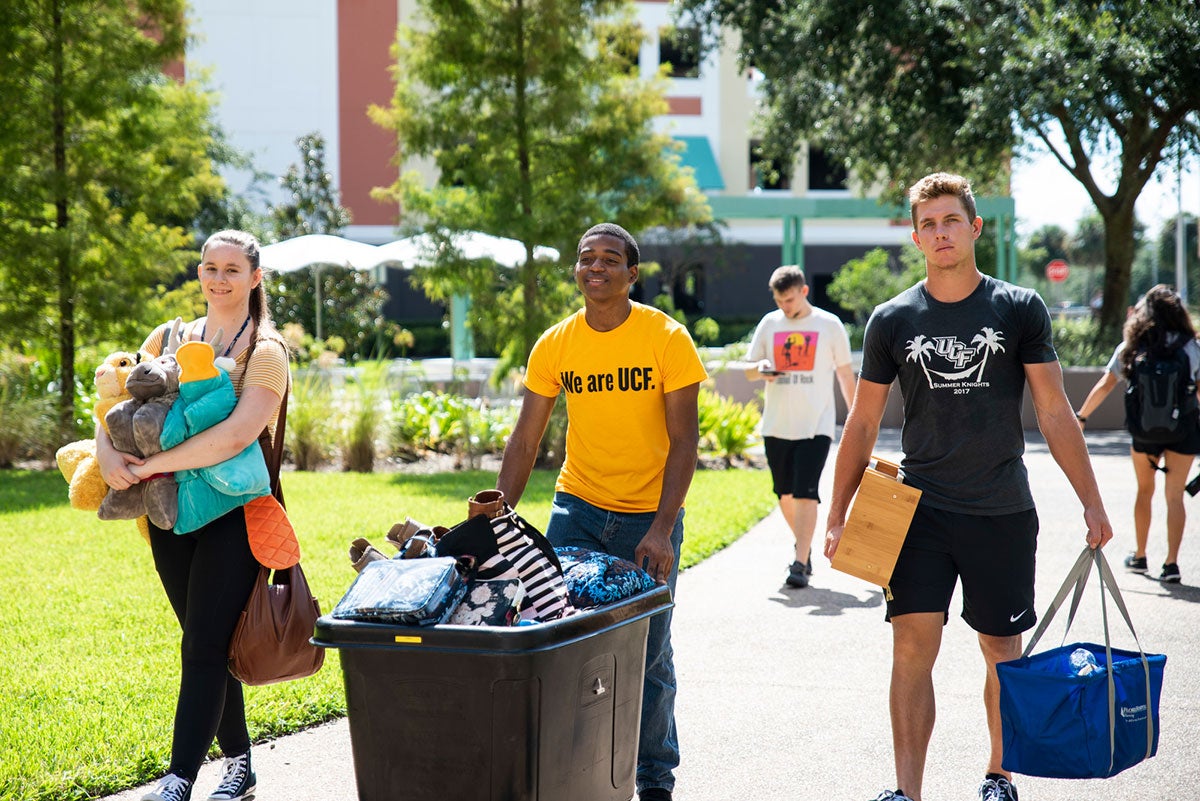 "My last name is Heckman, like 'What the heck man?' And I'm walking around with this giraffe, so it's really like 'What the heck man?' " says first-year engineering major Kylie Heckman. "I got it when I was 10 — it's an old giraffe. It was the first time my parents let me choose things to remodel my own room. I saw this giant giraffe, so you know a 10-year-old girl who loves giraffes is going to get a giant giraffe. I just wanted to feel comfortable and at home so I brought it [along with three other giraffe stuffed animals from my brother, mom and grandmother.]"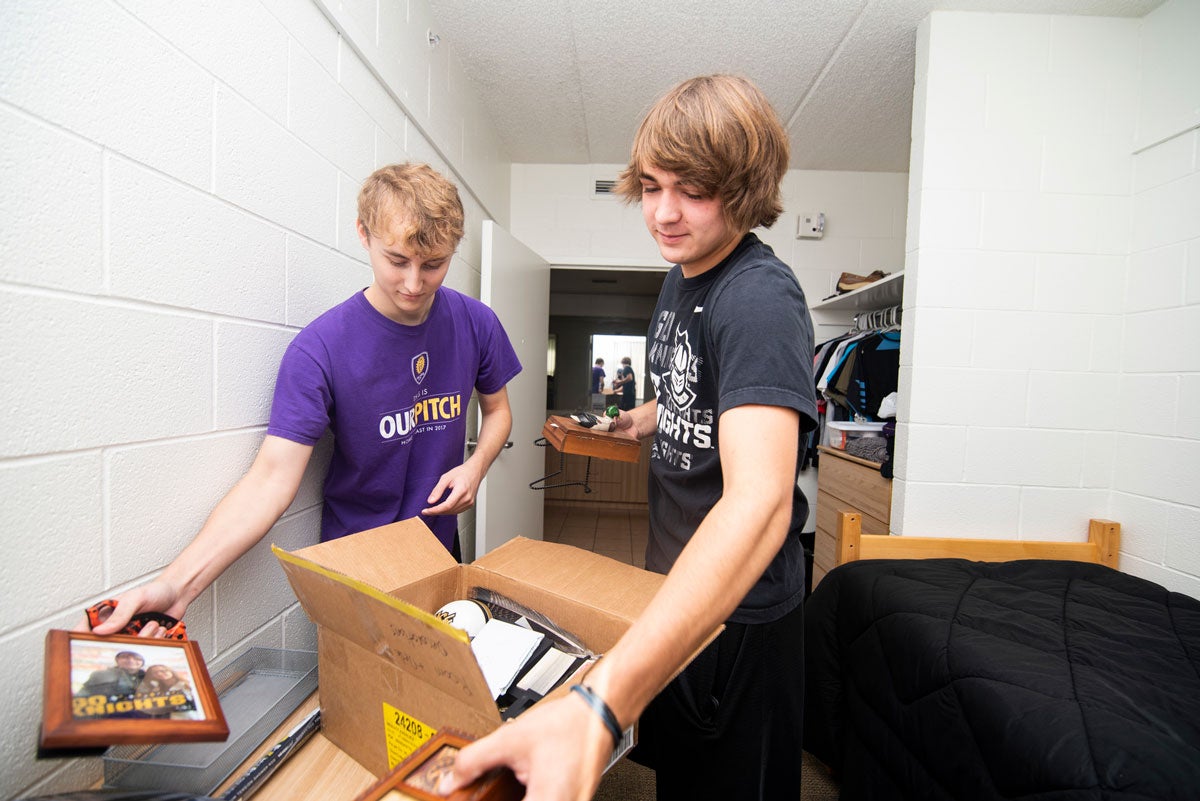 "To know that we're going to be at the same school together, I can't wait because I'll be able to see him a lot more," says Connor Smith, a management and marketing major, who will be living in Lake Claire near his cousin, Mason Kamphaus, an engineering major and third-generation Knight. "We have about a 30-second walk to each other at all times."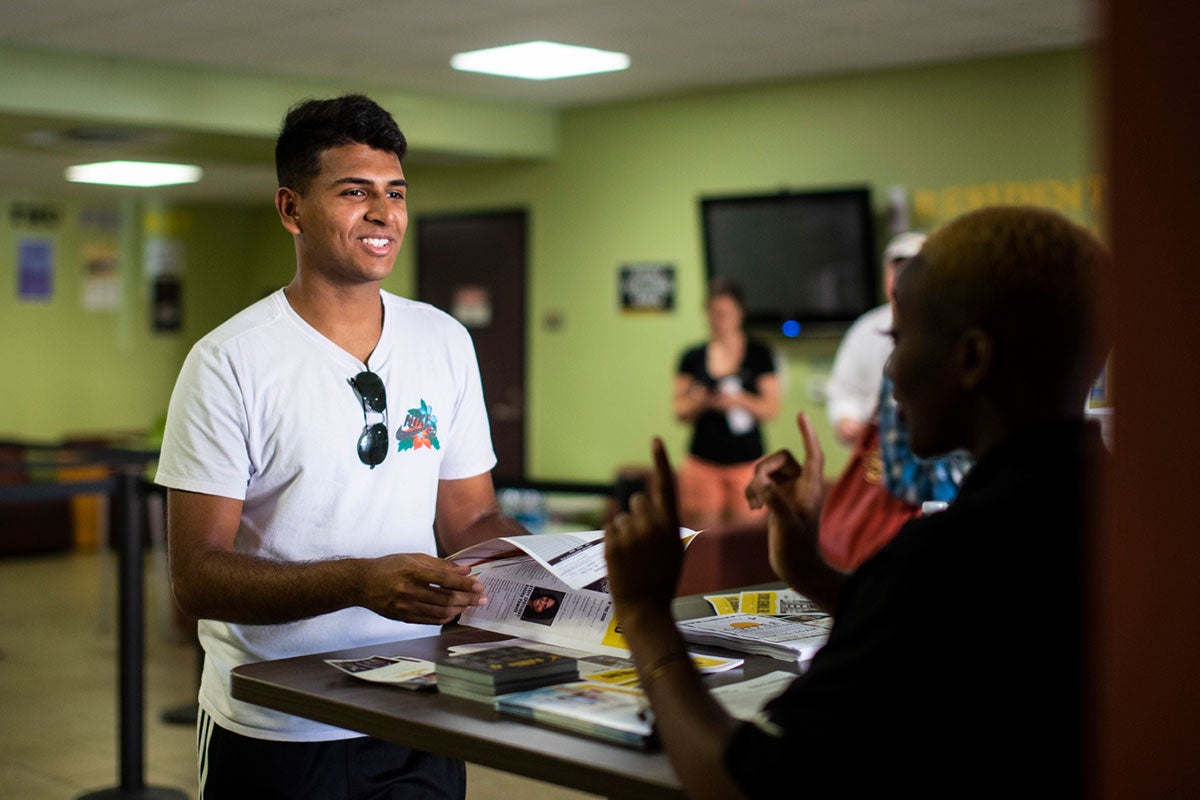 "Some places on campus I've been a million times, but [the resident halls are] new to me," says Pritom Karmaker, a biomedical sciences major, Burnett Honors Scholar and National Merit Scholar.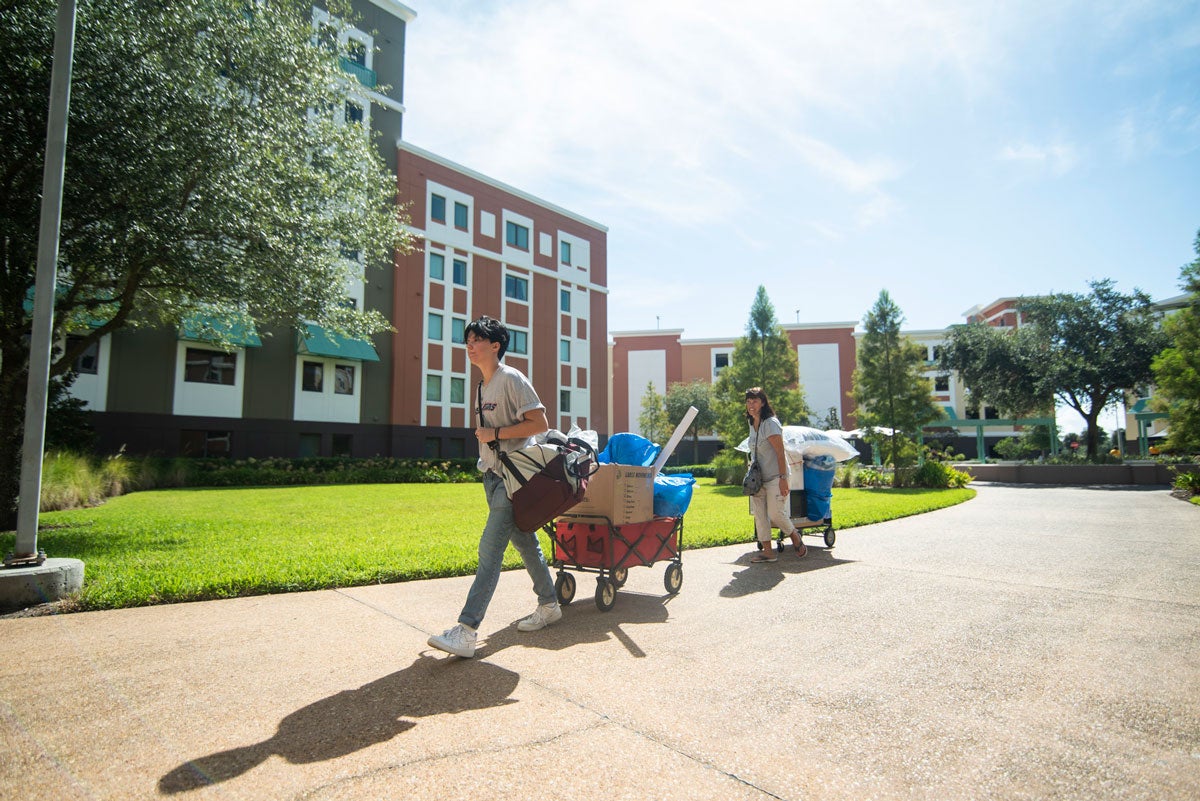 "I loved it the first time I was here," says Rebecca Gaschler, a political science major, Burnett Honors Scholar and National Merit Scholar. "I just clicked with it and I didn't really want to even apply anywhere else."