This year's five Reach for the Stars honorees have two common traits – outside-the-box thinking and a relentless passion to make the world a better place. From creating resilient communities that can withstand natural disasters to educating the public through fiction that explains real science, this year's honorees are using research to help create a brighter future.
The Reach for the Stars award recognizes early-career professionals with highly successful research and creative activity with a national or international impact. It is second only to the Pegasus Professor Award, UCF's highest faculty honor. Together this year's honorees have secured about $10 million in funded sponsored research from a variety of organizations and have contributed more than 300 publications.
Meet the 2022 Reach for the Stars Honorees:
Yue 'Gurt' Ge
Keeping cities safe from disasters is the focus of Gurt Ge's research. He does this by studying partnerships that can make communities stronger and more resilient to disasters, which could range from hurricanes to disease outbreaks, like COVID-19.
These partnerships include connecting governmental agencies with managers, engineers, and data scientists in the nonprofit and private sectors.
"Urban areas are the foundation of modern economies worldwide and act as hubs for population and investments," Ge says. "However, the population increase in urban areas coincides with a rise of complex social and natural threats. Studying urban resilience can help urban areas prepare for, adapt to, and recover from external and internal disturbances as well as reduce urban vulnerabilities via policies and governance."
This critical research has received increased federal funding in recent years and involves disciplines including social science, engineering, data science and artificial intelligence.
Ge says he chose to work at UCF because it embraces interdisciplinary research and promotes community partnerships.
Since starting in Fall 2018, he has been leading efforts via the Urban Resilience Initiative that bring researchers and practitioners together to secure large grants to study community-oriented issues, such as emergency planning and response; climate adaptation and environmental mitigation; and smart and connected communities.
He leads a $1.2 million NSF Smart and Connected Communities grant, in collaboration with three research universities and a Central Florida regional government, to leverage cross-sector partnerships that advance information technology and artificial intelligence to enhance Central Florida communities' risk communication.
He recently received a UCF Exploratory Research Award (ER1) Seed Grant, which will launch a pilot study of Seminole HEART, a nonprofit-public partnership for hurricane logistics operations management in Seminole County, Florida.
This spring, he is joining with two UCF statistics professors in the Leveraging Big Data to Achieve Equity national training program funded by the Bill and Melinda Gates Foundation. This initiative builds evidence-based research through big data analysis to promote the success of Black and Latino students in postsecondary education.
As a social scientist, Ge has received external funding totaling $4.3 million, $1.3 million of which he secured as a principal or co-principal investigator and has published 23 articles in high-impact refereed journals. He was also recognized by the National Center for Atmospheric Research, which is sponsored by the U.S. National Science Foundation, as an Early Career Faculty Innovator.
"I hope to contribute to the community resilience scholarship from an interdisciplinary and team-based approach through an integration of knowledge, methods, techniques and applications in urban resilience scholarship and practice," Ge says. "Communities are facing complex challenges and transformations incurred by the compounding impacts of natural and human-made disasters, so it's imperative that we work on coping strategies, policies and action plans to shape resilient communities."
Zhishan Guo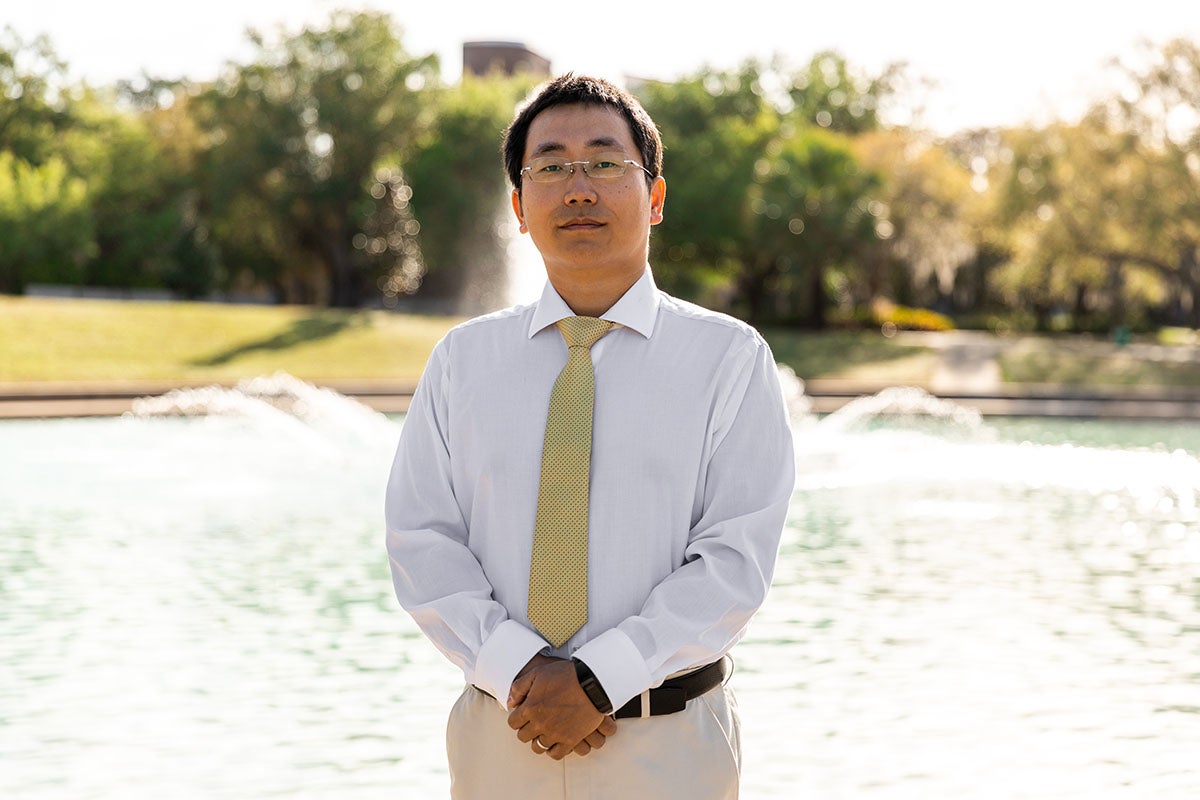 More and more physical environments are now embedded with computing and communication capabilities, as computing, electronics, and sensing technologies have become smaller, more affordable and more efficient.
These environments can range from air-traffic control systems, autonomous driving, and smart communities to anti-lock brakes and pacemakers.
If these systems don't operate correctly, including performing their operations in the right order in real time, the consequences could be catastrophic, including the loss of human life.
"Seamless integration of computational algorithms and physical components, or cyber-physical systems, is shaping the way humans interact with the physical world," says Guo, who leads research into real-time scheduling and machine learning theory into applications of various cyber-physical systems.
"My research mainly focuses on ensuring temporal correctness of cyber-physical systems are guaranteed in the era of artificial intelligence and the internet of things," Guo says. "How can we balance resource efficiency, AI trustworthiness, and quality control, and can subsystems autonomously coordinate and compute in real-time while scale well?"
Guo says he enjoys his research, and he chose to work at UCF because it is a major research institute in the Orlando metropolitan area and that "it is young, alive, and full of opportunities." He started at UCF in 2018.
He says he is proud of helping UCF rank 11th nationally by Csrankings for its research in embedded and real time-systems, as well as his best paper awards from the Institute of Electrical and Electronics Engineers Real-Time Systems Symposium and the International Conference on Embedded Software and Systems recently, which are flagship conferences in real-time systems and embedded systems domains.
"I want to thank the wonderful leadership at the university, college, and department levels, and the continuous support by my colleagues and collaborators, including my students," Guo says.
Yeonwoong 'Eric' Jung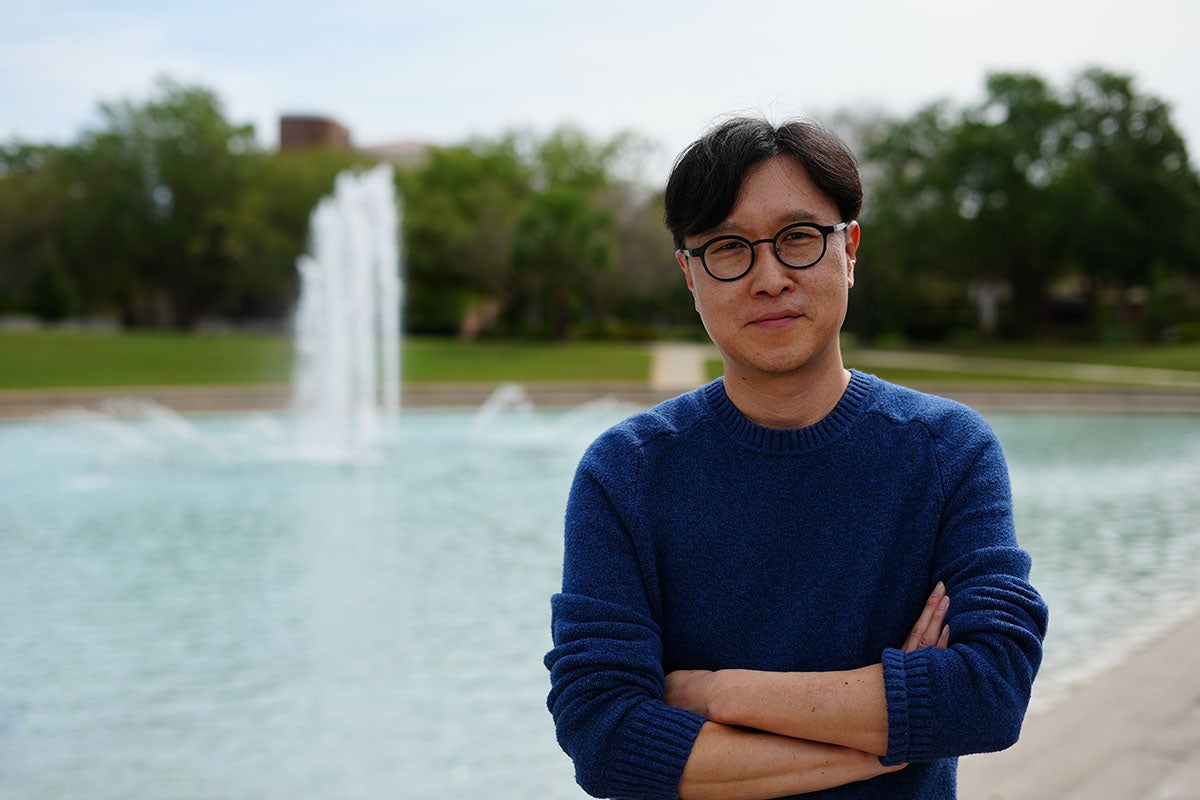 Creating the technology of tomorrow drives Eric Jung's research into nanomaterials and the fascinating properties they possess.
The 2D materials he's researching can be stretched 10 times more than silicon, the building block of current electronics, while still preserving excellent electrical abilities.
This makes them perfect to serve as semiconductors for the next generation of laptops or cell phones that that can be twisted, folded, and stretched in all dimensions.
"Thinking crazy, that's the beauty of my research," Jung says. "When the size of materials becomes extremely small — down to nanoscale, that is smaller than 1/100,000 times of human hair thickness — they start to exhibit unusually exciting and superior properties that cannot be obtained in any traditional materials."
These can include interesting electrical, optical, and mechanical properties, and Jung sees the development of nanomaterials as another major advancement in human history, comparable to the stone, iron and silicon ages.
"I strive to unveil these properties, understand their origin, and translate them into practical applications in real-world technologies," Jung says. "I got excited about this nanomaterial research as a graduate student, and I've never looked back."
In addition to his scholarly research activity, he says he is particularly proud of the accomplishments of his current and past research group members. His graduate students have received more than 30 total awards in recognition of their excellence in research and have gained employment with major tech companies, such as Apple and Intel, and hired at prestigious institutions, such as Yale University.
"Seeing how they are growing professionally is always quite rewarding and inspiring for me, and it continuously helps me keep my momentum in doing what I'm doing," Jung says.
Chrissy Kolaya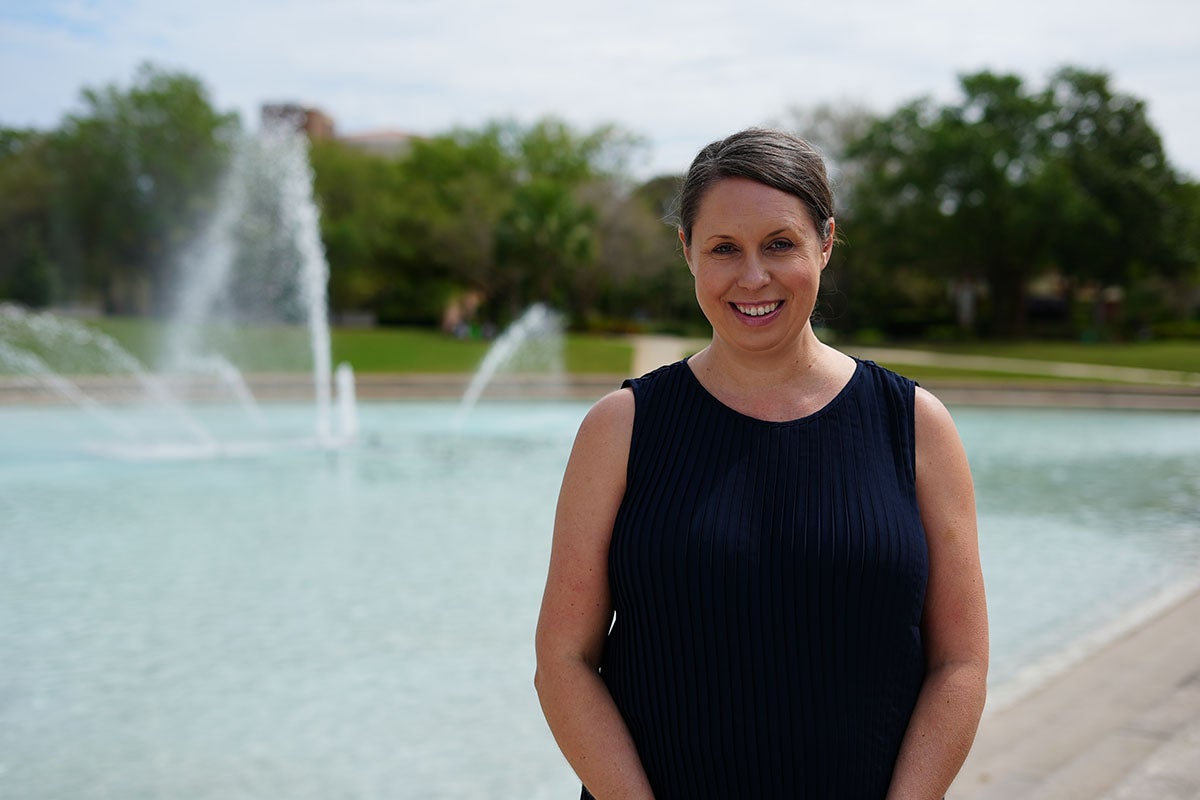 Chrissy Kolaya spent months reading Environmental Impact Statements and transcripts of public hearings about a town in the Chicago suburbs. She also interviewed theoretical particle physicists who worked at Fermilab, a national laboratory specializing in high-energy physics in Chicago, which was in the running to be home of the Superconducting Super Collider in the 1980s. The collider project was never completed, but it was the inspiration for her book Charmed Particles.
Kolaya was conducting research for her novel, which is a fictional account of an historic conflict between science and the public.
"I wanted to tell a story that was accurate, that explained the complexities of the science while also exploring the perspectives of the opponents," Kolaya says.
The book earned high praise, and Kolaya was selected as a Fiction Meets Science fellow and writer in residence at the Hanse-Wissenschaftskolleg Institute for Advanced Studies in Delmenhorst, Germany. She spent a year at the institute working on her new novel and sharing insights about how fiction and science can work together to educate the public.
But this isn't Kolaya's only accomplishment. The Chicago native has written two books of poetry, and she has placed 23 separate story pieces in well-respected literary journals. Much of her work has earned national and international recognition. Her collaborative nature and her creativity have led to many opportunities. Her work has made it into film and music, including the short film Swimming for Shore with filmmaker Gabriel Connelly and the performance of Mirabilis, a collaboration with composer Alex Burtzos, performed by the UCF Chamber Chorus as part of 2019 UCF Celebrates the Arts.
Since arriving at UCF in 2018, she's been focused on teaching and researching her next novel.
"I love to teach and to introduce students to creative work that will crack open their minds and let them see all the possibilities out there," she says. "I'm so grateful to be able to do this work. The opportunity this award gives me to focus on my own writing means the world to me."
Salvador Almagro-Moreno
Assistant professor of Medicine, member of the Sustainable Coastal System,
D. in microbiology from National University of Ireland, E. E. Just Postdoctoral fellow at Dartmouth College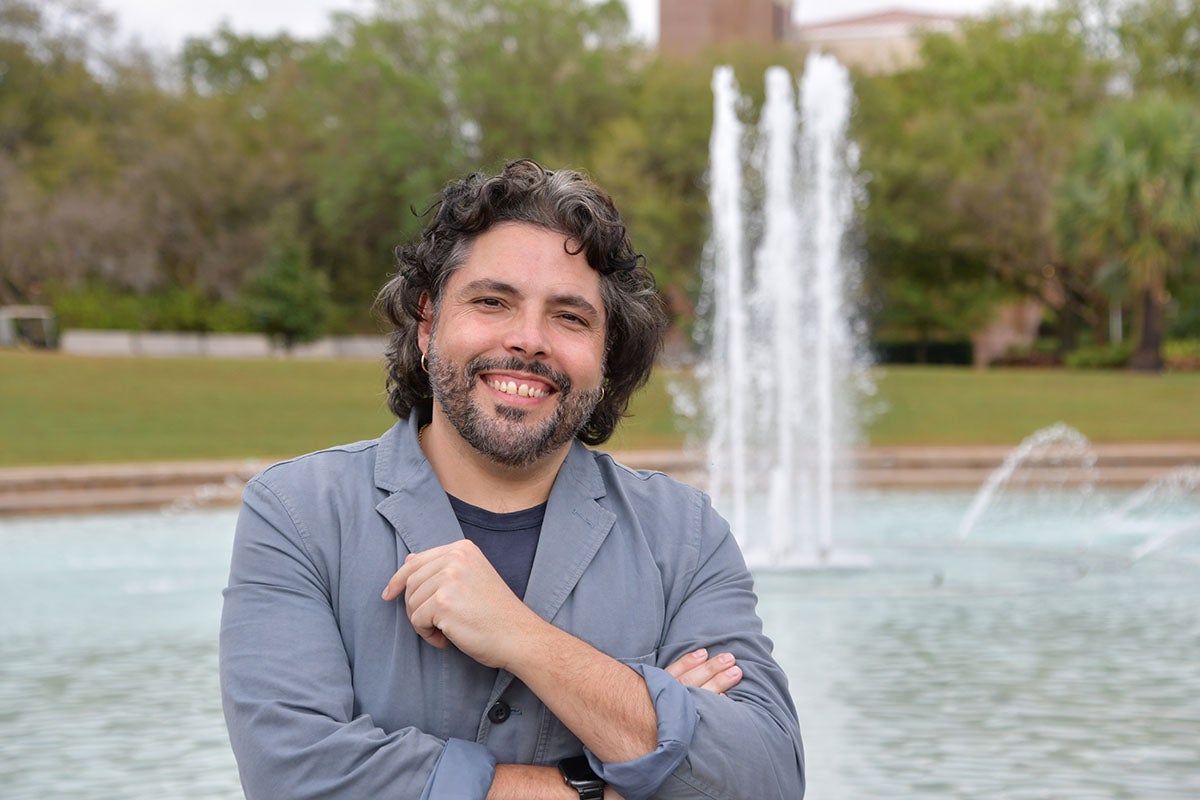 Think big, take risks — and learn to swim when things get tough. These are truths that have led Salvador Almagro-Moreno to this moment. It's not often a researcher gets to help establish a field of study, but that's what this Knight is doing.
The native of Southern Spain joined UCF in 2017 and established his lab that focuses on the emergence and evolution of bacterial pathogens. He's dedicated his scientific career to one question: Why do harmless bacteria sometimes turn lethal? After almost two decades of work in the United States and abroad, often sampling hip deep in muck, he has penned his latest academic paper about the molecular mechanisms and drivers that lead to the emergence of novel pathogens. It's a hefty piece of work that creates a map for what factors need to be considered to predict when bacteria will transform to cause disease in humans.
Almagro-Moreno searches for answers in a way that seems part scientist and part detective.
"I see myself as bold and a risk taker," he says. "For me, the risks were worth it."
Today, Almagro-Moreno has 31 publications, most of them as first or senior author in highly prestigious journals. They include some of the top journals in the microbiology field, including Nature Microbiology, PNAS, Trends in Microbiology and mBio. His research has been funded by the NSF (CAREER award), the National Institutes of Health and the Binational Science Foundation.
His work is so well respected that he provides expert opinion to the FDA on Vibrio vulnificus risk, the flesh-eating bacteria. The Research Corporation for Science Advancement also recently named him a Scialog Fellow for his work looking at the risk of novel emergent pathogens.
But what sets him apart isn't just his innovative research skills. It's his passion for preparing the next generation of scientists. He used part of his CAREER grant funding to establish the Synergy Scholars program at UCF and a bridge program with the Universidad Interamericana de Puerto Rico. The former aims to foster an inclusive and supportive community that nurtures academic excellence among outstanding underrepresented scholars by providing the development tools necessary to build a successful career in the biomedical sciences.
"I'm truly humbled and thrilled by the Reach for the Stars," he says. "In particular, the fact that UCF appreciates the outside-the-box thinking of my research program. I truly believe we need more nontraditional approaches in order to solve the world's most wicked problems. Besides, being an outsider also happens to be where I'm most at home."