From record-breaking research and rankings to major athletic achievements and exciting campus celebrations, 2019 was year unlike any other at UCF. Here are the most aesthetically pleasing pictures that captured some special moments at the university this year.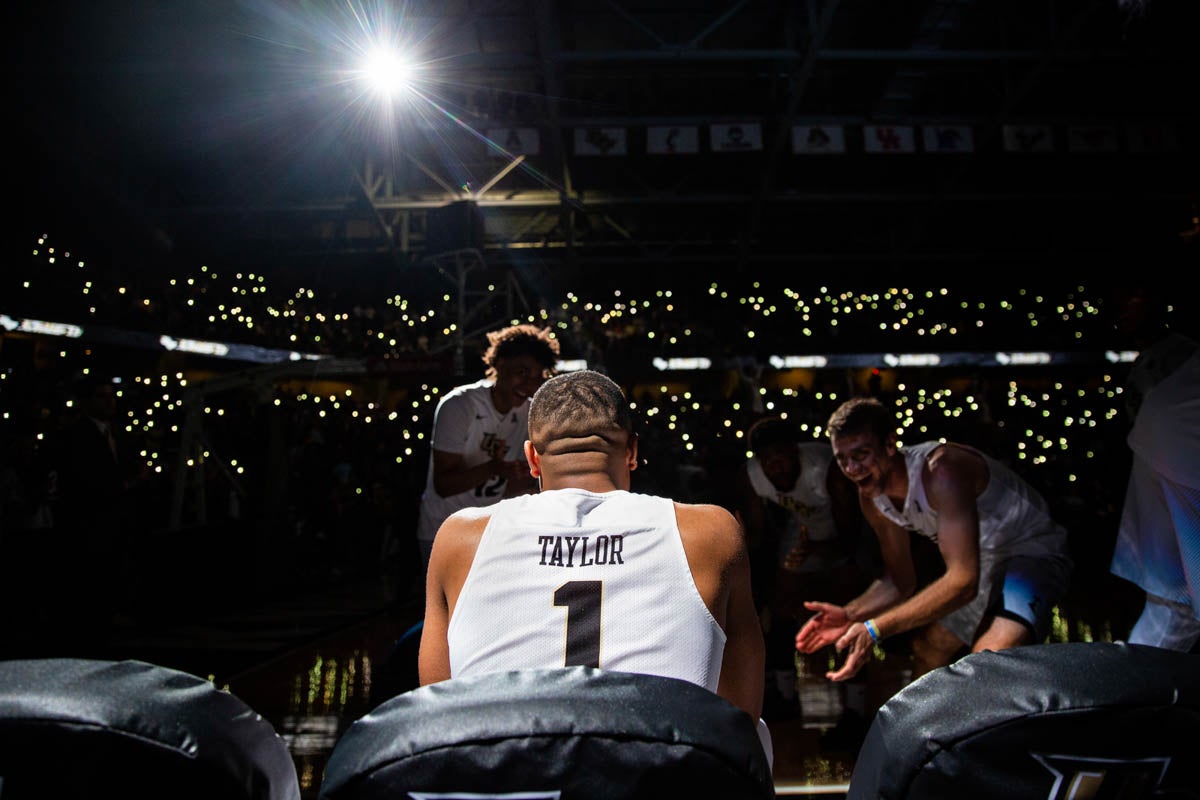 March 7 – During his final home game for the Knights, B.J. Taylor '19 scored 22 points as No. 25 UCF defeated No. 19 Cincinnati 58-55. This year, the men's basketball team made it to the NCAA tournament for the first time since 2005.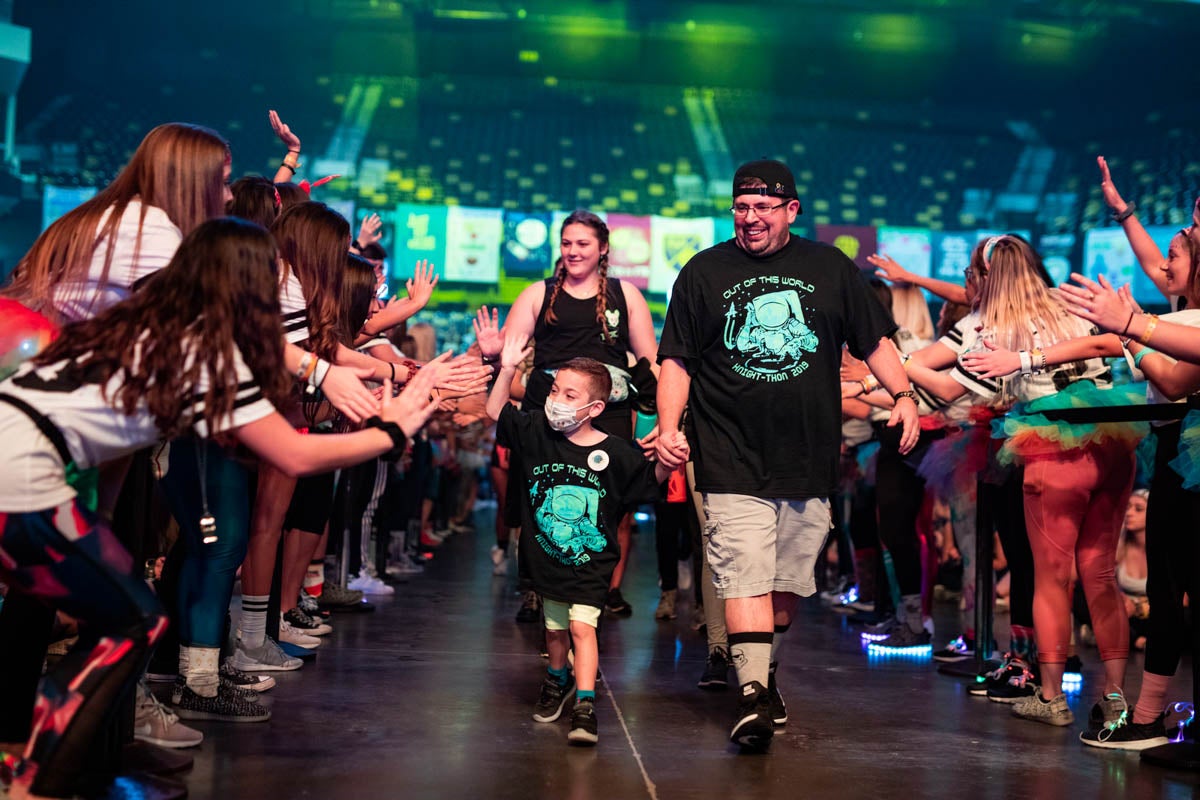 March 30 – Students across campus helped raise nearly $1.3 million for Knight-Thon, an annual philanthropic event and dance marathon that benefits the Children's Miracle Network.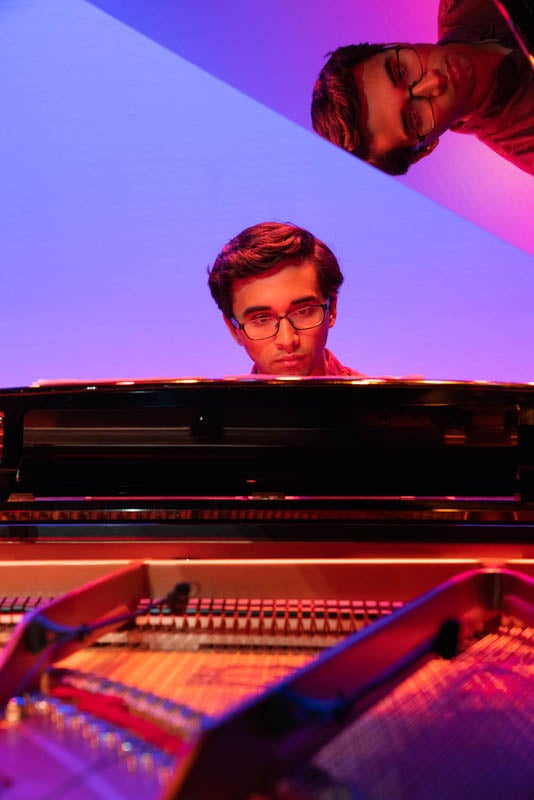 April 7 – A student played the piano during UCF Celebrates the Arts, a nine-day community-art event that took place at the Dr. Phillips Center for the Performing Arts.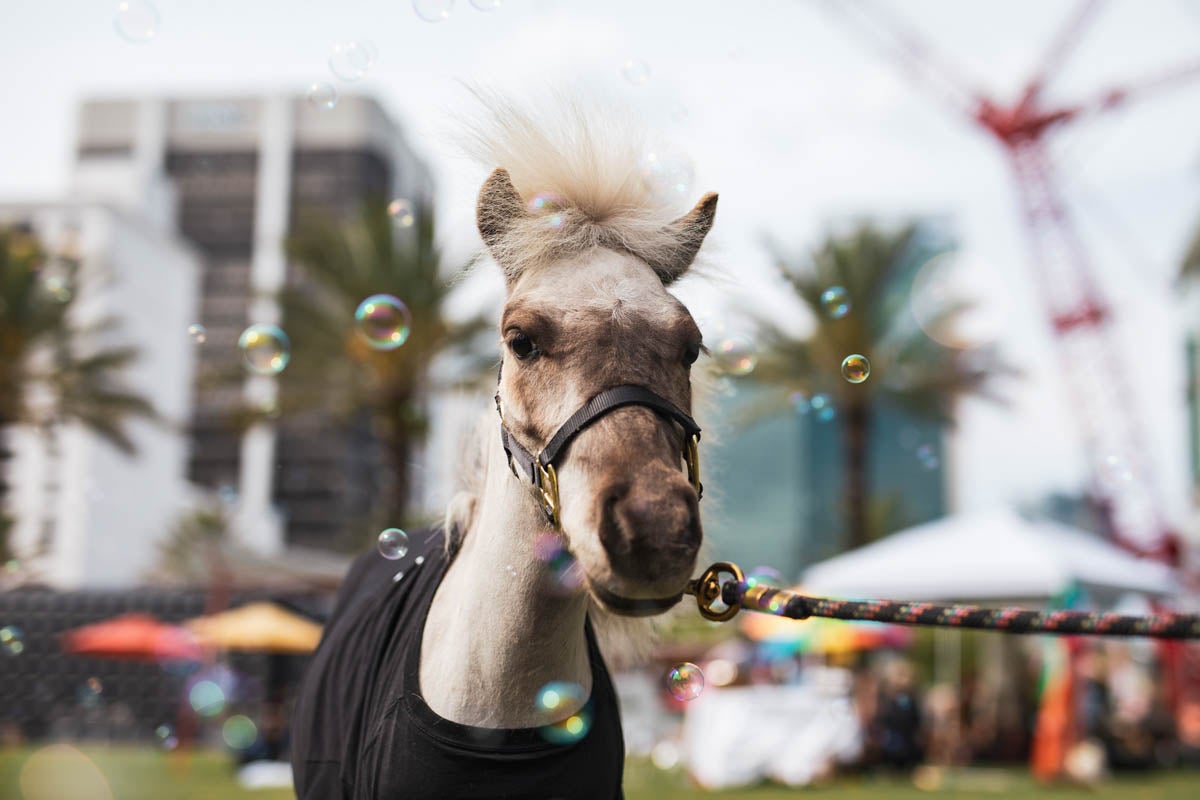 April 7 – As part of UCF Celebrates the Arts, Knugget attended the Thriving Through the Arts event at the Dr. Phillips Performing Arts Center, which featured drumming, dancing, photography and other community art activities.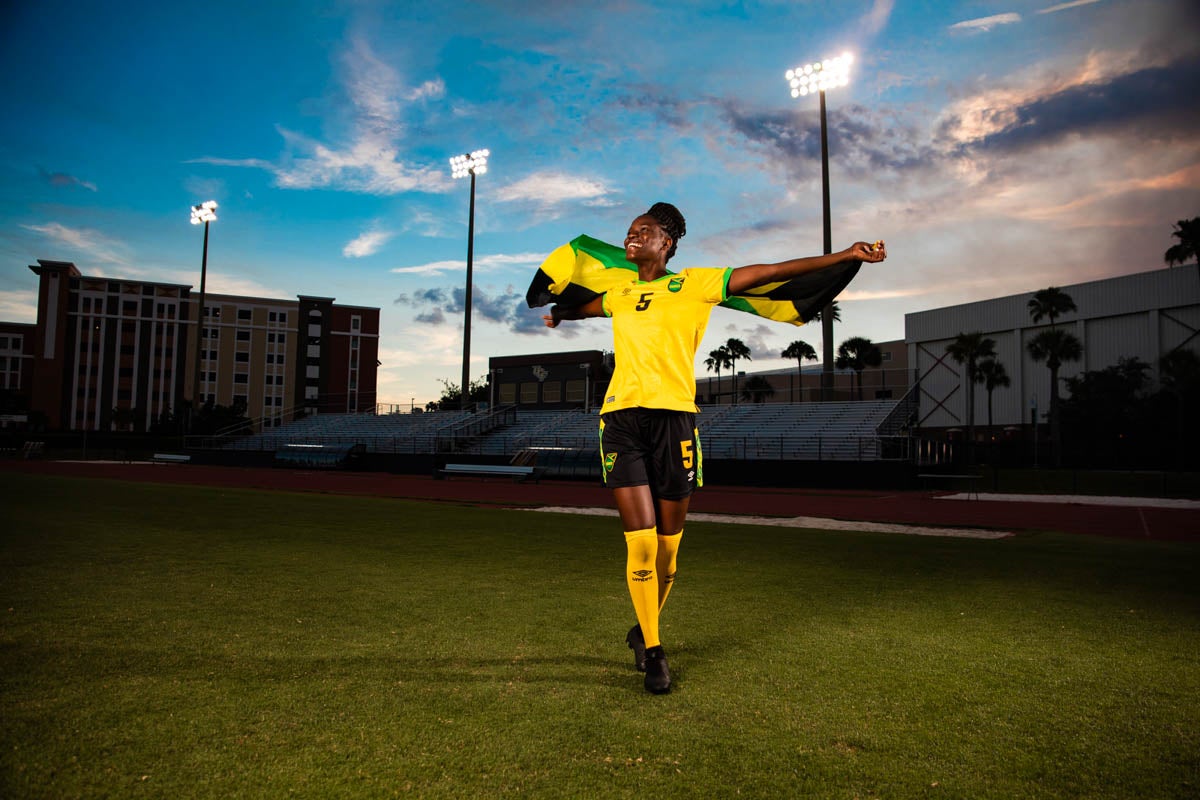 April 17 – Senior Konya Plummer made history this year as she led the Jamaican Women's National Team to the 2019 FIFA Women's World Cup, marking the first appearance for any Caribbean women's team. Plummer was also the youngest captain in this year's competition and the first currently enrolled UCF student-athlete to compete.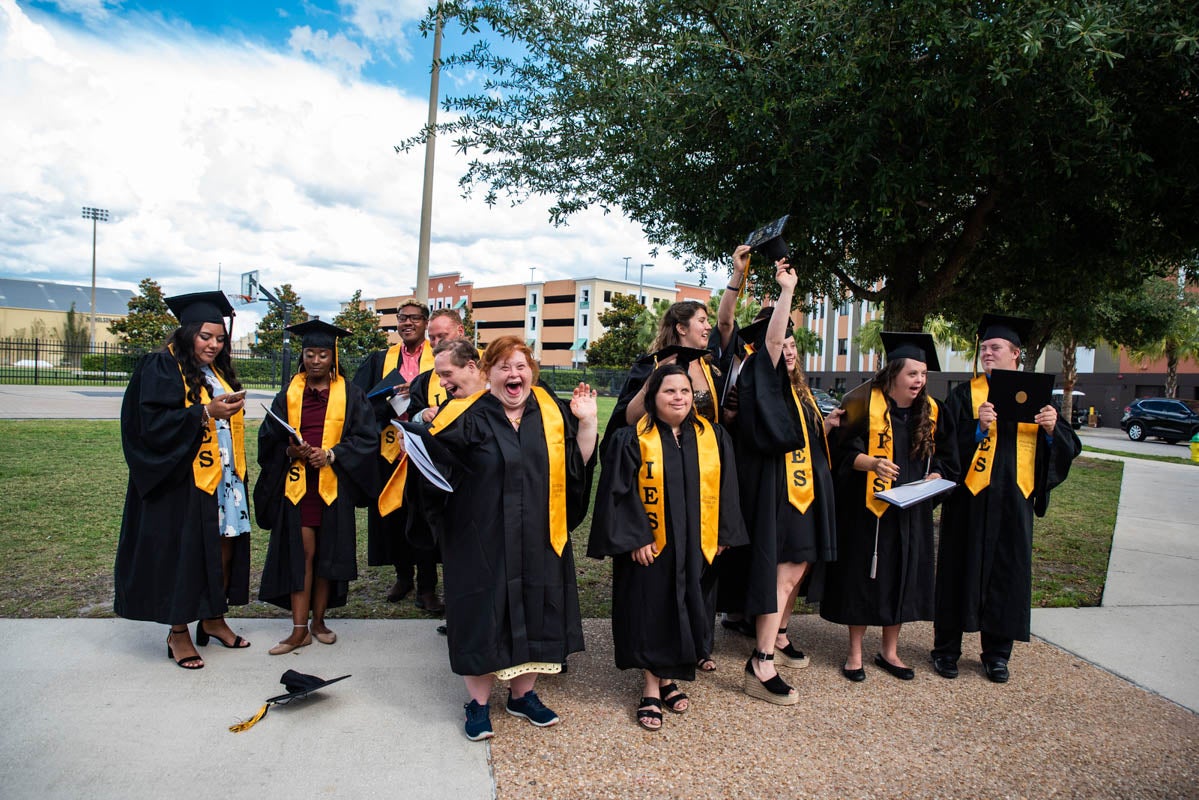 May 3 – During spring commencement UCF's first class from Inclusive Education Services graduated, with 13 students earning certificates for their achievements.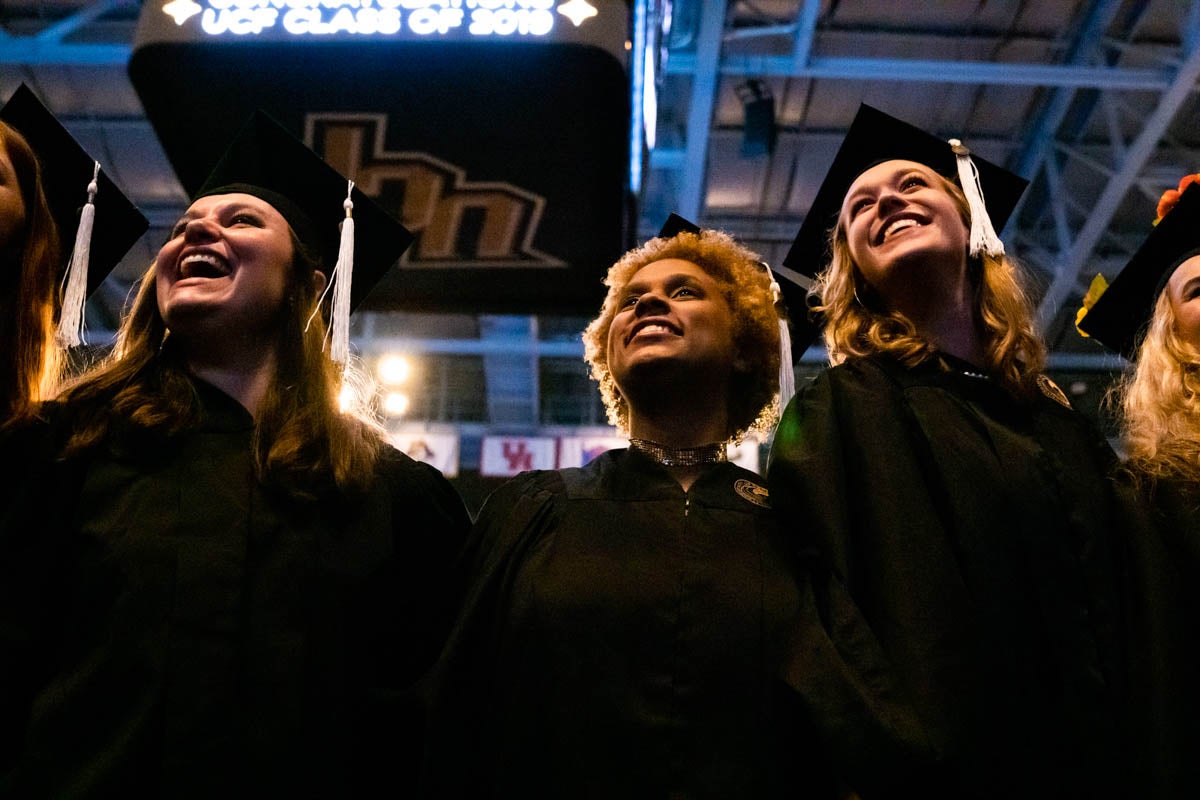 May 4 – Across six ceremonies spanning three days 8,310 degrees were awarded during spring commencement. The 50,000 degree earned through the DirectConnect to UCF program was also awarded at this time.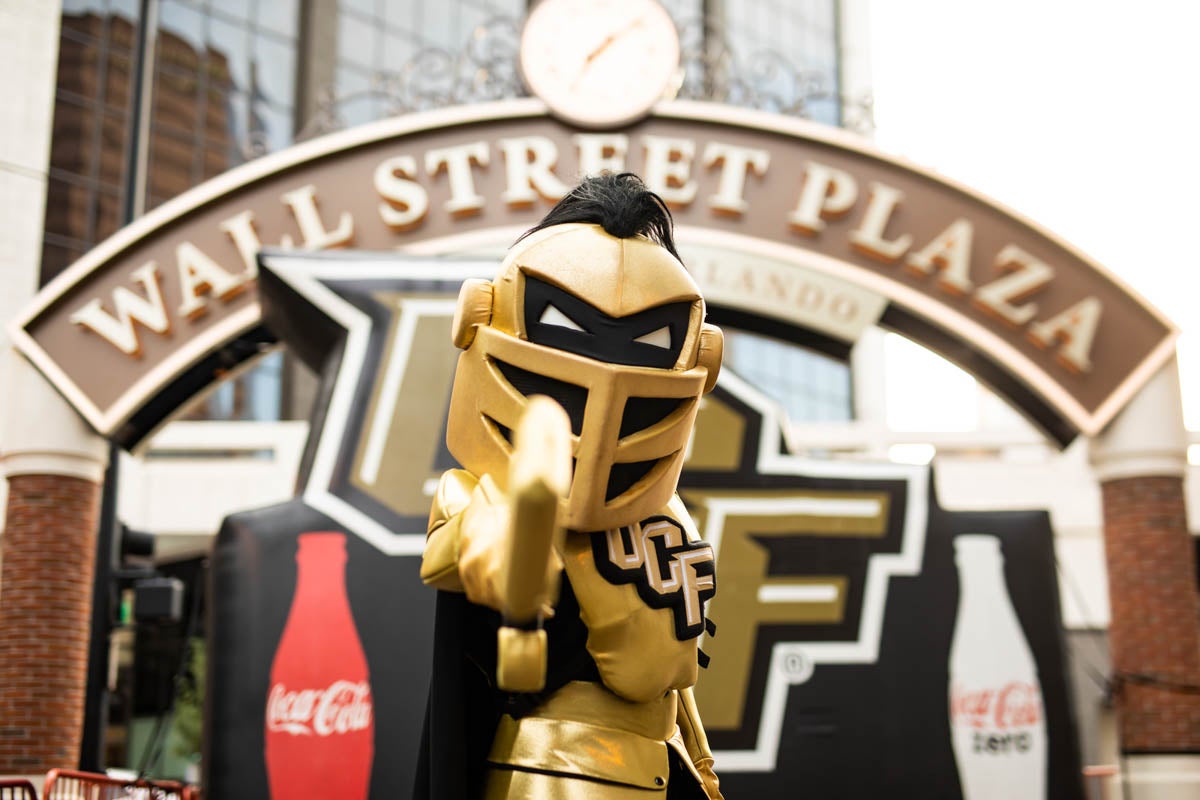 May 9 – Knightro hyped up locals at Wall Street Plaza during the Charge On tour.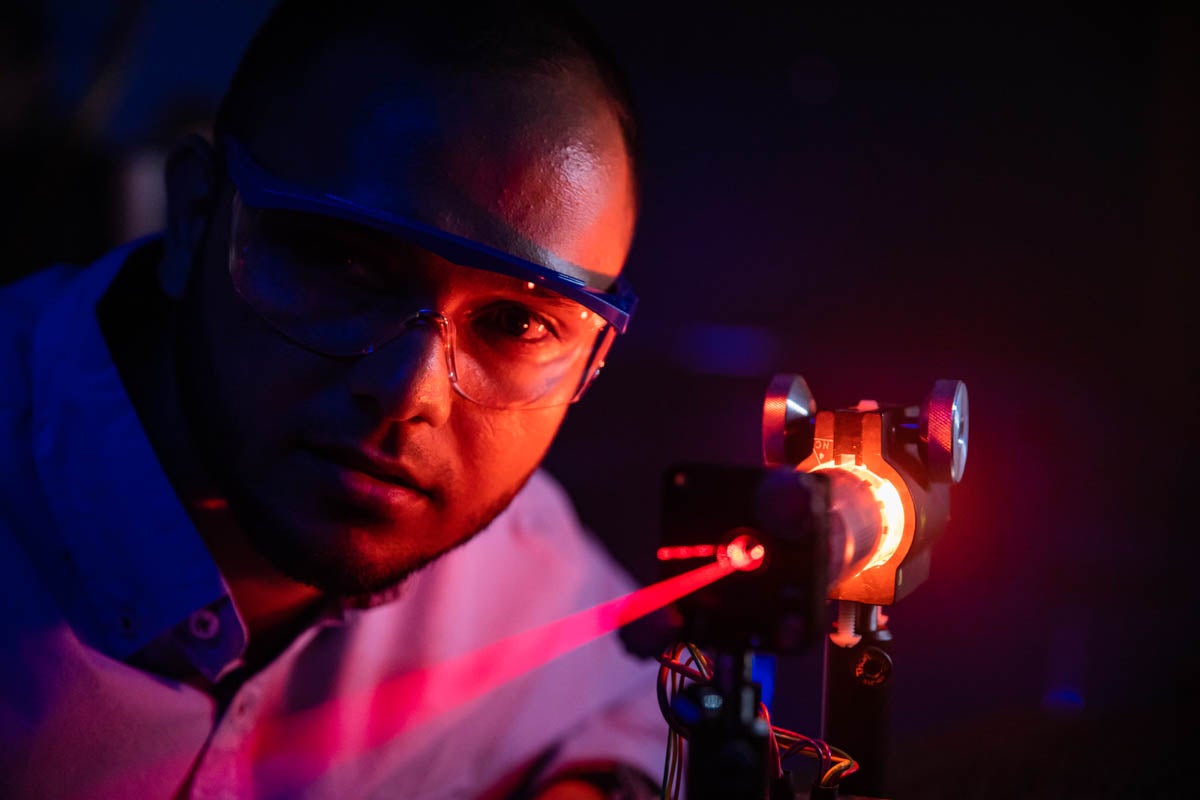 June 4 – A student worked on a laser project in a lab during the filming of UCF's Charge On commercial, which debuted on ESPN in August. U.S. News & World Report ranked UCF's optics and photonics graduate program No. 12 in the nation.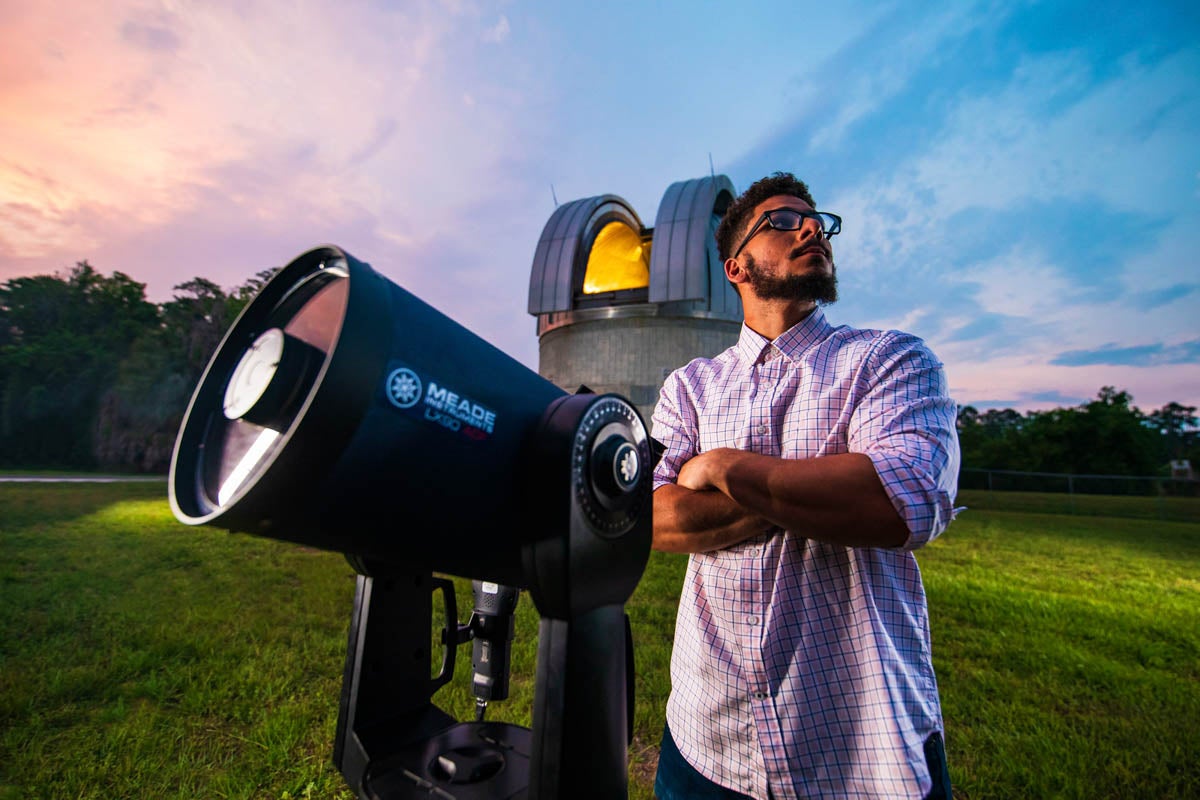 June 4 – A student poses for a photo before using a telescope to observe the sky near the Robinson Observatory.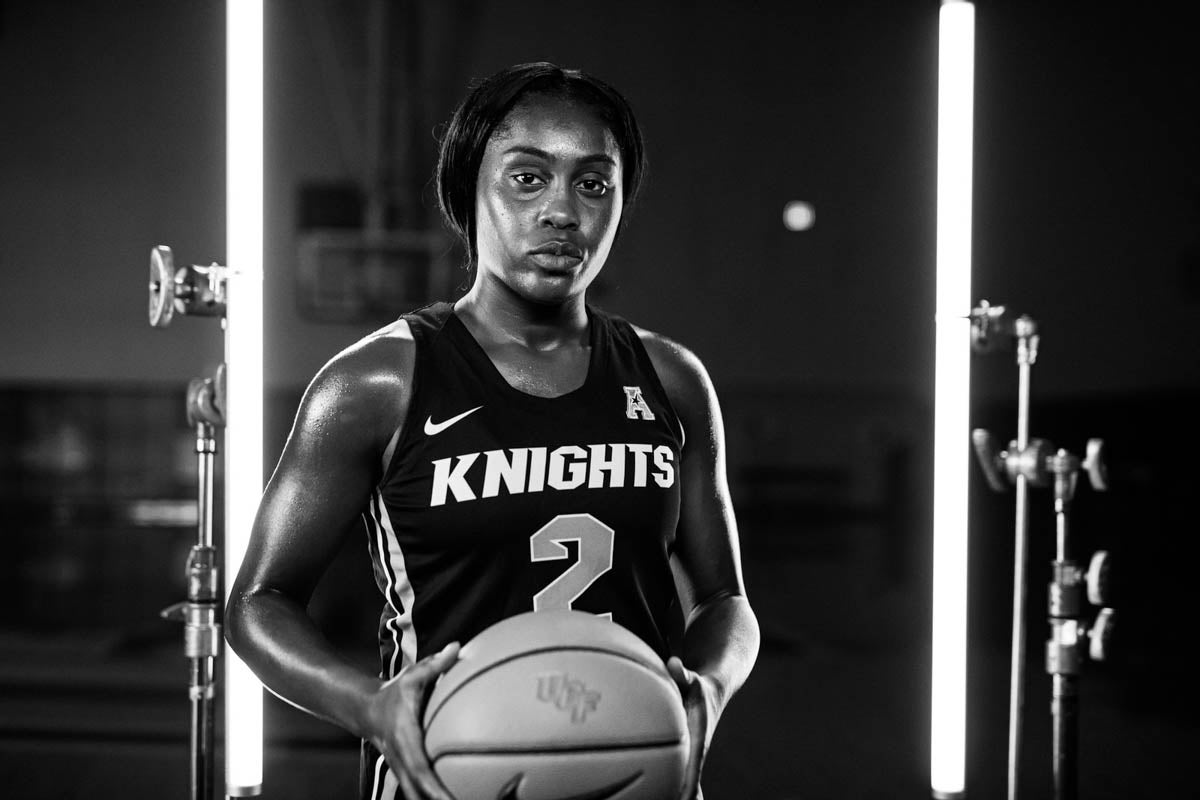 June 6 – Orlando native and UCF senior Kay Kay Wright focused for a shot. This year the women's basketball team placed second in the American Athletics Women's Tournament and made an appearance in the NCAA Women's Tournament for the first time since 2011.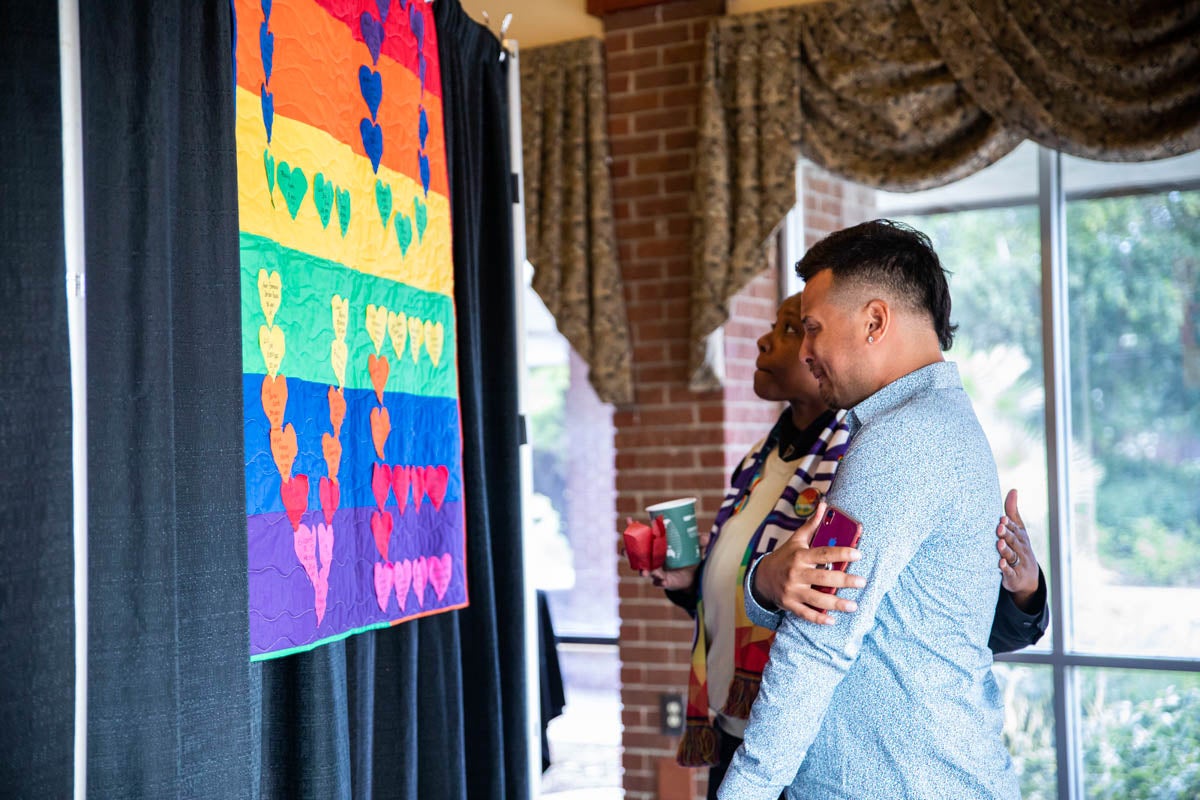 June 10 – UCF staff members Andrea Snead '18MA and Gabe Martinez '16MSW got emotional while paying tribute to the 49 victims killed during the Pulse attack three years ago as part of this year's UCF Remembers event.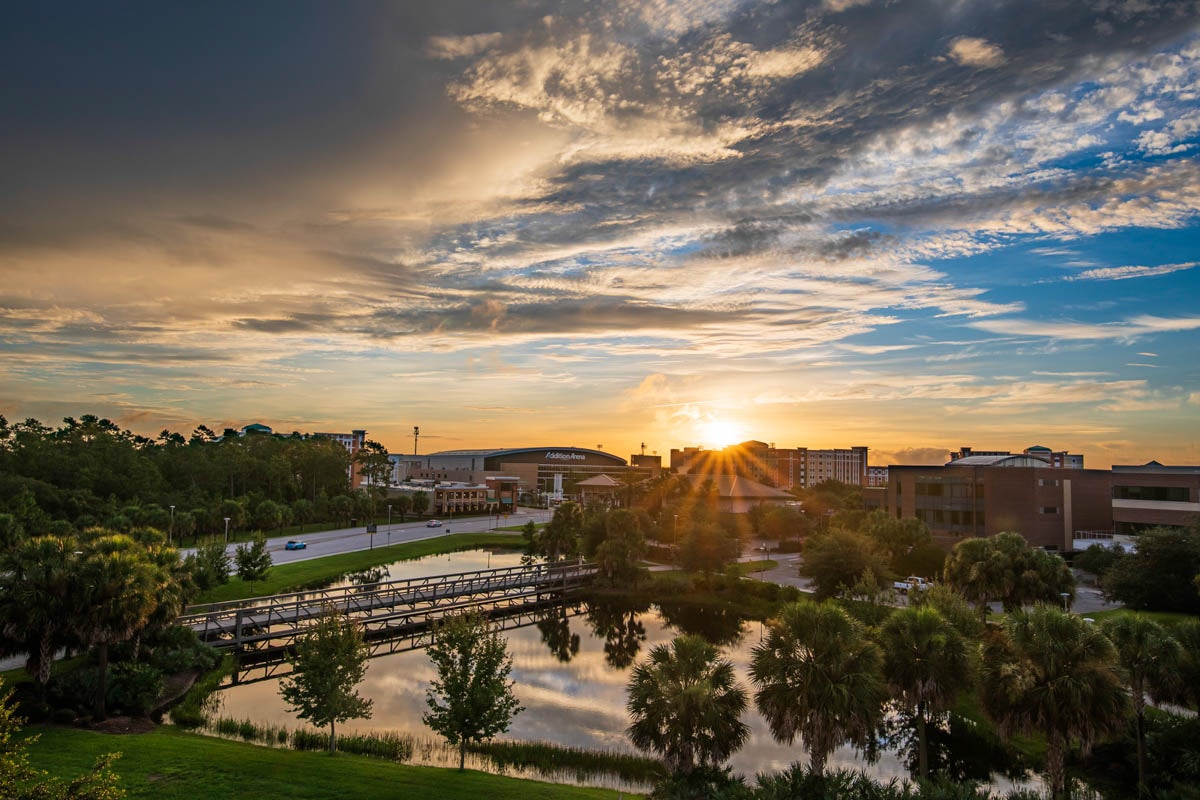 June 19 – The sun rose over Addition Financial Arena, formerly known as CFE Arena.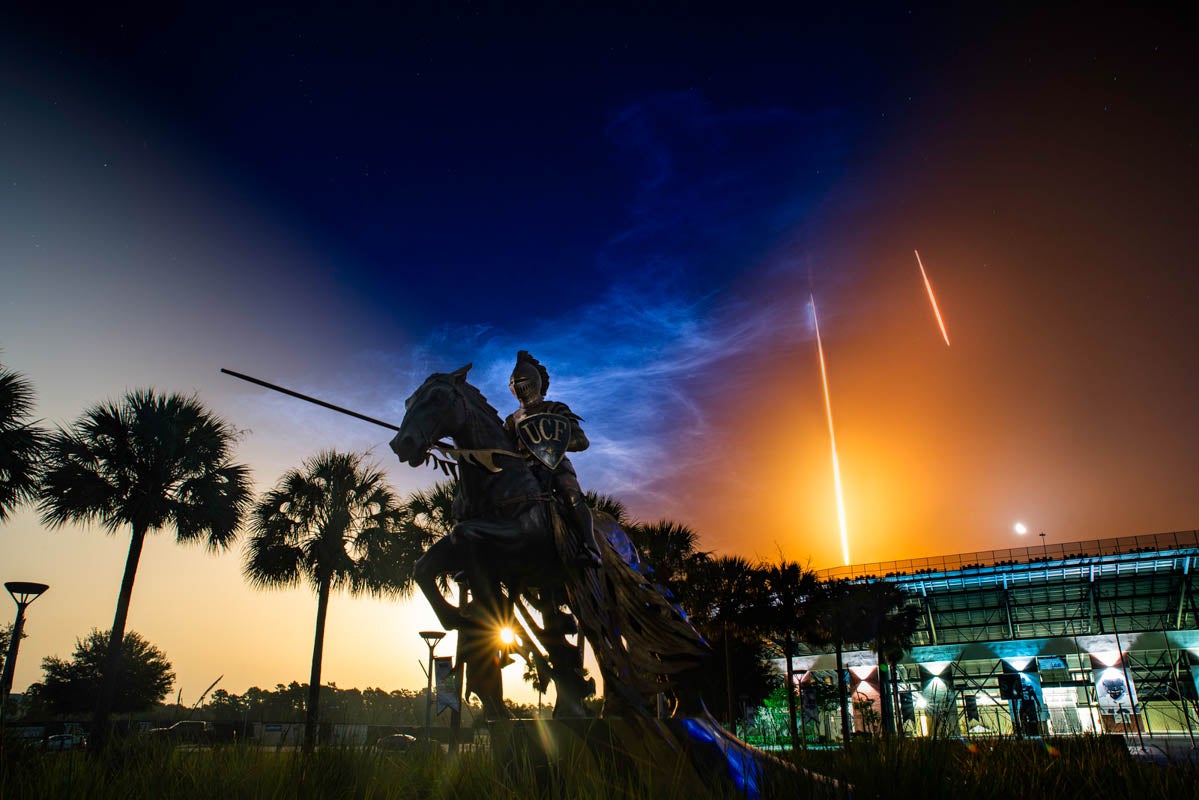 June 25 – The SpaceX Falcon Heavy launch could be seen near the Charging Knight statue in front of Spectrum Stadium. UCF secured its spot as top supplier of graduates to aerospace and defense industries for the fifth consecutive year.
June 25 – Andrea Snead '18MA Sport Club and Inclusive coordinator at the Recreation and Wellness Center was one of six Knights who took part in a photoshoot celebrating the LGBTQ+ community and Pride Month at UCF.
Aug. 3 – UCF Interim President Thad Seymour Jr. and Katie Seymour posed with a recent grad after a summer commencement ceremony.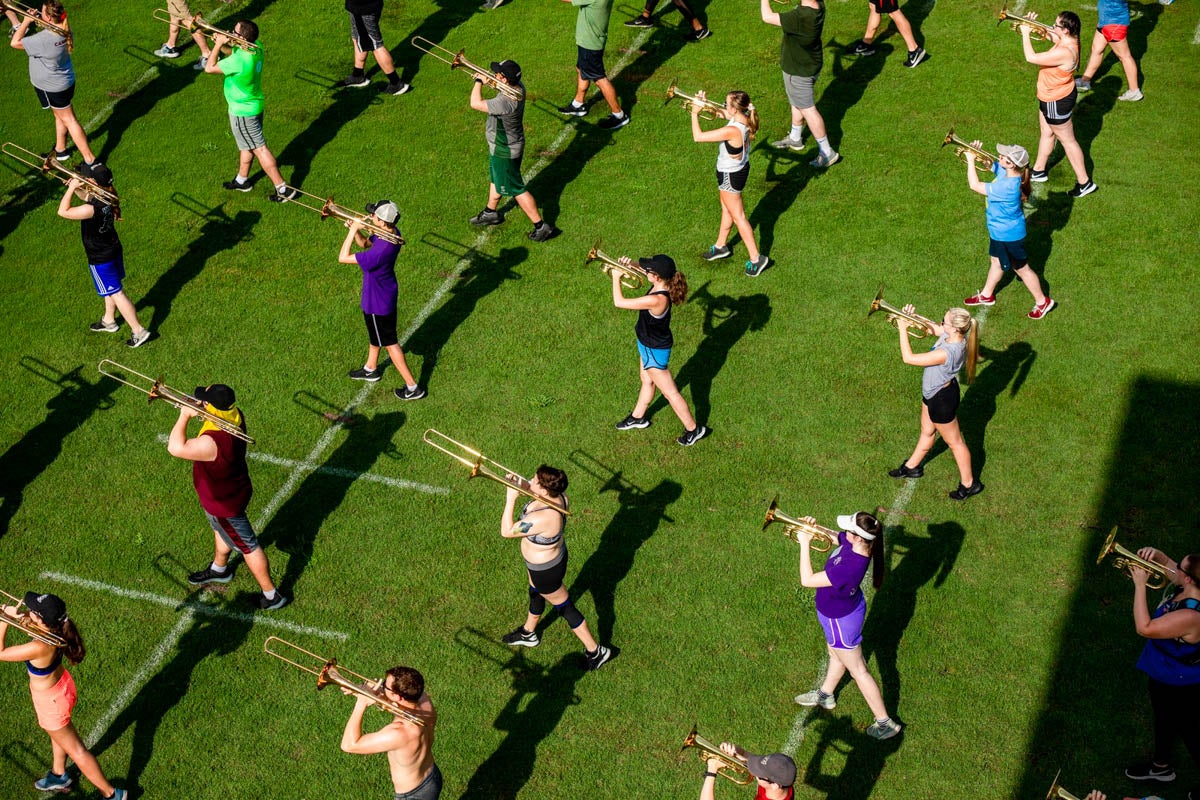 Aug. 19 – The trombone and mellophone sections of UCF's Marching Knights practiced during band camp week before the start of the fall semester. This year, the Marching Knight celebrated their 40th season as the sound of the university.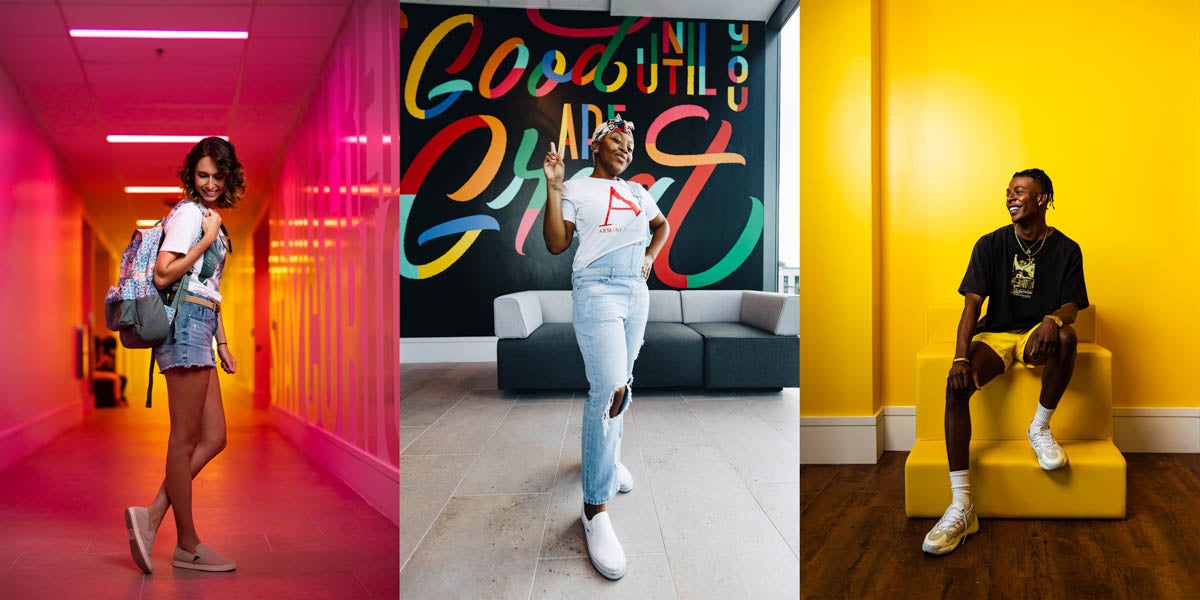 Aug. 26 – UCF senior Emily Kemp (left), Valencia freshman Resa Saintfelix (center) and UCF junior Jordyn James (right) were a few of the UCF Downtown students who showed off their outfits during photoshoots across the new campus on its historic first day of classes.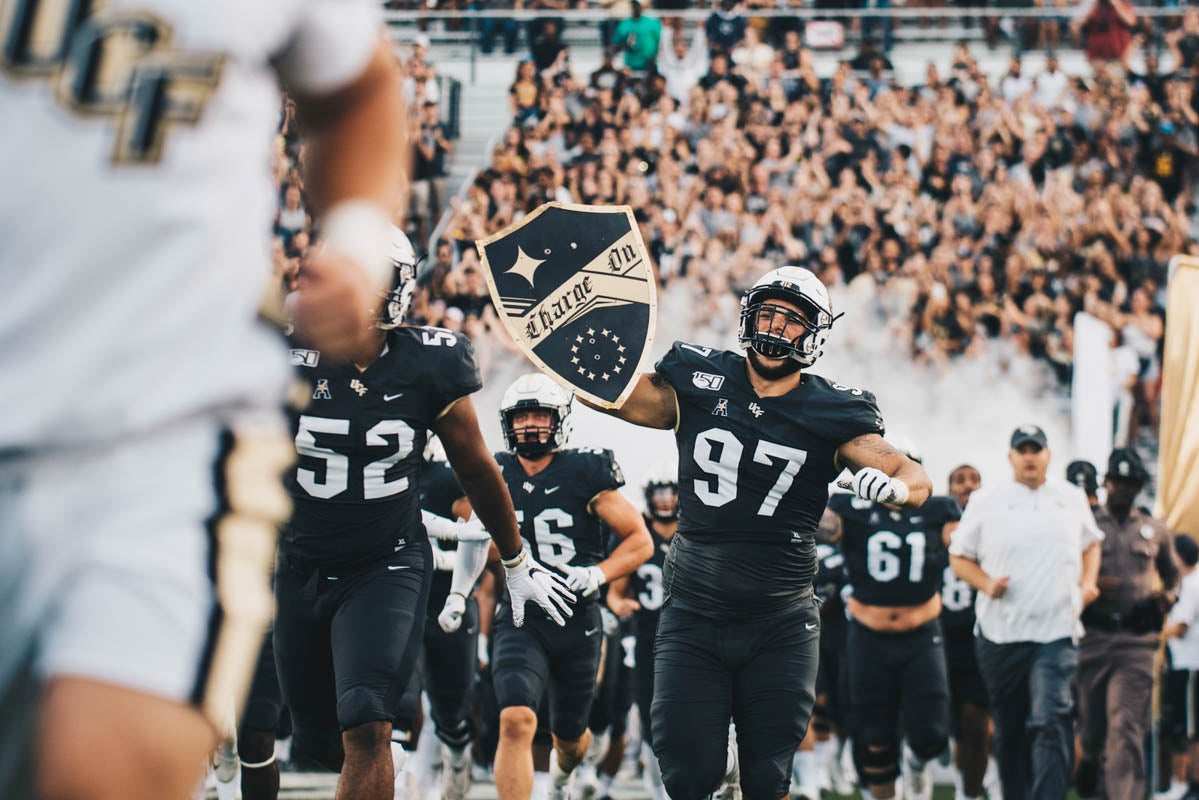 Aug. 29 – Defensive lineman Mason Cholewa held a Charge On shield as the Knights make their way onto the field of Spectrum Stadium for the home opener against FAMU.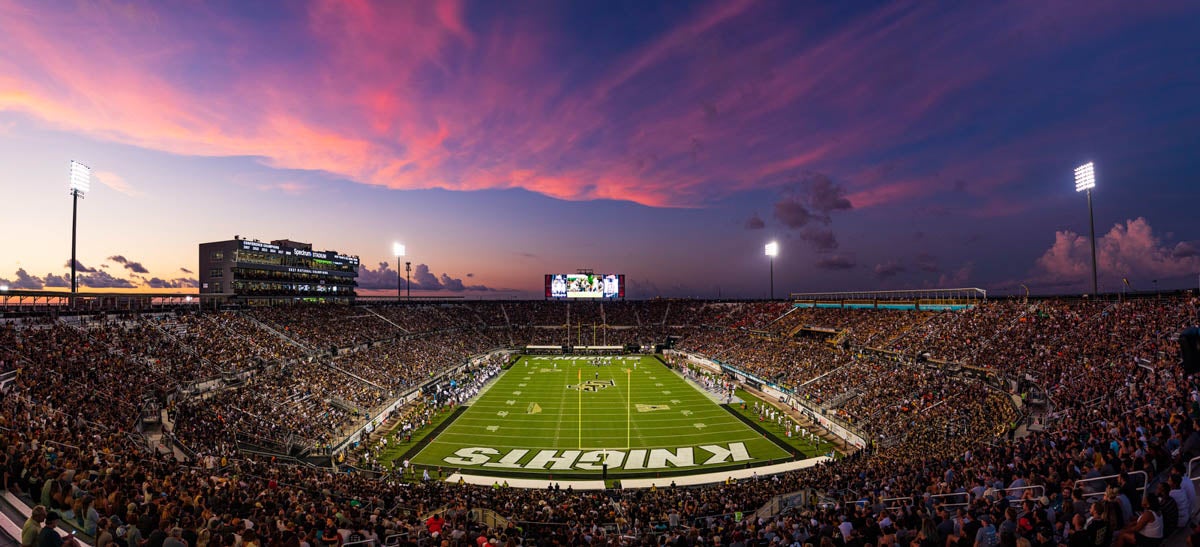 Aug. 29 – Orlando's Hometown Team took on the Rattlers while 44,073 attendees packed Spectrum Stadium to watch UCF's crushing 62-0 victory.
Sept. 30 – Over the course of four hours, UCF Marketing Photographer Nick Leyva '15 captured a changing early-morning sky over the Dr. Phillips Academic Commons at UCF Downtown.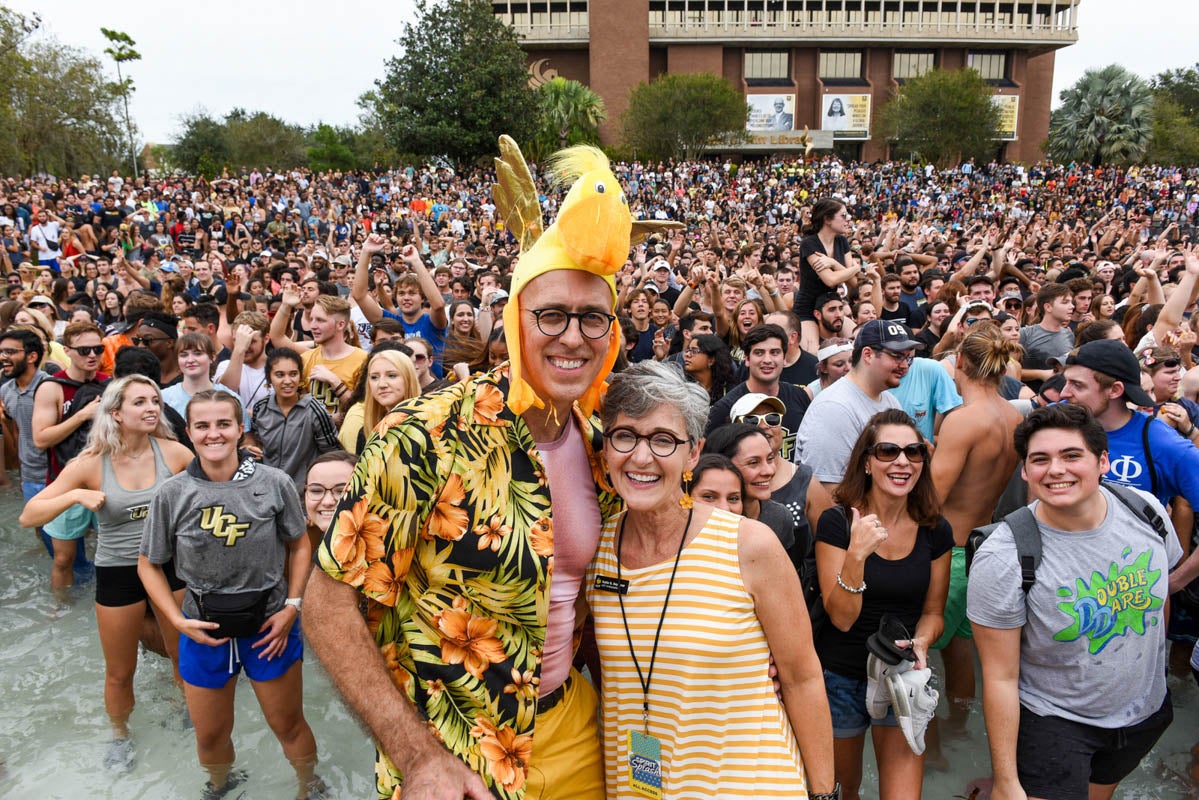 Oct. 18 – UCF Interim President Thad Seymour Jr. and Katie Seymour joined the center of the activity during Spirit Splash, UCF's biggest Homecoming tradition.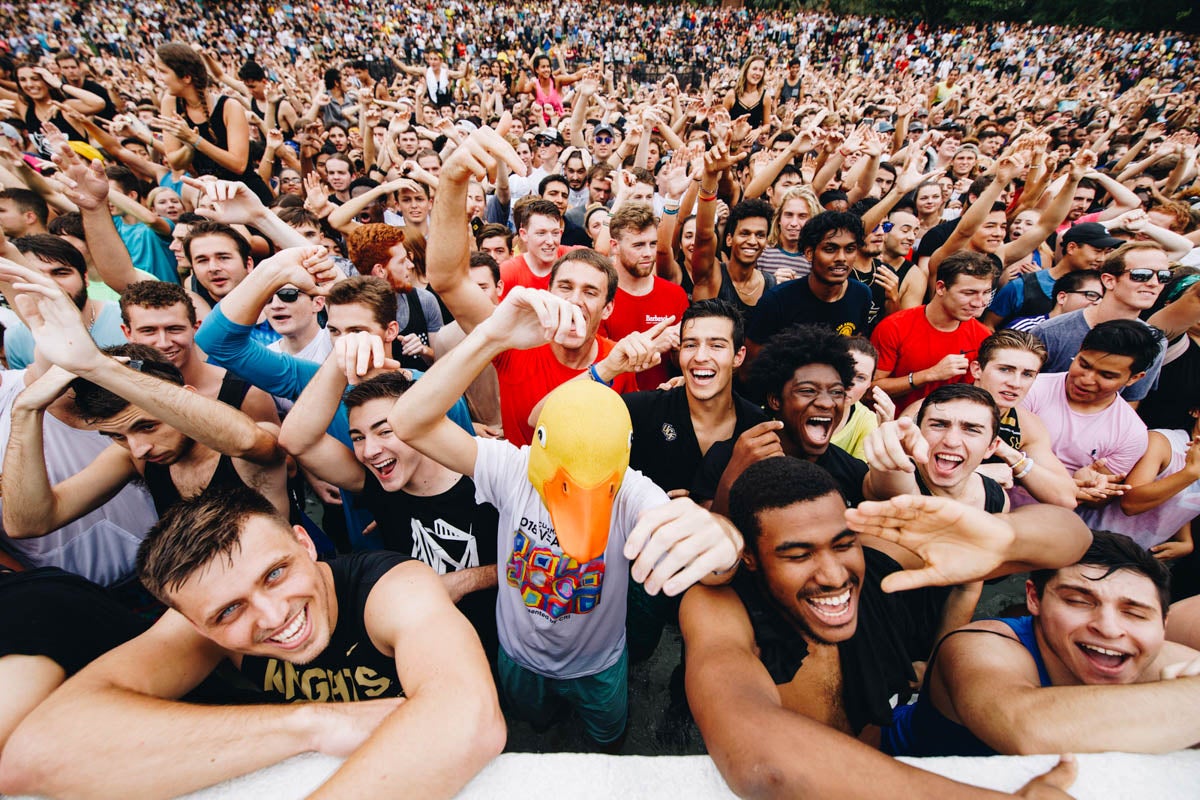 Oct. 18 – Thousand of students, including an especially spirited one, rushed into the Reflecting Pond for a chance to catch ducks during Spirit Splash.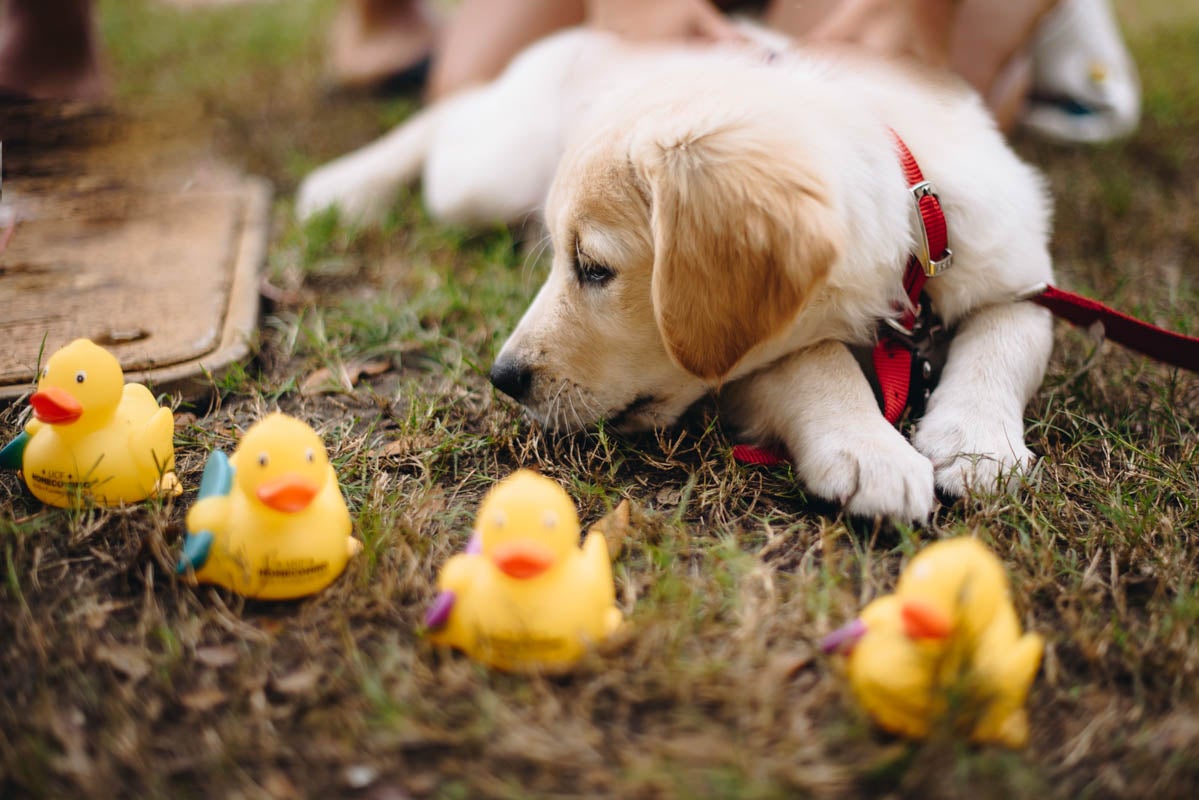 Oct. 18 – A good boy named Thor guarded a few of the highly coveted ducks at Spirit Splash.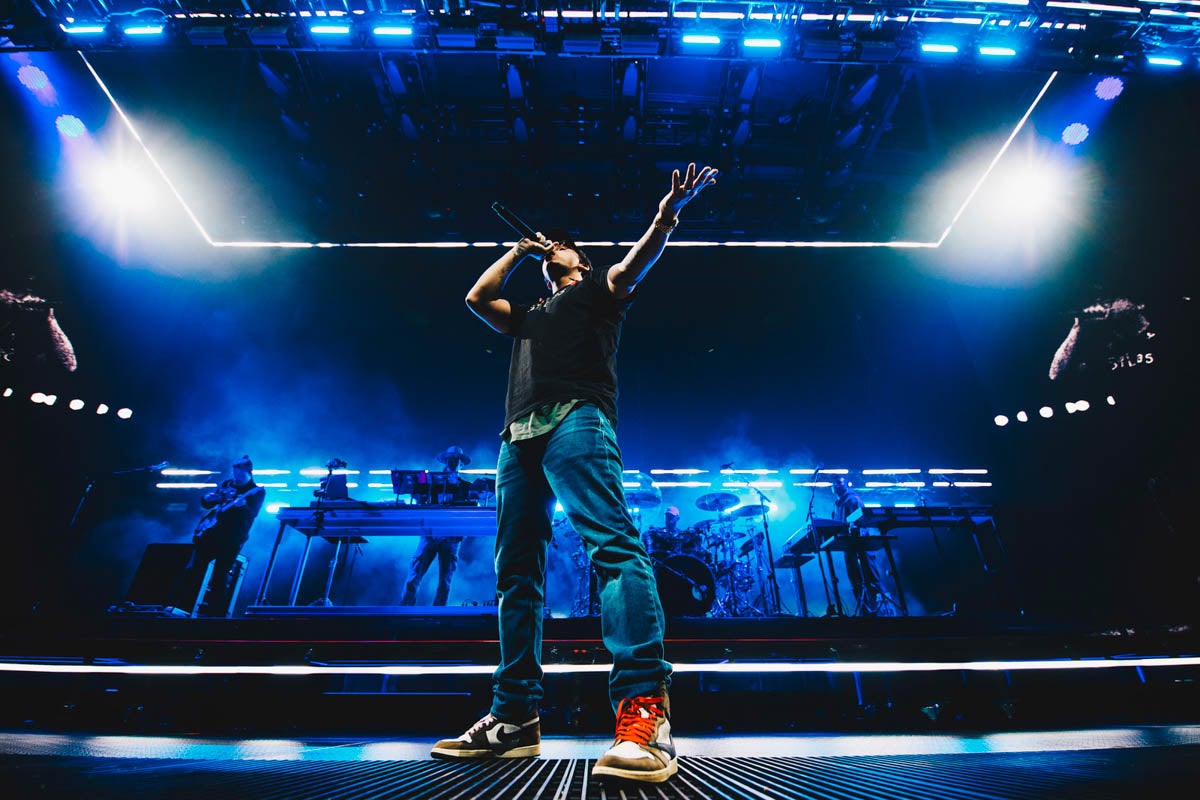 Oct. 23 – Grammy-nominated rappers Logic (pictured here), YBN Cordae and J.I.D. put on high-energy performances at Addition Financial Arena.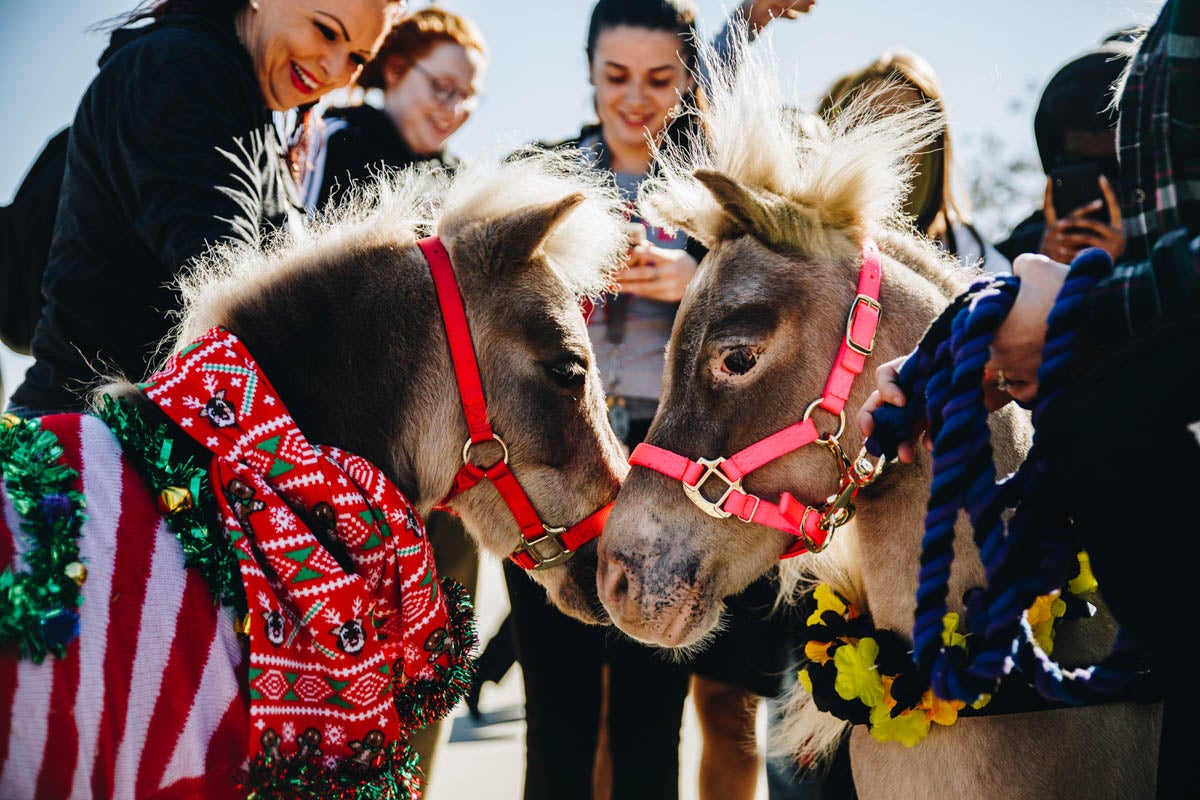 Dec. 4 – Mini horses Knugget (left) and Honey (right) booped each other during a Stress-Relief Therapy event hosted by the UCF Police Department.
If you'd like to download some of these and other images as phone or desktop wallpapers, visit ucf.edu/social/downloads.