Type

Online Bachelor's

College

Arts and Humanities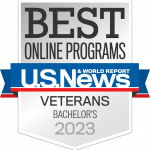 Develop a deep understanding of language, literature and writing.
In today's world the ability to think critically and write clearly is imperative. A bachelor's degree in English literature will teach you how to read and analyze the written word with its rich context in mind.
When you earn your English literature degree online, you'll delve into the study of linguistics, rhetoric and theory within both historical and contemporary literature. You'll develop skills in research, communication and persuasive writing, allowing you to convey bold ideas in a clear, concise manner. In addition, you'll discover how to analyze literature as a medium for historical, cultural and theoretical commentary.
As a graduate of UCF Online, your Bachelor of Arts in English Literature will prepare you to succeed in a variety of professional pursuits, from journalism to law. With an emphasis on written communication skills, you'll be poised to step forward as a leader in academic or other professional settings. Get started today and earn your bachelor's degree in English literature.
Related Online Programs
Career Opportunities
consultant
copywriter
editor
higher education administrator
journalist
lawyer
librarian
writer