Our Fall 2022 Class
As you prepare to settle into life as a UCF Online student, we wanted to take the time to wish you a warm welcome, and prepare you with additional information and resources to help you succeed at the start of your journey with us. On this page you'll find useful tips, advice, links and contact details to ensure you are well equipped to hit the ground running this term. Don't forget, your success coach is here to help support and guide you along the way, so make sure you reach out to them at any point you need assistance. We wish you all the best for the start of your first class. Charge On!
New Semester Checklist
First Week of Every Semester
During the Semester
Check your financial aid status in myUCF. After you have completed the Academic Engagement Activity, you can check the status of your verification under View My Financial Aid Eligible Courses in the Student Center. If a course is not listed, contact your instructor to verify that you have completed the Academic Engagement Activity.
Log in to Webcourses@UCF regularly to keep up-to-date on your courses.
Keep an eye out for any Holds or To-Dos on your account in myUCF.
Know when the withdrawal deadline is by checking the Academic Calendar.
Check myUCF for your Enrollment Appointment. The Enrollment Appointment determines when you are permitted to enroll in courses for the next semester.
Review the myKnight Audit to help you decide which online courses to take for the upcoming semester.
Contact your Success Coach to plan for your upcoming semester. This may include advising for course management, financial assistance, academic support and other areas of interest.
Start planning your online course list for the next semester.
If necessary, use the resources at SARC Online for online tutoring sessions or workshops.
Questions about any of the above items?
Top Online Student Support Services & Resources

Your Success Coach
As a UCF Online student, you have direct access to a success coach throughout your entire student journey. Your coach is there to provide nonacademic support and guidance to help ensure you succeed on the pathway to graduation.
Why UCF Online Students Need the UCF Mobile App
Be more connected than before with the UCF Mobile App. Through the UCF Online persona, access to UCF is at your fingertips wherever you go.
Learn More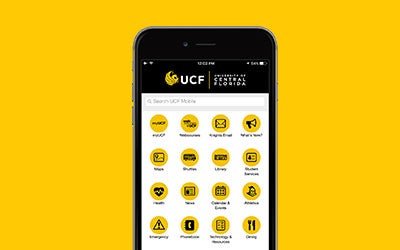 Show Your School Spirit
A Show your UCF school spirit with mobile and desktop wallpapers, Facebook cover photos and profile picture frames, and Zoom backgrounds. Download these UCF-themed graphics and share the university's vision of limitless possibilities.
See All Downloads
Did You Know?
UCF Students get exclusive discounts on Dell computers and accessories. Shop Dell with your UCF education discount.
See All Discounts
Technology Product Center
The UCF Technology Product Center is UCF's official technology hub, providing you with discounts on computers, software, and more!
Explore TPC
charge on through the semester!