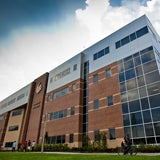 I'm from out of state, and I was nervous I wouldn't fit in with anyone down here, but it's been the best experience so far!

We're everywhere you are in Central Florida
With more than a dozen locations throughout Central Florida, we provide convenience, access and a quality education. Whether you're full-time or part-time, a new or returning student, UCF has the programs to fit your schedule and your budget.
Main Campus
Our 1,415-acre main campus in East Orlando provides modern facilities, most of which have wireless abilities, with 600 acres set aside for lakes, woodlands and an arboretum. We believe that a university campus should not only be a place to learn, but a pleasant place to live. We encourage you to visit and see for yourself.
Regional Campus Locations
UCF works to make your education fit your lifestyle. So, you can earn a bachelor's or a graduate degree right in your own neighborhood. Whatever your passion and wherever you are in Central Florida, we have 11 locations to serve you. Visit the Regional Campuses Web site for a full list of our locations and more information.
Rosen College of Hospitality Management
The Rosen College of Hospitality Management is located in the largest, most modern facility ever built for hospitality management. It's also near the world's most famous tourist and entertainment destination, creating opportunities for professional growth. To get started with your career, visit the Rosen College of Hospitality Management.
UCF College of Medicine
Established in 2006, the College of Medicine was created to meet Central Florida's growing and changing medical needs. The Burnett School of Biomedical Sciences, a part of the college, is also located on the new campus at Lake Nona. Visit the College of Medicine to learn more.
Florida Solar Energy Center
Florida Solar Energy Center (FSEC) is the largest and most active state-supported renewable energy and efficiency institute in the United States. Its mission is to research energy technologies that enhance Florida's and the nation's economy and environment and to educate the public, students and practitioners on the results of the research. For more information, visit FSEC at www.fsec.ucf.edu.