At UCF, one of the largest public universities in the U.S., bigger is better. Being big means more access for people of any age who might not otherwise get an opportunity to earn a high-quality college degree. Being big attracts experts from around the world to conduct innovative research and pass their knowledge on to students. And being big creates a positive, lasting impact on the Central Florida community and beyond.
"UCF Moving Toward Preeminence in Florida"
Florida Board of Governors "Emerging Preeminence" Designation, 2016
Orlando Rising
Orlando is the second-fastest growing major metropolitan region in America (U.S. Census Bureau) and will add more than 500,000 new residents by 2026.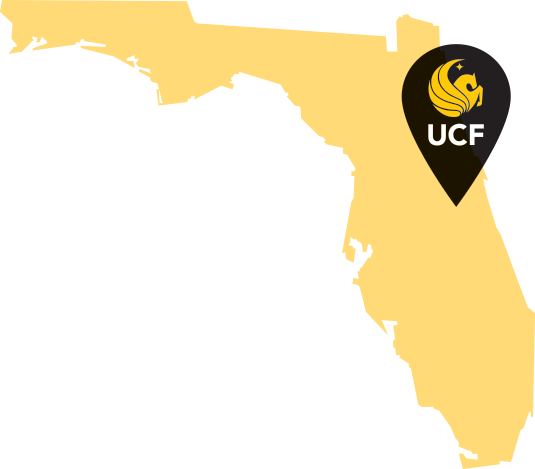 High-Value Degrees
Kiplinger consistently ranks a UCF education among the nation's best values.
UCF Downtown
The downtown Orlando campus, in partnership with Valencia College, will create new opportunities for more than 7,000 students to live, study and work in the heart of the city's entrepreneurial, high-tech and creative economy.
A Debt-Free Future
44 percent of UCF students graduate with no educational debt– compared to 34 percent nationally.

U.S. News College Rankings
UCF is ranked as one of the nation's most innovative colleges by U.S. News & World Report, and is the only school in Florida to hold this accolade.

Quality Recognized
#2

Graduate Video Game School in North America, Florida Interactive Entertainment Academy

(The Princeton Review)


#2

For number of National Merit Scholars among Florida state universities

#5

Hospitality and Hotel Management School in the World, Rosen College of Hospitality Management

(CEOWORLD Magazine)

#36

Best Online Bachelor's

(U.S. News & World Report)

Top 100

Public Universities

(U.S. News & World Report)

Twenty two UCF graduate programs were ranked among the top 100 in their fields by U.S. News & World Report in its Best Graduate Schools 2017 guidebook. Of particular note is the counselor education program, ranked No. 7 nationally. Other UCF rankings were for the atomic, molecular and optical sciences programs (14), nonprofit management (17), health services administration (38), industrial engineering (38) and criminal justice (41).

Cyber Champions

UCF's Collegiate Cyber Defense Club has won three consecutive national titles.


Diverse and Inclusive

45.4 percent of new UCF students are minorities, 24.8 percent are Hispanic and 25 percent of undergraduates are first-generation students.


"[UCF is] in the vanguard of an insurgency that aims to demolish the popular belief that exclusivity is a virtue in higher education."

Tackling Big Problems

UCF's Faculty Cluster Initiative fosters the development of interdisciplinary teams focused on solving today's toughest scientific and societal challenges, including:

Cyber Security and Privacy
Energy Conversion and Propulsion
Genomics and Bioinformatics
Prosthetic Interfaces
Renewable Energy Systems
Sustainable Coastal Systems
Disability, Aging and Technology
Learning Sciences
Violence Against Women

Skilled Workforce

UCF produces more graduates who get jobs in aerospace and defense companies than any other U.S. university (2016 Aviation Week magazine workforce study).


Solving Problems

UCF was designated as a university with "highest research activity" by the Carnegie Foundation for the Advancement of Teaching. Researchers have earned $1 billion in external grants and contracts during the past decade.


Patent Leader

The National Academy of Inventors ranks UCF in the top 25 U.S. public research universities — along with MIT, Stanford, Caltech and Johns Hopkins — for number of patents issued in 2016.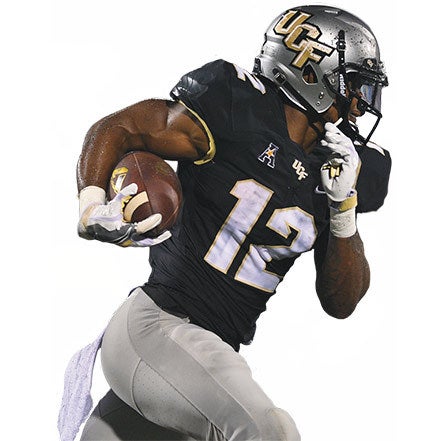 Student-Athlete Success
UCF student-athletes have earned a 94 percent Graduation Success Rate, leading all other NCAA Division I public universities.
UCF is the youngest university to win a BCS Bowl Game, besting the Baylor Bears in the 2014 Tostitos Fiesta Bowl.
94%
Graduation Success Rate
This Is UCF
66,000

Students

289

National Merit Scholars

212

Degree programs

263,000+

Alumni

297,266

Degrees conferred

12,000+

Faculty and staff

20,000+

Students gain practical experience through co-ops, internships and service-learning projects annually
Our Promise
We are here to make a better future for our students and society. It's a big job. And we won't be successful without a lot of us working together, and more of us living up to our full potential.
At UCF, we know everyone has potential. And when more people unleash their full potential, anything is possible.
We believe success can only happen when we expand opportunity and demand excellence. We believe if there's a better way, we should do it. We believe innovation comes from the meeting of diverse viewpoints. We believe none of us is smarter than all of us.
Making the world a better place is a big job. It requires a big university.
It requires UCF.