The popularity of online courses has increased over the past decade, and the global online learning market is expected to reach $325 billion by 2025. As more and more students reap the benefits of online learning, the future of online education will be shaped by augmented reality (AR), virtual reality (VR) and courses that teach skills that can't be automated, such as emotional intelligence and creativity.
To learn more, check out the infographic below, created by the University of Central Florida.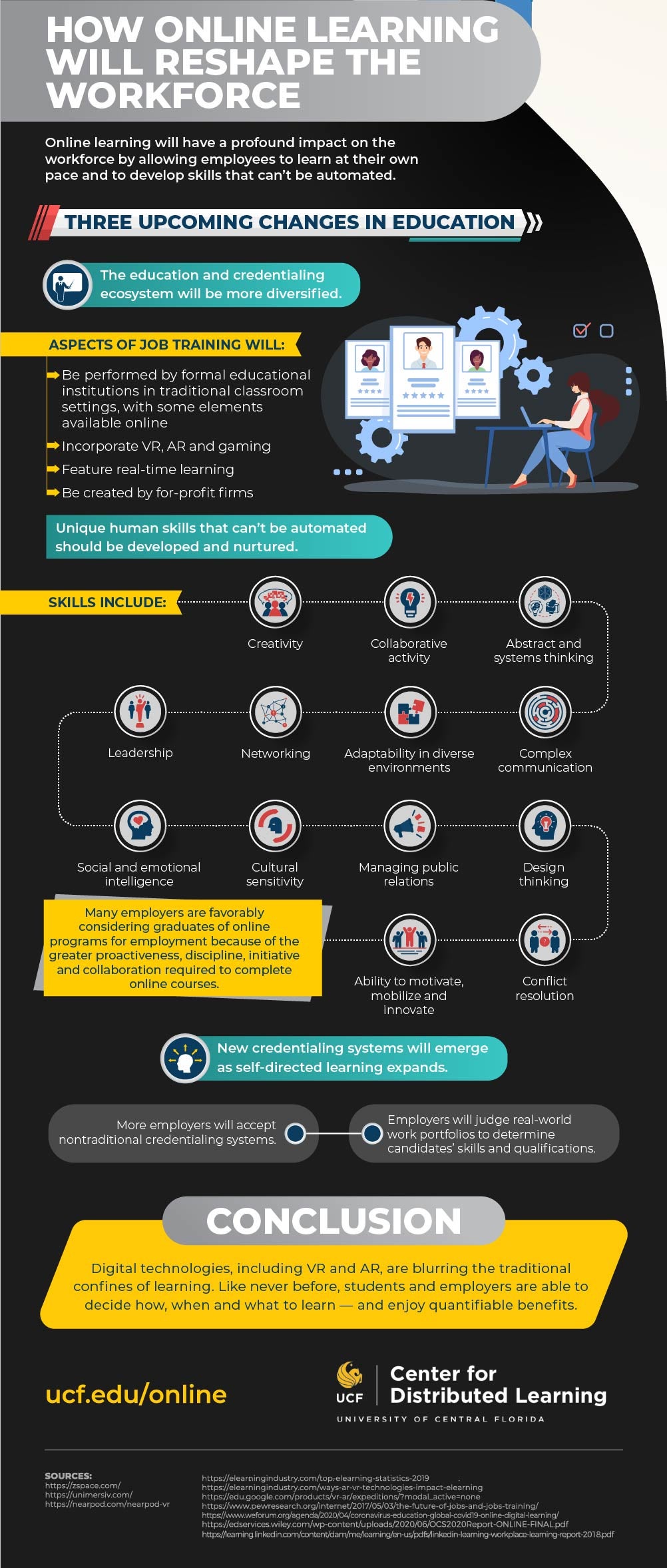 Studying the Future of Online Learning
Not only does online learning offer greater flexibility and access to education, but students and employers also reap long-term benefits and rewards.
Online Learning in Higher Education
According to Online College Students 2020:Comprehensive Data on Demands and Preferences, a report by Aslanian Market Research and Wiley Education Services, 78% of online college students believe their program was worth the overall cost, and 38% of students and graduates plan to take additional courses with their alma maters. Additionally, 74% of online college students want to use mobile devices to help them progress through their courses.
The studies also revealed a wide range of online student demographics. Most online students, 37%, fall within the 25 to 29 age range, while 22% are 55 or older, 19% are between the ages of 18 and 24 and 18% are between 40 and 54.
Thirty-three percent of online college students are first-generation college students, and 49% have previously completed some form of online coursework. Proximity plays a factor in the online college students' educational choice: 75% live within 50 miles of their schools, and 32% live within 25 miles of campus.
Many online college students also hold full-time employment: 53% of online undergraduates and 69% of online graduate students are employed full time. Among this specific demographic, 36% are parents and 32% are first-generation college students.
How the COVID-19 Pandemic Has Impacted Online Learning
According to the World Economic Forum, more than 1.2 billion children in 186 countries have been affected by school closures due to the pandemic. In China, an estimated 730,000 K-12 students, or 81% of K-12 students, attended classes via the Tencent K-12 Online School in Wuhan.
Despite the difficult circumstances online learning may be offering students a wide range of benefits. Research demonstrates, on average, students learning online retain 25% to 60% of material, compared with only 8% to 10% in a classroom. Additionally, online learning allows students to learn at their own pace, requiring 40% to 60% less time to study than in a traditional classroom setting.
Online Learning in the Workforce
Ninety percent of U.S. companies offer digital learning, according to LinkedIn's 2018 Workplace Learning Report. Additionally, 72% of organizations believe online learning gives them a competitive advantage.
This sentiment is backed by statistics: A $1,500 investment in training per employee per year can lead to a 24% increase in profit margins. For every $680 invested in employee training, shareholder return increases by 6%. For every dollar spent on online learning, companies can earn $30 in improved productivity. Other corporate benefits include acceleration of employee training via a 40% to 60% reduction of training time, a 25% to 60% boost in knowledge retention, and a 218% revenue increase per employee.
The benefits of online learning go beyond increased profitability. Online learning allows students to learn five times more material for every hour of training compared with face-to-face training. Compared with traditional learning, online learning decreases energy consumption by 90% and carbon dioxide emissions by 85%. These collective benefits have spurred the U.S. government to spend $2.59 billion on self-paced online learning products.
AR and VR: The Next Dimension in Online Learning
Though AR and VR have extensive applications in gaming, the technology is also making waves in education.
The Benefits of AR/VR for Online Learning
One of the key benefits AR/VR brings to online learning is the enhancement of the learning experience by eliminating distractions through immersive devices and tools like headsets, audio devices and tactile sensors. A second perk revolves around increased personalization via virtual training rooms allowing learners real-time interactions with online facilitators, physical contact with online training content and goal visualization.
AR/VR can also provide detailed analytics that measure the learner's emotional and alertness state, learner engagement and tailor-made learning goals. Additionally, AR/VR can explain learner mistakes in a qualitative assessment, which could reinforce correct behaviors. Finally, AR/VR can offer more engaging gamification, as VR software will allow learners to interact with rewards and earn tangible achievements to advance up the leaderboard.
Popular AR/VR Learning Platforms
One of the more popular AR/VR learning platforms is the app Unimersiv. It allows students to explore the age of dinosaurs, the human brain, Stonehenge, ancient Rome, Mars, and other historic and scientific items.
Google Expeditions features over 1,000 VR and AR tours from numerous content partners, such as National Geographic and the Guggenheim Museum of Art.
The platform zSpace uses VR and AR learning platforms to offer solutions for classrooms, labs, media centers, makerspaces and mobile. Finally, students can use Nearpod to explore monuments like the Taj Mahal and the Washington Monument alongside interactive lessons.
How Online Learning Will Reshape the Workforce
Online learning will have a profound impact on the workforce by allowing employees to learn at their own pace and to develop skills that can't be automated.
Three Upcoming Changes in Education
The education and credentialing ecosystem will change through increased diversification. Aspects of job training will be performed by formal educational institutions in traditional classroom settings, with some elements available online. Training will also incorporate VR, AR and gaming, feature real-time learning and be created by for-profit firms.
Unique human skills that can't be automated will need to be developed and nurtured. These skills include creativity, complex communication, leadership, social and emotional intelligence, cultural sensitivity and design thinking. Many employers are favorably considering graduates of online programs for employment because of the greater proactiveness, discipline, initiative and collaboration required to complete online courses.
Finally, new credentially systems will emerge as self-directed learning expands. More employers will accept nontraditional credentialing systems, and employers will judge real-world work portfolios to determine candidates' skills and qualifications.
The Future of Education
Digital Technologies, including VR and AR, are blurring the traditional confines of learning. Like never before, students and employers are able to decide how, when and what to learn – and enjoy quantifiable benefits.
Sources
eLearning Industry, 7 Ways AR/VR Technologies Impact eLearning
eLearning Industry, Top 20 eLearning Statistics for 2019 You Need to Know
Google for Education, Bring Your Lessons to Life with Expeditions
LinkedIn, 2018 Workplace Learning Report
Pew Research Center, The Future of Jobs and Training
Wiley Education Services, Online College Students: Comprehensive Data on Demands and Preferences
World Economic Forum, The COVID-19 Pandemic Has Changed Education Forever. This is How
---