Our Mission
UCF is a public research university invested in unleashing the potential within every individual, enriching the human experience through inclusion, discovery and innovation, and propelling broad-based prosperity for the many communities we serve.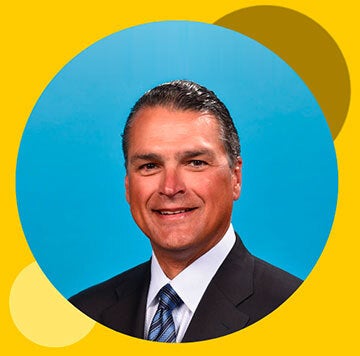 Alex Martins


Chair, Board of Trustees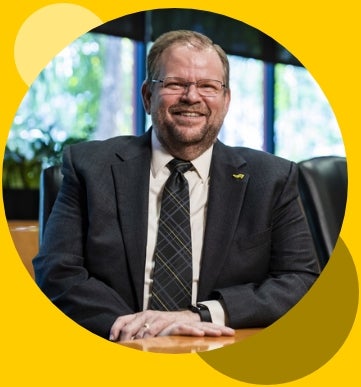 Alexander N. Cartwright


President
Building the University for the Future
UCF is one of the most innovative universities in the country, inspired by boundless optimism. We are emboldened in our pursuit of excellence and steadfast in our commitment to access and opportunity. And we believe strongly that potential exists in every individual and organization.
The university was founded in 1963 to provide talent and research insights in support of America's quest to put humans on the moon and explore the far reaches of our galaxy, unleashing the potential of humankind to explore the heavens.
Nearly sixty years later, we remain committed to unleashing potential in people, organizations, ideas, and the communities we serve. That charge inspires us and illuminates fantastic possibilities ahead.
As the University for the Future, we aspire to be innovative in higher education and among the most impactful universities in the country. We seek to be excellent in our teaching, research, and creative activities, while also providing access and opportunity to a diverse and dynamic student population.
There is a great potential in our students, faculty, staff, and community. Let's unleash it, together.
Go Knights. Charge On.
A History of Impact
The University of Central Florida (UCF) was founded in 1963 to provide talent, research expertise, and advanced degrees for the emerging space industry, which had the exciting and challenging goal of "landing a man on the moon and returning him safely to Earth." Before that time, such an achievement was but a fantasy reserved for science fiction.
In a relatively short time, Orlando's hometown university emerged as a major metropolitan research university with internationally recognized academic programs in engineering, science, healthcare, hospitality, and the arts. UCF has expanded access and learning pathways, grown our student population, and extended our physical and digital footprints to support business migration and population growth in Florida. Our student body reflects the future of Florida and America, composed of diverse, entrepreneurial, creative, and community-minded innovators.
Our most valuable asset is our people. UCF has never been restrained by our past because our faculty, staff, students, alumni, and friends have always been optimistic dreamers focused on the future possibilities. UCF's rapid achievements are the result of the efforts of our people and they will be our greatest asset as we focus on excellence.
Looking Ahead
Despite the university's success, we find ourselves at an inflection point. To seize this moment of opportunity and in anticipation of continual changes in higher education, we will invest in our strengths, focus on research excellence in areas of opportunity, increase and diversify our revenue and resource base, institutionalize resilience and sustainability, and innovate the delivery of higher education to enrich the student experience. At this seminal moment in the university's history, our focus remains clear: contribute to developing an educated citizenry, unleashing the potential of our students, alumni, faculty, and staff.

Our Aspirations
With a focus on actions and outcomes that drive student success, research, innovation, and excellence, we aspire to be among the Top 25 public research universities in the country, and eligible for membership in the Association of American Universities (AAU) by 2033. As the University for the Future, we aspire to be:
Our Priorities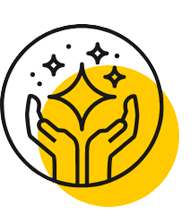 At UCF, we believe that our mission and fundamental purpose is to identify and unleash an individual's potential by making high-quality, post-secondary education affordable and accessible. Our efforts to accelerate student success and enhance well-being will contribute to an educated citizenry by developing students who are culturally competent, prepared to lead enriched and fulfilling lives, and have the knowledge, skills, and aptitudes that align with the workforce of the future.
| Initiatives | 2022 | 2027 Goal |
| --- | --- | --- |
| FTIC Freshman Retention Rate1 | 92% | 93% |
| FTIC 4-year Graduation Rate1,2,3 | 50% | 65% |
| FTIC 6-year Graduation Rate1,2,3 | 74% | 78% |
| FTIC Pell Recipient 6-year Graduation Rate2,3 | 71% | 76% |
| FCS AA 2-year Graduation Rate1,2 | 32% | 50% |
| Percentage of Graduating Students With HIP Experience4 | 86% | 100% |
| Undergraduate Class Size Index Rank3 | 379 | 275 |
| Percentage of Graduates Enrolled or Employed ($30,000)2 | 63% | 70% |
| Percentage of Graduates Without Fed. Student Loan Debt3 | 54% | 60% |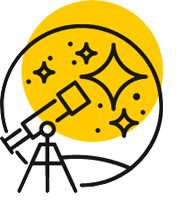 UCF's knowledge enterprise is an essential driver of the region's economic vitality. We plan to invest in our research infrastructure in ways that address prevailing workforce needs in the state, accelerate the development of industry clusters, attract new companies and high-wage jobs to Florida, support the formation of entrepreneurial ventures, guide evidence-based policies, encourage creative activity, and advance the state's objective to be the 10th largest economy in the world.
| Initiatives | 2022 | 2027 Goal |
| --- | --- | --- |
| Total R&D Expenditures1,2 | $239M | $350M |
| Patents Awarded Annually1 | 52 | 55 |
| Licenses and Options Executed Annually1 | 28 | 36 |
| Number of Start-up Companies Created1 | 2 | 6 |
| Faculty FTE5 | 1,787 | 2,100 |
| Post-doctoral Appointees4 | 142 | 225 |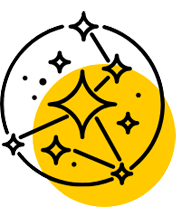 UCF aspires to be a destination of choice for the most talented people, a best place to learn and work, and a partner of choice in our community. We continue to foster a culture of innovation, inclusion, public service, and collaboration and will be a model for civil discourse, consistent with the Florida Board of Governors' Statement of Free Expression.
| Initiatives | 2022 | 2027 Goal |
| --- | --- | --- |
| National Academy Memberships2 | 8 | 10 |
| Faculty6 and Staff7 Satisfaction | 66% | 80% |
| Carnegie Classification for Community Engagement | | |
| Alumni Participation Rate3 | 5.6% | 9.0% |
| Pegasus Partnerships | | 5 |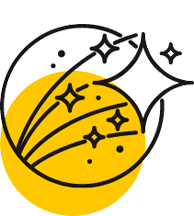 UCF is one of the nation's most innovative universities. We seek to institutionalize resiliency and maintain financial and operational sustainability by diversifying our resource base and continually practicing visionary and pragmatic stewardship of our assets and obligations.
| Initiatives | 2022 | 2027 Goal |
| --- | --- | --- |
| Endowment Value1 | $201M | $350M |
| Annual Fundraising | $70M | $100M |
| STARS Rating8 | Silver | Gold |
| Peer Evaluation Rank3 | 2.9 | 3.3 |
Notes. 1: 2022 Accountability Plan. 2: Preeminent University Metric. 3: U.S. News & World Report. 4: Undergraduate research, learning communities, internships, global learning (i.e., study abroad), designated and capstone courses. 5: Faculty FTE from the Common Data Set (CDS). 6: Percentage of faculty answering "satisfied" or "very satisfied" in response to COACHE survey item # 250B, "Indicate the extent to which you are satisfied with UCF as a place to work." 7: Percentage of staff answering "strongly agree" or "agree" in response to UCF's Campus-wide Culture and Climate Survey item, "I am satisfied overall with my interactions with other employees." 8: Sustainability Tracking Assessment and Rating System