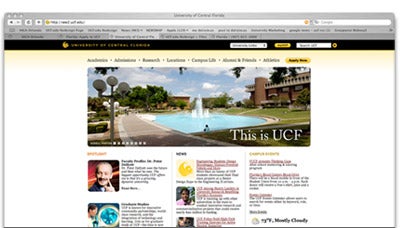 This redesign marks UCF.edu's fourth version. The redesign aligns the Web site with the UCF brand and adds more of our personality – including our diversity, spirit, youth and energy – to our online presence.
The goal of the visitor-centric Web site redesign is to anticipate and meet your needs, and to be smarter, better organized and easier to navigate while offering the quality information you need.
New features such as the homepage image slideshow, customized quicklinks, YouTube videos, polls and the top-level university header have been included to offer functional ways for visitors to navigate UCF.edu and learn more about the university.
The redesign was a joint project between Course Development and Web Services (CDWS) and UCF Marketing.
The redesigned UCF.edu uses Web metrics, a feedback form and a randomly selected user survey to provide input and feedback about the Web site.