Condensing complex research or creative work and explaining it to others can be an incredibly difficult task, and that's what 16 UCF graduate students were challenged with when they participated in the university's annual Three Minute Thesis (3MT) competition last Wednesday.
The College of Graduate Studies hosts 3MT each fall, bringing together master's and doctoral students from diverse disciplines to share their work. From feminist art to scientific exploration, the event is a brilliant showcase of the diversity in students' endeavors.
Participants were evaluated on their ability to effectively convey the essence and significance of their research in an engaging way to a non-specialist audience in under three minutes, using only one PowerPoint slide.
Judges for the master's event included:
Olga Bedoya, academic director for UCF Global
Sarah Norris, associate librarian
John Weishampel, senior associate dean of the College of Graduate Studies
At the doctoral event, the judges were:
Jade Laderwarg, associate director of the Office of Postdoctoral Affairs
Chelsea Piner, director of development of the Orlando Science Center
Michael Preston, executive director of the Florida Consortium of Metropolitan Research Universities
The winners included:
Master's
First Place: Melanie Cedeno Lopez, an MFA student in feature film production who won $1,000
Second Place: Cory Kennedy Barrow, a theatre MFA with a track in theatre for young audiences student who won $750
People's Choice Award: Meghan Kane an industrial and organizational psychology master's student won $250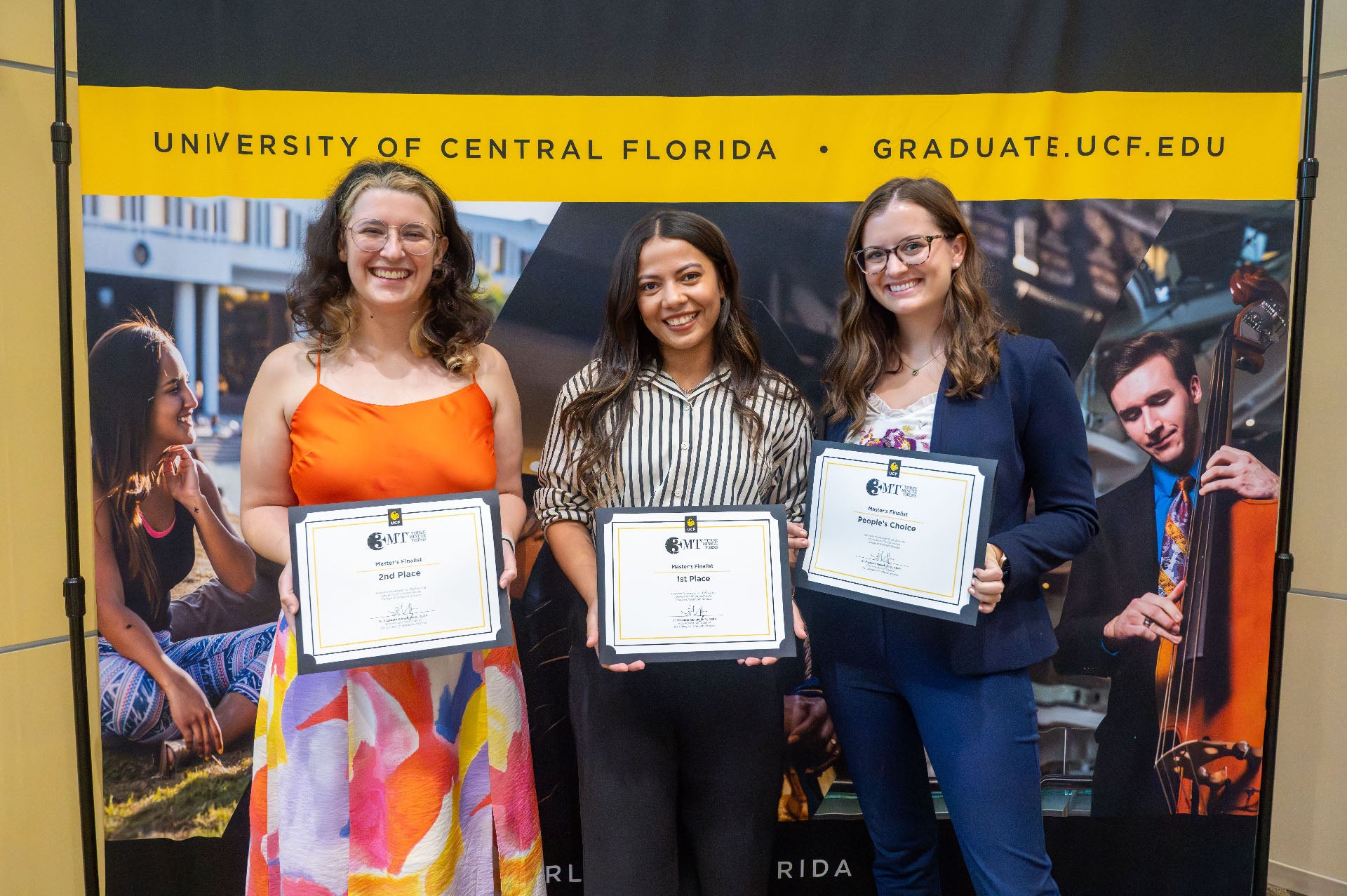 Doctoral
First Place: Ashley Morris, a public affairs Ph.D. student who won $1,000
Second Place: Helen Mills, a nursing Ph.D. student who won $750
People's Choice Award: Ilana Szlamkowicz '20, a chemistry Ph.D. student who also earned a bachelor's in chemistry at UCF won $250
Doctoral winner Morris says competing in 3MT gave her the validation that her research is essential and, by allowing her to share her work with others, provided her with allies to support her in the journey forward. Her research focuses on the struggles faced by Black women parenting children diagnosed with a mental illness.
"I felt very much compelled to continue to share their stories," Morris says. "I think that, at the very least, I'm continuing to let their stories live through this competition because I strongly feel they need to be heard. This platform allows young researchers to share their passion projects and solicit support."
Through her efforts, Morris aims to improve access to quality mental health services for Black families. She will go on in March to represent UCF at the regional competition in Greeneville, South Carolina.
Emerging media MFA student Olivia Van Natta says she appreciated the opportunity to share her art and participate in the event.
"I was interested in competing because I think it's important for artistic research to be presented alongside traditional academic research," she says.
The preparation she underwent for the competition also helped her with writing her thesis while giving her beneficial exposure as an artist. In the future, she hopes to participate in group shows and have her art displayed in galleries.
The first 3MT competition was held at the University of Queensland in 2008. Since then, the popularity of the competition has increased, and 3MT competitions are held in over 900 universities across more than 85 countries worldwide. The competition celebrates the exciting research conducted by UCF students and cultivates their academic, presentation, and research communication skills.
Following the conclusion of presentations at the event, the Fall 2023 recipients of the Award for Excellence by a Graduate Student Researcher were also announced, further highlighting the research accomplishments of our graduate students. The award, presented by the Graduate Student Advisory Council, recognizes outstanding graduate student-level research and creative scholarship with cash prizes and allows students to share their research with the UCF community. The winners were:
Master's
First Place: Israt Jahan, a social work student won $1,000
Second Place: Cesar Lopez-Zelaya '21, a optics and photonics student who won $750 also earned a bachelor's in photonic science and engineering at UCF
Honorable Mention: Ancuta Margondai '23, a modeling and simulation student who also earned a bachelor's in psychology from UCF won $250
Doctoral
First Place: Sarah Ashiqueali, a biomedical sciences student who also earned a master's in biotechnology at UCF won $1,000
Second Place: Pamela Dow '13, a public affairs student who also earned a bachelor's and a master's in health sciences at UCF won $750
Honorable Mentions: Alexandra Frank, an education student, and Kaige Shi, a physics student, were awarded $250.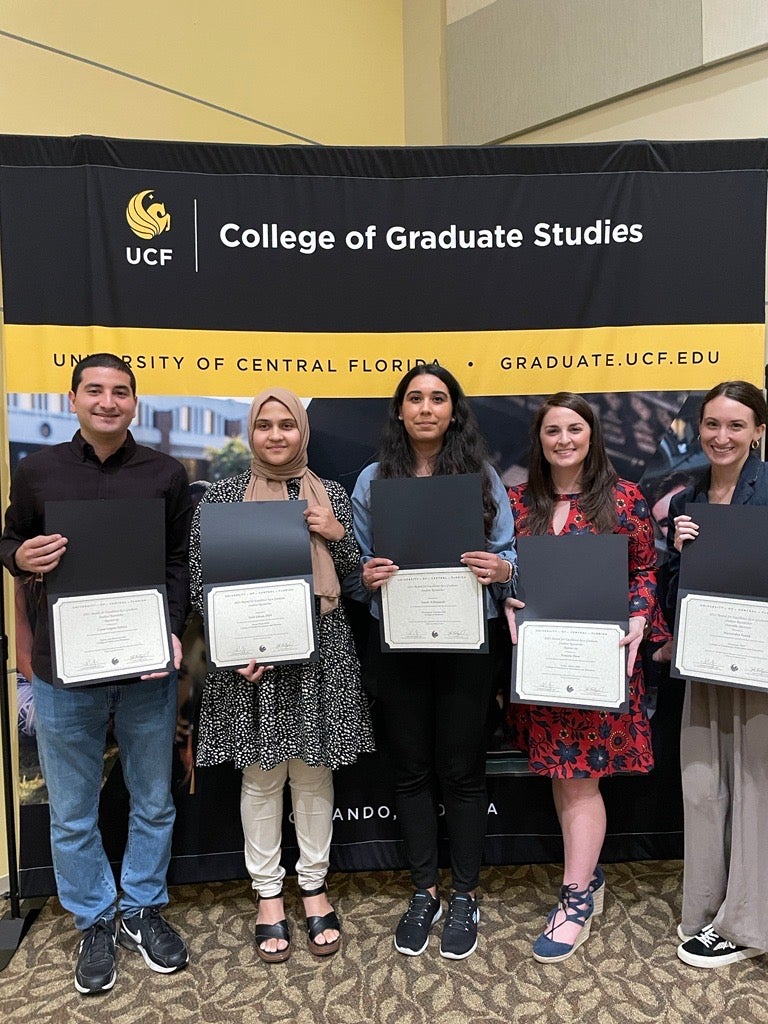 Ashiqueali, who came in first place for her research in cellular senescence, says she applied for the award to showcase her research, as she aims to work in academia and pursue an M.D. in hopes of bridging the gap between basic science and clinical research. Awards and events such as these serve as an important occasion for students to spread the word about their work and receive recognition that can help them in the future.