Type

Online Bachelor's

College

Sciences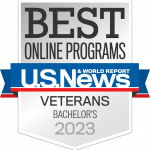 Gain a deep understanding of complex cultures across the world.
At UCF Online, we equip tomorrow's leaders to excel in an increasingly interconnected world. With your Bachelor of Arts in International and Global Studies, you'll tap into your full potential in a career in diplomacy, international organizations, multinational corporations, governmental agencies or other environments.
Through UCF Online, you'll gain essential critical thinking, research and writing skills. Your studies will empower you with a rich understanding of how countries interact, as well as global issues that transcend national boundaries — such as environment, migration and interdependence. Courses are offered in topics as varied as indigenous politics and cyberwarfare policy.
Our flexible program allows you to tailor your studies to your individual goals. We offer a double major/dual degree program with political science, as well as opportunities to study regional politics from around the world. Open the door to an exciting new world by getting started today.
Related Online Programs
Career Opportunities
civil service worker
foreign service officer
global human resources manager
humanitarian relief worker
intelligence officer
international account executive
lobbyist