Type

Online Bachelor's

College

Arts and Humanities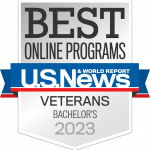 Discover how religious traditions from around the world have shaped our society.
Religion is a powerful force in human society. For millennia, cultures from across the globe have adhered to belief systems and practices that have impacted all areas of life. When you earn your religion and cultural studies degree, you'll study the evolution of these beliefs from ancient to modern times.
UCF Online's curriculum will grant you a deeper understanding of world religions, philosophy and humanistic traditions. The coursework will help you develop skills in philosophy, research, critical thinking and abstract reasoning. As you advance, you'll delve into specific traditions. You'll also explore key figures in world religions, the topic of religion in popular culture, theory in the humanities and much more.
You'll have the opportunity to strengthen your understanding through a capstone project or senior research project. This degree program is ideal for those seeking a career in a faith-based organization, nonprofit, public service, academia or other setting. To begin your journey, get started today.
Related Online Programs
Career Opportunities
clergy member
diplomat
foreign service officer
humanitarian worker
missionary
researcher
volunteer coordinator